By Wolf Richter, a San Francisco based executive, entrepreneur, start up specialist, and author, with extensive international work experience. Originally published at Wolf Street.
In San Francisco, the most expensive of the 100 largest rental markets in the US, rents peaked in October 2015, with the median asking rent at $3,670 for a 1-bedroom apartment and $5,000 for a 2-bedroom. By the end of 2017, they were down 7% and 12% from their peaks. But in the spring 2018, rents started rising again. In September, they almost, but not quite, reclaimed their peaks: The median asking rent for 1-BR apartments rose to $3,650, and for 2-BR apartments to $4,800. These are crazy numbers. Hence our local term, "Housing Crisis" – a crisis of affordability in a hyper-inflated market.
There are differences from neighborhood to neighborhood, ranging from $2,400 in Outer Sunset (in San Francisco, housing gets cheaper the closer it is to the ocean due to the incoming fog) to $3,740 in Pacific Heights. The map below by Zumper shows the median asking rents by neighborhood. Single-family houses are concentrated in the left two-thirds of the map. Multi-family buildings – hence, much of the rent data – are concentrated in the right third of the map. These rents do not include the latest increases: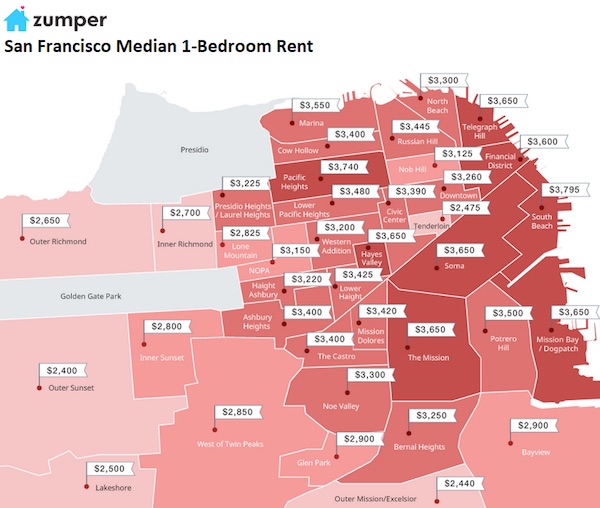 These are median asking rents. "Median" means half of the apartments rent for more, and half for less. "Asking rent" is the amount the landlord advertises in the listing. The apartments are in multifamily buildings, including new construction. Single-family houses for rent are not included. Rooms, efficiency apartments, and apartments with three bedrooms or more are not included. Zumper collects this data from over 1 million active listings of apartments-for-rent in the 100 largest markets. This includes 3rd party listings received from Multiple Listings Service (MLS). Zumper releases this data monthly in its National Rent Report.
In New York City, the second most expensive rental market, median asking rents rose 1.8% for a 1-BR ($2,850) and 5.8% for a 2-BR ($3,280). But these rents are down from their peak in March 2016 by 15% and 17% respectively!
In Chicago, rents have plunged since late 2015: By September, the 1-BR asking rent, at $1,510, was down 26% from its peak and the 2-BR rent nearly 30%!
Part of the reason is a multi-year decline in population coinciding with new construction. In the Chicago-Naperville-Elgin metro area, with 9.5 million people, 10,700 apartments are scheduled to be delivered in 2018. But since 2014, the population has dropped by 27,000 people.
In terms of rent, there are large variations by neighborhood, with the median asking for a 1-BR rent ranging from $625 in South Deering to $2,125 in the Loop (map via Zumper):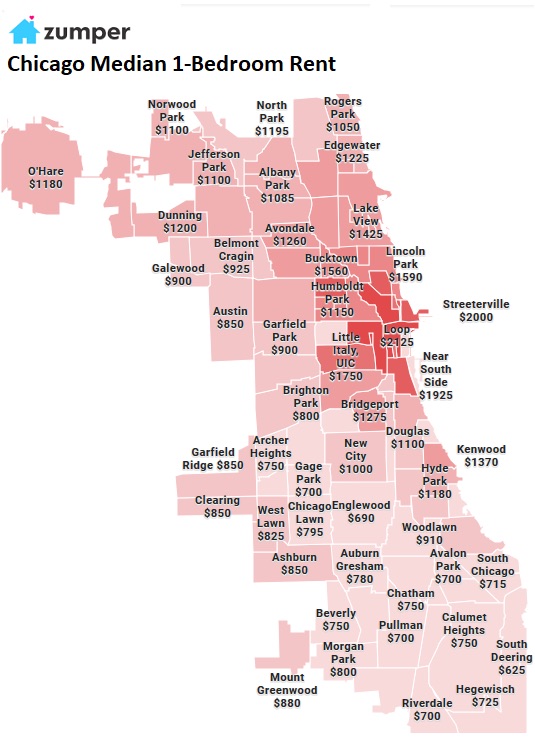 Southern California is in a full-blown rental boom: In the Los Angeles metro, the third/fourth most expensive market in the US, 1-BR rents jumped 9.7% year-over-year to a record $2,470, and 2-BR rents rose 1.3% to $3,310, down by smidgen from the record in June.
By area, 1-BR asking rents range from $1,200 in Congress Southwest to $3,150 in Santa Monica: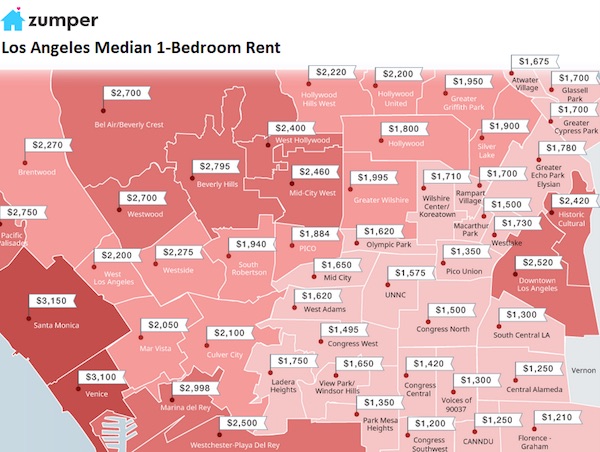 To stay in Southern California for a moment: in San Diego, the median asking rent for 1-BR apartments in September jumped 11.5% year-over-year to $1,840; and for 2-BR apartments, 8.7% to $2,500.
In Long Beach, 1-BR rents jumped by 14.6% to $1,570 and 2-BR rents by 7% to $2,000, both down a tad from the records earlier this year.
In Santa Ana, our sample for Orange County, 1-BR rents rose 6.3% to a record $1,920 a new record, and 2-BR rents edged to a record $2,250.
Washington DC rents are now under pressure: 1-BR rents in September dropped 4.4% year-over-year to $2,160 and are down 7.7% from their peak in December 2017. And 2-BR rents plunged nearly 14.8% year-over-year to $2,710 and 17.6% form the peak in June a year ago.
By neighborhood, median asking rent for a 1-BR ranges from $990 in Deanwood to $2,750 in George Town: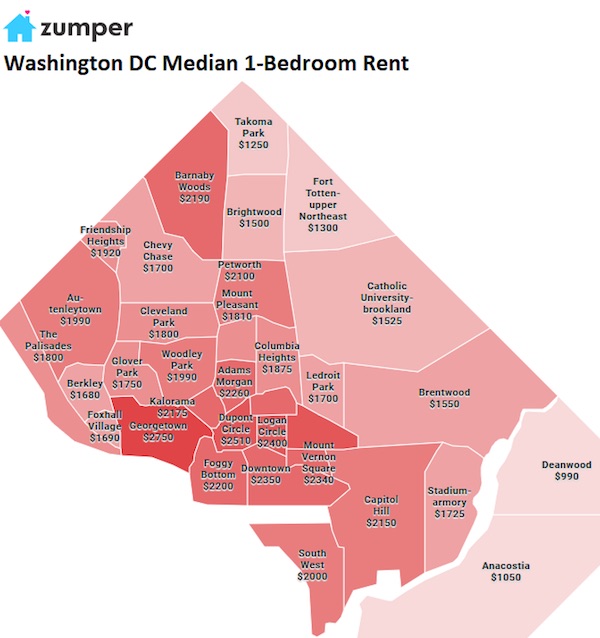 In Miami, the median asking rent for 1-BR apartments, at $1,800, was flat compared to a year ago and down $100 from the peak in June 2016. For 2-BR apartments, it edged down year-over-year to $2,430 and was down 8% from the peak in March 2016. By neighborhood, 1-BR median rents range from $800 in Pinewood Part and Brownsville to the distant outlier of $6,500 in Fisher Island: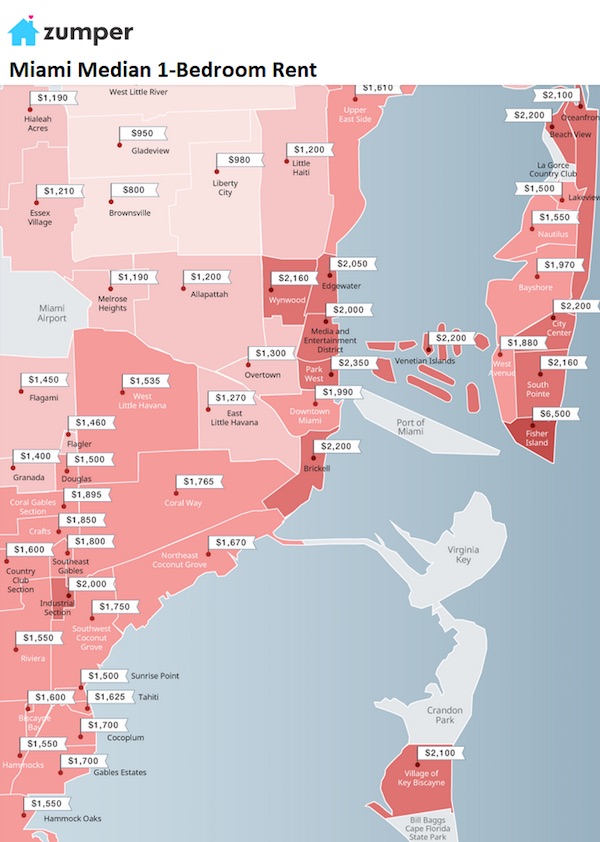 Honolulu rents are still spiraling down. The median asking rent for 1-BR apartment, at $1,680, has plunged 21% from the peak in March 2015. The 2-BR rent, at $2,200, has plunged 25% from the peak in January 2015.
The table below shows the 17 of the 100 most expensive major rental markets in the US. The shaded area reflects peak rents and the movements since then. The black "0%" in the shaded area means that these markets set new records in September. If rents are down slightly from the peak a few months ago, it doesn't yet mean that the market has turned – that would require a more significant decline in rents spread beyond seasonality.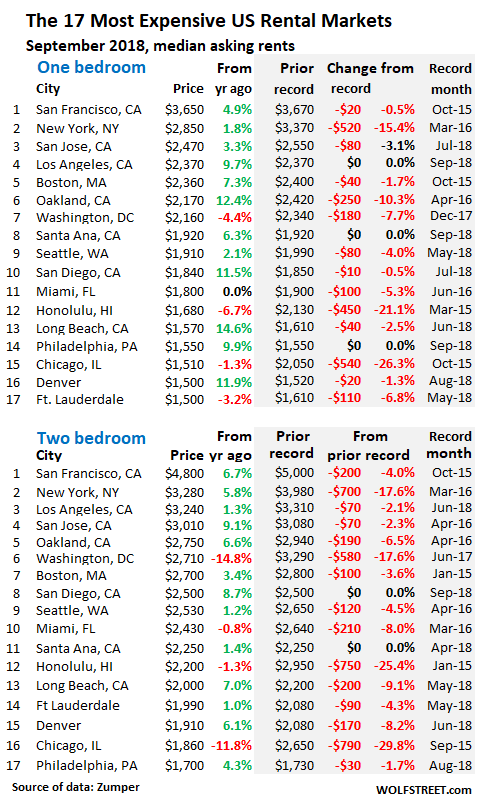 Note the new entrant on the list: Philadelphia. I removed Anaheim, in Orange County, CA, because Santa Ana, also in Orange County, tracks it closely.
The Seattle metro is in the middle of a construction boom. Over the five years through 2018 so far, over 46,000 apartment units in buildings with over 50 apartments have been constructed. This does not include construction of condos, apartments in smaller buildings, or single-family homes. This is nearly four times the number of units built in 2004-2008. An additional 24,000 apartments in large buildings are under construction and 40,000 are further up in the pipeline [here's my discussion of this situation… Seattle's Rental Bubble Meets its Inflection Point].
This flood of supply has had a dampening effect on Seattle's rents. The median 1-BR rent, at $1,910, is down 4% from the peak in June 2018, and the median 2-BR rent, at $2,530, is down 4.5% from April 2016.
Many Smaller Markets Are Red-Hot.
Across the US, the median asking rent in September for 1-BR apartments rose 1.6% from a year ago, to $1,211. For 2-BR apartments, it rose 3.0% to $1,443. But national numbers average away the often-double-digit drama, up and down, in individual markets.
Numerous markets in the US have experienced double-digit year-over-year rent increases – including 12 cities of the 100 most expensive where these increases either for 1-BR or 2-BR apartments reached or exceeded 16%!
In the lower half of the table below of the 100 most expensive rental markets, year-over-year rent increases of 12% or more are fairly common. When people say that their rent increases were much higher than the increases in the Consumer Price Index for rent, that's why. Exorbitant rent increases are real, but not in all markets.
Entries are in order of median asking rent for 1-BR apartments in September and show percentage changes from a year ago (data by Zumper; use the browser's search function to find a city):
| | | | | | |
| --- | --- | --- | --- | --- | --- |
| | | 1 BR | | 2 BR | |
| Pos. | City | Rent | Y/Y % change | Price | Y/Y % change |
| 1 | San Francisco, CA | $3,650 | 4.90% | $4,800 | 6.70% |
| 2 | New York, NY | $2,850 | 1.80% | $3,280 | 5.80% |
| 3 | San Jose, CA | $2,470 | 3.30% | $3,010 | 9.10% |
| 4 | Los Angeles, CA | $2,370 | 9.70% | $3,240 | 1.30% |
| 5 | Boston, MA | $2,360 | 7.30% | $2,700 | 3.40% |
| 6 | Oakland, CA | $2,170 | 12.40% | $2,750 | 6.60% |
| 7 | Washington, DC | $2,160 | -4.40% | $2,710 | -14.80% |
| 8 | Santa Ana, CA | $1,920 | -6.30% | $2,250 | 1.40% |
| 9 | Seattle, WA | $1,910 | 2.10% | $2,530 | 1.20% |
| 10 | San Diego, CA | $1,840 | 11.50% | $2,500 | 8.70% |
| 11 | Miami, FL | $1,800 | 0.00% | $2,430 | -0.80% |
| 12 | Anaheim, CA | $1,710 | 7.50% | $2,120 | 6.00% |
| 13 | Honolulu, HI | $1,680 | -6.70% | $2,200 | -1.30% |
| 14 | Long Beach, CA | $1,570 | 14.60% | $2,000 | 7.00% |
| 15 | Philadelphia, PA | $1,550 | 9.90% | $1,700 | 4.30% |
| 16 | Chicago, IL | $1,510 | -1.30% | $1,860 | -11.80% |
| 17 | Denver, CO | $1,500 | 11.90% | $1,910 | 6.10% |
| 17 | Fort Lauderdale, FL | $1,500 | -3.20% | $1,990 | 1.00% |
| 19 | Atlanta, GA | $1,460 | 7.40% | $1,810 | 6.50% |
| 20 | Minneapolis, MN | $1,440 | 16.10% | $1,980 | 8.80% |
| 21 | Providence, RI | $1,410 | -6.00% | $1,560 | 1.30% |
| 22 | Portland, OR | $1,400 | 2.90% | $1,660 | 3.80% |
| 23 | Baltimore, MD | $1,380 | 12.20% | $1,650 | 15.40% |
| 24 | New Orleans, LA | $1,370 | 9.60% | $1,490 | -0.70% |
| 25 | Nashville, TN | $1,350 | 15.40% | $1,390 | 3.70% |
| 26 | Madison, WI | $1,300 | 9.20% | $1,480 | 13.80% |
| 27 | Sacramento, CA | $1,280 | 14.30% | $1,410 | 5.20% |
| 27 | Scottsdale, AZ | $1,280 | 5.80% | $1,970 | -9.20% |
| 29 | Dallas, TX | $1,270 | -8.00% | $1,710 | -6.00% |
| 30 | Houston, TX | $1,260 | 9.60% | $1,570 | 9.00% |
| 30 | Orlando, FL | $1,260 | 13.50% | $1,460 | 15.00% |
| 32 | Austin, TX | $1,230 | 12.80% | $1,500 | 7.90% |
| 33 | Newark, NJ | $1,180 | 14.60% | $1,410 | 12.80% |
| 34 | Aurora, CO | $1,150 | 15.00% | $1,450 | 6.60% |
| 34 | Charlotte, NC | $1,150 | 1.80% | $1,290 | 4.00% |
| 34 | Pittsburgh, PA | $1,150 | -10.90% | $1,350 | -3.60% |
| 37 | Durham, NC | $1,140 | 15.20% | $1,250 | 13.60% |
| 37 | Irving, TX | $1,140 | -1.70% | $1,420 | 1.40% |
| 37 | Plano, TX | $1,140 | 1.80% | $1,510 | 0.70% |
| 40 | Tampa, FL | $1,130 | 7.60% | $1,340 | 5.50% |
| 41 | Gilbert, AZ | $1,110 | 11.00% | $1,330 | 0.80% |
| 42 | Chandler, AZ | $1,100 | 12.20% | $1,310 | 6.50% |
| 43 | Fort Worth, TX | $1,070 | 15.10% | $1,280 | 10.30% |
| 43 | Henderson, NV | $1,070 | 12.60% | $1,260 | 12.50% |
| 43 | Richmond, VA | $1,070 | 7.00% | $1,230 | 5.10% |
| 46 | St Petersburg, FL | $1,050 | 15.40% | $1,520 | 16.90% |
| 47 | Chesapeake, VA | $1,040 | 15.60% | $1,200 | 0.00% |
| 47 | Salt Lake City, UT | $1,040 | 15.60% | $1,380 | 14.00% |
| 49 | Buffalo, NY | $1,030 | 13.20% | $1,350 | 13.40% |
| 50 | Virginia Beach, VA | $1,020 | 2.00% | $1,200 | 0.00% |
| 51 | Raleigh, NC | $1,000 | 3.10% | $1,160 | 6.40% |
| 52 | Milwaukee, WI | $970 | 15.50% | $1,110 | 16.80% |
| 53 | Fresno, CA | $960 | 15.70% | $1,090 | 16.00% |
| 53 | Jacksonville, FL | $960 | 6.70% | $1,090 | 3.80% |
| 55 | Phoenix, AZ | $950 | 11.80% | $1,190 | 12.30% |
| 56 | Kansas City, MO | $940 | 13.30% | $1,060 | 5.00% |
| 57 | Boise, ID | $920 | 16.50% | $1,030 | 14.40% |
| 57 | Las Vegas, NV | $920 | 15.00% | $1,120 | 14.30% |
| 57 | San Antonio, TX | $920 | 10.80% | $1,150 | 12.70% |
| 60 | Colorado Springs, CO | $910 | 13.80% | $1,100 | 4.80% |
| 61 | Anchorage, AK | $900 | -1.10% | $1,150 | 4.50% |
| 62 | Corpus Christi, TX | $870 | 6.10% | $1,070 | 5.90% |
| 63 | Mesa, AZ | $860 | 7.50% | $1,020 | 8.50% |
| 64 | Reno, NV | $850 | 14.90% | $1,200 | 15.40% |
| 65 | Louisville, KY | $840 | -2.30% | $1,020 | 9.70% |
| 66 | Baton Rouge, LA | $830 | 3.80% | $950 | 11.80% |
| 66 | Des Moines, IA | $830 | 10.70% | $900 | 9.80% |
| 66 | Laredo, TX | $830 | 15.30% | $990 | 16.50% |
| 66 | Omaha, NE | $830 | 2.50% | $1,090 | 9.00% |
| 70 | Rochester, NY | $820 | 15.50% | $1,010 | 16.10% |
| 70 | Syracuse, NY | $820 | -5.70% | $1,010 | 12.20% |
| 72 | Arlington, TX | $810 | 15.70% | $1,080 | 16.10% |
| 72 | Knoxville, TN | $810 | 15.70% | $930 | 16.30% |
| 72 | Norfolk, VA | $810 | 14.10% | $940 | 4.40% |
| 75 | Cleveland, OH | $790 | 16.20% | $870 | 14.50% |
| 76 | Chattanooga, TN | $780 | 16.40% | $850 | 13.30% |
| 76 | Cincinnati, OH | $780 | 14.70% | $1,130 | 14.10% |
| 76 | Winston Salem, NC | $780 | 14.70% | $880 | 15.80% |
| 79 | Columbus, OH | $770 | 6.90% | $1,070 | 16.30% |
| 79 | Glendale, AZ | $770 | 14.90% | $950 | 5.60% |
| 81 | Lexington, KY | $760 | 1.30% | $920 | 1.10% |
| 81 | St Louis, MO | $760 | 15.20% | $1,090 | 14.70% |
| 83 | Augusta, GA | $750 | 15.40% | $830 | 3.80% |
| 83 | Bakersfield, CA | $750 | 8.70% | $860 | 1.20% |
| 85 | Memphis, TN | $730 | 10.60% | $790 | 11.30% |
| 85 | Tallahassee, FL | $730 | 15.90% | $870 | 8.70% |
| 87 | Greensboro, NC | $720 | 12.50% | $830 | 3.80% |
| 87 | Oklahoma City, OK | $720 | 14.30% | $870 | 11.50% |
| 89 | Spokane, WA | $710 | 4.40% | $900 | 4.70% |
| 90 | Lincoln, NE | $700 | 14.80% | $960 | 14.30% |
| 91 | Albuquerque, NM | $670 | 3.10% | $840 | 1.20% |
| 92 | Indianapolis, IN | $660 | 15.80% | $800 | 14.30% |
| 93 | El Paso, TX | $640 | 3.20% | $750 | 1.40% |
| 93 | Shreveport, LA | $640 | 14.30% | $720 | 10.80% |
| 95 | Tucson, AZ | $630 | 0.00% | $850 | 2.40% |
| 95 | Tulsa, OK | $630 | 6.80% | $800 | 11.10% |
| 97 | Lubbock, TX | $620 | 12.70% | $770 | 5.50% |
| 98 | Wichita, KS | $610 | 15.10% | $740 | 13.80% |
| 99 | Detroit, MI | $600 | 9.10% | $700 | 7.70% |
| 100 | Akron, OH | $550 | 3.80% | $700 | 7.70% |