The first day of the MMT conference. Link here.
NPR also had a podcast this week (hat tip Chris S): Episode 866: Modern Monetary Theory
Indonesia tsunami: hundreds killed in Sulawesi after powerful earthquake Guardian :-(
Footage of the microscopic world around us Business Insider (Dr. Kevin)
Farmers in southern Minn. test soil health with buried undies MPR News (Chuck L)
Netherlands Proposes Legislation To Ban Use Of Phones On Bicycles NPR
Alaska governor declares emergency for Indigenous languages Associated Press (MGL)
The biggest time saver yet — moving into a tiny house Laura Vanderkam
20 Things Patients Can Do to Stay Out of My ER– Op-(m)ed (Dr. Kevin). This is great.
North Korea
China and Russia clash with US over North Korea sanctions Asia Times (Kevin W)
The battle with Brussels that Italy can't lose Politico
Privatization, the EU and a Bridge Consortium News
Brexit
Brexit: Boris Johnson refuses to rule out Theresa May challenge BBC

May under microscope as EU searches for signs of Brexit cooperation Guardian
Syraqistan
Trump claims credit for halting Assad regime's attack on Syria's Idlib, after learning about province from a rally Independent (Kevin W)

A Michigan professor supported a student's study-abroad application — until he realized Israel was her destination – The Washington Post. UserFriendly: "Shoot me, why is this in WaPo?"

We began starving Yemeni children & backing Saudi crimes against humanity under Obama, back when there was zero Iran role in Yemen (versus a relatively minor one now). So this isn't just Trump, and it's not about ayatollahs; it's an outgrowth of *bipartisan* alliance w/ Saudi: https://t.co/I8Et8egXOl

— Aaron Maté (@aaronjmate) September 28, 2018
Big Brother is Watching You Watch
Facebook's Worst Security Breach Hammers User Trust Once Again Bloomberg

THE FACEBOOK SECURITY MELTDOWN EXPOSES WAY MORE SITES THAN FACEBOOK Wired. WTF??? People actually log in using FB (or Google)? These are the same people who think having Alexa spy on you is fine too.

Blazing rows to be judged by VAR Daily Mash
Tariff Tantrum
U.S.-China trade war triggers seafood supply chain shake-up Reuters. Honestly, getting Chinese shrimp and tilapia out of the US is a plus. They come from heavily polluted waters. I don't eat tilapia and eat shrimp only when I am confident it isn't from China. It has even hit the point where the complacent Trump FDA halted the import of farmed Chinese fish over concerns about carcinogens. This has been a controversy for some time (for instance, Google shows a New York Times article in 2007 raising concerns about fish from China) and the Chinese have supposedly been trying to address this problem.
Trump Transition
The World America Made—and Trump Wants to Unmake Politco. UseFriendly: "LMAO god save the liberal world order and American Hegemony! All you leftists ARE JUST LIKE TRUMP! Don't you know the second we stop pointless regime change wars we will get a new Hitler? Maybe it's like tinkerbell…. if we just clap our hands…. and F-35 gets it's wings."
Trump Administration Acknowledges Anthropogenic Climate Change Lawyers, Guns & Money (furzy)
Trump Administration Acknowledges Climate Change – Predicts Large Rise In Global Temperatures Moon of Alabama
Russian-US tycoon boasted of 'active' involvement in Trump election campaign Guardian
Trump anti-discrimination official faces rebellion at agency over racially tinged blog posts Washington Post (KF)
Kavanaugh
Trump's top court pick faces FBI probe BBC

In Kavanaugh Pivot, Flake Certainty Becomes Doubt, Then Delay Bloomberg

Trump's oddly docile willingness to open an FBI investigation, Grassley's sudden cooperation and Graham's almost gleeful cheerfulness make me pretty sure something's up.

— Jay Bookman (@jaybookmanajc) September 29, 2018

This New Republic story, What the hell just happened on Capitol Hill?, seems to have the right take:

Further, if the FBI investigation goes through…it could help Kananaugh's nomination. If the FBI finds no wrong-doing or comes to an ambiguous conclusion (as seems entirely plausible for a one-week investigation of a three-decades old case) this might give coverage to those Republicans who are reportedly undecided, like Alaska Senator Lisa Murkowski and Maine Senator Susan Collins.

Specifically, the fact that Ford's account in the Senate differs from the one in her therapist's records (two people present v. four earlier) could be treated as proving her memory isn't reliable enough, and if people interviewed in support of the Ramirez and Swetnik allegations have too many inconsistent details among them, those could be deemed to be inconclusive. Two risks for Kavanaugh are if Mark Judge won't back Kavanaugh's story or if the much-derided Kavanaugh calendar isn't produced or is determined forensically to be a fresh creation. Kavanaugh almost certainly lied about his drinking habits, but as I read the scope of the inquiry, that's not part of the probe. But if it is, he's already admitted to being a binge drinker:

Thread on Judge Kavanaugh and character. I think the way a middle-aged man reflects on his youth, & what he models for those he mentors, can provide important clues about his character. A speech Kavanaugh gave recently seems telling to me. /1

— Sean Hecht (@seanhecht) September 24, 2018

For Trump and White House, Kavanaugh hearing was a suspenseful drama in two acts Washington Post. UserFriendly: "Lovely, Kavanaugh's performance was to an audience of 1, Trump. Or he was gonna get pulled. And good thing the Democrats rehabilitated Shrub! He's whipping votes. Absolutely pathetic."

Senator Chris Coons tells the full story of what happened in the anteroom today with Jeff Flake to @nancycordes. Attempting my best @SopanDeb impression through @EllenUchimiya's legwork pic.twitter.com/dtNhWfQYYO

— Alan He (@alanhe) September 29, 2018

E-mails Show That Republican Senate Staff Stymied a Kavanaugh Accuser's Effort to Give Testimony New Yorker (furzy)

The Ford-Kavanaugh Hearings Will Be Remembered As a Grotesque Display of Patriarchal Resentment New Yorker (furzy)

Brett Kavanaugh hearing: key moments Financial Times. If you didn't watch the hearing, a detailed recap.
Midterm Early Voting Is in Full Swing — Will It Matter? RealClearPolitics (UserFriendly)
US mid-terms: Hackers expose 'staggering' voter machine flaws BBC (David L)
'I was nailed to the cross:' Anti-Semitic comments dog Gillum's running mate Politico
Democratic Socialist Nomiki Konst Announces Campaign for New York City Public Advocate Intercept (UserFriendly)
A Hidden History Runs Through Our Social Movements in This Country' FAIR
Elon Musk
'Lawsuit secured': Here's what Wall Street is saying about the SEC's lawsuit against Elon Musk Business Insider (Kevin W)

Tesla sheds $6bn in value after Musk accused of securities fraud Financial Times

Tesla's Musk pulled the plug on a settlement with the SEC at the last minute CNBC (none). Explains "What was he thinking?!?"
New Keynesian nonsense 'proofs' Lars P. Syll
Led Zeppelin to face new Stairway to Heaven trial BBC (David L)
These People Are Nuts: Pot Stocks Soar as Pot Prices Plummet Wolf Richter (EM)
New Report: Reviving Antitrust for the 21st Century Economy Roosevelt Institute (JTM)
Class Warfare. See how Kavanaugh is continuing to crowd out class warfare stories?
Future of Jobs 2018 – Reports World Economic Forum (David L)

Democratic Socialism and Political Power Counterpunch
Antidote du jour. Another antidote submission, this from 2017, languishing in my inbox. From aleric:
The bees have finally returned to my garden in large numbers! I took these pictures this morning on my giant hyssops. A tiny mystery bee that flew into my field of focus unexpectedly, I think it is a type of sweat bee, but couldn't find a matching picture on the internet – I don't think it is rare, just difficult to photograph.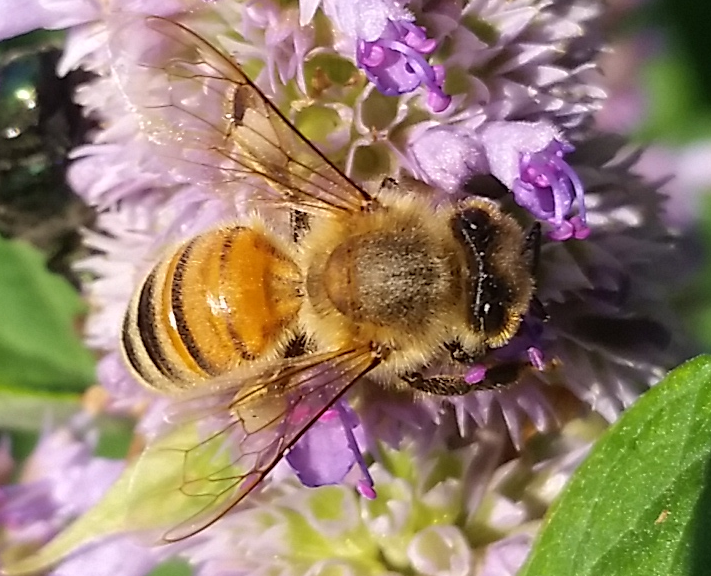 See yesterday's Links and Antidote du Jour here.