This is Naked Capitalism fundraising week. 828 donors have already invested in our efforts to combat corruption and predatory conduct, particularly in the financial realm. Please join us and participate via our donation page, which shows how to give via check, credit card, debit card, or PayPal. Read about why we're doing this fundraiser and what we've accomplished in the last year, and our current goal, thanking our guest bloggers.
Trade
"Will the U.S. Treasury's Imminent Report to Congress on Trade Partners' Currency Practices Once Again Fall Short of Its Mandate?" [Eyes on Trade]. "The Trump administration will release its latest report on trade partners' currency practices imminently. Like its prior three iterations of this semi-annual report mandated by Congress to identify countries whose distortion of currency values to gain trade advantages must be addressed, it is unlikely any country will be listed. A new analysis by Public Citizen shows how the Trump Treasury Department's decision to rely on reporting criteria created by the previous administration has ensured no action on the issue, despite then-candidate Donald Trump pledging to crack down on countries that gain trade advantages by distorting currency values." • Not even China….
Politics
2020
"Trump tops $100 million in fundraising for his own reelection" [WaPo]. "President Trump has topped $100 million in fundraising for his 2020 reelection bid — an enormous haul for a president barely two years into his first term, according to new Federal Election Commission filings…. No other president dating back to at least Ronald Reagan had raised any money at this point for his own campaign committee…. Trump continues to be buoyed by an avid small-donor base. FEC filings show 56 percent of the total raised by his committees from July through September came from donations of $200 or less."

"1 big thing: 2020 crowd jumps the gun" [Axios]. "[V]eterans of past presidential campaigns say the 2020 groundwork is much more flagrant than is traditional or was expected." "• Christmas carols in the stores before Halloween…

More on Warren's identity:

Cherokee Nation responds to release of Senator Warren's DNA test. pic.twitter.com/UUB8LSvmyo

— CherokeeNation (@CherokeeNation) October 15, 2018

"Tribal members bear the cost of ending blood quantum certificates" [High Country News (GF)]. "[Last month,] the BIA informed the tribes that the Bureau intended to abruptly end its issuance of Certificates of Indian Blood (CDIBs), saying a 'tribe's right to define… degrees of Indian blood is a central aspect of tribal sovereignty.'" • As the Cherokees urge above.

"Sanders weighs in on aggressiveness of Democratic protests: 'I am not a great fan of being rude or disrupting activities'" [The Hill]. "'I am very strongly in favor of mobilizing the American people to stand up and fight for economic justice and social justice and racial and environmental justice. And I think we have to mobilize people,' Sanders said on CNN's 'State of the Union. 'I am not a great fan of being rude or disrupting activities,' he added." • Especially when the disruption is anywhere but the workplace?

"CNN Poll: More see Trump win likely as Biden leads crowded Democratic field" [CNN]. • Please kill me now.

"Michael Bloomberg Can Buy Popularity, but Can He Buy the Presidency?" [The Atlantic]. "We're at the stage of the Bloomberg-for-president bubble inflation when pretty much no one believes he'll actually go through with it, but his small circle of media-fascination-stoking virtuosos are excelling at what he pays them hundreds of thousands of dollars a year to do." • The Beltway loves "problem solving" centrists who can "reach across the aisle," but frankly I think Joe Biden would eat Bloomberg's lunch.
2018
20 days until Election Day. 20 days is a long time in politics. And remember that October is the month of surprises!

"Pelosi details her plans for House majority" [Pelosi]. "Similar to 2007 — the first time Pelosi took the speaker's gavel — House Democrats plan to introduce a package for campaign finance reform as their first bill of the 116th Congress… After that, Pelosi said, Democrats are looking at lowering drug prices and then will try to work with Republicans on a gun background check bill and protecting so-called Dreamers, undocumented immigrants who were brought to the U.S. as children. she would like Democrats to make sure there is integrity in the U.S. voting system and allow for standards to be put in place that states could implement." • Small ball. What a hill to die on.

"A Tale of Two Increasingly Divergent Elections" [Charles Cook, Cook Political Report]. "It turns out that the bitter fight over Brett Kavanaugh's Supreme Court nomination was what I call a color-enhancement event—it made the reds redder and the blues bluer…. While the natural "coming home" phenomenon for Republicans would be happening anyway, the fight over Kavanaugh's nomination expedited and perhaps turbocharged that dynamic, possibly nixing the chances for any Senate Democrats who were counting on many Republican or GOP-leaning independents votes to win…. From January through August, in their national surveys for NBC News and The Wall Street Journal, Republican pollster Bill McInturff and Democratic pollster Fred Yang found that when they asked voters to rate their interest in the upcoming midterm elections, on a scale of 1 to 10, 63 percent of Democrats put themselves as 9s or 10s, extremely interested, while 51 percent of Republicans said the same. But going into the height of the Kavanaugh fight, their Sept. 16-19 poll found that Democrats went up just 2 more points to 65 percent, while Republicans rose 10 points to 61 percent. And that was before the nomination fight hit its crescendo. For Senate Democrats in red states seeking to swim up the partisan stream, the fallout from the Kavanaugh nomination opened up the floodgates, making their challenge exponentially more difficult." • Whoops. Then again, if the Democrats don't win the Senate, they don't actually have to do anything. So all things work together for good.

California: "Century-Old Direct Democracy in California Now a 'Pay-to-Play' System" [Courthouse News]. "Intended as a way to circumvent inefficient lawmakers and ward off corruption, California's direct democracy has been distorted from the version implemented by reformers in the early 20th century. Qualifying and passing a measure is no longer a romantic grassroots undertaking, but largely a pay-to-play process dominated by special interests and savvy politicians…. [Glen Gendzel, history professor at California State University] and other experts have documented how the progressives' ploy to check the power of the wealthy has evolved into a weapon for California's biggest corporations. It now costs backers millions just to collect enough signatures to qualify a statewide measure and millions more to spread their message across California's 58 counties."

California: "California agency, gas tax backers worked closely together" [Associated Press]. "As the political battle to overturn California's gas tax increase intensified, the state transportation agency coordinated frequently with the public affairs firm working to block the repeal on behalf of unions, construction companies and local government groups, emails obtained by The Associated Press show….. Three ethics experts interviewed by the AP said the emails raise concerns that the agency's relationship with the firm was too close, but none saw a clear violation of campaign laws, which prohibit the use of public resources for political campaigns." • AP doing some public records requests. We like that.

Georgia Governor: "Civil rights groups may seek emergency relief in Georgia voter registration brawl" [ABC]. "A coalition of civil rights groups may seek emergency relief to block Georgia's controversial 'exact match' voter registration rules in time for next month's midterm elections, Bryan Sells, an attorney for the coalition, told ABC News on Monday…. Under the new law, even a missed hyphen or a nickname inconsistency can stall an application." • Anybody who's worked with real personal data knows that exact match is insane and can't possibly be motivated by good faith. For example, as a good WASP, I have a personal name, a family name, and two (2) middle names. That's what's on my birth certificate, but it's not in any electronic record, because the effing programmers of, like, all the databases in the world only allow for one middle name.

IA-04 "Seed, Pesticide, and Banking Monopolies — Not Immigrants — Are Destroying Farm Country. An Iowa Insurgent Hopes That Message Can Dethrone Steve King" [The Intercept]. "National Democrats have mostly focused on suburban, well-educated districts that have grown disenchanted with Donald Trump's GOP. But flippable voters also exist in farm country — including in Amish country in Lancaster County, Pennsylvania — which Democrats have ignored for decades. In fact, rural America presents unique opportunities for populists." • Scholten's campaign looks pretty nifty! Worth a read.
Realignment and Legitimacy
"Majority Leverage Against Minority Rule" [Law and Political Economy]. • I like this site a lot, but if you read the post, you'll see that it encapsulates (and quite well) an emerging thesis in the liberal zeitgeist: Democrats, with their "coalition of the ascendant" have achieved a small (~3 million) majority in the popular vote, which doesn't translate to political power because of structural barriers, especially with small rural states in the Senate, but also in the House, due to the geographic concentration of Democrat votes, again in non-rural areas. And therefore…. various structural remedies are discussed, from subconstituional changes like re-apportionment, through constitutional changes to the Senate (and all the way to disunion if it comes to that). Call me crazy… But isn't this our old friend that Democrats will do anything rather than change? Rather than dick around with proposals for Constitutional changes they don't have the power to make anyhow, why not try appealing to rural voters right now? Portrait of a Campaign, written by the organizer of the Great Slate, which I linked to last week, sbows the way forward. Make your issues campaign finance reform, health care, and Internet access. But no. And note, of course, that Pelosi isn't intending to do the second and third items on this list, and if her campaign finance reform proposals are anything but a damp squib, I will be very surprised. Never change, Democrats! Never change!
Stats Watch
Industrial Production, September 2018: "Industrial production rose a solid 0.3 percent in September with manufacturing production up 0.2 percent" [Econoday]. "Mining production remains the standout component in the report…. The manufacturing component of this report, even when adding in inflation, has yet to show the double-digit strength of factory orders and shipments nor even a shadow of the strength of small sample surveys like Empire State and ISM. Yet the gains for vehicles, hi-tech and especially business equipment are pluses that do point to positive momentum."
Housing Market Index, October 2018: "Optimism among the nation's home builders has been flat but is picking up this month" [Econoday]. "New home sales have been flat this year but have been doing better than resales which have been edging lower."
JOLTS, August 2018: "Job openings keep swelling" [Econoday]. "The comparison that's most critical here is the number of unemployed actively looking for work… This gap between job openings and job seekers, which first opened up earlier this year, is hard evidence that labor is scarce… Jerome Powell concedes that it's a mystery why wages haven't been going up very much as demand for labor grows and the supply of labor declines. Yet sooner or later, the law of supply and demand is bound to assert itself, at least this is the risk that the Fed is guarding against in its rate-hike regime." • [hollow groan].
"Fear Not, ETFs Control the Price of Gold" [Bloomberg]. "Gold isn't like anything else on the market. Ancient, fundamental, eternal – it's different from all those here-today, gone-tomorrow assets such as Snap Inc. shares and cryptocurrencies. Right? Wrong…. The driver isn't so much time-honored fears about the value of money, but the behavior of exchange-traded funds."
Shipping: "Why whacking your tire with a stick might be costing you money" [Freight Waves]. "Al Cohn, director of new market development and engineering support for Pressure Systems International (P.S.I.), says that the historical manual method of checking tire inflation is no longer sufficient if you want to run the most fuel-efficient operation possible…. During a presentation at the Meritor/P.S.I. Fleet Technology Event in San Antonio last week, Cohn noted that tires continue to be the number-one maintenance cost for fleets. If thumping a tire truly worked, that wouldn't be the case. And that cost is expected to rise as tire prices are heading upward in 2019 due to a rubber shortage."
Retail: "The high-risk, high-reward world of selling stuff on Amazon" [CNN]. "That's when Kazmi received an email from Amazon's seller support department saying her account had been suspended. Amazon didn't explain why, saying the reason was 'proprietary.'" • If your business depends on a platform….
Supply Chain: "Apparel companies eye nearshoring to cut lead times" [Supply Chain Dive]. "The fashion cycle, once embracing a six-month turnaround, today faces a time to market that is capped by approximately six weeks, according to McKinsey's report. To accomplish this feat, companies now face the challenge of compressing those lead times. Transitioning from offshoring to countries such as China to near- and onshoring offers the opportunity to eliminate significant blocks of that time. The efficiencies once associated with Asian countries is on the decline as well, with comparative offshore labor costs moving closer to the cost of labor found in the U.S."
Tech: Thread–
Now that Google+ has been shuttered, I should air my dirty laundry on how awful the project and exec team was.

I'm still pissed about the bait and switch they pulled by telling me I'd be working on Chrome, then putting me on this god forsaken piece of shit on day one.

— Morgan (@morganknutson) October 9, 2018
Honey for the Bears: "Three Colliding Problems Leading to a New Economic Disaster" [Matt Taibbi, Rolling Stone]. • Taibbi is always interesting, but these problems are all financial in nature. They are not structural, like Brexit.
Rapture Index: Closes down one on Oil Supply/Price. "The oil prices decline with the stock market" [Rapture Ready]. Record High, October 10, 2016: 189. Current: 183. Seems indeed that 180 is a floor.d
Water
"Dirty water, dirtier practices" [Le Monde Diplomatique]. "Medardo Shingre, a peasant farmer who has lived in Tarapoa for about 40 years, is one of Texaco's 30,000 victims. He showed me how severely his land has been poisoned: over a wide area, push a stick about 20cm into the ground and crude oil bubbles up. At first sight, the soil looks compact and normal. But as the day warms up, it softens and clings to shoes. Nature has been affected: there are severely stunted adult banana trees, strangely shaped tubers, plants with colourless fruit and leaves." • Thanks, Texaco! Both these articles are worth a read; water politics in Latin America is rarely covered.
"A freshwater sea" [Le Monde Diplomatique]. "The Guaraní aquifer is one of the world's largest underground water reserves in terms of surface area (1.2m sq km, as big as France, Spain and Portugal combined), volume of water available (55,000 cubic km) and above all annual renewal capacity, estimated at 160 cubic km.This precious resource is a major geostrategic asset for part of the Southern Cone. Four countries share it: Brazil (840,000 sq km), Argentina (225,000), Paraguay (71,700) and Uruguay (58,500)." • "Share," uneasily.
Health Care
"Pennsylvania's Deciders in Their Own Words" [Politico]. "Diane Wagner, 68, 58 years in Pennsylvania, Independent: "Government should have nothing to say about health care. Big government is no answer, it only makes things worse. … Medicare works good. I get Medicare. It's something we paid for. It's not an entitlement. Well, it's an entitlement that we paid for. All through life in our checks when we worked, they took money out, and if you think it's a little bit, it's not. Medicare is something that we all paid for, we all paid into. Is it socialized medicine? It's not really socialized medicine." • Hmm.
"Mary Mayhew – Trump's New Medicaid Chief – Helped Block Medicaid Expansion in Maine" [Gritpost]. "Mayhew dramatically slashed Maine's Medicaid budgets and was responsible for dropping approximately 80,000 low-income Mainers from the program, reducing MaineCare's enrollment by 37 percent. One of her more infamous legacies was imposing a work requirement for food stamp recipients… Mayhew said she was making 'difficult decisions to prioritize limited resources so we could support the most vulnerable populations in our state.' Her decisions, enthusiastically backed by Maine Governor Paul LePage (R), were successful in flattening out Maine's Medicaid budget, which had been increasing every year." • MaineCare was one reason I moved to Maine in 2006; I thought it was a sign of progress, and I felt that a universal, Federal program was on the way, because even the Democrats couldn't screw that up. Well, we got ObamaCare, whose architecture permitted creatures like Mayhew to thrive and get promoted. And here we are.
Guillotine Watch
"As Luxury-Jet Sales Heat Up, Even Used Planes Get `Picked Over'" [Bloomberg]. "Buying a used business jet is getting harder — and that's a sign of a long-awaited shift in the market for luxury planes. Only a dozen or so pre-owned Falcon 7X planes are on the market now, down from about 35 a year and a half ago." • It might be a good thing if the 1% were forced to move round the world more slowly.
Class Warfare
"The Blindspot Revisited" [Verso]. • Continued polemic on Adolph Reed's interventions on race and class.
"Theories of the Causes of Poverty" [David Brady, SocArxiv]. "Thirty years ago, in The Journal of Economic Literature, Sawhill (1988: 1085, 1113) decried the lack of theory in poverty research: 'We are swamped with facts about people's incomes and about the number and composition of people who inhabit the lower tail, but we don't know very much about the process that generates these results…. From a more scientific perspective, we still understand very little about the basic causes of poverty… until more complete theories and models of the process by which income is generated and distributed are developed and tested, the answers to some of the questions raised in this article must remain partial and tentative.' Thirty years later, poverty research continues to lack clear theory. There are few explicitly named 'theories,' and little explicit theoretical debate. If a theory of the causes of poverty is articulated, it is usually only compared against the null hypothesis of no effect. Studies rarely compare two or more theories against each other. Even more than other fields, poverty researchers often focus on descriptive or normative claims without explaining poverty's causes (Desmond & Western 2018). It remains unclear if poverty is simply a subset of status attainment or if it can be explained by broader theories of the income distribution. Also inhibiting theoretical progress, poverty research is deeply fragmented." • No recipe for success, oddly.
"Banishment of an acclaimed UC Irvine professor sparks debate over whether #MeToo can go too far" [Los Angeles Times]. • More issues of adjudication. "Believe women," but if the women disagree?
"When Prisoners Say #MeToo" [Marshall Project]. From September, still germane.
"Police spies infiltrated UK leftwing groups for decades" [Guardian]. "The police spies infiltrated the Socialist Workers party (SWP) almost continuously between 1970 and 2007, often with more than one undercover officer embedded within the party. Four of them deceived women into sexual relationships while using their fake identities. One spy met one of his wives during his deployment and had a child with her." • I dimly recall a study of police infiltration of U.S. left-wing groups. Sexist behavior was one technique they used to create division. Perhaps the saying "the first one to advocate violence is always the cop" needs an update.
"Armed protesters were on Portland rooftop in August, police now say" [Oregon Live]. "Members of the right-wing group Patriot Prayer stationed themselves on a downtown Portland rooftop with a cache of guns prior to a summer protest, city officials announced for the first time Monday – the same day Mayor Ted Wheeler learned about it, his aides said." • Good to know, particularly in light of the above link. This is a recipe for an extremely ugly incident.
News of the Wired
"What Linguistics Can Tell Us about Talking to Aliens" (interview) [Scientific American]. "Do our bodies influence our cognition? [Sheri Wells-Jensen:] I can give you a bunch of minor examples—the word for 'see' also means 'understand' in some languages. Or we have words for 'left' and 'right,' 'straight ahead' and 'back'—kind of in four directions, which is correlated with human body symmetry. But if we had three hands, would we have 'left,' 'right' and, uh, 'the other hand'? • I know how Wells-Jensen feels…
'The lost art of concentration: being distracted in a digital world" [Guardian]. "By adopting an always-on, anywhere, anytime, any place behaviour, we exist in a constant state of alertness that scans the world but never really gives our full attention to anything. In the short term, we adapt well to these demands, but in the long term the stress hormones adrenaline and cortisol create a physiological hyper-alert state that is always scanning for stimuli, provoking a sense of addiction temporarily assuaged by checking in." • And after the cortisol comes the dopamine?
"How Melvyn Bragg made high culture highly popular" [Economist]. "Melvyn Bragg has had no truck with cultural self-flagellation. Every Thursday for the past 20 years (holidays aside) he has presented a programme called "In Our Time" on BBC Radio 4 that consists of high-minded conversations with three academics. A new book demonstrates the extraordinary range of subjects he has covered. There are the classic high-cultural subjects, such as George Eliot's "Middlemarch", but also plenty on the best that is being thought by scientists and mathematicians as well. Lord Bragg is a working-class boy who made good thanks to the power of education. His parents were factory workers who saved enough money to buy a pub. Young Melvyn went to university only because his history teacher, a Mr James, pestered his parents to let him stay on in the sixth form." • I love "In Our Time," now a podcast. I can't find the commenter who turned me on to it, but a hat tip to you, whoever you are.
Dog story. Thread:
Over the weekend, I visited upstate NY, where I got arrested & later did time. And it kind of holds a special place in my heart bc it's where I got my life back together. But someoneasked me where my dog was & it got me thinking. Here is a thread abt dogs, addiction, and reentry.

— Keri Blakinger (@keribla) October 15, 2018
* * *
Readers, feel free to contact me at lambert [UNDERSCORE] strether [DOT] corrente [AT] yahoo [DOT] com, with (a) links, and even better (b) sources I should curate regularly, (c) how to send me a check if you are allergic to PayPal, and (d) to find out how to send me images of plants. Vegetables are fine! Fungi are deemed to be honorary plants! If you want your handle to appear as a credit, please place it at the start of your mail in parentheses: (thus). Otherwise, I will anonymize by using your initials. See the previous Water Cooler (with plant) here. Today's plant (MG):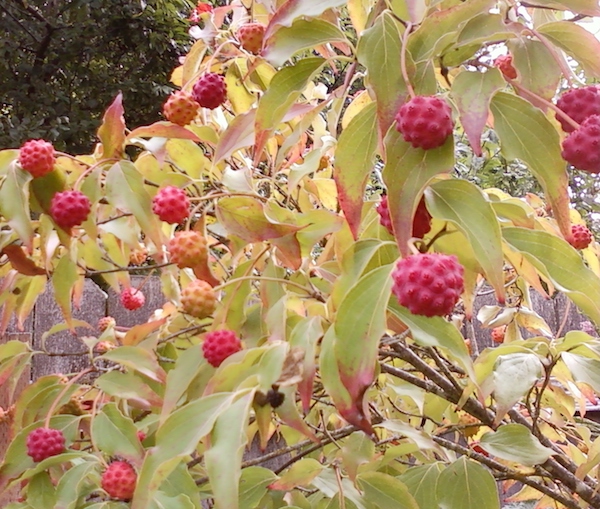 MG: Japanese dogwood from a family yard.