This is Naked Capitalism fundraising week. 820 donors have already invested in our efforts to combat corruption and predatory conduct, particularly in the financial realm. Please join us and participate via our donation page, which shows how to give via check, credit card, debit card, or PayPal. Read about why we're doing this fundraiser and what we've accomplished in the last year, and our current goal, thanking our guest bloggers.
Yves here. I'm old enough to remember Sears fondly. I grew up mainly in small towns where the Sears store. although dull to me as a child, was clearly important to my parents and other adults. I remember it as a straightforward purveyor of staples like hardware (those Craftsman tools!) and reliable Kenmore white goods. I know there was more to Sears; both my mother and grandmother, who live with us a big chunk of the year, read their catalogues closely.
Wolf Richter explains why Sears is going down for good. I do have one quibble: he lists Toys 'R' Us as being liquidated. That had been the plan, but its new owner apparently didn't get the bids on the intellectual property it wanted, and has decided to revive the stores with a less sprawling physical store presence and more emphasis on online sales. Toys 'R' Us might be able to make it because it was a very much loved store crushed by too much debt. By contrast, as Wolf describes, there's very little of what is left of Sears for customers to care about.
Private equity expert Eileen Appelbaum has a new article at CEPR, Jobs, Pensions Lost in Sears Bankruptcy, but Hedge Fund King Gets Paid, that describes at length the machinations that hedge fund kind Eddie Lampert went to in successfully enriching himself at the expense of Sears, in particular stripping Sears of real estate that reduced its expenses and had allowed it to ride our recessions and invest. The business and the workers that depended on it didn't have a chance. Key sections of Appelbaum's piece:
It was a few days after Christmas when Sears announced plans to close up to 120 Sears and Kmart locations. The year was 2011. ….

The company was a good candidate for a turnaround. True, many of Sears' stores were in downwardly mobile neighborhoods. But that didn't stop Dollar General and Dollar Tree from succeeding. Sears owned high-quality brands — Kenmore appliances, Craftsman tools, and apparel maker Lands' End. It had mastered "online" retailing before the web and email, back when that meant ordering from a catalog. As for logistics, Sears had figured out how to deliver everything a family needed to build its own house!

What Sears needed was a President that understood retailing and could make much needed changes in the company's business model. What it got instead was Eddie Lampert, a billionaire hedge fund manager who knows how to make money, but not so much apparently about how to improve retail operations. Same-store sales declined every yearfrom the time his hedge fund first invested in the chain to 2011, when it first announced major store closings. Between 2011 and 2016, revenues at the retail chain fell by almost half, with the company losing $8.2 billion in 2016….

Sears has been on a downward trajectory that accelerated after Lampert took control of the company up to its bankruptcy announcement today. In 2006, shortly after Lampert took the reins at Sears, its stock traded at $162 a share; by 2017, it traded at under $10, and in August 2018 was trading at a little over $1. But while the retail giant has lost money, closed stores, and laid off workers — over the past decade it has closed more than 1,000 stores and reduced employment by 175,000 workers,…,

Borrowing from the private equity playbook, Lampert loaded Sears up with debt and sold off many of its most valuable assets. In 2015, when it was already obvious that Sears' days as a going concern were numbered, Lampert's hedge fund created a publicly traded real estate investment trust called Seritage Growth Properties. Lampert then had Sears sell 266 Sears and Kmart properties to Seritage for $3 billion. The retail chain then paid the trust a total of $135 million in rent in the first year of the lease agreement for stores it had previously owned, with guaranteed rent hikes in following years. What made the sale suspect is that Lampert was Sears' chief executive and largest shareholder and, at the same time, was chairman of Seritage's board of trustees.

While Seritage continued to collect rent from still open Sear stores, it was simultaneously converting the prime real estate of now-defunct stores to expensive new uses. In Santa Monica, CA, it converted the Sears store into office spaces suitable for the area's burgeoning high tech sector. On Long Island, NY, it is considering redeveloping the Sears site into a 600 unit apartment complex. In Aventura, FL, it has begun construction of a luxury shopping center. Observers labeled it an "audacious feat of financial engineering." Seritage's share price has soared as Sears' shares have turned into penny stocks. But as major shareholders of Seritage, Lampert and ESL stand to do just fine….

The biggest losers in this, as in other retail bankruptcies, are the workers thrown out of work as stores close. There are also about 100,000 retirees who will face cuts in retirement income if Sears can offload their pensions to the Pension Benefit Guaranty Corporation in the bankruptcy. Whatever happens, Lampert is likely to come out of this a winner.
By Wolf Richter, a San Francisco based executive, entrepreneur, start up specialist, and author, with extensive international work experience. Originally published at Wolf Street
This follows the script of the brick-and-mortar meltdown of retailers that were bought by Wall Street and subsequently subjected to asset-stripping and cost-cutting, which ruined what little was left of their brands. Mired down in survival mode, those retailers failed to build a vibrant online presence and fulfillment infrastructure. As sales withered and losses ravaged the company, debts became unmanageable. But the bankruptcy by Sears Holdings is just so much richer – and the restructuring in bankruptcy has a zero chance of succeeding.
Monday morning, Sears Holdings filed for Chapter 11 bankruptcy with the intent to restructure its debts and obligations, close 142 more stores, in addition to the 46 store closings it recently announced, and in addition to the thousands of stores it closed in prior years. This would bring its store count from the 866 stores in Q2 to about 678 Sears and Kmart stores by the end of 2018. The new goal is to shrink and somehow thrive. Same as the old goals. This chart shows how Sears cut its way to health and profitability, by reducing the number of stores from nearly 4,000 in 2011 to 678 by the end of 2018: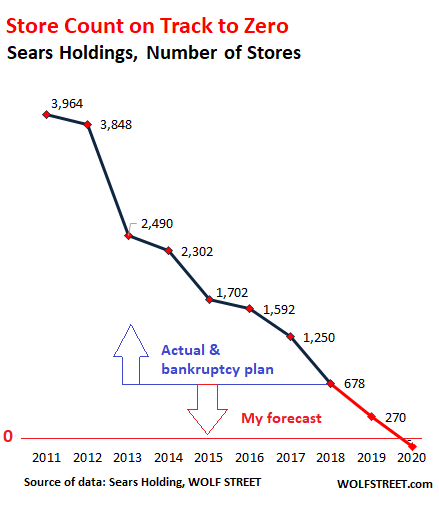 And at this unstoppable trajectory, the store count will drop below 300 by the end of 2019 and dip into the negative by 2020 – if only that were possible.
Every wave of store closings came with corporate verbiage about transforming the company into a smaller but profitable retailer. And so inevitably, there was more of the same in today's announcement of the bankruptcy filing.
"Over the last several years, we have worked hard to transform our business and unlock the value of our assets," hedge-fund owner and Sears Holdings CEO Eddie Lampert said with deadpan sarcasm. He, his hedge fund ESL, and related entities are Sears Holdings' largest shareholders and largest creditors, and what they have lent the company is secured by the company's best assets. So the "value of our assets" that he has "unlocked" has already gone, or will go, to him and ESL.
In financial terms, the filing listed $6.9 billion in assets and $11.3 billion in liabilities. On paper, there is a hole of $4.4 billion. The size of the hole may change, depending on the magnitude of further losses and the ultimate sale price of the assets, ranging from inventories to the remaining company-owned stores.
In the announcement, Sears said that it has lined up a debtor-in-possession (DIP) loan of $300 million to fund its operations through the bankruptcy proceedings, and that it is "negotiating" an additional $300-million Junior DIP loan. Reuters reported on Sunday that according to "sources," Lampert may participate in the DIP loan.
One of the ways for Lampert to get the real estate is to pledge it as collateral for a loan and then have the company default on the loan.
Another way is this: Sears Holding already sold 235 of its best stores for $2.7 billion in sweetheart deals to Seritage Growth Properties, when it was still a Sears entity, some of them on a lease-back basis. Seritage was then spun off from Sears via a rights offering in July 2015. Lampert is chairman of Seritage and owns a big chunk of it via the rights offering. Aggrieved investors in Sears Holdings filed suit. In 2017, Sears Holdings and Lampert settled for $40 million.
The Seritage deal is one reason the bankruptcy filing had to be dragged out so long. The two-year look-back period for "fraudulent conveyance" in the federal bankruptcy code incentivized Lampert to keep the company out of bankruptcy at least through July 2017. And state law often provides a longer look-back period. So now was apparently long enough to avoid "fraudulent conveyance" issues of the Seritage deal under state law as well.
Lampert will remain chairman of Sears Holding but will lose his role as CEO, according to the announcement. The "Office of the CEO" – a three-person committee – will assume the executive role.
Sears Holdings had about 89,000 employees in the US as of February, down from 246,000 people five years ago. The employee count will go to zero not long from now.
Sears Canada too filed for restructuring in Canadian courts in June 2017 to somehow muddle on in restructured form. By October 2017, it became clear that restructuring efforts had failed, and the Sears Canada was liquidated .
Toys "R" Us, which was owned by private equity firms, went through a similar program, filing for Chapter 11 bankruptcy in September 2017 in order to restructure its debts and go on, but those efforts failed, and in March, it was over, and Toys "R" Us was forced into liquidation.
Retailers are notoriously difficult to restructure. After years of losses – Sears Holdings has lost money since 2011, including nearly $1 billion in the first half this year – they're burdened with debts and don't own enough assets to cover those debts.
But in the case of Sears Holdings, it's not just a financial problem. It's a retail problem that is much worse than the retail problems at Toys "R" Us.
Sears Holdings has willfully killed its sales. In its Q2 loss report on September 13, Sears Holdings disclosed that revenues had plunged 26% from the same quarter last year, to $3.18 billion, continuing their seven-year astoundingly straight line to hell. The chart below shows revenues for Q2 of each year since 2011. My estimates are marked in red, based on past revenue declines: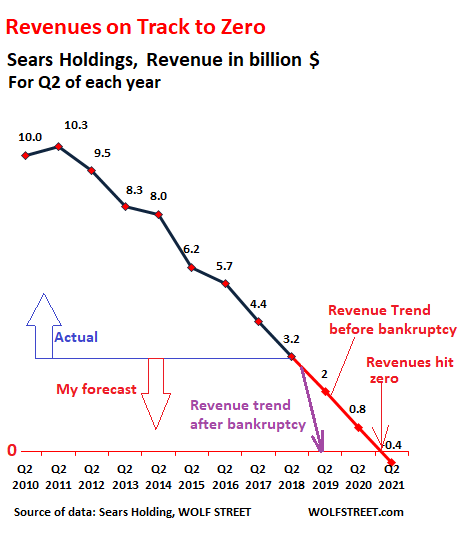 According to Q2 data, "zero" revenues loom at the end of 2020. But it will not last that long. The show will end sooner: The bankruptcy filing will speed up the sales plunge to perhaps 40% or 50% year-over-year over the next two quarters (purple arrow in the chart above). And liquidation is likely early next year after the inevitable holiday sales fiasco.
You cannot turn around a debacle like this by restructuring its debts and closing stores. This would require an operational turnaround: branding, marketing, merchandising, sales, customer relations, employee relations, etc. Sears would have to get employees excited again about working there and consumers excited again about shopping there. But that won't work because over the years, the company destroyed customer goodwill, surgically removed any reasons to shop at its desolate run-down stores, and mauled what was left of the brands.
I don't give "free" advice to hedge fund managers. But if I were to give free advice to Eddie Lampert, it would sound like this: "Don't write any more blog posts to blame pensioners for the collapse of Sears Holding after you wasted $5.8 billion on share buybacks." Read…  My "Free" Advice for Sears Holding CEO Eddie Lampert