This is Naked Capitalism fundraising week. 1562 donors have already invested in our efforts to combat corruption and predatory conduct, particularly in the financial realm. Please join us and participate via our donation page, which shows how to give via check, credit card, debit card, or PayPal. Read about why we're doing this fundraiser and what we've accomplished in the last year, and our current goal, more original reporting
By Lambert Strether of Corrente.
Trade
"TRUMP SUCCEEDS IN FORCING WTO SHAKEUP: Trade ministers from 13 economies — including Canada, Mexico, the European Union and Japan — gather in Ottawa today as part of a high-stakes effort to rescue the World Trade Organization from the trade fight sparked by the world's two largest economies, Pro Trade's Adam Behsudi reports. And while the United States and China weren't invited, the two economic powerhouses are expected to loom large over the talks today and Thursday. It also appears that the Trump administration's 'disruptively constructive' policies — a phrase used recently by U.S. envoy to the WTO Dennis Shea — are accelerating efforts to review and potentially rewrite the WTO rules and legal system" [Politico]. "A big issue confronting officials is how to control a superpower like China, which subsidizes industries, grants special treatment to state-owned companies, and still gets some of the same preferential treatment that developing nations do under international trade rules."
"Higher costs are racing through U.S. industrial operations and manufacturers are trying to pass them through their supply chains as fast as they can. Caterpillar Inc., 3M Co. and other industrial bellwethers are pointing to higher freight and commodities spending in their latest earnings… and several companies say higher tariffs on imported goods are making production more expensive. The growing risk from trade tensions raises new concerns for the manufacturers, and several report slowing sales in China as barriers to shipments grow and the country's economy cools" [Wall Street Journal].
"The Universal Postal Union is fast-tracking a rate review following President Trump's threat to pull out of the body, and the head of the United Nations agency that oversees the global mail system [says] it could institute changes as early as April. The Trump administration last week started the yearlong process to withdraw from the UPU because of discounts that make it cheaper to ship small packages from China to the U.S. than from domestic locations" [Wall Street Journal].
Politics
2018
12 days until Election Day. 12 days. That's less than two weels, still is a long time in politics. And speaking of October surprises, or surprises in October:

"CNN 'bomb' – live: At least six suspicious packages sent to Obama, Clintons and news media organisations across US" [Independent]. Live blog. The top item: "ABC is reporting that the suspicious package found by Capitol Police at the Congressional mail facility was addressed to Democrat Congresswoman Maxine Waters." • So the list keeps expanding, but the detail behind each list item tends to be lacking.

"Suspicious packages sent to Time Warner Center, Clinton and Obama" [CNN]. Live blog. The top item: "Potentially explosive devices have been mailed to Hillary Clinton, Barack Obama, liberal billionaire George Soros, former FBI director John Brennan and Former Attorney General Eric Holder over the past few days." • Further down, Harris and Cuomo. It's not clear to me whether all the devices were pipe bombs (the CNN one apparently had "white powder") and whether all were of identical manufacture. (The NYPD says "similar.") It's also not clear to me whether all the packages containing the devices were mailed, or hand-delivered. It would also be interesting to know what the labels look like. Ditto timing details, as an indicator of coordination. Presumably this will all be revealed in due course (though thinking back to the anthrax episode after 9/11, possibly not). I've gotta say, there don't seem to be many Republicans on the list of recipients.

"Pipe Bombs Sent to Hillary Clinton, Barack Obama and CNN Offices" [New York Times]. (The package for John Brennan was sent to CNN, with Debbie Wasserman-Schultz as the return address.) Detail on the device sent to CNN:

That device was constructed from a length of pipe a little longer than six inches and wrapped in black tape with what appeared to be epoxy on the ends, according to a person who had seen a photograph of it. What could be a timer was attached to the side of the pipe and wires were visible at both ends. Like the bomb sent to Mr. Soros's home, the envelope it arrived in was roughly 5-by-8 inches and had a printed white address label and half a dozen first-class postage stamps affixed to the outside.

"Reports of a suspicious package addressed to the White House are 'incorrect,' Secret Service says" [CNN]. More on the packages: "The packages sent to the Obama, Soros and Clinton addresses have a number of similarities, according to NBC News. The devices were contained in manila packages, and the signature on the devices, their components or packaging is almost exactly the same. The packages also have a return address the belonging to a prominent Democratic Party official."

Salutary advice: "The Shooting At YouTube Showed How Bad Twitter's Misinformation Problem Is" [Buzzfeed]. • That's a little unfair to Twitter, I think. Twitter is only as good as its sources: Professional and/or amateur, brilliant and/or trustworthy, or tendentious and/or horrid. Gutting the newsrooms didn't help (thanks, Facebook, for the pivot to video). When I first started following this story earlier this morning, it became quickly apparent that there wasn't much real news being shared, but what little there was, was being echoed feverishly. Readers, please update in comments, the more concrete detail the better!

* * *

"Political polarization and congressional candidates in the 2018 primaries" [Brookings Institution]. "Even though contested congressional primaries are rare and even though incumbent defeats in primaries are even more rare, factional divides within a party manifest themselves in primaries, and the existence of those factions shapes the behavior of members of Congress—even when they are not being directly challenged themselves… Much ink has been spilled this cycle on incumbent losses. When progressive candidates beat long time incumbents in New York and Massachusetts, they gained instant fame. And when President Trump took down a Freedom Caucus member from South Carolina, it too became big news. However, as we will see, the headlines that these wins triggered are hardly representative of any broader trends."

"Polls Could Be Missing a GOP Surge. Here's Why." [Bloomberg]. • Various reasons to be cautious. Here's one: "A late surge. That's what happened in 2016: Hillary Clinton's lead over Donald Trump fell sharply in the last two weeks of the campaign. Although the polls picked this up, or at least most of it, it's a good reminder that even mid-October surveys can miss late change. Could it happen again? It probably won't, but it could — in either direction. Watch what's in the news in the final days before the election."

"TJR's Two–Evils Endorsements" (PDF) [TJR (DK)] • A voter's guide for California. There certainly is a lot going on!

"Here are the 172 veterans running for Congress in November" [Military Times]. "On election night, Military Times will track the status of each veteran's race — 62 Democrats, 109 Republicans and one independent — across the country and update the results here. Readers can sort the candidates by clicking on the column headers below, or search for specific names using the search bar." • Handy!

CO: "In Colorado, a Bitter Battle Over Oil, Gas and the Environment Comes to a Head" [New York Times]. "If passed, the measure — Proposition 112 — would require companies to place new wells at least 2,500 feet from homes, schools, waterways and other areas designated as "vulnerable," two-and-a-half to five times the current state regulation. Even as the measure faces fierce resistance, industry leaders and environmentalists alike acknowledge that it could succeed. One recent industry poll obtained by The New York Times showed 43 percent of voters in favor, with 41 percent opposed. In recent years, Colorado oil and gas well operations have come so close to homes, schools and playgrounds that drill rigs, holding tanks, diesel trucks and floodlights are now common neighborhood features."

GA Governor: "Stacey Abrams, Brian Kemp clash in first debate" [Atlanta Journal-Constitution]. "[Abrams] said Medicaid expansion would be her Day One priority as governor. It would save rural communities and increase jobs in areas where hospitals are closing, she says. 'I know how to work across the aisle. Rural Georgia has been losing hospitals at an alarming rate,' Abrams said." • Same issue in ME-02.

ME-02: "Poliquin indicates he might challenge ranked-choice results if he doesn't win" [Portland Press-Herald]. "One of the more telling moments in the two debates among the four candidates in Maine's 2nd Congressional District came during the final question they faced. Asked if they'd accept the outcome of the ranked-choice voting contest, three of the contenders said they would. But U.S. Rep. Bruce Poliquin, a two-term Republican from Oakland, passed up the chance to rule out a possible legal challenge if he comes up short Nov. 6… With three recent polls indicating that Golden and Poliquin are locked in a dead heat in the hard-fought race to represent the sprawling district, it's becoming ever more likely that neither of the front-runners will collect a majority of the votes cast."

ME-02: "Chinese firm completes purchase of Old Town Mill" [Bangor Daily News]. "ND Paper completed its purchase of the Old Town Mill within nine days of its announced plan to buy the shuttered pulp mill from OTM Holdings…. After a series of phased capital investments, ND Paper said it expects to restart the mill in the first quarter of 2019." • Republican Governor LePage takes credit.

ME Senate: "He's a Long-Shot Senate Candidate With a Message: 'Capitalism Unchecked Is a Complete Disaster'" [New York Times]. "Mr. Ringelstein, who is the only Democratic Senate candidate to be endorsed by the Democratic Socialists of America, is a long shot: the Democratic Party of Maine has offered scant support, seeming to prefer instead the incumbent, Angus King, an independent who caucuses with Senate Democrats." • "Seeming"?

ND: GOTV:

Standing Rock Sioux Tribe / @StandingRockST releases step-by-step graphic to help Native voters. #StandingRockVoteshttps://t.co/RZSbd1sfjX

Story in @IndianCountry
via @VinceSchilling pic.twitter.com/7PL1XdStAa

— Vincent Schilling (@VinceSchilling) October 21, 2018
Realignment and Legitimacy
"The massacre men" [Scalawag]. • This is a long read on North Carolina history, but an essential one if you think of the South as a monolith: "Over 100,000 White Southerners would officially fight for the Union, with about 25,000 from North Carolina." Also good to know the Slave Power operated death squads, even during the Civil War. Looking at North Carolina politics today, you can see the sense in the old saw from Faulkner: "The past is never dead. It's not even past." The Poor People's campaign originated there for good reason.
Stats Watch
Architectural Billings: "Architecture firm billings slow but remain positive in September" [American Institute of Architects]. "AIA's Architecture Billings Index (ABI) score for September was 51.1 compared to 54.2 in August. However, continued strength in new projects coming into architecture firms points to billings growth in the coming months." And: "According to the AIA, there is an 'approximate nine to twelve month lag time between architecture billings and construction spending' on non-residential construction. This index has been positive for 12 consecutive months, suggesting a further increase in CRE investment into 2019" [Calculated Risk].
Composite Purchasing Managers' Index (Flash), October 2018: "Growth has firmed slightly in both the PMI manufacturing and PMI service samples so far this month" [Econoday]. "These results point to a fast start to the fourth-quarter and will lift expectations for the coming ISM manufacturing and non-manufacturing reports."
New Home Sales, September 2018: "the volatility in the September report is sharply downward" [Econoday]. "Buyer blahs in the housing sector are one of the chief and unwanted features of the 2018 economy." And: "This month the backward revisions were significantly downward. Because of weather and other factors, the rolling averages are the way to view this series. The rolling averages also significantly fell helped by the downward revision of the last two months of data" [Econintersect].
Federal Housing Finance Agency House Price Index, August 2018: "[S]oft as expected" [Econoday]. "Growth in home prices has been slowing visibly this year for a housing sector, where demand is flat and mortgage rates going up, that is the big disappointment of the 2018 economy."
MBA Mortgage Applications, week of October 19, 2018: "Purchase applications for home mortgages rose… rebounding after falling sharply in the previous week on the back of a jump in interest rates" [Econoday]. "[P]urchase applications may be on the brink of turning negative year-on-year again (as they were in August), which does not bode well for a housing market showing signs of increasing weakness."
Banking: "Trump reopening Wall Street casino by weakening Volcker Rule" [The American Banker]. "Prohibiting Wall Street's biggest, most dangerous banks from high-risk gambling with taxpayer-backed deposits, the Volcker Rule was one of the most important provisions of the 2010 Dodd-Frank financial reform law. It outlawed proprietary trading, which is Wall Street banks using other people's money (depositors) to make socially useless bets to fund their bonuses…. As we mark the 10th anniversary of the catastrophic 2008 financial crash, this is no time to return to the failed and discredited policies of the past which deregulated Wall Street. However, if the recent Volcker Rule proposal is finalized as proposed, there can be little doubt that will happen and there will be a substantial increase in prop trading at Wall Street's biggest banks. This will mostly be unseen due to the innumerable ways the proposal intentionally blinds regulators by eliminating reporting requirements and the broad-based delegation to the banks to self-police."
Commodities: "Oil's Rally Isn't Over Yet" [Bloomberg]. "Put down that chart and look around you…. It's still possible that the world rides out this latest supply-demand mismatch and heads toward the landmark of 100 million barrels a day of demand without prices spiking again. But for that to happen, everything has to go right on the supply side, and the demand side needs to start showing signs of a fatigue that we haven't seen so far. Don't count this rally out just yet."
Shipping: "Cass Freight Index report highlights a still strong freight market" [Logistics Management]. "Many freight transportation and logistics executives and analysts consider the Cass Freight Index to be the most accurate barometer of freight volumes and market conditions, with many analysts noting that the Cass Freight Index sometimes leads the American Trucking Associations (ATA) tonnage index at turning points, which lends to the value of the Cass Freight Index. September shipments, at 1.241, were up 1.1% compared to August and up 8.2% annually. Donald Broughton, the report's author and principal of Broughton Capital, wrote in the report that an 8.2% annual gain in shipments is the result of an expanding economy, adding that Cass is hard pressed to imagine a scenario, save for the catastrophic geopolitical event, in which such a strong rate of freight flow expansion was possible or even a precursor to an economic contraction." • Maybe I should file this one under Fodder for the Bulls… And: "I tend to put heavier weight on the CASS index which continues to show a strong and upwardly trending rate of growth improvement year-over-year. CASS rate of improvement is 8.2 % YoY whilst the ATA is 2.9 % YoY" [Econintersect]. "It should be pointed out that the trucking movements are improving YoY – and the likely reason is the shift from box stores to eRetailers."
Shipping: "ATA's truck tonnage readings trend down but remain on solid footing" [Logistics Management]. "'Truck freight slowed at the end of the third quarter,' said ATA Chief Economist Bob Costello in a statement. 'As anticipated, the year-over-year gains have slowed on strength a year earlier, but there is no doubt that freight softened in August and September. Despite the decreases late in the quarter, based on July's strength, third quarter tonnage rose 0.1% from the second quarter and 5.2% from the same period in 2017.'"
The Bezzle: "Uber's Secret Restaurant Empire" [Bloomberg]. "[A] phenomenon that Jason Droege, vice president for Uber Everything, labels the 'virtual restaurant.' Such places start with no storefronts and no seats; they operate out of a corner of a professional kitchen, inside a restaurant with a different name and menu. These kinds of unconventional options are proliferating as the online food delivery business continues its pace of 20 percent year-over-year growth…. There are now more than 300 Uber Eats employees as the unit leverages Uber Technologies Inc.'s existing drivers, data and name recognition to expand. Droege sees the most growth outside of the major urban centers… " • Easy-peasy until the first case of food poisoning, and it's hard to assign responsibility. More regulatory arbitrage? Too cynical?
Tech: "Peter Thiel's Controversial Big Data Firm Could IPO At $41 Billion" [Safe Haven]. "As reported by the Wall Street Journal, Palantir has been discussing IPO plans with Credit Suisse and Morgan Stanley, and expects to turn a profit this year. It could even IPO with a value of up to $41 billion—more than double what private investors recently valued it at, and 55 times its 2018 revenue."
Tech: "Silicon Valley silent on Saudi money amid Khashoggi scandal" [Politico]. "Tech executives withdrew in scores from a high-profile Saudi investment summit amid the uproar over the killing of journalist Jamal Khashoggi — but top Silicon Valley companies show no signs they plan to unwind their lucrative business ties with the country…. Ride-hailing services Uber and Lyft have struck major investment deals with Saudi investors in recent years, and Twitter counts Saudi Prince Alwaleed bin Talal as one of its top shareholders. The Saudi financial fingerprint also extends to other well-known brands such as Snap and Tesla." • It would excellent to put an end to the horrid war in Yemen. However, I also understand that Saudi money is stupid money, and it would also be excellent to let some of the air out of companies like Uber and Tesla. And heck, Twitter. Maybe if @jack had less money sloshing about, he could stop paying engineers to crap around with algos that ruin the user experience, and revert to the simple and rugged chronological timeline from accounts I subscribe to. If less stupid money means less crapfication, I call that win-win.
Tech: "Yahoo Agrees to Pay $85M to Settle Consumer Data Breach Class Actions" [National Law Journal]. "Yahoo Inc. has agreed to pay up to $85 million to settle consumer class actions brought over its recent data breaches. The settlement, filed in court on Monday, includes a $50 million fund from which consumers can file claims to be reimbursed. In addition, Yahoo has agreed to provide and pay up to $35 million in attorney fees." • Credit monitoring… So they douse my house with accelerant, and then agree to let me know when it catches on fire.
Class Warfare
"NAFTA's Army: Free Trade and US Military Enlistment" [International Studies Quarterly]. From the abstract: "I argue that international trade increases military enlistment in the United States….. This study analyzes an original, county-level data set on army enlistment and trade-related job losses from 1996 to 2010. The results suggest that a trade shock of one thousand job losses is associated with a 33 percent increase in army enlistment in the median county." • Remember that combat deaths correllated to Trump votes in 2016.
"Labor Flexes New Muscles in Online Media" [Bloomberg]. "Employees of Law360, a unit of LexisNexis, voted two years ago to unionize but have been unable to secure a contract. On Tuesday night, they voted 141 to 11 to greenlight a work stoppage, according to the Communications Workers of America's NewsGuild… Along with threatening a strike, the NewsGuild has begun seeking support from Law360 subscribers, including law firms, urging them to contact management."
"Capital for the People?" [Jacobin]. "A school of thought that has recently surfaced in the wake of the Amazon wage increase (the impact of which may be mixed) holds that policy proposals should be evaluated purely in terms of their agitational impact. To be sure, political struggle makes change possible. However, if we hope that a victorious President Ocasio-Cortez would construct [a Social Wealth Fund (SWF)], we ought to venture into the weeds of the rationale for such a fund, how it would come into being and operate." • "Agitational impact…"
Deaths of despair:
Pretty stunning map of fentanyl's three-year crusade through Pennsylvania. This is just the beginning. https://t.co/2Du9R2icuf via @aubreyjwhelan pic.twitter.com/N6Om7BVlHt

— Max M. Marin (@MaxMMarin) October 24, 2018
News of the Wired
Edmund Wilson. Haven't heard his name in years:
Noted literary critic and philanderer Edmund Wilson was a pioneer of the autoreply pic.twitter.com/eK5RXhSHmu

— Shuja Haider (@shujaxhaider) October 24, 2018
Fine anaphoric layout, and proper punctuation!
"Redefining the Mole" [NIST]. "[T]hanks to the concept of the mole, you know that 18 grams of water—a macro quantity you can easily see and measure—contains approximately 600 billion trillion individual water molecules—a submicroscopic quantity not easily measured. And you would know that for every 10 water molecules you create, you need exactly 10 oxygen atoms and 20 hydrogen atoms. Because of this, you can easily design chemical reactions at the atomic level that would produce exactly the amount of substance you need at a macroscopic level. For about 20 years, the international community has been working on a modern redefinition of the mole. This effort centers on an amazingly ultra-pure sphere of one of the world's most common elements: silicon. But unlike the kilogram ingot in France, this one won't sit in a little vault somewhere and be used for reference. Instead, the equations will be used for reference. The sphere will serve as evidence that the numbers work. And scientists will finally achieve what French revolutionaries envisioned when they created the SI: a measurement system for all times and for all people." • Chemistry mavens may enjoy the two large equations.
"The Nose Knows: Scientists Confirm Scent of Lavender Reduces Anxiety" [Courthouse News] (original; mouse study, n = 240). "Researchers in the physiology department at Kagoshima University in Japan found that linalool, a terpene alcohol naturally found in lavender, decreased anxiety levels in laboratory mice when simply inhaled and does not need to enter the bloodstream to work… Researchers in the physiology department at Kagoshima University in Japan found that linalool, a terpene alcohol naturally found in lavender, decreased anxiety levels in laboratory mice when simply inhaled and does not need to enter the bloodstream to work."
"GNU Kind Communications Guidelines" [Richard Stallman, GNU Operating System]. • Interesting and useful.
* * *
Readers, feel free to contact me at lambert [UNDERSCORE] strether [DOT] corrente [AT] yahoo [DOT] com, with (a) links, and even better (b) sources I should curate regularly, (c) how to send me a check if you are allergic to PayPal, and (d) to find out how to send me images of plants. Vegetables are fine! Fungi are deemed to be honorary plants! If you want your handle to appear as a credit, please place it at the start of your mail in parentheses: (thus). Otherwise, I will anonymize by using your initials. See the previous Water Cooler (with plant) here. Today's plant (In the Land of Farmers):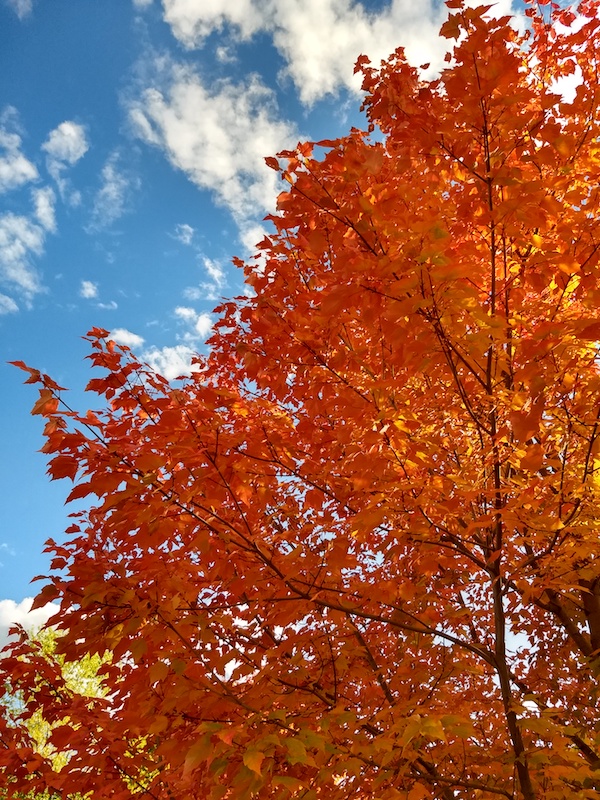 In the Land of Farmers writes: "Fall has arrived in Missoula, MT." Gorgeous!