By Lambert Strether of Corrente.
Patient readers, today's Water Cooler will be randomly thin, because I was finishing up another worksheet on the midterms. Talk amongst yourselves! –lambert
Politics
2020
"Hillary Clinton's curious comments about 2020" [Washington Post]. "If you've completely shut the door and you don't want people to keep thinking it's even a slight possibility, though, it was a curious response." • The very reverse of a Sherman statement.
2018
"Republicans Rushing to Save House Seats From Onslaught of Democratic Money" [New York Times]. "As the 2018 midterm campaign enters its final full week, House Republicans are rushing to fortify their defenses in conservative-leaning districts they thought were secure, pouring millions of dollars into a last-minute bid to build a new firewall against Democrats. Republicans, in defending a 23-seat majority, are likely to lose a handful of open or Democratic-tilting seats as well as another dozen suburban districts that Hillary Clinton carried in 2016, according to political strategists in both parties. But now Republican officials are increasingly concerned about Democratic incursions in some of the remaining 30 competitive districts on the House map where the Republican candidates thought they had an edge." • The only wave that counts…

"Paleologos on the Poll: Conflicting trends and no 'neat package' for the midterms" [JSA Today]. "In the final weeks, strategists will scramble to look for what independent voters do care about and the key issues to target. So, we asked the question in an open-ended format, capturing all kinds of responses grouped into 17 major categories. The poll says look no further than healthcare (20 percent) as the key issue among independents that will affect their vote for Congress. Political operatives will pounce on this finding and try to wrap this issue with a red or blue ribbon in the closing days." • "Heath care," an issue that the Democrats have made every effort to make as hazy as possible…

Beto O'Rourke Grabbed a Political Third Rail—And Electrified His Campaign The Atlantic. I greatly respect Colin Kaepernick. But ther

"Beto O'Rourke Grabbed a Political Third Rail—And Electrified His Campaign" [The Atlantic]. The Third Rail: Colin Kaepernick. "The energy of his campaign is not so much about O'Rourke himself, Foster soon learned, as about what he has tapped into—a deep desire among many voters for a politician willing to stand up for their beliefs, instead of apologizing for them."
Realignment and Legitimacy
Voting:

"An Open Letter to Everyone Who Won't Stop Telling Me to Vote" [Medium]. "Democrats love to wag a finger at people who don't vote, instead of looking in the mirror at why people who are marginalized but able to vote (are not incarcerated, can afford an I.D., have an address to send a ballot to, have a polling place near them, are able to take time off, etc.) still decide that choosing not to vote is better than supporting them."

Don't be like this guy's Mom:

So, my mother went to Wendy's drive-thru today. Per her telling, it went about like this:

"Welcome to Wendy's. Can I take your order?"

"I'll have a #1."

"Anything else?"

"Are you registered to vote?"

"Am I-"

"…registered to vote?"

"Yes, ma'am."

"Ok. I'll drive up."

— The Hoarse Whisperer (@HoarseWisperer) October 23, 2018

"Full text of Carter's letter to Georgia secretary of state" [Jimmy Carter, New York Times]. "To Secretary of State Brian Kemp: I have officially observed scores of doubtful elections in many countries, and one of the key requirements for a fair and trusted process is that there be nonbiased supervision of the electoral process…. you are now overseeing the election in which you are a candidate. This runs counter to the most fundamental principle of democratic elections — that the electoral process be managed by an independent and impartial election authority…. In order to foster voter confidence in the upcoming election, which will be especially important if the race ends up very close, I urge you to step aside and hand over to a neutral authority the responsibility of overseeing the governor's election." • Georgia sounds like they could use some international observers to certify the race. And they're not the only state.

"Reports: Votes in Texas, Georgia are being changed at polls" [Axios]. "Some early voters in Texas and Georgia have been reporting that their party selections on their voting machines have been switched to the opposite party, or are not selecting candidates at all, according to reports by ABC13 and USA Today. Why it matters: Such vote recording problems raise questions among voters about whether their votes are being counted properly and whether voting machines are rigged." • The "Why it matters" editorial formula is a propos….

"Missouri GOP sent 10,000 voters false absentee voting information" [Kansas City Star]. "The Missouri Republican Party sent mailers to 10,000 voters across the state with false information about when their absentee ballots are due, the party's executive director acknowledged Friday. Ray Bozarth said the incorrect information was printed on postcards as the result of a miscommunication between the party and its vendor, which he declined to name. Bozarth also did not say how the miscommunication occurred." • Uh huh.
Stats Watch
Personal Income and Outlays, September 2018: "Income growth proved very slight in September with inflation steady and moderate and right on the Federal Reserve's target" [Econoday]. "The current on-target result justifies the Fed's efforts and forecasts and though income is stubbornly weak, consumer spending is alive and well and is another factor confirming a path ahead of gradually rising interest rates." And: Consumer income growth year-over-year is lower than spending growth year-over-year" [Econintersect].
Dallas Fed Manufacturing Survey, October 2018: Increasingly robust [Econoday]. "Of the 12 Federal Reserve regions tracked in the Beige Book, only Dallas is enjoying 'robust' activity, evident in this report since early last year." And: "Based on these regional surveys, it seems likely the ISM manufacturing index will be solid in October, but below 60 again (to be released on Thursday, November 1st)" [Calculated Risk].
Transportation: "The Computer Chauffeur Is Creeping Closer" [New York Times]. "Among the challenges in developing A.I. is its lack of transparency, said Kurt Lehmann, head of technology development at Continental, one of the largest suppliers to the auto industry. 'A fundamental weakness of the systems is that it's a black box.' Mr. Lehmann said, referring to the challenge of analyzing the actions of algorithms. 'It's not always predictable, and you can't always tell why a decision has been made, so robust training and validation are needed.'" • Along with immunizing the AI industry from liability…
Rapture Index: Closes down 1 on earthquakes. "The lack of activity has downgraded this category" [Rapture Ready]. Record High, October 10, 2016: 189. Current: 182. Testing whether 180 is a floor.
Class Warfare
"Liberal elites choose to stay silent on class" (letter) [Financial Times]. "Liberal elites are not 'class clueless", as [Joan C Williams' in her essay "#MeToo and the new work rules" (Life & Arts, October 20)] would have it. Like everyone else, they know full well about class. But they choose to stay silent." • That would be fine, but they choose to silence others, as well.
"Neoliberalism and Fascism: the stealth connection" [The Contemporary Condition]. • A primer on the neolibera thought collective.
"Nearly 50 Eli Lilly janitors, others removed from rally for higher wages, health care" [Indianapolis Star]. "Organized by SEIU, the local union representing Downtown janitorial and security staffers, the demonstration was an effort to improve workers' contracts to include paid sick time, health care and pay raises. Many make less than $10 an hour. … SEIU organizers told IndyStar contract negotiations with SBM Management Services, the company that contracts the staffers to Downtown companies, have stalled. SEIU organizers say it comes down to SBM asking Lilly for funds to help cover the cost of raises and benefits."
"As states chase sports betting gold, addicts left in the cold" [Reuters (EM)]. "Of the eight U.S. states that legalized full-scale sports betting, only three have increased funding for problem gambling services. And the contributions have been small, according to state officials and program directors. None of those states, or the additional 15 and the District of Columbia that introduced bills in 2018 to legalize sports betting, have followed the National Council on Problem Gambling (NCPG) recommendation to dedicate 1 percent of legal sports betting revenue to problem gambling services." • Why not just sell crack?
News of the Wired
Another ad from the 60's, when prose was prose:
1965 advert for Sony TVs touring custom transistors. Full page ad in Life Magazine. pic.twitter.com/o9kUksyKVg

— Steven Sinofsky (@stevesi) October 26, 2018
Click on the image; the pitch is in the very last sentence.
Automobile culture:
Apparently there's names and abstract diagrams for different types of parking garage configurations. pic.twitter.com/NYiFmatORB

— Chenoe Hart (@chenoehart) October 26, 2018
But will robot cars be able to use them?
"Innovation":
I just discovered the Pepsi rebranding slides from 2008 and it is truly breathtaking pic.twitter.com/idhAbVWufp

— visakan veerasamy (@visakanv) October 25, 2018
I think it's been more than a few Mondays since I've played Escape-ism (James Brown):
Quite the segue at 2:38. Get down!
* * *
Readers, feel free to contact me at lambert [UNDERSCORE] strether [DOT] corrente [AT] yahoo [DOT] com, with (a) links, and even better (b) sources I should curate regularly, (c) how to send me a check if you are allergic to PayPal, and (d) to find out how to send me images of plants. Vegetables are fine! Fungi are deemed to be honorary plants! If you want your handle to appear as a credit, please place it at the start of your mail in parentheses: (thus). Otherwise, I will anonymize by using your initials. See the previous Water Cooler (with plant) here. Today's plant (AM):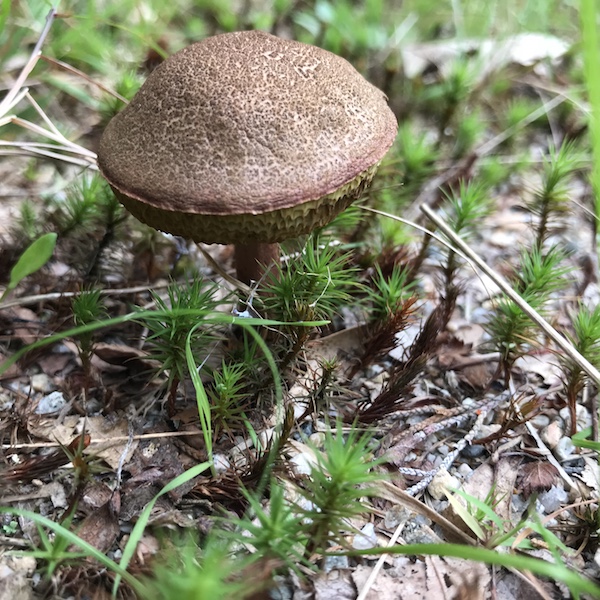 AM writes: "Here is a mushroom surrounded by moss fronds that I came across at the end of my walk in Rehoboth, MA."
And since today is National Cat Day, here is one last photo of the Summer Cat having a thought, as cats will do: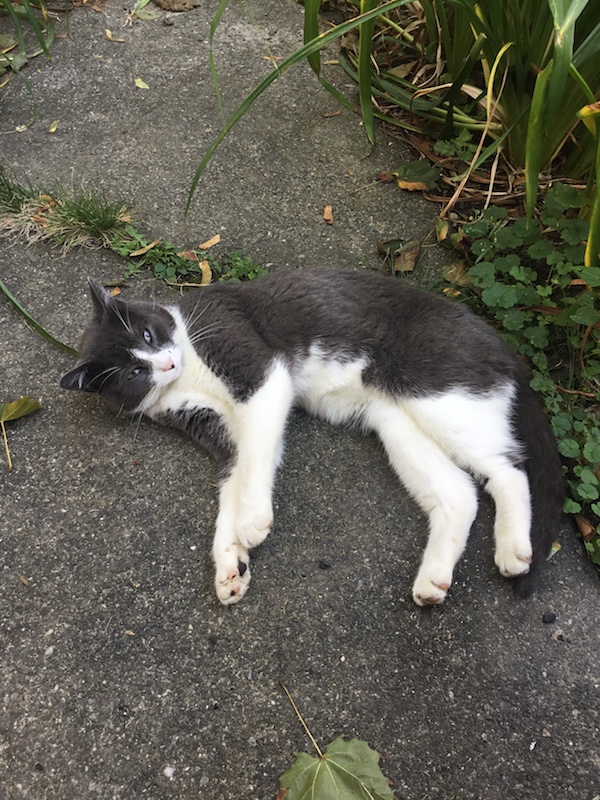 * * *
Readers: Water Cooler is a standalone entity not covered by the annual NC fundraiser, now completed. So do feel free to make a contribution today or any day. Here is why: Regular positive feedback both makes me feel good and lets me know I'm on the right track with coverage. When I get no donations for five or ten days I get worried. More tangibly, a constant trickle of small donations helps me with expenses, and I factor that trickle in when setting fundraising goals. So if you see something you especially appreciate, do feel free to click below! (The hat is temporarily defunct, so I slapped in some old code. The form below should work.)
Or Subscribe to make a monthly payment!