"Things are more like they are now than they ever were before." –Dwight D. Eisenhower
By Lambert Strether of Corrente
Today I want to look at some topics that came to my mind when I was working through the last midterms worksheet, "Worksheet for the 2018 Midterms (If There Is a Blue Wave, What Next for Democrats?)." All these topics concern the Democrat Party as an institution, and pertain whether 2018's Blue Wave breaks far up on the beach (~50 seats, a possibility Democrat strategists are now discounting), breaks on the beach (23+ seats, giving control of the House to the Democrats), or breaks short of the beach (<23 seats, leaving Republicans in control of the House). Again, I should caveat that I am not looking at all House candidates, but those 80 that handicappers felt would be "in play" at the start of the primary season. Those 80, it seemed to me, is where the liberal Democratic Establishment would take its best shot. Those 80, it also seemed to me, was where, if anywhere, the left would challenge liberal Democrats, if indeed they did challenge them. There are three topics: The class composition of the Democrat Party electeds (electeds, at least, in the primaries), the success or failure of the Democratic Congressional Campaign Committee's candidates (DCCC), and the DCCC vs. Our Revolution (OR). I've formulated queries for each, and the results are as you see in Figures 1, 2, and 3.
Figure 1: Composition of the Democratic Party Electeds: MILO vs. Science, Health, Education
As readers know, the World Socialist Web Site posted on the "CIA Democrats" in March 2018. For example:
Elissa Slotkin [supported by both the DCCC and Emily's List], a former CIA operative with three tours in Iraq, who worked as Iraq director for the National Security Council in the Obama White House and as a top aide to John Negroponte, the first director of national intelligence. After her deep involvement in US war crimes in Iraq, Slotkin moved to the Pentagon, where, as a principal deputy assistant secretary of defense for international security affairs, her areas of responsibility included drone warfare, "homeland defense" and cyber warfare. The Democratic Congressional Campaign Committee (DCCC) has designated Slotkin as one of its top candidates, part of the so-called "Red to Blue" program… The Democratic leaders are promoting CIA agents and Iraq and Afghanistan war veterans. At the same time, such people are choosing the Democratic Party as their preferred political vehicle. There are far more former spies and soldiers seeking the nomination of the Democratic Party than of the Republican Party.
(More here, here, and here.) However, when I looked at my sample of 80 districts and 392 candidates, I found only 14 candidates whose bios indicated they had intelligence backgrounds. So, if the WSWS story is true for the Democrat Party as a whole, it's not true for my sample. So I decided to broaden my criteria to "MILO" candidates (Military, Intelligence, Law Enforcement, Other). Which makes sense if you think about it, because intelligence — and especially, heaven forfend, domestic intelligence — is embedded in a matrix of all those functions; spies are surrounded by soldiers, lawyers, and other operatives of dubious provenance. Here are the successful MILO candidates in the Democratic 2018 primaries for my sample: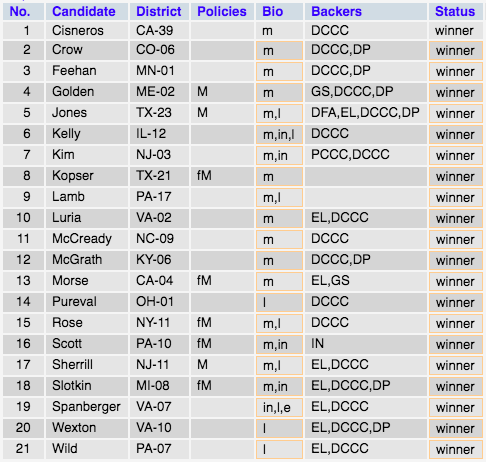 20 winning MILO candidates out of 80 districts (25%) is very, very impressive. For contrast, we can look at winning candidates with backgrounds in Science, Health, or Education: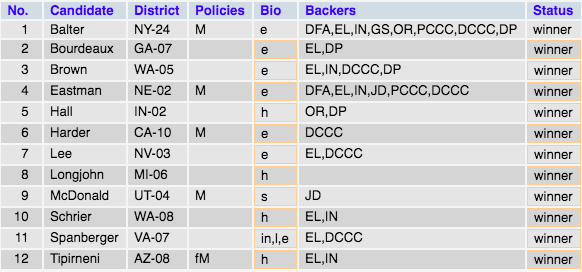 Only 12 (15%). Notice also the prevalence of DCCC support for MILO candidates, compared to a scattering of DCCC support for Science, Health, or Education candidates. So, at least for my sample of battleground districts, if we agree with Thomas Frank's thesis that the Democrats are the party of the professional classes, we can see that the composition of electeds (should these candidates be elected) will be skewed toward professional soldiers, professional spies, and professional law enforcement far more heavily than it will be toward professional scientists, medical specialists, or academics. The schwerpunkt, as it were, of the Democrat Party is, if not military, militarized.
Figure 2: The DCCC Had a Very Good Year
An even better year than punching the left in the mouth by defenestrating Ellison and purging all Sanders supporters from the Rules and Bylaws Committee would have suggested. Here are their results: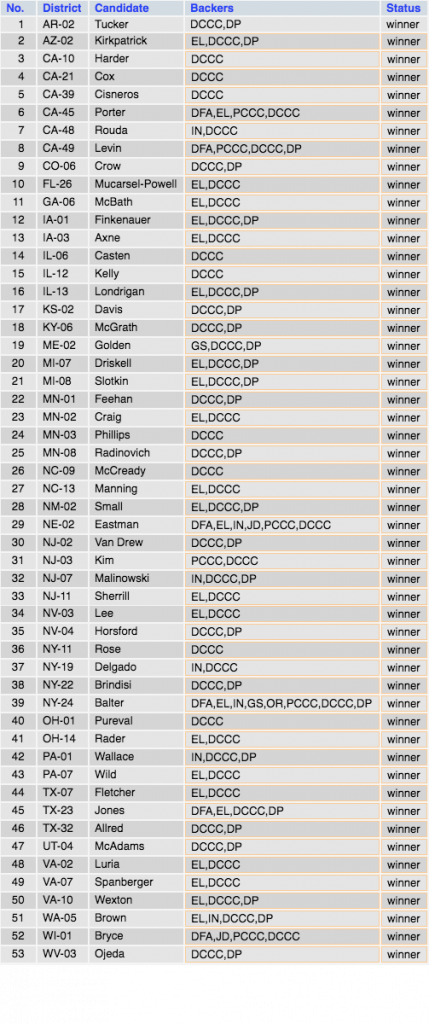 Of the winners in the 80 districts I tracked, 53 (66%) were backed by the DCCC (were, in other words, ready to spend four hours a day on the phone with donors asking for money, because that's the price of DCCC support). The DCCC backed no losers.
Figure 3(a): The DCCC vs. Our Revolution
I wondered if there was significant overlap between the set of DCCC candidates and the set Our Revolution (OR) candidates, or whether the two sets were disjunct. Here is the answer:

There is almost no overlap; I've marked the five districts where OR challenged the DCCC. OR lost every time. (I don't know why there were no challenges. I could speculate that OR didn't feel ready, that there was a dearth of candidates, a dearth of money, that OR is less about the national level than the state and local level, or that OR and DCCC had an implicit deal not to challenge each other because checking Trump was the over-riding priority.) I don't view these results as a rebuke to OR; far from it. OR maintains lists for the results of its campaigns for 2016, 2017, and this year (so far). Here is 2018's.
Figure 3(b): Our Revolution
Green for winning; blue for losing: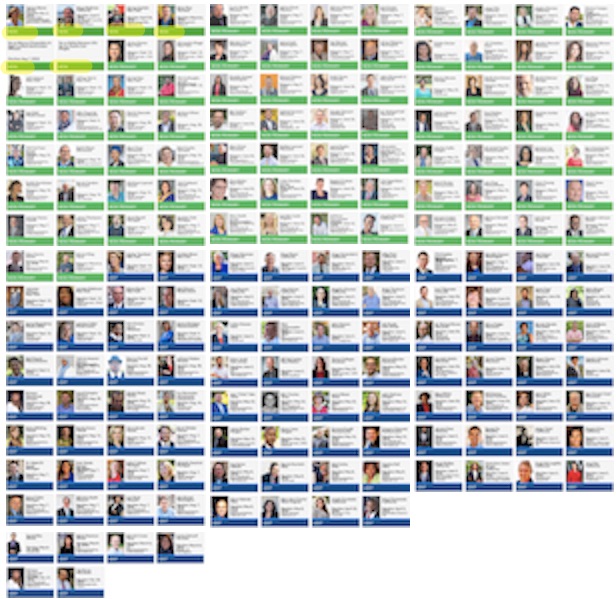 (The winners so far are highlighted at top left.) As I've said, campaigning for office is very, very hard. It is a real skill, and it has to be learned by doing it; there's no other way. Not everybody is a natural like AOC (or, it has to be said, Bill Clinton). So what OR is doing for the left is, at a minimum, developing a bench. Further, think of the candidates listed above — both green and blue — and those who participated in their campaigns, as pre-positioned outposts for 2020, outside the control of the Democrat Party apparatus. Could be useful, especially with the 2020 campaign already well underway.
* * *
This post brings me almost to the conclusion of what has been for me a very entertaining series of worksheets on the mid-terms; I've certainly learned a lot — often by making mistakes — about how to work with this data. I'll have at least one wrap-up after Election Day. I hope readers have found these worksheets helpful!
UPDATE To be more clear, I regardless of where the Blue Wave breaks, I don't expect much to be left on the shore but flotsam and jetsam. No treasure chests! Even leaving Medicare for All aside, the militarization of candidates in this sample does not inspire confidence.