Last year, CalPERS insiders no doubt tried to rationalize Margaret Brown's victory over long-standing board member and former CSEA president Michael Bilbrey as a fluke. On the board, Bilbery gave a very convincing imitation of a potted plant. Brown made Bilbery's "missing while present" status as a board member who almost never spoke into a campaign issue. She had also won the endorsement of key retiree organizations, whose members have a high propensity to vote. Brown beat Bilbrey by 53% to 47%.
Jason Perez's defeat of high-profile board president Priya Mathur is an even more forceful blow to business as usual at CalPERS. This election was for the public agency local government employees board seat, so only current employees were eligible to vote. That should have given the unions more sway than for the "all member" seat that Brown successfully contested last year.
But beneficiaries are correctly worried about CalPERS's deeply underfunded status, at 71% even with market valuations of most assets at nosebleed levels. As a result, the press is no longer giving CalPERS the benefit of the doubt. And those who tune in and watch board meetings can readily see that the board refuses to discuss fundamental issues, most importantly the underfunding (save for Dana Holligner, who makes an occasional gripe for the record, knowing no one else will take it up). Union leaders have been preoccupied with inside-Sacramento political games, acting as if CalPERS can run on auto pilot because California taxpayers are ultimately on the hook. The rank and file's repudiation of this cronyistic stance should serve as a big wake-up call.
Mathur had barely retained her seat when she faced a challenger the last time she was up for reelection, despite her opponent being a vocal proponent of "reform," as in cutting pensions, which is like trying to get turkeys to vote for Thanksgiving. But Mathur had a series of violations of disclosure requirements, both of financial conflicts of interest and campaign disclosures. She made her problematic history worse with her conduct as board president, a post she assumed this January. Mathur has a highly interpersonal orientation, prioritizing smooth relations over sound policy. She thus firmly backed staff and fellow board members in trying to leash and collar new board member Brown, who ran as a watchdog. Having Mathur defend now-departed Chief Financial Officer Charles Asubonten despite clear documentary evidence of him having committed perjury on his employment application, block board members from getting their mail and fail to stop the illegal practice of having board members pre-sign blank travel forms, made it all too visible that she'd back CalPERS staff no matter how indefensible their conduct was. The mail interception was particularly misguided. Brown says even now she has members of the public asking whether she is finally getting her mail.
Jason Perez is a Corona City police officer and head of his union. Many law enforcement organizations endorsed Perez. Mathur was endorsed by SEIU, AFSCME California, and the California Professional Firefighters union. The fact that Perez beat Mathur so decisively despite her having the support of much more influential unions is a sign of dissatisfaction with how CalPERS is being run.
Perez criticized Mathur's advocacy of ESG (environmental, social, and governance) priorities without weighing them against investment returns. From a Los Angeles Times story by John Myers on the election results:
Perez focused his campaign squarely on Mathur's record representing public agency workers and on what he argues is a record by the pension fund of being overly focused on the political implications of its investments.

"In the past, it's been used more as a political action committee than a retirement fund," Perez said in an interview Thursday. "I think the public agency [employees] are just sick of the shenanigans."

As such, Perez could bring a decidedly different approach to the pension governance board. In March, he lashed out at state Treasurer John Chiang, who sits on the CalPERS board, during a debate over whether the fund should embrace Chiang's request to divest from certain gun retailers.

"This is nothing more than a political ploy," Perez said during public comment. "It has nothing to do with CalPERS and its fiduciary responsibility to invest, to maximize returns."

The board ultimately declined to accept Chiang's proposal.
Mathur was so fixated on ESG issues that, in combination with her traveling around the world on a frequent basis to speak at and participate in ESG conferences, it looked like she was positioning herself for future career opportunities at the expense of CalPERS beneficiaries. And her considerable charm and her leadership on key committees appears to have had the effect of the board as a whole similarly spending too much time on ESG at the cost of other investment topics. It's easy to have an opinion on ESG matters and CalPERS could bask in being a prominent player in this arena. But that lead to atrocities like the board tolerating staff presenting documents to the press about its unprecedented, in a bad way, private equity scheme, that any competent organization would have regarded as an embarrassment for being so devoid of substance. If all you can show is a few slides with less than 500 words of text in total on them, it would have been smarter to wait and come up with better messaging.
Adam Ashton of the Sacramento Bee also weighed in, cherry picking a remark by Perez designed to make his look bad:
Perez was a first-time candidate who said when he launched his campaign that he wanted to run because he was worried about the $360 billion pension fund, and "I'm selfish; I want to retire." At a debate, he said he wanted the pension fund to focus on maximizing returns from its investments.
Nevertheless, as our reader Rev Kev said by e-mail: "The best bit? Adam Ashton had to write this story." A reader sent us this screenshot of the first two comments on the Perez/Mathur piece on the SacBee.com State Worker page on Facebook:1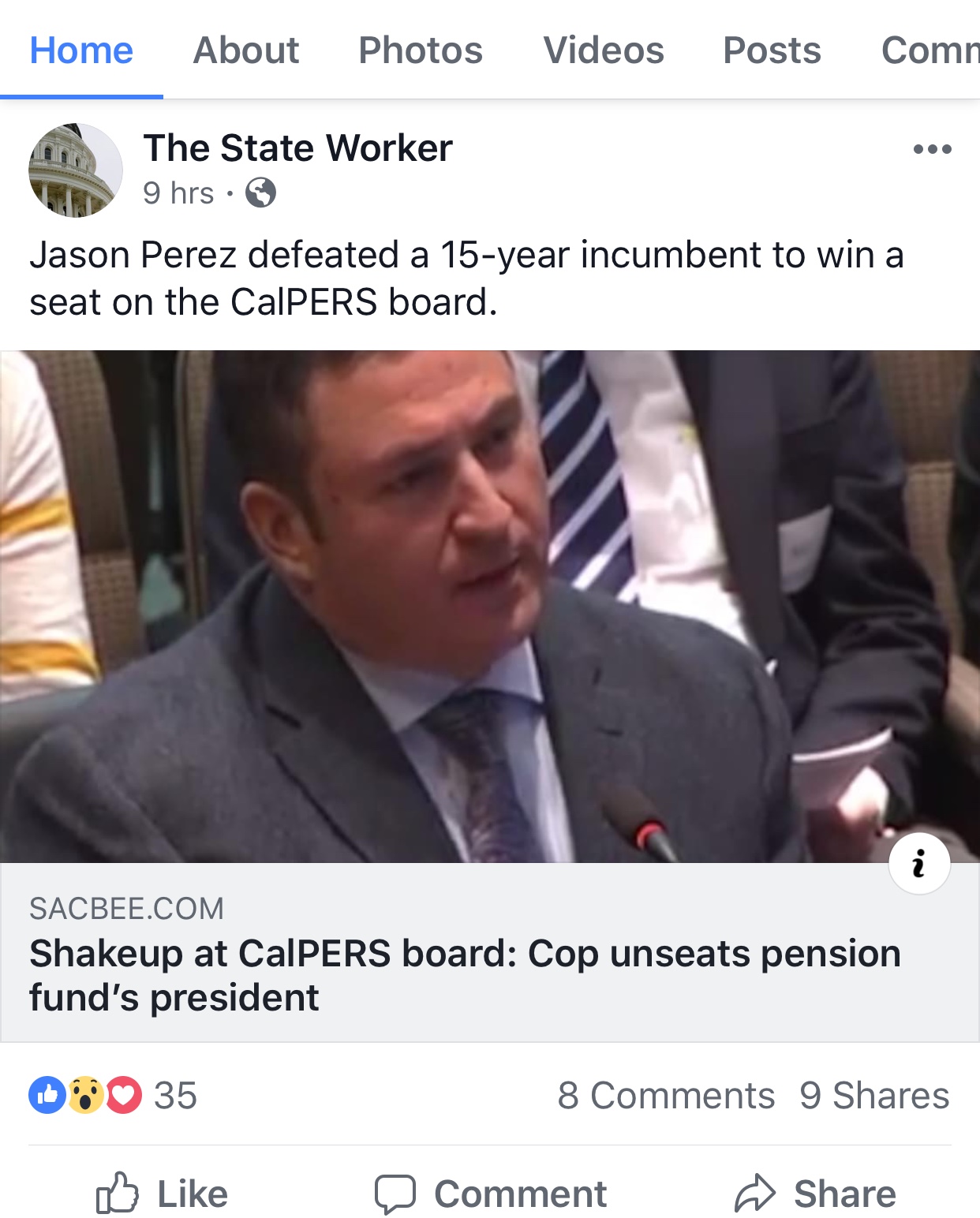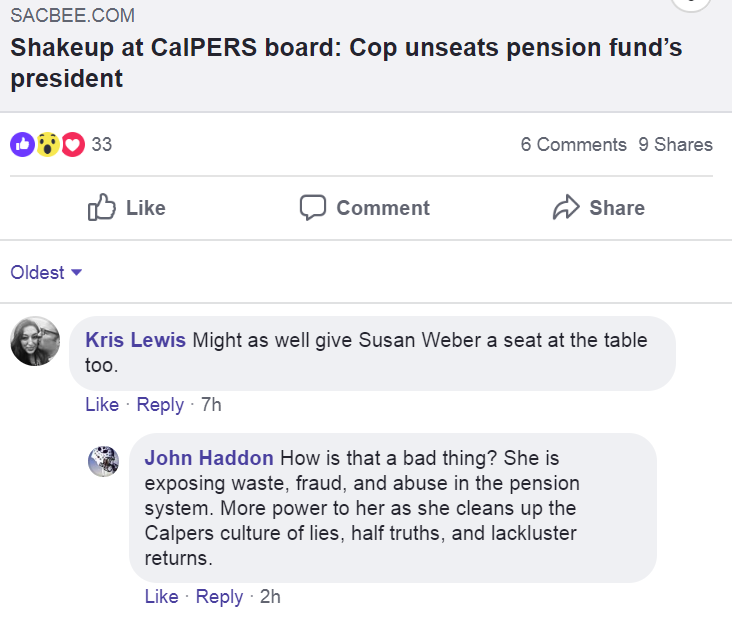 Lewis' remark is yet another proof of how deeply captured the CalPERS board has become. It is apparently inconceivable to Lewis that it is normal and healthy for board members to operate independently and challenge staff members, particularly when they are acting in a self-serving or slipshod manner. The old normal at CalPERS, before the Fred Buenrostro era, was a highly engaged, vigorous board that did not hesitate to slap down staff when the board thought staff was over-reaching. This healthy tension between the board and staff was a central element to CalPERS once having been a widely admired institution.
In other words, it is apparently so inconceivable to Lewis that board members are capable of speaking up that he assumes there must be a hidden hand somewhere. That's an insult to Brown and Perez but comforting to people who'd rather resort to conspiracy theories than recognize that CalPERS is in desperate need of governance reform, and beneficiaries are so concerned that they are stepping forward to move CalPERS in a better direction.
I hope you'll all wish Perez success in his new role!
______
1 The comments on Facebook are not the same as the ones on the Sacramento Bee's website. I am told by readers who use Facebook that Kris Lewis is a CalPERS employee and a Facebook friend of Ashton's who chats with him regularly.