By Lambert Strether of Corrente.
Trade
"Interesting Map Showing The Importance of Canada-USA Trade By State/Province" [Merchant Marine]. "Given the relative populations and economic size, it's not surprising that Canada probably needs the US more than the US needs Canada." • Percentages are state (or province) GDP dependent on trade with the US (or Canada):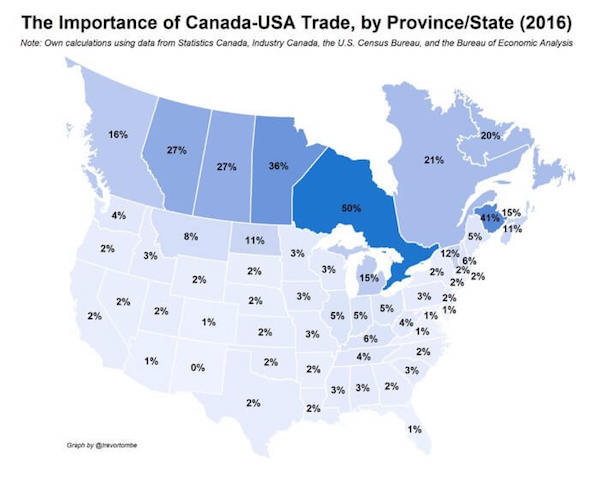 Politics
2020
But he's not even a Democrat:

this guy right here…..
"BERNIE SANDERS I KID YOU NOT STOPPED ME FROM GETTING HIT BY A CAR ON MY WAY TO MY GUITAR LESSON SO WE TOOK A SELFIE TOGETHER. ( he is also much taller than me so awkward picture )"

source: https://t.co/M5qERgWdvN pic.twitter.com/ni9tQEYLqh

— Our Revolution NE (@OurRevolutionNE) October 4, 2018

(Source is a Facebook page, which at least exists.) Of course, it's hard to top Booker running into a burning house. But not bad!
2018
32 days until Election Day. 32 days is a long time in politics (as we are seeing right now with Kavanaugh. And where's Rosenstein?).

"GOP, Dems battle over secret FBI report on Kavanaugh" [Associated Press]. "A high-stakes partisan row quickly broke out Thursday over a confidential FBI report about allegations that Brett Kavanaugh sexually abused women three decades ago, with Republicans claiming investigators found "no hint of misconduct" and Democrats accusing the White House of slapping crippling constraints on the probe." • Waiting for the report to leak…

UPDATE "Here's a list of people the FBI did NOT interview. Okay with this, Flake and Collins?" [WaPo]. "You'll be shocked to hear that the White House has already pronounced the FBI report entirely exonerating for Kavanaugh, claiming that it is now "fully confident" Kavanaugh will be confirmed." • It's quite a list.

UPDATE "Key Republicans signal confidence in FBI report on Kavanaugh" [Politico]. "Sen. Jeff Flake (R-Ariz.) told reporters that 'we've seen no additional corroborating information' about alleged sexual misconduct by Kavanaugh in high school and college, and Sen. Susan Collins (R-Maine) said the investigation 'appears to be a very thorough' one. But Collins made clear that she remains undecided on Kavanaugh and wants to read more of it herself." • I don't think the FBI even took a whole week…

"The Kavanaugh curveball" [Larry Sabato's Crystal Ball]. "We find it difficult to assess the importance of the Kavanaugh situation while his nomination remains in limbo. It does make some intuitive sense to suggest that the outcome, whatever it is, could have a limited and possibly contradictory electoral effect depending on the race. Suburban, college-educated women are both enraged at the president and likelier to be sympathetic to Ford; these voters are very important in some of the key House races, many of which are in newly-swingy territory covering affluent, highly-educated suburbs. Meanwhile, many of the key Senate races are in dark red states, where voters probably are more sympathetic to Kavanaugh and/or outraged that Democrats are trying to submarine the president's Supreme Court pick. There are some signs that the Kavanaugh fight has stirred the GOP base, at least for the moment."

"Is Kavanaugh Helping Republicans' Midterm Chances?" [FiveThirtyEight]. "From a 35,000-foot view, the story in the generic ballot numbers is largely one of stability…. Republicans' numbers have reverted back to where they were in early September, with around a 25 percent chance (1 in 4) of keeping the House. However, they're somewhat better than than they were in mid-September… But there's some pretty darn good news for Republicans in our Senate forecast: Republicans have been favored to keep the Senate all along. But their position has improved quite a bit over the last week in all three versions of our model."

SCIF = "Sensitive Compartmented Information Facility":

This is the SCIF where senators are entering today to read the supplemental FBI report on Brett Kavanaugh. pic.twitter.com/FsxWjk0qew

— Andrew Desiderio (@desiderioDC) October 4, 2018

* * *

"Ratings Changes: House, Senate, and Governor" [Larry Sabato's Crystal Ball]. "We have 11 House ratings changes, all in favor of Democrats" (CT-05, GA-07, KS-03, MN-02, NC-13, NJ-02, PA-06, PA-10, PA-16, TX-06, and TX-32.) "The Senate remains in stasis"

"After money surge, GOP frets Democrats can 'buy rage in bulk'" [McClatchy]. "House Democratic candidates are raising money like never before in the run-up to Election Day — and their record-setting hauls are alarming already anxious Republicans who now worry that a difficult political environment is becoming even worse…. The sums — driven by small-dollar online fundraising — are unprecedented, sometimes exceeding even what many House candidates typically raise during an entire campaign. And strategists in both parties say they see this cash surge as a major inflection point in the campaign…. The Democratic donations have been driven by online contributions: ActBlue, which supplies the digital fundraising platform for nearly every candidate Democratic candidate, said this week it has processed $385 million in contributions during the third quarter to candidates and liberal causes. That was more than the group processed during the entire 2014 election cycle, it said."

"Poll: Amid Kavanaugh Confirmation Battle, Democratic Enthusiasm Edge Evaporates" [NPR]. "Just over a month away from critical elections across the country, the wide Democratic enthusiasm advantage that has defined the 2018 campaign up to this point has disappeared, according to a new NPR/PBS NewsHour/Marist poll. In July, there was a 10-point gap between the number of Democrats and Republicans saying the November elections were "very important." Now, that is down to 2 points, a statistical tie." • One poll….
2016 Post Mortem
"The Color of Economic Anxiety" [Current Affairs]. A visit to Milwaukee: "A few days before interviewing Mr. Royal, I spoke with Martha Love, an officer of the Democratic Party of Milwaukee County. She was confounded as to how Hillary lost the state and huge numbers of its black voters. Mr. Royal, on the other hand, was very clear in his assessment of the 2016 election. I asked him whether he considered Hillary Clinton's campaign to be among the worst merely because of her ground-game missteps or if anything else factored in. 'African Americans, especially African Americans in this city with [high rates of ] poverty, 50% black male unemployment for . . . years. That shows you the systemic racism that isn't being addressed. And if you're not going to speak to that, why would I be engaged?'" • A long read, well worth it.
Realignment and Legitimacy
"A plea to end all partisan gerrymandering challenges" [Constitution Daily]. "The decades-long search for a way to judge the constitutionality of election maps that give one party's candidates a clear advantage at the polls has been 'an exercise in futility,' [four state legislators from North Carolina] argued. The time has come to end that search altogether, according to the appeal in the case of Rucho v. Common Cause. The document has just become available publicly. If the Court were to do as asked, legislators with control of their chambers would have no limit on how far they could go to create for their party an enduring domination of seats in state legislatures and even in the U.S. House of Representatives." • Yikes!

"Chelsea Clinton: 'The horrors' of Trump administration 'won't change my life'" [The Hill]. "'I'm protected by the color of my skin, I'm protected by my privilege, I'm protected by the fact that I live in New York City, I'm protected by my immigration status,' she told the child-filled crowd this week." • And your class. And your hereditary status.

"Identity Politics Does Not Continue the Work of the Civil Rights Movements" [Areo]. "Universal liberalism focuses on individuality and shared humanity and seeks to achieve a society in which every individual is equally able to access every right, freedom, and opportunity that our shared societies provide. Identity politics focuses explicitly on group identity and seeks political empowerment by promoting that group as a monolithic, marginalized entity distinct from and polarized against another group depicted as a monolithic privileged entity."
Stats Watch
Factory Orders, August 2018: "A monthly upswing for aircraft made for a 2.3 percent jump in August factory orders that masks, however, general weakness in the report" [Econoday]. "The major negatives in the report are in core capital goods… Unfilled orders are a major positive in the report…. August may have been a good month for transportation equipment but it really was a flat month for manufacturing as a whole." And but: "The data in this series is noisy so I would rely on the unadjusted 3 month rolling averages which insignificantly improved. Remember the headline numbers are not inflation adjusted – and inflation is a big deal in this sector" [Econintersect].
Challenger Job-Cut Report, September 2018: "Inflated by long-term downsizing at Wells Fargo, layoff announcements shot higher in September" [Econoday]. And: "While the Financial sector announced the most cuts in September with 27,343, most of which are due to increased demand for online banking options, Retailers similarly continue to announce cuts as consumers pivot to online shopping, with Retail leading all sectors in job cuts" [Econintersect].
Jobless Claims, week of September 29, 2018: "Hurricane Florence and flooding in the Carolinas proved to have very limited impact on jobless claims" [Econoday]. "Jobless claims remain very low and very favorable and are consistent with downward pressure for tomorrow's unemployment rate and for strength in payroll growth." And: "This was lower than the the consensus forecast. The low level of claims suggest few layoffs" [Calculated Risk].
Real Estate: "How Many D.C. Suburban Office Parks Became Ghost Towns" [The American Conservative]. "While at the hotel [in Fair Lakes, Va.], I noticed something that seemed unusual in the adjacent lot: an entirely abandoned five-floor commercial building with a large parking area. As I've driven around the area since then, I've noticed a significant number of similarly vacant or mostly empty commercial buildings. This situation seems odd—Northern Virginia boasts five of the 13 richest counties in the country, and southern Maryland has two more of them. Why does one of the wealthiest areas of the United States possess such an abundance of vacant commercial real estate? …. [T]his increasingly seems to be a problem not limited to the D.C. area: 14 to 22 percent of national suburban office inventory has been assessed to be obsolete, while businesses across the country are moving back into the cities." • Leaving out all the analysis on causality, since the author gets the subprime crisis wrong. Still, interesting anecdotal data. Readers?
Shipping: "Breakbulk: Call it a Comeback" [Logistics Management]. "As rates for container and handy-size bulk carriers have escalated, these operators have been discouraged from competing for breakbulk cargo. This is good news for breakbulk shippers and the network of domestic ports reliant on their business… [B]reakbulk does well when the global economy remains strong… While many of the nation's largest container ports can accommodate breakbulk, a handful of smaller ocean cargo gateways are becoming competitive specialists in this niche. In the Pacific Northwest, for example, the Port of Portland is marketing its Terminal 6 as a premier breakbulk option, although it can also handle containerized cargo. Portland's Terminal 2 is a pure-play breakbulk terminal capable of handling steel rail imports from Asia. The Port of Everett in Washington is also making a play to capture more "over-dimensional" freight with recent investments in its infrastructure. The Boeing Company, which ships aerospace parts for the new 777X is one particular beneficiary. "
The Bezzle: "Banks in Estonia Handled $1 Trillion in Flows Dwarfing Danske" [Bloomberg]. "The sheer scale of international flows through a country whose 2017 GDP was just 23 billion euros raises serious questions about Estonia's role in abetting Russian capital flight."
The Bezzle: "Sotheby's Accused of Abetting 'Largest Art Fraud in History'" [Courthouse News]. "A Russian billionaire who allegedly overpaid to the tune of $1 billion for his collection of Picassos, da Vincis, Rothkos and Modiglianis ramped up his litigation efforts Tuesday with a suit against Sotheby's…. Rybolovlev, who sold two Russian fertilizer producers for almost $7.5 billion in 2010 and 2011, claims that Swiss art dealer Yves Bouvier overcharged him on 38 artworks that he purchased for $2 billion between 2003 and 2015. A dozen of these masterpieces were sold through the Sotheby's, and Rybolovlev says the auction house "was uniquely positioned to understand — and to facilitate — Bouvier's breathtaking fraud…. Bouvier, who is linked to infamous high-profile forgers and also faces accusations of stealing famous paintings, was arrested in early 2015 in Monaco." • Of course he was.
The Bezzle: "SEC Chairman Wants to Let More Main Street Investors In on Private Deals" [Wall Street Journal]. "The Securities and Exchange Commission wants to make it easier for individuals to invest in private companies, including some of the world's hottest startups, the agency's chairman said in an interview." • Oh, good. "Hot startups."
The Bezzle:
Note to finance nerds, media types, PRs from someone who has recently spent some time in the real world. 1) nobody cares about blockchain. 2) nobody cares about crypto other than recreational drug users and gambling addicts. 3) everybody hates Facebook

— Izabella Kaminska (@izakaminska) October 1, 2018
The Bezzle: "GM Cuts in Front of Waymo to Seal Self-Driving Deal With Honda" [Bloomberg], "Exactly how that potential deal [between Honda and Google] has unraveled isn't clear. But Waymo's lineage may not have helped matters. Even though it's no longer part of Google, Waymo is still owned by Google parent Alphabet — and the concern is that it has retained some of Google's tendency to act as a competitor even to its own partners."
Tech: "Google is building a search engine for fact checks" [Poynter Institute]. "On Tuesday, the Google News Initiative launched the beta version [requires sign-in] of a tool that's specifically for fact-checking content. The feature, which the company has been working on for months, uses the same signals as other Google products, such as Google News, to surface work from fact-checkers like Snopes and (Poynter-owned) PolitiFact." • This just seems odd; the content is of such a small scale.
The Fed: "Sunny Skies for The US Economy" [Tim Duy's Fed Watch]. "Recent data follows a familiar pattern of general strength. Household spending in August was up 3% compared to a year earlier, the fastest pace since 2016. The spending looks likely to continue on the back of solid job growth. Indeed, consumers appear quite pleased with the situation. The University of Michigan Consumer Sentiment measure rebounded in September while the Conference Board confidence number rose to an 18-year high…. That said, the disproportionate happiness of Republican respondents may render the confidence measures less useful as a guide to consumer spending. Since 2017, spending growth has consistently fallen short of forecasts based on confidence numbers – it is unusual to see persistent one-sided errors in the forecast. That said, even discounting the confidence numbers accordingly still leaves behind a solid pace of spending growth." • Well, what's wrong with being disproportionately happy? I wish I were!
Health Care
"Workers Pay Greater Share of Health Tab, Dwarfing Income Gains" [Industry Week]. "In 1999, the average total premium for a family health-insurance policy — taking in what workers and their employers paid — was about 14% of median household income. By last year, that was up to 31%. Workers' contributions on average reached about 9% of household income."
"Nobel Prize-winning physicist Leon Lederman dies at 96" [Associated Press]. "His Nobel Prize sold for $765,000 in an auction in 2015 to help pay for medical bills and care." • Tell me it's not a great country!
Black Injustice Tipping Point
"Dallas police, DA refuse to release Amber Guyger's 911 call, other info in Botham Jean case" [St. Lucia News]. "First Assistant District Attorney Mike Snipes said Tuesday that the office hoped holding back information such as the 911 calls would cut back on pre-trial publicity. Snipes, the top prosecutor under District Attorney Faith Johnson, said the office wants to try the case in Dallas and not have a judge move it elsewhere in the state on grounds that jurors here have already made up their minds."
"Chicago Could Blow if Laquan McDonald's Killer Walks" [Truthdig]. "The city's neoliberal mayor, Rahm Emanuel, has 'made black neighborhoods unlivable,' [Chicago anti-war and anti-racist activist Andy Thayer] says, by 'starving them of public resources, closing public schools and mental health clinics.' Could the city explode in racial violence again, on a larger, 1968-level, in response to police violence and repression? Yes, it could, thanks to how the case of Laquan McDonald and Jason Van Dyke, the Chicago police officer who killed him four years ago, is being handled by the authorities. Van Dyke is currently on trial for the shooting. But the Obama Museum is moving right along!
"Shades of Violence: Jim Crow Justice and Black Resistance in the Depression-Era South" [Southern Spaces]. • The NAACP and the International Labor Defense (ILD) duking it out….
The Black Misleadership Class 2.0:
Here is the video of Ferguson activists protesting Deray book tour. pic.twitter.com/Mcm9hRKcwu

— .YoNasDa Lonewolf (@QueenYoNasDa) September 14, 2018
Now that Deray is hanging out with Obama's speechwriter making podcasts…
Gaia
"Toxic Algae Bloom Spreading North in Florida" [Governing]. "Dead fish were reported along the entire coastline of Palm Beach County, which first showed signs of red tide on Saturday… After forming in the Gulf of Mexico, red tide can reach the Atlantic coast by riding the Gulf's Loop current, which threads the Florida Straits and forms the Gulf Stream, the current that skims the Atlantic coast. Palm Beach County, where it was first detected, is at higher risk because that's where the Gulf Stream passes closest to land. The toxic algae has driven away swimmers and littered west coast beaches with dead fish for months."
Imperial Collapse Watch
"A staggering number of troops are fat and tired, report says" [Military Times]. "[A 2018 RAND report], featuring roughly 18,000 randomly selected participants across each of the service branches, showed that almost 66 percent of service members are considered to be either overweight or obese, based on the military's use of body mass index as a measuring standard." • Rather like the F-35, although at least the troops aren't spontaneously combusting. So there's that.
Class Warfare
"Food firms aren't doing enough to end forced labor, report finds" [Supply Chain Dive]. "[KnowTheChain's] second report since 2016 analyzed 38 global food and beverage companies against seven benchmark themes: commitment and governance; traceability and risk assessment; purchasing practices; recruitment; worker voice; monitoring; and remedy. Unilever again scored the highest (69 of a possible 100), followed by Kellogg, which took the second place position with a 66 score. Then came Coca-Cola, Tesco, Nestlé, Walmart and PepsiCo. Near the bottom were Monster Beverage, with a 4 ranking, Hormel Foods with 10, Tyson Foods with 12 and Conagra Brands with 18."
News of the Wired
"The first "social network" of brains lets three people transmit thoughts to each other's heads" [Technology Review]. "The proof-of-principle network connects three people: two senders and one person able to receive and transmit, all in separate rooms and unable to communicate conventionally. The group together has to solve a Tetris-like game in which a falling block has to be rotated so that it fits into a space at the bottom of the screen. The two senders, wearing EEGs, can both see the full screen. The game is designed so the shape of the descending block fits in the bottom row either if it is rotated by 180 degrees or if it is not rotated. The senders have to decide which and broadcast the information to the third member of the group. To do this, they vary the signal their brains produce. If the EEG picks up a 15 Hz signal from their brains, it moves a cursor toward the right-hand side of the screen. When the cursor reaches the right-hand side, the device sends a signal to the receiver to rotate the block."
"Standing desk recommendations based on weak science" [CNN]. "A 2016 meta-analysis of 20 studies, conducted by the Finnish Institute of Occupational Health and including more than 2,000 participants, found little evidence that standing or treadmill desks have any health benefits. Even the best studies they found were poorly designed, with small sample sizes and little to no followup to see whether standing desks had any real long-term effects. The researchers concluded that buying a standing desk may reduce your sitting time by as little as 32 minutes a day." • Glad I never talked myself into one, then.
* * *
Readers, feel free to contact me at lambert [UNDERSCORE] strether [DOT] corrente [AT] yahoo [DOT] com, with (a) links, and even better (b) sources I should curate regularly, (c) how to send me a check if you are allergic to PayPal, and (d) to find out how to send me images of plants. Vegetables are fine! Fungi are deemed to be honorary plants! If you want your handle to appear as a credit, please place it at the start of your mail in parentheses: (thus). Otherwise, I will anonymize by using your initials. See the previous Water Cooler (with plant) here. Today's plant (MG):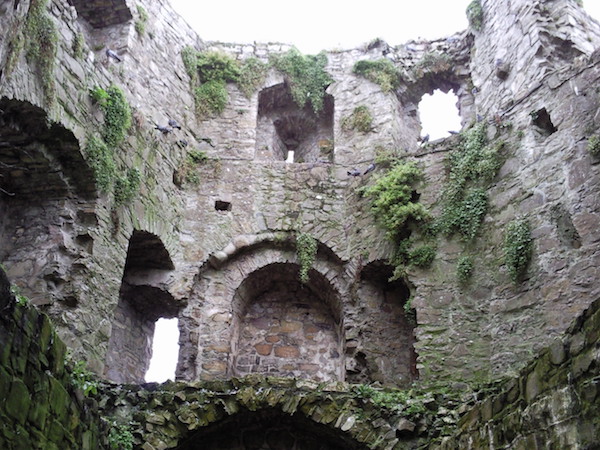 Oooh, another ruin! Trim Castle Hill of Skryne, County Meath, Ireland.
* * *
Readers: Water Cooler is a standalone entity not covered by the annual NC fundraiser. So do feel free to make a contribution today or any day. Here is why: Regular positive feedback both makes me feel good and lets me know I'm on the right track with coverage. When I get no donations for five or ten days I get worried. More tangibly, a constant trickle of small donations helps me with expenses, and I factor that trickle in when setting fundraising goals. So if you see something you especially appreciate, do feel free to click the hat!

To give more, click on the arrow heads to the right of the amount.
If you hate PayPal — even though you can use a credit card or debit card on PayPal — you can email me at lambert [UNDERSCORE] strether [DOT] corrente [AT] yahoo [DOT] com, and I will give you directions on how to send a check.