By Lambert Strether of Corrente
October is National Dental Hygiene Month, and this month's Health Affairs has an illuminating review of journalist Mary Otto's Teeth, which gives an institutional explanation for why we tend to see dental care as optional:
Like a man possessed, Chapin Harris, the father of modern dentistry, traveled across nineteenth-century America honing a specialty that was undeniably linked to, yet kept separate from, the rest of medicine. In Harris's time, teeth were a commodity to some, a nuisance to others, and deadly to many. While it was relatively easy to ask patients to perform regular brushing and flossing and to fill caries with gold, the formation of a dental society and school was burdened with infighting among Harris's associates. For reasons that are more fable than reality now, a school of dentistry was not established at the medical school of Harris's local university, the University of Maryland. Rather, a new school was formed: the Baltimore College of Dental Surgery. With this act, .
(Imagine if the same institutional separation applies to orthopaedist, and we had "Free Bone Clinics" with thousands of poor people lining up to get treatment.) Of course, this is nuts, since teeth are implicated in every aspect of our heatlh, as well as income. From the Kaiser Foundation:
Untreated oral health issues in adults can affect appetite as well as the ability to eat, often leading to nutrition problems. In addition, poor oral health can cause chronic pain that can affect daily activities such as speech or sleep. Oral health problems also affect the ability to work; employed adults lose more than 164 million hours of work a year related to oral health problems or dental visits. Adults who work in lower-paying industries, such as customer service, lose 2 to 4 times more work hours due to oral health-related issues than adults who have professional positions.
Bad teeth are also a class marker. From the New York Times:
People with bad teeth can be stigmatized, both in social settings and in finding employment. Studies document that we make judgments about one another — including about intelligence — according to the aesthetics of teeth and mouth.

About one-third of adults with incomes below 138 percent of the poverty level (low enough to be eligible for Medicaid in states that adopted the Affordable Care Act Medicaid expansion) report that the appearance of their teeth and mouth affected their ability to interview for a job. By comparison, only 15 percent of adults with incomes above 400 percent of the poverty level feel that way.
Naturally, you're more likely to end up in Pain City if you're poor or otherwise marginalized. Kaiser once more:
Overall, 26% of nonelderly adults ages 19-64 have untreated dental caries. But the rate is highest among adults with income below 100% the [Federal Poverty Line (FPL)], who are more than three times as likely to have untreated caries as adults with income above 400% FPL. Also, African-American and Hispanic adults have higher rates of untreated caries than White adults – 39% and 41%, compared to 22%. And adults with any health insurance are less likely to have untreated caries than uninsured adults (22% versus 43%)
However — perhaps because dentistry isn't really medicine? — "Medicaid coverage of adult dental services is a state option. Also, states define the amount, duration and scope of the benefits they cover." (Children are covered.) As a result, we have the usual nutty, random patchwork of coverage, where some citizens are first-class, and others are second- or third-class: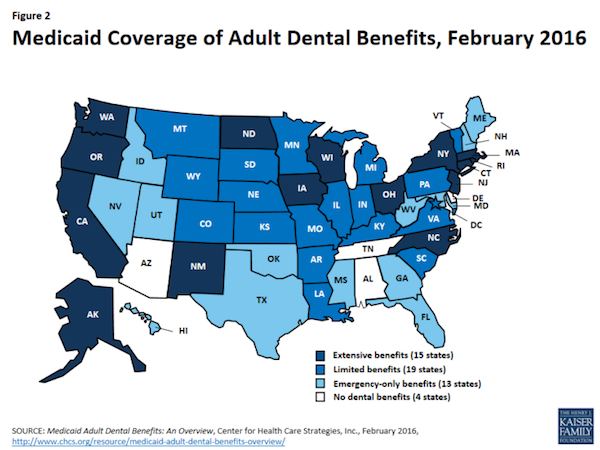 So, and as usual, if you want dental care, be sure that you choose a wealthy family to be born into, and failing that, pick the right state.
Now, you may have the option of attending a free dental clinic. Thousands do. A sampling of coverage:
"Free dental services to be offered in New Haven" [WTNH (2017)]. "The Connecticut Mission of Mercy will be holding a free dental clinic in New Haven. The clinic is made possible with the help of some 1,300 volunteers. Just to give you an idea of how big this is, in 2016 the free dental clinic was held in Hartford. More than 1,700 patients were treated over the course of two days."

"Thousands Expected for Free Dental Care Offered at the Minneapolis Convention Center" [KSTP (2018)]. "The Mission of Mercy event is expected to benefit as many as 2,000 patients in need of dental care on Friday and Saturday. The goal is to reach underserved communities and about 1,500 volunteers—including dentists, hygienists, dental assistants, therapists, and even translators—will be treating them….. The event is open to anyone, regardless of insurance status or ability to pay…. Organizers will not be asking for identification…. The event is first come first served, and due to the large number of people expected, anyone who goes to the convention center for the event should plan to make a day of it."

"Thousands to get free dental care" [Tampa Bay Times (2014)]. "Thousands of people hoping to get cavities filled or teeth pulled are expected to attend Florida's first Mission of Mercy event today and Saturday. Up to 2,000 patients could receive free dental care at the event….. Many dentists do pro-bono work out of their private offices, Cullinan said, but these large-scale gatherings allow them to see more patients…. [O]rganizers expect to reach the daily quota of 800 patients by 10 a.m. Patients will be seen on a first-come, first-served basis."

"Thousands of Free Dental Procedures Provided to Patients in Need at Mission of Mercy in Moorhead" [Minnesota Dental Association (2016)]. "The Concordia College Memorial Auditorium was transformed into a giant dental clinic that included 75 dental chairs, 16 sterilization units, and 7 x-ray units. Over the course of two days there were 1,391 patient visits, resulting in over 7,655 total dental procedures, including 1,003 fillings, 1,394 extractions, 1,418 x-rays, 292 cleanings, 81 partial dentures, and 59 root canals. Patients treated included those from Moorhead and Fargo, as well as many who drove from other areas of the state and even other states. Over 800 volunteers from all over Minnesota and North Dakota were used to staff the two-day event…."

"Thousands receive free dental care in Woodstock" [Journal Constitution]. "Mark Williams went without sleep for his teeth. What was remarkable about that was he was joined by about 2,000 other people Thursday night doing the same thing in the dark outside a church in Woodstock. They lined up for the miracle of free dentistry…. Patients were arrayed on either sides of five long work stations, six patients to each side, with signs labeling work stations: Extractions, Fillings, Cleanings, Root Canals. Assistants hurried from station to station while a large garbage bin on wheels made the rounds and discards from the procedures – spent needles, and absorbant materials — were tossed in… Dentists came by and grabbed instruments with odd names (scalers and cowhorns) by the handful and scurried away. Upstairs a lab was set up and the smell of melting wax and Bunsen burners tinged the air as technicians built in a few hours bridges it would normally take two weeks to get on order…. The work was done by one of hundreds of dentists who volunteered for the two-day Georgia Dental Mission of Mercy that ends Saturday."

"Free dental care for thousands at upcoming Augusta event" [Savannah Now (2018)]. "Augusta dentist Michael Vernon remembers driving up to the first Georgia Mission of Mercy event in 2011 in Woodstock. 'When we got there at 4:30 in the morning there were 4,500 people in line,' he said. They are hoping for around 2,000 this Friday and Saturday at James Brown Arena for the fourth Mission of Mercy, sponsored by the Georgia Dental Association and its Foundation for Oral Health…. They are hoping for 1,300 volunteers, including 24 dentists from the Augusta area as well as dental hygienists and others, to help ensure patients work their way through the system and around the arena to 100 dental chairs that will be set up there."

"Thousands to get free dental care at Phoenix event" [FOX 10 (2017)]. "Jose Hernandez has suffered from a major toothache for the past year. He finally underwent a root canal this morning and was waiting for a new crown. 'I didn't have no money to fix it, you know, social security, you don't have much money to live on,' he said. Hernandez is one of 2,000 people who will receive up to $2 million in free dental care this weekend, thanks to the Mission of Mercy or M.O.M….In the six years since the event started, a total of 10,000 people have received $10 million in dental care."
This is a random sampling from Google, I swear! (OK, as much as anything from Google can be said to be a random sampling.) You did notice the common element, right? From the "Mission of Mercy" About page:
An independent nonprofit 501 (c)(3), faith-based community organization, Mission of Mercy receives no government funding. Because of this, we can provide healthcare without any pre-qualifications. None of our patients must prove their poverty or residency.

Founded in 1991 and launched in 1994 by clinical pharmacist, Gianna Talone Sullivan, Pharm D., headquartered in Pennsylvania and serving clinics in Arizona, Maryland, Pennsylvania and Texas, Mission of Mercy now has 17 clinics providing more than 25,000 free patient visits each year.
Being cynical — or, given our experience since at leaat the Bush administration, realistic — when I hear "faith-based" I think proselytization, and when I see "faith-based" in combination with service delivary, I think forced proselytization. That's not backed by evidence (see the coverage above) but it's also not compatible with the Mission (capital M) of the founders:
The Board of Directors, staff, and volunteers that have been attracted to Mission of Mercy were first people whose own prayer life had led them to seek a greater intimacy with Our Lord. While not all of our volunteer staff are of the one faith, in Mission of Mercy each of us has found an expression of that intimacy and actively try to see the suffering Christ in each of the poor we serve. We are a charitable, not a religious organization, and we specifically do not proselytize, yet for the most part we gaze on Our Father and the poor through Christian eyes. For this reason it is not so difficult for us to see the rejection, loneliness, abandonment and suffering that Our Lord endured in the poor He brings to us and allows us to serve.
Hence the refreshing lack of complex eligibility requirements that is the hallmark of neoliberal programs like ObamaCare.
Now, I would be the last to trash Mission of Mercy, even though I am very much not a person of faith, or "churched." They're doing wonderful work alleviating suffering in a very unassuming manner — I checked the Board of Directors, and there are no marquee evangelical names, or at least none with whom I am familiar — and are a terrific example of what De Tocqueville called "the American genius for cooperation." That said, you have to look at the numbers. M.O.M claims "25,000 free patient visits." I think that's modest, so move the decimal point: 250,000. That's still a drop in the bucket in a country where "26% of nonelderly adults ages 19-64 have untreated dental caries." But there is a solution that scales.. Senator Sanders' Medicare for All:
… covers all sorts of things. Sanders proposes generous coverage that goes well beyond what Medicare currently covers, and even well beyond what many people's private insurance plans cover. His plan would and vision care, for example, which are, for the most part, not covered by Medicare.
It's hard to see why I can't find an endorsement of the Sanders plan on the M.O.M. site. Surely Medicare for All is the biggest mission of mercy of all?