This is Naked Capitalism fundraising week. 573 donors have already invested in our efforts to combat corruption and predatory conduct, particularly in the financial realm. Please join us and participate via our donation page, which shows how to give via check, credit card, debit card, or PayPal. Read about why we're doing this fundraiser and what we've accomplished in the last year, and our current goal, funding more meetups and travel.
By Lambert Strether of Corrente.
As newer readers may not know, both Yves and I were competitive debaters back in the day[1]. From "Parents, Debate Is the Right Competitive Sport for Your Child!," I listed debate's virtues: Speaking Before Crowds, Critical Thinking Skills, Research Skills, Rhetorical Skills, and Competitive Skills. And both of us use all those skills every day at this blog (if you think of writing and responding to comments as a form of speaking, as I do). For some reason, debate seems to be part of the zeitgeist just know, which prompted this post. From the Brookings Institution, "A counterintuitive proposal for improving education and healing America: Debate-centered instruction." They write:
I know it's unconventional and possibly counterintuitive, what with all the partisan shouting matches we see on cable TV or (if you can bear them) in congressional floor speeches. But those are not the skills taught by competitive debating in school, namely how to: research; think critically and do it on your feet; back up arguments with evidence (not fake news!); work collaboratively with partners; speak persuasively in a civil fashion; and, perhaps most importantly, being able to argue both sides[2] of most any issue or subject. These are also precisely the skills that all students, not just the less than 1 percent who participate in competitive debate, should acquire to be good citizens and to be successful in the workforce[3].

One county in America, Broward County in Florida, recognized this to be the case in 2013, when it became the first and only county—so far—to require all high schools, middle schools, and even elementary schools (beginning with fourth grade), to offer speech and debate classes. After getting off to a slow start, this "Broward Initiative" is now thriving, with over 12,000 students currently participating. The county proudly touts how its debate initiative is improving educational performance of its student-participants.

It should be no surprise, therefore, that two of the leaders of movement for gun control who emerged after the February 2018 mass shooting at Marjory Stoneman Douglas High School in Broward County, David Hogg and Jaclyn Corin, debated competitively. Several other students from the school had been preparing for debates over gun control before the tragic shooting took place.
Still on the zeitgeist, across the Pond, the Economist agrees. "The struggle to take debating beyond elite private schools":
Advocates posit a range of benefits. Duncan Partridge of the ESU argues that the confidence and fluency debating inspires will help children in future university applications and job interviews. Teachers at Redden Court say it has improved pupils' ability to set out their arguments logically, in writing and in class. Debate Mate believes debating can be of wider use still. It has programmes for pupils with behavioural difficulties, including one, "DebateBox", that mixes debate training with boxing.

Yet, despite these organisations' best efforts, success in elite debating tournaments is not just becoming more concentrated in private schools, but in the half-dozen of them that take it most seriously.

Joseph Spence, master of Dulwich College, another elite private school, says that efforts to share his school's expertise have been stymied by the time commitment and expense that competitive debating can involve for state schools. Another problem, Mr Spence says, is that "there is something quite white, middle class and male about the debating format."[4]
I think the expense argument is peculiar to the UK: "Broward County schools spend $9,127 per student (The US average is $12,383)." But debate's benefits are agreed.
One arena "beyond elite private schools" would be prison (not noticeably white or middle class[4]). Our earlier post describes how prisoners at Eastern New York Correctional Facility in the Bard Prison Initiative beat Harvard (and in earlier years West Point, and a nationally ranked team from Vermont). Malcolm X was a debater in the legendary Norfolk Prison Debating Society. Here's an even more amazing example: "Prisons' debaters to take on UTT" from Trinidad and Tobago Newsday:
A prison debate team will face-off against students from the University of Trinidad and Tobago (UTT) later this year. This announcement was made at the Youth Training Centre (YTC) during the finals of the prison inter-station debates on September 18.

The prison team will be made up of that participated in the debate: Port of Spain (PoS) Prison, Maximum Security Prison (MSP), Carrera, YTC, Women's Prison, Golden Grove, Golden Grove Remand and the Eastern Correctional and Rehabilitation Centre (ECRC).

At the finals of the prison debates on September 19, MSP won with 820 points over Golden Grove Remand with a score of 740 points. Both teams, dressed in red, long-sleeved shirts and ties, appeared confident and professional. Judges praised both teams for their extensive research and pointed out the difficulties of arguing their topic, which was: Should TT open its borders to Venezuela?
(Interesting topic!) The article goes on to list the top ten speakers. I hope they got trophies!MR SUBLIMINAL Like I did! But this strikes me as amazing: A debate tournament organized across an entire prison system. Here in the Third World, of course, things are very, very different. Which bring me to the Stateville Correctional Center.
The Stateville Correctional Center is a maximum security state prison for men in Crest Hill, Illinois, U.S., near Chicago.
Opened in 1925, Stateville was built in a "roundhouse" design with cells in a circle, and a tower in the center with guards constantly watching. It is modelled after Jeremy Bentham's panopticon, what French philosopher Michel Foucault called in his book "Discipline and Punish" the prototype for modern state surveillance. Originally built for 1,500, today Stateville holds 3,500 people.
The panopiticon was closed in 2016, but remains standing due to its historical significance. Here's what it looks like (Andreas Gursky, 2002)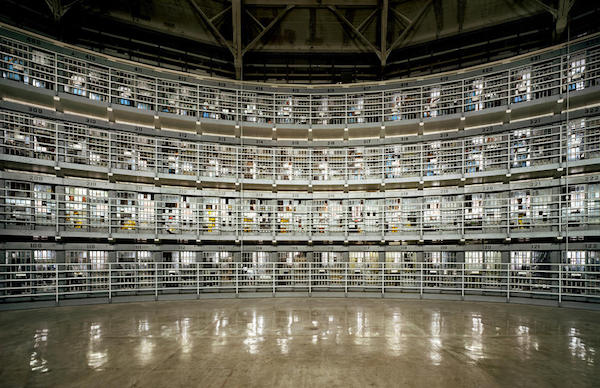 Nice place for a podium, right there in the middle. Central. I'm sure the acoustics are good. A second photographer, David Leventi, who photographed panopticons (and architecturallly similar opera houses) across the world commented:
[Prison Photography]: Are you able to compare Stateville with the Dutch prisons?

[David Leventi]: Prisoners in Stateville prison are treated like animals.
(The Netherlands also had panopticons.) Animals, however, do not debate, and for a time Stateville Correctional Center had a debate program. Here's how the program started:
A prison debate program gave inmates a voice. Why was it shut down?
Hard to imagine! More[5]:
In April, WGN Investigates took viewers inside Stateville Prison near Joliet to introduce them to debate coach Katrina Burlet.

The 25-year-old Wheaton College alum worked with 13 men serving life on murder charges. As part of the club, they argued both sides of parole and whether men like them deserve second chances.
(Parole was their chosen topic, approved by the debate team's administrator, the prison chaplain.) So here's what happened. From Pacific Standard:
Burlet organized a public debate in the prison on March 21st. Eighteen state legislators, representatives from the American Civil Liberties Union, and others listened to prisoners make the case for re-instituting parole. "It was standing room only," Ross says with pride.

The debate was well received. According to Ross, the lone dissenter among the administration was Gladyse Taylor, assistant director of the Illinois Department of Corrections. During the class that followed the debate, Taylor made a surprise appearance.

[prisoner Eugene Ross, 41] says…. Taylor suggested that she might transfer debate club participants to other facilities, Ross says. "I can shut down this class," she declared, in Ross' account.

And sure enough, Taylor didn't just end the class, Burlet says; Taylor also banned Burlet, without explanation, from all Illinois Department of Correction facilities.
And in fact, the debate had exactly the effect Taylor wanted to prevent. Injustice Watch:
Eugene Ross, a debate class participant, wrote in an affidavit that the class was being cancelled because he and his teammates were "able to articulate themselves in a way that prompted legislators to want to consider the issue."

One state representative who attended the debate, Rita Mayfield (D – Waukegan) was intrigued by the issue and later returned and met with the class as she conducts research in the hopes of introducing a bill in January to bring back parole to Illinois. Mayfield said in an interview that she is reviewing other states' parole systems and meeting with various groups over the issue.
Quelle horreur!
I'll close with a reminder that for prisoners, the benefits of debate may be bit more elemental than speaking and research skills. From a report on a recent California prison debate:
After the competition, They said that they were not just a number, but a person who could accomplish a goal with their team members.
And from a member of the Norfolk Prison Debating Society:
But when asked about the experience, college debater Kelvin Lin said it best: Hearing such a sentiment voiced openly, as far as I'm concerned, was the real win for our team — which is now 145-10 and counting.
145-10. Plus common humanity. Holy moley. Anyhow, regardless of one's larger views on the prison system — Is it even reformable? — what we've got here is a simple injustice that should be remedied. For those of you who live in Illinois, here's a contact form for the Illinois Department of Corrections.
NOTES
[1] And not the wussy less rigorous modern forms of debate, but policy debate, which involved carrying around heavy briefcases full of evidence on 4×6 cards — no computers back then! — and an ethic of combat rather like football. Nothing like being First Negative and having to get up and speak for ten minutes attacking a First Affirmative case you knew nothing about until you heard it for the first time, and before judges, too!
[2] Not being a binary thinker, or at least trying to avoid being one, I would prefer the locution "any side of" to "both sides of." I'm not sure how to work that into debate format, which involves two opposing teams, but why not simply add a third?
[3] Or to allocate capital democratically, if it comes to that.
[4] Spence's comment strikes me as at best parochial. There is a strong debate tradition at historically black colleges and universities, starting (perhaps) at Wiley College (also in the first post at NC), where James Farmer, who organized the Freedom Rides in the Civil Rights movement, was a team member. And see "First All-African American Women's Debate Team Wins National Competition" for Towson (WBFF).
[5] From WGN: "We should mention the Illinois attorney general's public access counselor is now reviewing a batch of emails between corrections officials about this program's cancellation. . We wanted to see if those internal discussions included a reason why the debate team was shut down. Corrections argues the public doesn't have a right to see the emails because they include staff opinions and frank discussions that led to the decision." Good for WGN. We like request for public records, and I love the argument that the records should not be revealed because they might have useful information in them.