This is Naked Capitalism fundraising week. 552 donors have already invested in our efforts to combat corruption and predatory conduct, particularly in the financial realm. Please join us and participate via our donation page, which shows how to give via check, credit card, debit card, or PayPal. Read about why we're doing this fundraiser and what we've accomplished in the last year, and our current goal, funding more meetups and travel.
Not just nuts: The surprising stuff animals hoard for winter National Geographic
Dutch court rules that government must help stop climate change Nature
You Are Not Hallucinating – Hurricane Leslie Is Headed Toward Spain And Africa Forbes
SATURDAY UPDATES: FEMA sites, power updates, water/food distributions Panama City News-Herald. Getting the paper out!
Tyndall Air Force Base a 'Complete Loss' Amid Questions About Stealth Fighters NYT. Couldn't they fly those F-22's outta there? Heh heh heh….
Why Catastrophic Climate Change is Probably Inevitable Now umair haque, Eudaimonia and Co. (GF) Well worth a read.
Socialist Foreign Policy Must Center Climate Change In These Times
Goldman Sachs' seedy underbelly exposed in shocking tapes New York Post (J-LS).
The World's Most Dangerous Black Markets Yale Global (J-LS).
Our View: Indiscriminate handing out of golden visas cannot continue Cyprus Mail
Anger grows over Vanguard's technical malfunctions FT. Vanguard?!
Brexit
Brexit deal 'DONE' – Shock memo reveals UK exit to be 'finalised TODAY' Express (original from Sueddeutsche Zeitung, in German, with Google translation). "A memo has shown that senior EU negotiators requested to agree terms of the deal today, before Theresa May's Cabinet have even seen them." Yves writes:

At the risk of seeming wedded to my priors, the UK press seems to be reading far more into the Sueddeutsche Zeitung story than is there.

The EU created a schedule the UK had to meet for a deal to be presented to the EU27 for consideration. Recall that when May was slapped down in Salzburg, she was told if she didn't present something that was close enough to a deal by the October EU meeting, it would not be scheduled for discussion in November.

The Sueddeutsche Zeitung story has the EU presenting the timetable to EU ambassadors last Friday. It has negotiations Saturday (and presumably Sunday) with a deal to be agreed Sunday and approved by the Cabinet Monday. That basically means the EU was making clear that May had to get her new scheme through the Cabinet for it to be considered at the summit, and as of Friday, the EU was going to meet on Saturday to (try to) achieve that.

The SZ article also clearly says the Irish backstop was still in play. That's an obstacle that has been looming since December 2017. Maybe there has been a miraculous breakthrough, but this story has nothing in it to indicate that. It would have to come over this weekend.

Readers?

DUP in position of power ahead of EU's Brexit summit RTE

Meet Britain's real Brexit broker FT. Olly Robbins.

Brexit: David Davis calls for cabinet rebellion over PM's plan BBC

Theresa May's government accused of lying about '30 Labour MPs' backing her Brexit deal Business Insider. The original story read "up to 30." So zero is, technically, accurate.

Brexit is contributing to marriage breakdowns – UK psychotherapist The Journal (PD).
Will Gompertz on Banksy's shredded Love is in the Bin ★★★★★ BBC. And that's not all!
The power of negative thinking: why perceptions of immigration are resistant to facts LSE Blogs
The dramatic drop in suicide among elderly Britons The Economist
Syraqistan
Saudi Arabia: a kingdom in the dock FT

href="https://thehill.com/policy/international/411235-five-things-to-watch-for-in-deteriorating-us-saudi-relations">Five things to watch for in deteriorating US-Saudi relations The Hill. I've gotta say, I don't understand what's driving the Kashoggi story (I mean, besides anonymous sources in the intelligence community). Kashoggi was rendered? We do that. Saudis whack their own citizens? We do that, too. I can't game out the realpolitik, unless it's Turkey vs. the Saudis, and Turkey has no oil. I don't see an Israeli angle, either. Perhaps it's as simple and stupid as Kashoggi being known, personally, to our political class, so they're actually horrified and repelled at his (presumptive) fate. Then again, there's always money–

Saudis Must Cough Up Billions To Settle Khashoggi Case Moon of Alabama

Trump Administration Urges Saudis To Stick To Killing Random Yemeni Civilians The Onion
India
Trump Transition
Trump vs. International Law: Exploiting the Legal Gaps Left by the Obama Administration OpinioJuris

Obama's Resistance to Investigating the Bush Administration Allowed Brett Kavanaugh to Skate Onto the Supreme Court The Intercept
Democrats in Disarray
Confessions of a Former Liberal: Part 2. (They're Boring) Three Wise Women (WW). Part 1.
'We've never seen anything like this': GOP overwhelmed by Democratic cash Politico
Health Care
Class Warfare
A Sears bankruptcy could cause one of the biggest pension defaults ever, but the government would protect 90,000 retirees Chicago Tribune
A White Woman, Teresa Klein, Called the Police on a Black Child She Falsely Said Groped Her NYT. Believe women!
Thanks for not raping us, all you 'good men.' But it's not enough. WaPo. Haverford Township, median household income: $90,358 (U.S.: $61,858).
Why it's totally unsurprising that Amazon's recruitment AI was biased against women Business Insider
ICANN's internet DNS security upgrade apparently goes off without a glitch Network World
Some plants nurture soil bacteria that keep them healthy The Economist and Underwear Measures Soil Microbial Activity AgPro
Antidote du jour (via):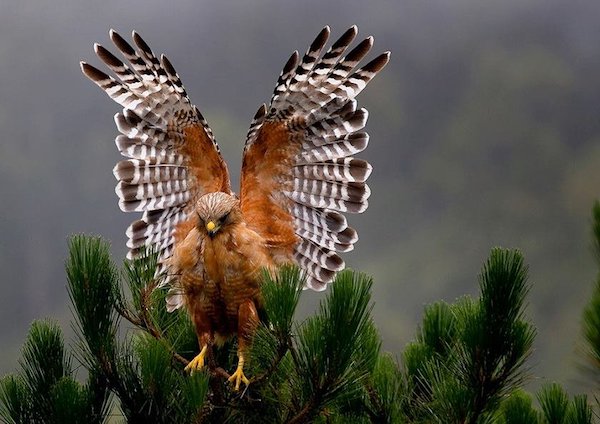 This is a spiritual hawk, not a fiscal hawk.
See yesterday's Links and Antidote du Jour here.