This is Naked Capitalism fundraising week. 481 donors have already invested in our efforts to combat corruption and predatory conduct, particularly in the financial realm. Please join us and participate via our donation page, which shows how to give via check, credit card, debit card, or PayPal. Read about why we're doing this fundraiser and what we've accomplished in the last year, and our current goal, funding more meetups and travel.
Life-sized plastic whale to raise ocean pollution awareness PhysOrg
'No way!' Lake Superior spits back Duluth man's long-lost canoe MPR (Chuck L)
Hurricane Michael flattens beach town like 'mother of all bombs' BBC
'You Just Realize It's All Gone': Hurricane Michael's Heavy Toll Wall Street Journal. A vivid description of the carnage and loss.
Warm Gulf waters spawned Hurricane Michael's intensity: scientists Reuters. EM: "More interesting than the somewhat humdrum headline suggests."
Climate Change Sea Level Rise Will Be Worse Than Imagined Rolling Stone (chuck419)
Video: Watch Humanoid Robot Atlas Do Parkour Geek (Kevin W)
Hologram of Amy Winehouse set for 2019 worldwide tour Guardian (Kevin W)
Applying physics modeling to voting of SCOTUS 'Super Court' ScienceBlog (Dr. Kevin)
Tech suffers from lack of humanities, says Mozilla head Guardian. Synchronicity! Confirming a comment we made yesterday on the post on what to do about student debt.
Ecologists suggest it is time to rethink the modern lawn PhysOrg (Chuck L). Lambert agrees.
China?
Google CEO Tells Senators That Censored Chinese Search Engine Could Provide "Broad Benefits" Intercept
Malaysia to Repeal Death Penalty and Sedition Law New York Times (Kevin W)
Brexit. A big dose, and some of this from a couple of days back for the benefit of US readers. We are in what Lambert calls an "overly dynamic situation".
Into the Brexit Labyrinth Project Syndicate (MGL). A terrific high level piece. I quibble with some bits (like the idea that a bespoke deal would ever be acceptable from the EU side, and the claim that the EU would extend the transition period….among other things, WTO rules would get in the way, and the EU firmly rejected going to March 2021 because it would mess up EU bits) but that does not take away from the impressive accomplishment of simplifying such a complicate topic.

Remember those stories that up to 30 Labour MPs have privately told Tory whips they will back May's deal? Not a single MP we spoke to on the list said they have even been so much as contacted by them. https://t.co/SQu3VoaKh1

— Adam Bienkov (@AdamBienkov) October 13, 2018

Key para from that story:

A source within Labour's staunchly pro-EU wing said "the Tories just made it up rather cack-handedly because they are in a mess," and added that the number of MPs likely to vote for May's deal is "a maximum of ten."

Theresa May abandons pledge for 'time limit' on UK's stay in customs union as part of Brexit deal Independent. This whole customs union idea is bonkers to begin with, since it does not solve the problem the Tories and too many supposed UK pundits thinks it solves (frictionless borders) and the EU rejected it before….The Telegraph says Barnier proposed the idea…but this may mean Government sources said Barnier proposed the idea.

Tory Commons leader Andrea Leadsom ready to quit over Theresa May's Brexit plans Independent v. this tweet:

Is Andrea Leadsom about to resign? This morning she told broadcasters that the PM still deserves an 'opportunity' to get a good Brexit deal. And if the PM wastes that 'opportunity'…? #Brexit pic.twitter.com/f9Wn0lZjJ3

— Paul Brand (@PaulBrandITV) October 12, 2018

DUP leader says would prefer no Brexit deal to 'annexation' of Northern Ireland Reuters

Revealed: secret Brexit plans to appease DUP with transition extension Guardian. Don't see why the EU should accept that. They already told the UK it could only have 18 months when it had asked for 24.

Government claims it will lose dozens of trade deals in 'no deal' Brexit Politco. Not news if you have been paying attention.

UK would lose rebate if it stayed in EU Guido Fawkes. I had assumed this but now it appears to be official.

Kent motorway to shut as work begins on possible post-Brexit lorry park Guardian
Why the Bavarian election matters for Merkel DW
The rise and rise of Bavaria's Greens Politico
Syraqistan
New Cold War
Bipartisan group of senators forward plan to break Russia's 'energy stranglehold on Europe' Washington Times (Kevin W)
Big Brother is Watching You Watch
Facebook cyber attack sees data stolen from 29 million accounts in its largest ever data theft abc.net.au (Kevin W)

Cyber tests showed 'nearly all' new Pentagon weapons vulnerable to attack, GAO says NPR (Chuck L)
Trump Transition
Trump on back foot as stocks tumble Financial Times

It's OK to Criticize the Fed—Even for Presidents FAIR (UserFriendly)

Trump, Kavanaugh and the Path to Neoliberal Fascism TruthDig. John Z:

Henry Giroux is always worth reading. This is a long piece with extensive analyses. If I tried to pick a significant quote, I would end up with a quarter of the whole post. TL;DR – The last paragraph is a very good summary of what we need to do going forward.

Trump administration proposes tough rules on protests The Hill. In his second term as NYC mayor, Giuliani consistently denied permits to people who wanted to protest against City Hall and criticized anyone who criticized the Catholic Church. But courts would always issue permits for the protestors.

White House considers two female ambassadors to replace Haley at UN Politico

DeVos will no longer seek to delay Obama-era student loan regulations The Hill
The US State Department withdrew Hillary Clinton's security clearance and those of several former Clinton aides Business Insider (Kevin W)
Who's Behaving Like A 2020 Presidential Candidate FiveThirtyEight (UserFriendly)
Building a Global Democratic Movement to Counter Authoritarianism Bernie Sanders, YouTube. Much better than you'd think given the title.
A Critique of Sam Harris Benjamin Studebaker (UserFriendly)
Kill Me Now
I've found the Democratic candidate who can defeat Trump in 2020 Fox (JTM). Over the dead bodies of millennials.
Black Injustice Tipping Point
Retired firefighter found guilty for shooting at lost black teen on doorstep NBC
Crisis Watch
Does using models really make economics a science?​ Lars P. Syll (UserFriendly)
Elon Musk Wants Tesla Gigafactory Employees to Live on Site in Mobile Homes TheDrive (Kevin W)
The World's Most Dangerous Black Markets YaleGlobal (J-LS)
Exxon Now Advocates for Carbon Tax? Hmmm Wolf Street (EM)
Guillotine Watch
Twitter and Salesforce CEOs bicker over who is helping the homeless more Guardian. Twitter put a major office (not sure if HQ but very important office) in a so-so part of San Francisco. Twitterati sent the rents in one of the few semi-affordable parts of SF through the roof because a lot of them rented apartments nearby, many of which were crash pads in addition to their main residences.

Goldman Sachs' seedy underbelly exposed in shocking tapes New York Post (J-LS)

UWO says banker's wife spent $21 million at Harrods FCPA Blog (J-LS). Saw this a few days ago on teh BBC< but this will have more informed commentary.
From Jen and John of Pleasant Lake, via Lawrence R: "On the newly exposed lake bottom – Greater Yellowlegs in a Red Maple reflection at the edge of Turtle Cove."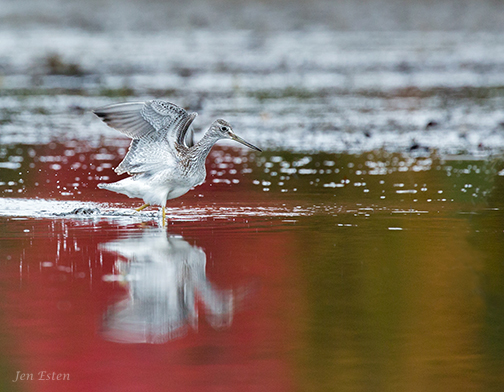 And a bonus antidote (forgive me for not being able to figure out who sent this to me; I update the post if you pipe up in comments)
anyway here's the most carefree deer in the world prancing along the beach at dawn ? pic.twitter.com/MIKtsOtDYb

— Ian Laking (@IHLaking) October 8, 2018
See yesterday's Links and Antidote du Jour here.