This is Naked Capitalism fundraising week. 1289 donors have already invested in our efforts to combat corruption and predatory conduct, particularly in the financial realm. Please join us and participate via our donation page, which shows how to give via check, credit card, debit card, or PayPal. Read about why we're doing this fundraiser and what we've accomplished in the last year, and our current goal, increasing our staffing, also known as burnout prevention
Cuttlefish wear their thoughts on their skin Nature (furzy)
Revealed by earthquakes, Earth's inner core may be softer than previously thought abc.net.au
This 3D-printed house made of earth and rice husks costs less than an iPhone Digital Trends (David L). I see no mention of plumbing, let alone a kitchen…but at 215 square feet, there's barely room for a hot plate.
Robotic indoor farms can grow food anywhere, anytime ZDNet (David L)
In Japan, A Strange Sight: Cherry Blossoms Blooming In The Fall NPR
How blockchain could actually damage voting security Asia Times
China?
Chinese vice-premier makes plea for calm as growth slows Financial Times. Marshall Auerback via e-mail:
Hmm…China's growth slowing (slowest official quarterly growth figure in almost a decade and if that's the OFFICIAL number, then you know the unofficial number is much worse). And the RMB has fallen to its lowest level since the start of 2017. I recall people like Martin Wolf were arguing vociferously that Trump was taking on a shrewd foe whom he couldn't defeat in a trade war. But Beijing has been gaming the global trade system for decades and he's actually the first president to respond to it (and not fall for China's bogus threats about exercising its so-called "nuclear option" in the bond market). I wonder if China's economy is about to be exposed for the paper tiger that it is. I don't advocate fighting trade wars, but Trump was probably right here when he suggested that China would be more vulnerable, not the US.
In what universe is voting Liberal in Wentworth about stability? Guardian. Oz local politics but with some larger implications. Kevin W explains:
A real dog's breakfast. The Coalition loses this seat, they lose their one set majority in Parliament. The Coalition candidate, Dave Sharma, an ex-Ambassador to Israel, had Scott Morrison float the idea of moving the Australian Embassy to Jerusalem and supporting Trump's position on the Iran treaty as 13% of the seat of Wentworth is jewish. All our neighbours, mostly Muslim, said do that and see what happens next to all your trade. This week, somebody said in emails that the challenger, the popular Kerryn Phelps, had HIV and was pulling out the race (Kerryn is well known as a lesbian but nobody cares). The seat itself, Wentworth, is blue ribbon and was Malcolm Turnbull's seat.
Brexit
Brexit Is Ripping the World's Financial Plumbing Apart Bloomberg (furzy)

Revealed: EU's attempt to control Britain's tax policies after Brexit Telegraph

Barnier 'not yet convinced' Brexit deal will be done Politico

Pro-EU activists set to march through London calling for second Brexit referendum as pressure mounts on Theresa May The Sun.

A second referendum is now firmly on the cards Independent. Note the Independent has been campaigning.

If you think Brexit will leave us weaker and poorer, march for a people's vote Guardian. Clive: "Only taken it since the Dawn of Time, but the Guardian's Brexit coverages finally gets into the right gear."

"Over 1m people marched, urging the government – of which you were a central figure – not to invade Iraq. You ignored them. Why should this government take any notice of 100k Remainers calling for a second referendum?" @afneil asks @campbellclaret #bbctw pic.twitter.com/qxB1PPQec8

— BBC This Week (@bbcthisweek) October 18, 2018
New Cold War
U.S. brings first charge for meddling in 2018 midterm elections Politico

The Most Shocking Moments of the New Russia Complaint, from 'Civil War' to 'Fake' Rubio to 'Colored LGBT' Daily Beast. Kevin W: "Twilight Zone stuff here."
Syraqistan
Saudi Arabia fires 5 top officials, arrests 18 Saudis, saying Khashoggi was killed in fight at consulate Washington Post (furzy). "Fight". Help me.

How to Punish Saudi Arabia Politico (furzy)

Saudi Arabia pays UK firms millions to boost image Guardian (Bill B)

Saudi electronic army floods Twitter with insults and mistruths after Khashoggi's disappearance Washington Post (furzy)

America needs to stabilize Libya The Hill. UserFriendly: "You break it you buy it…. Of course they have conveniently written out our role in creating the mess.

A Middle East Monarchy Hired American Ex-Soldiers To Kill Its Political Enemies. This Could Be The Future Of War BuzzFeed (Bill B)
Big Brother is Watching You Watch
Smart home makers hoard your data, but won't say if the police come for it TechCrunch
Apple CEO Tim Cook Is Calling For Bloomberg To Retract Its Chinese Spy Chip Story BuzzFeed
Buggy software in popular connected storage drives can let hackers read private data TechCrunch
Trump Transition
How Do You Solve a Problem Like Hillary? Politico (furzy). Cover story of the magazine.
1,495 Americans Describe the Financial Reality of Being Really Sick New York Times (UserFriendly)
Gunz
Judge dismisses NRA lawsuit over Seattle's new gun-storage law Seattle Times
My Morehouse Brother Chinedu Okobi Died After Being Electrocuted by Police. Tasers Are Not "Less Lethal" Weapons. Intercept
Fake News
Brazil court to probe allegations Jair Bolsonaro financed WhatsApp misinformation campaign DW (David L)
In Facebook's Effort to Fight Fake News, Human Fact-Checkers Struggle to Keep Up Wall Street Journal (furzy). Lambert had an AP story in Links. Clearly a pre-election PR push.
Temporary economic downturns have long-lasting consequences Economist (UserFriendly)
The New Thing in Energy Is Old Pipes Bloomberg (furzy)
Why Kodak Died and Fujifilm Thrived: A Tale of Two Film Companies PetaPixel (David L)
Tesla quietly drops "full self-driving" option as it adds $45,000 Model 3 ars technica
Tesla Model 3 dismantled: It's needlessly complicated to build, says analyst Autoblog (EM)
At Midterms, Republicans and Likely Voters More Upbeat About Job Market HiringLab. UserFriendly: "New poll, JG is the economic policy with the most bipartisan support."
Class Warfare
Everyone Is Incredibly Angry at This Silicon Valley Exec's Daily Routine Vice
The Harvard Admissions Trial Won't End Affirmative Action – But That's The Ultimate Goal New York Magazine (Kevin W)
When Black Panthers Aligned with Confederate-Flag-Wielding, Working-Class Whites The Conversation (UserFriendly)
VR study dramatically increases people's compassion by making them virtually homeless RT (Chuck L)
Jack Dorsey complains about 'unfairness' in San Francisco homeless tax on corporations The Hill (Kevin W)
Report Finds Gaping Hole in Retirement Savings as Policymakers Craft Innovative Solutions National Conference of State Legislatures (UserFriendly)
Antidote du jour (Angie Neer): "This Costa Rican bird (I have no idea of the species) has great camouflage and a built-in periscope":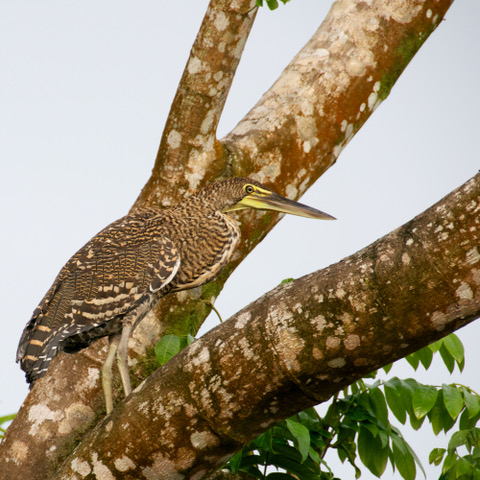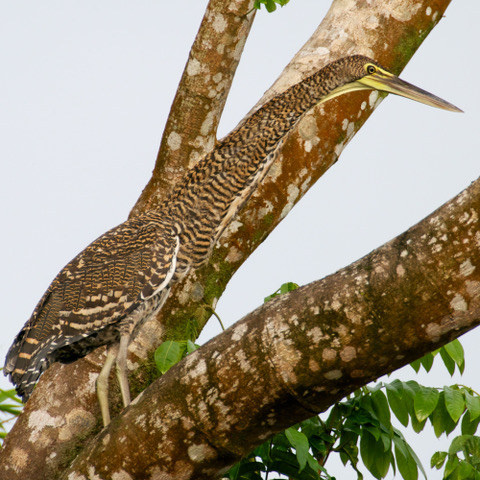 And a bonus video from Lance N: "The MTV-style cutting is unfortunate, but it's
fun anyway":
See yesterday's Links and Antidote du Jour here.