This is Naked Capitalism fundraising week. 923 donors have already invested in our efforts to combat corruption and predatory conduct, particularly in the financial realm. Please join us and participate via our donation page, which shows how to give via check, credit card, debit card, or PayPal. Read about why we're doing this fundraiser and what we've accomplished in the last year, and our current goal, thanking our guest bloggers.
Mammals cannot evolve fast enough to escape current extinction crisis ScienceDaily (Kevin W) :-(
Rolls-Royce Wants To Fill the Seas With Self-Sailing Ships Wired
Climate Change Might Double the Cost of a Beer Wired
China?
Why China Inc is still stuck in 2015 Asia Times
How social democracy lost its way: a report from Germany Financial Times. This article is frustrating because it is all about the SPD and does not give a clear enough sense of whey the SPD started defecting from social democratic principles, which is at least part of the reason for its decline. For instance, in the US, as ECONNED explains longer-form, the move to the right was not organic, but was fomented by right-wingers, many of them John Birchers, who wanted to tear down the New Deal and put unions in their place. They engaged on an open-ended, extremely-funded campaign, and created think tanks like the American Enterprise Institute and the Heritage Foundation to create a veneer of intellectual respectability. My impression is that the UK had a role in neoliberal ideas getting traction on the Continent, but it would be nice to have a better picture than this story gives. Some snippets:
Many of the party's core voters have seen their lives turned upside down by sweeping economic and social change, from globalisation and automation to mass migration. The SPD, once so confident in the righteousness of its cause, has struggled to formulate a response. "The SPD has a leadership problem and a narrative problem," says Andrea Römmele, a professor at Berlin's Hertie School of Governance. "The party has no story to tell to the voters, and a story is what voters need."….

Over the past decade, the SPD has shared responsibility for deeply unpopular decisions – on austerity measures and refugee policy, for example – without being able to stamp its own authority on government. The cross-party alliances have blurred the party's political identity, and convinced many voters that the SPD is no longer a genuine alternative to Germany's conservative bloc.

That impression, of course, has been nourished for years by Merkel herself. Since she took over as CDU leader in 2000, she has nudged her party steadily towards the centre left, both in substance and tone. For the SPD, meanwhile, Merkel's increasingly firm grasp on the political centre has been hard to counter, especially while locked in a coalition government with her.
Britain fell for a neoliberal con trick – even the IMF says so Guardian (PlutoniumKun)
Brexit
From Politico's European newsletter:

Exit numbers: A new Eurobarometer survey out this morning indicates a jump in support for Remain in the U.K. It also reveals rather strong views in most other EU countries that leaving is not a good option — 66 percent of respondents would vote for their country to stay in the Union. But look at the detailed figures here, and you'll see how governments' anti-EU rhetoric can influence public opinion, as in Italy.

Barnier open to extending Brexit transition by another year Financial Times. Not clear he has his principals on board. The EU rejected the UK request for 24 months before v. the 18 they now have. Admittedly, they weren't faced with a crash out then. The reason I am a bit leery is the Financial Times has run stories based on reports by "EU diplomats" several times about Brexit breaks the UK was supposedly going to be offered that proved to be wrong. Maybe the FT has figured this out and now is speaking to more reliable "EU diplomats" but I'd like to see more confirmation.

EU's Tusk to ask May for new ideas to break Brexit impasse Reuters

Expectations low' as PM heads to Brussels BBC

Blair, Clegg and Heseltine: We need another EU-Referendum Die Welt

Britain will face a £36 billion Brexit bill even if it fails to agree a trade deal with EU, warns Chancellor Telegraph

This tweet is technically correct but substantively silly, since one extra year is not enough to negotiate a trade deal (unless the UK accepts EU terms) and way too little time to restructure its economy to deal with the EU on a Canada-style free trade agreement basis, which is where it may wind up (est, timetable is 5 to 10 years):

Talk of extending the transition/implementation period… why is that important?

As it currently stands:

Govt has to negotiate the full future relationship (chart 1)
Govt has to implement said future relationship (chart 2)

More info: https://t.co/DJKMgoX0ME pic.twitter.com/jp2SIzJQnB

— Joe Owen (@jl_owen) October 17, 2018

Kamikaze May Politico

Brexit is contributing to marriage breakdowns – UK psychotherapist The Journal (PlutoniumKun)

People's Vote v Hard Brexit Now ????You What!!! Divided Brexit Britain ?? pic.twitter.com/MEp4QpU2K0

— ARTIST TAXI DRIVER (@chunkymark) October 17, 2018
Syraqistan
Reality Breaks Up a Saudi Prince Charming's Media Narrative New York Times. UserFriendly: "Holy crap NYT goes introspective on their love of MBS aka Mr. Bone Saw. This is a must read."

Jamal Khashoggi: Where The Road to Damascus & The Path to 9/11 Converge George Washington. Lots of detail. This tidbit comes close to the end:

One last fact to mention: the timing of Khashoggi's disappearance when taken in connection with the 9/11 Families' litigation. Last Friday, something very notable happened in the 9/11 litigation against the Kingdom of Saudi Arabia. For the first time ever, the Department of Justice stood on the side of the 9/11 Families and publicly committed to finally releasing three large tranches of formerly secret documents that we believe connect the Kingdom of Saudi Arabia to the 9/11 attacks. This is the biggest development we have had in our over 16 years of litigation.

Saudia Arabia's crown prince went a ghastly step too far Washington Post (furzy)

Demanding End to Saudi Arabia's "Blank Check" for Atrocities, Sanders to Give Senate Yet Another Chance to Stop US Complicity in Yemen Massacre Common Dreams (UserFriendly)

Saudis Plan To Pin Khashoggi Slaying on 'Rogue' General Daily Beast (furzy)

Journalists at Saudi consulate in Istanbul spotting cleaners coming into building just before Turkish investigators are scheduled to arrive to probe Jamal Khashoggi disappearance (via APTN feed) pic.twitter.com/iAAjM0PpGu

— Borzou Daragahi ?? (@borzou) October 15, 2018

Coverup Deal Will Blame Khashoggi Death On Extreme Torture Moon of Alabama

Israel's 50-Year Time Bomb Consortium News
Big Brother is Watching You Watch
Tariff Tantrum
Washington Post Says that Protectionism for Its Friends is "Free Trade" Dean Baker
Trump Transition
Did you see that painting hanging behind Trump during '60 Minutes' interview? Here's what we know about it Seattle Times (furzy). Wowsers.

Mueller is everywhere, except the midterms Politico

Mueller Ready to Deliver Key Findings in His Trump Probe, Sources Say Bloomberg. Story published at 4:00 AM. Don't ask me….
Hillary Clinton: Bill's affair with Monica Lewinsky wasn't an abuse of power because 'she was an adult'New York Daily News (UserFriendly)
Michael Avenatti Is Making Concrete Moves to Run for President in 2020 Against Trump Daily Beast (furzy)
Meet the Mathematicians Fighting against Gerrymandering Scientific American (Dr. Kevin)
McConnell Bloomberg Interview on Entitlements, Rising Deficits Bloomberg. UserFriendly: "Smacks head on desk. Kill me already."
The Great American Health Care Panic Politico
In Tennessee, a Democrat scrambles to turn out voters as polls show slide Reuters. EM:
"…momentum appears to have shifted against Bredesen in this closely-watched Senate battle despite the endorsement of pop star Taylor Swift and the rumblings of a Democratic wave. The Oct. 6 confirmation of President Donald Trump's polarizing Supreme Court pick, Brett Kavanaugh, injected new energy into Republicans, say Republican party leaders."

I wonder about that 'despite the endorsement of' in the bit I underlined – the DNC's love of celebrities may not be shared by hoi polloi the the degree Team Blue seems to believe it is. Is Taylor Swift going to increase their paychecks and make healthcare and college more affordable?
California hits PG&E with $5 million in citations for gas leaks SF Chronicle. David S: "Oh, and power still isn't restored to 1500-odd customers…."
YouTube went down for over an hour during an abrupt worldwide outage Business Insider
Police State Watch
US looks to circumvent environmental opposition by using military sites, including Adak, for coal and gas exports Associated Press (Glenn F, Kevin W)
The Expanding News Desert UNC Center for Innovation and Sustainability in Local Media (furzy)
Self-Censorship: Where The Real Damage Is Being Done Caitlin Johnstone (UserFriendly)
Faced with a daily barrage of news, college students find it hard to tell what's real and what's 'fake news' News @ Northeastern (furzy)
Why's the World's Biggest Asset Manager Advising the ECB on the Health of EU Banks? Wolf Street. EM:
This is not the first time the ECB has turned to BlackRock for advisory support. In 2014, the central bank hired BlackRock Solutions, an advisory unit of BlackRock, to provide advice on the design and implementation of the central bank's upcoming purchase of asset-backed securities. In other words, just before the ECB embarked on one of the biggest QE programs in world history, it sought the advice of the world's largest asset manager – i.e. the company most invested in the assets it intended to buy.
Why New York Has So Many Empty Storefronts Atlantic (UserFriendy)
Bond Traders Are Paid Big to Dump U.S. Treasuries and Go Abroad Bloomberg
Uber considers spinning off self-driving car unit Financial Times
Class Warfare
Can Trauma Be Inherited Between Generations? Atlantic (UserFriendly)

US Unemployment Rate Hits 50-Year Low: What Does the Number Reveal and Conceal? Real News. Familiar terrain for NC readers, but might be a useful share for people you want to get up the curve.

The Student Debt Crisis, Labor Market Credentialization, and Racial Inequality: How the Current Student Debt Debate Gets the Economics Wrong Roosevelt Institute. UserFriendly: "The fact that this even needs to be argued makes me want to blow my brains out."
Antidote du jour (William B). Pelican on Alameda Creek, Fremont, CA.: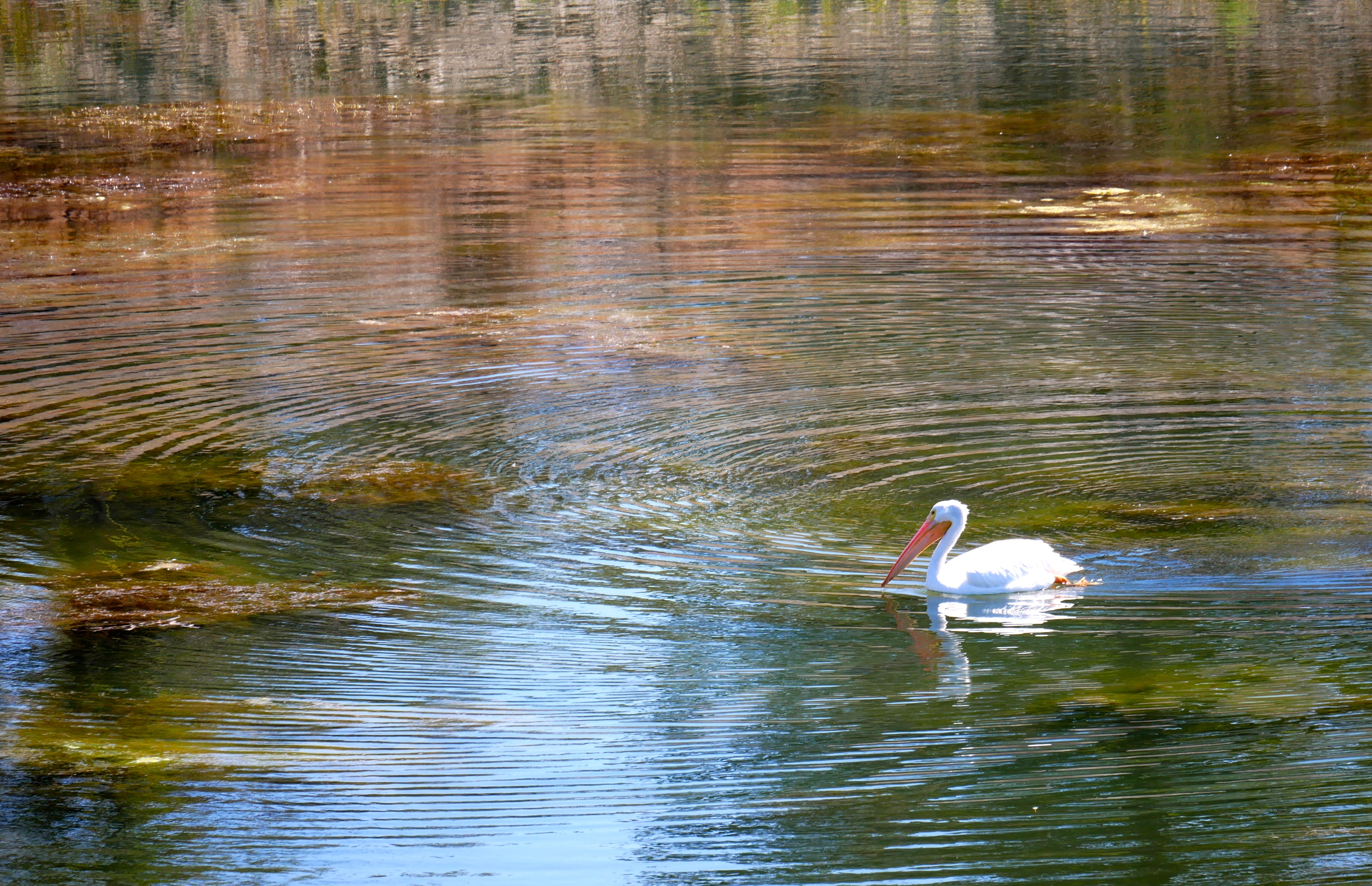 And a bonus video (this is an upload to NC, so hopefully it works). From Jeff C:
This 27 sec video was taken mid-afternoon the day before the 800+ point drop in the Dow. That day was the first time I have seen bears on the property, much less literally at the door.

I accidentally bumped-the slow-motion button, so we can watch the bear proceed downward slowly with, as it happens, stops along the way. Fitting, no?

Fans of Jungian analysis might note that a dream animal symbol appearing as two or more typically flags that what it represents is not far from becoming conscious.
See yesterday's Links and Antidote du Jour here.