By Michael Olenick, a research fellow at INSEAD who writes regularly at Olen on Economics
MAGA bomber and Trump fanatic Cesar Sayoc lost his home to foreclosure where it was purchased, at auction, then flipped by a company controlled by condo and casino developer Bruce M. Goldstein.
Sayoc is the man who allegedly mailed 14 bombs to anti-Trump people and news organizations. Note that my grammar checker says the word "allegedly" isn't needed, which is probably true since there's his DNA, fingerprints, and a confession, but I'll use it because everybody else does. Federal law enforcement says that although none of the bombs exploded, and the one's we've seen look like they were ordered by Wile E. Coyote, they were real bombs.
Sayoc is one strange dude, a 56 year-old testosterone pumped male stripper who lived in his MAGA sticker-covered van after his mom threw him out. Among other jobs, he delivered pizzas and told his lesbian manager, Debra Gureghian, she should be shipped to an island and nuked along with all gay people. Whereas death-threats usually get people fired, or at least written up, she shrugged it off, this being Florida.
Getting to the foreclosed house, Sayoc purchased it on June 6, 2006, from an individual with the initials JRS for $400,000. JRS had purchased the house in November, 1992 for $107,000 and refinanced it a few times, the last being Dec 14, 2000 with an $85,000 mortgage. After selling the house to Sayoc, JRS walked from the table with over $300,000 cash, retiring in a small community in north-central Florida.
To complete the purchase, Sayoc took out a $360,000 mortgage from Countrywide with an interest rate of 9.88% fixed for two years. Ten percent down, plus closing costs, is ten percent more than most people brought to the table back then and the interest rate, given the down payment, seems exorbitant. Sayoc refinanced the house with Indymac for $385,000 on June 1, 2007 at 7.875% fixed for five years. The $15,000 difference is indicative of financed closing costs, not the more typical cash out mortgages popular during that era.
In other words, Sayoc bought a house not as an investment but to live in, refinancing it not to cash out but only to lower his interest rate. The MAGA bomber is naïve, irresponsible, but about the only person whose behavior in this odd story bears some semblance of good faith.
I'll admit that to having no experience working as a male stripper, my physique as a middle aged Jewish guy not quite being entirely up to the task. But a few keystrokes shows that a) anything can be quickly found on the internet, and b) Simply Hired has done the research and the average wage of a male stripper is $64,521 with the top ten percent earning $127,224 and the bottom 10% earning $32,722.
As the Florida economy started to tank in 2008, and Sayoc aged up, it's likely his income as a stripper began to slip. He predictably couldn't afford his $2,791.52 P&I payment, plus homeowners insurance, private mortgage insurance, and real-estate taxes.
Through the economic downturn Sayoc somehow kept the payments coming in, outlasting his bank, Indymac, which filed for bankruptcy July 31, 2008. It's not clear why but Sayoc did stop paying in Sept. 2008, almost exactly a decade before the bombs went flying.
Indymac hired Florida "Foreclosure King" David J. Stern, who filed a foreclosure after three missed payments plus one month, on Jan 8, 2009.
Florida is a judicial foreclosure state, meaning that each foreclosure is a lawsuit that runs through the court system. Lawsuits start with "process" – a process server physically hands the paperwork to the person being sued or, for companies, to their registered agent. In the event that a person can't be found, after doing a diligent search, plaintiffs (the person or business suing; the bank, in this case) can fall back to "service by publication" where they put an advertisement into what is supposed to be a well-read newspaper.
Stern, Fannie Mae's two-time "Lawyer of the Year," skipped most of that, which wasn't unusual for him. He claims to have issued four summons (the paperwork the process server is supposed to hand over) on Jan 8, 2009, and charged Indymac $205 for the summons. All four summons were returned "unserved" on Feb. 4, 2009, less than a month later.[1]
Since Stern owned the process serving company, that operated in the same building as his law firm, you'd think he'd tell them to try again. Instead, he apparently did nothing until June 22, 2009, when he filed an affidavit that he'd diligently searched for Sayoc, and sent the notice of the lawsuit to the obscure Daily Business Review, a site behind a paywall that has a number of articles of interest to lawyers and a long list of notices. If you thought publishing a notice that people are being sued behind an internet paywall sounds like the opposite of the spirit of the law – the idea being that defendants can find about the lawsuit in a publicly available place – you'd be thinking right. But this is foreclosure-land where nothing is predictable except a never-ending appetite for fees.
Sayoc somehow figured out he'd been foreclosed on – possibly because he hadn't paid his mortgage for almost a year by this point – and filed a pro se (self-represented) Motion to Abate on Aug. 4, 2009. That filing isn't online so I don't have a copy but, normally, a defendant would file a Motion to Dismiss or an Answer. In any event, it didn't matter because the Court entirely ignored his pleading, which isn't unusual for pro se litigants.
Undeterred by Sayoc's filing Stern ploughed ahead, filing a Motion for Summary Judgment, plus the related paperwork, a week later on Aug. 11, 2009. Like virtually all pro se defendants, Sayoc promptly lost. A judgment of $442,427.52 was entered against him on Sept. 2, 2009.
Among other charges in the final judgment are $16,679.41 for one year of forced placed hazard insurance, a wildly inflated amount Indymac's stop-loss agreement no-doubt paid out partially from US taxpayer funds.
Sayoc's house was purchased at auction by PMG Mortgage & Lending Co., LLC on Nov. 12, 2009 for $166,500. PMG is a now-dissolved company that was located at 440 South Dixie Highway, Suite 200, Hollywood, FL, with one manager, Bruce M. Goldstein.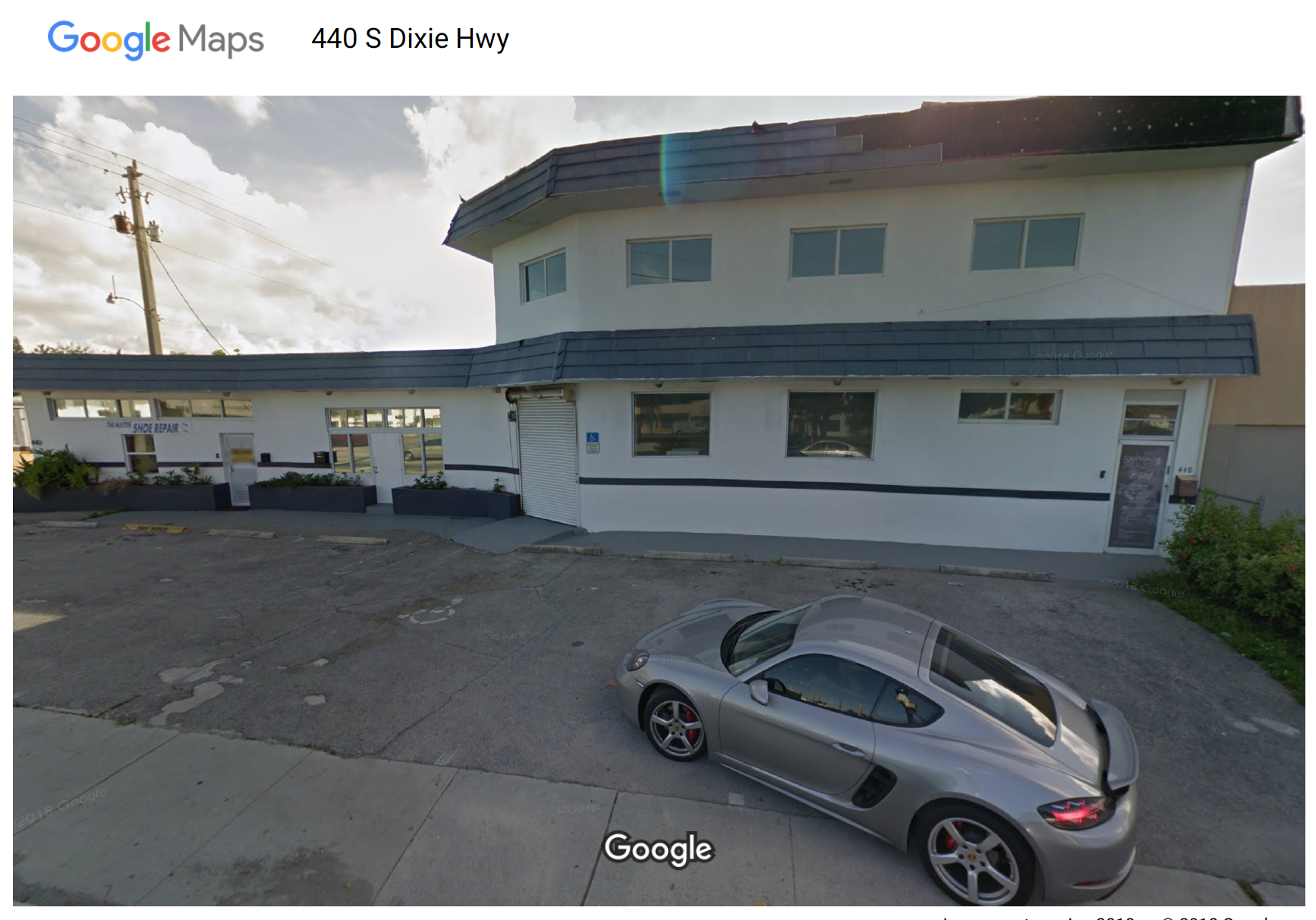 PMG Headquarters
At that point, Sayoc did hire a lawyer who tried, unsuccessfully, to overturn the sale. On Dec. 30, 2009, with the courthouse about to close for New Year's, Sayoc's motion to set aside the sale was denied. A week later, on Jan. 6, 2010, Stern filed that a Writ of Possession (an eviction) was returned served onto the "unknown spouse of Cesar Sayoc," which is odd because Sayoc wasn't married. Details be damned, the court evicted Sayoc Feb. 8, 2010.
PMG's last filing lists their new address as 1177 Kane Concourse, Bay Harbor Islands, FL 33154. Which is the same address as a condo and casino developer named Bruce M. Goldstein claims his mega-development company is located at.
MAGA bomber Cesar Sayoc had his house purchased in a foreclosure auction, following a rigged court process, prosecuted by a now-disbarred crooked foreclosure lawyer, taken by a condo and casino developer that sounds a lot like his idol, Donald Trump.
Goldstein's PMG flipped the house five months later, on Apr. 26, 2010, for $273,000, yielding a quick $106,500 paid for partly by Indymac's loss-share agreement (that'd be you, if you're an American reader who pays tax).
David Dayen wrote an article pointing out the assignment of mortgage Stern filed was likely robosigned and back-dated. That was about the least of the problems in this case. Boris, my Dogue de Bordeaux, could've shown up with a note reading "I'm the bank lawyer – he didn't pay – clip judgment to collar" and walked from court victorious. The notion that law had anything to do with foreclosures at this time in Florida is ludicrous; the entire system was as broken as the economy and the people suffering under it. During this era judges studied the courthouse cafeteria menu more than they did foreclosure paperwork. Back-dated assignments and robosigned paperwork was the norm, and routinely ignored.
Sayoc would go on to declare bankruptcy in 2012 with $21,109 in liabilities. While Indymac appears not to have pursued their deficiency judgment (the difference between the judgment amount and the amount the house sold for), which is not unusual, he should have included it. With the deficiency, Sayoc's assets of $4,175 were outweighted about 100:1 with his liabilities which, by any standard, is bankrupt.
Today, the Broward county property appraiser estimates Sayoc's former home is worth $335,940. Zillow estimates the value at a more bubbly $464,105.
Given this history, Sayoc's rage can be better contextualized. It seems impossible to believe that house was worth $400,000 in 2006, despite that a Countrywide appraiser, paid by Sayoc, confirmed the value. Countrywide's high-interest loan, despite that Sayoc brought a ten-percent down payment plus closing costs to the table, was designed for an idiot. Indymac's loan was better, but not too far behind. It must've been hard for Sayoc – who doesn't seem like the sharpest knife in the drawer – to understand why he was scrambling to send off steep payments to a bankrupt bank.
Stern's involvement was typical for him. In the middle of all this he'd taken his law firm public as the ill-fated David J. Stern Enterprises (DJSP) in Dec. 2009. Stern opted for a reverse-IPO, being acquired by the Chardan 2008 China Acquisition Corp., a Special Purpose Acquisition Company (SPAC), then trading under the ticker CACA. I know DJSP well, having had the privilege of helping to decimate their share price by showing key people it was a fraud factory long before the Florida Attorney General became involved. Goldstein's PMG saw an opportunity and pounced; almost exactly a year ago Dayen was praisinga similar mortgage vulture.
I can't vouch for Sayoc's skills as a stripper but in most other areas of life he seems to be a bumbling idiot, an easy target for Countrywide, Indymac, Stern, Goldstein, and Obama with his ignored promises for hope and change. Then, finally, like so many others who'd been abandoned and forgotten, Donald J. Trump.
___________
[1]Since Indymac was by then a bankrupt bank, eventually sold under an FDIC loss-share arrangement, American taxpayers ended up paying part of these fees.