By Lambert Strether of Corrente.
Politics
2020
The unsayable:

Bernie Sanders drenched in sweat after giving his third speech of the day. "Brothers and sisters, you are not living in a democracy; you are living in an oligarchy." pic.twitter.com/oXMq5lbd8T

— RevoltPolitic (@RevoltPolitic) October 30, 2018
2018
4 days until Election Day, next Tuesday. Too late, I think, for any game-changing events. Even this year.

"For Handicapping Midterm Races, Old Rules May No Longer Apply" [Inside Elections]. "Because undecideds break disproportionately to the challenger, any incumbent who is winning by a point or is in a dead heat in the final 10 days of a campaign ought to be an underdog in the election. That's why handicappers view incumbents who are ahead 44 percent to 43 percent or even 46 percent to 45 percent as being in terrible shape politically. (Incumbents who are running even or slightly ahead but are getting 48 or 49 percent of the vote have a better chance to eke out a win.) So, when I see a New York Times Upshot/Siena College poll showing New Jersey Republican Rep. Tom MacArthur leading Democratic challenger Andy Kim 45 percent to 44 percent 10 days out from the election, I have to believe that MacArthur is in deep trouble…. This year, it's hard to know whether that handicapping rule of thumb will hold. President Donald Trump is an unusual political figure who has already violated multiple rules of handicapping, and only a fool would assume that all of the old political rules still apply…. The current political landscape is very different to the one we saw before 2015-2016. Voters are behaving differently (just look at the early voting), and . And, of course, the president is unlike other American president. In a week, we'll know whether any of the midterm and late cycle rules of political handicapping still apply."

"How Trump Is Winning The Midterm Elections" [Moon of Alabama]. "My personal hunch is that the Republicans will keep both houses and may even gain a few seats. The U.S. economy is doing relatively well…. The Democrats have neither a program nor a leadership that incites to vote fro them. They wasted two years with hyping a non-existent Russiagate that no one but Washington insiders and the media cares about. Did they actually oppose anything Trump did? They tried a #metoo stunt around a Supreme Court nomination but how effective was that?…. Trump continues to be an excellent salesman. He knows how to get and maintain attention. Each day he makes some outrageous claim or acts on some hot button issue. This has two effects: it is red meat for his base, and it gives major media attention to his politics. All of the above lets me expect a higher turnout of voters who lean Republican than of those who lean towards Democrats. The higher turnout wins." • Correct to focus on turnout, but the post doesn't mention money, of which the Democrats have great gobs.

"Hoping for a Midterm Split Decision" [Ross Douthat, New York Times]. "If you are a conservative who is moderately happy with some of Trump's policy steps, fearful of liberalism in full power, but also fearful of Trump untrammeled and triumphant, the sensible thing to root for — and vote for — is the outcome that appears most likely at the moment: A Republican majority in the Senate and a Democratic majority in the House of Representatives."

"Trump revives 'Willie Horton' tactic with ad linking illegal immigrant killer to Democrats" [WaPo]. "Pinned at the top of President Trump's Twitter feed Wednesday was a video. The man on the screen has a shaved head and a mustache and long chin hair. Smiling, he announces, "I killed f‐‐‐— cops." The man is Luis Bracamontes, a twice-deported Mexican immigrant who was given the death penalty in April for killing two California law enforcement officers in 2014…. "Illegal immigrant, Luis Bracamontes, killed our people!" reads text on the 53-second video, which is filled with audible expletives. 'Democrats let him into our country. . . . Democrats let him stay.' …. Whether it was simply an attempt to criticize Dukakis's crime policies or if it was an appeal to racial fears, the "Willie Horton" ads worked. "Willie Horton was devastating to Mr. Dukakis," the New York Times wrote in 1990." • "Our people." I hate that locution. Then again, since Bush gave us "Homeland," I suppose "our people" was never going to be far behind.

"Toxic Tropes: "Skyrocketing" Racism Through Respectable Journalism" [Empire Burlesque]. Re so-called "anchor babies": "We are talking about the birth of 370,000 children over a period of 26 years. 370,000 — in a population of 325,000,000. We are talking about a cohort of children spread out over more than a quarter of a century, eventually reaching a total of … 0.1 percent of the population."

"Ohio Ordered to Count Ballots From Purged Voters" [Courthouse News]. "The Sixth Circuit ruled Wednesday that Ohio's elections board must count provisional ballots cast in next week's midterm election by residents who were purged from voter rolls between 2011 and 2015. The Cincinnati-based federal appeals court found that the subset of voters who moved outside their previous voting district received confirmation notices that likely did not clarify they would be removed from voter registration rolls if they didn't vote or change their voter registration within four years of receiving the notice… The Sixth Circuit panel granted in part an emergency injunction sought by The Northeast Ohio Coalition for the Homeless, A. Philip Randolph Institute and voter Larry Harmon against Ohio Secretary of State Jon Husted."

FL Governor: "The Improbable Run of Andrew Gillum" [US News and World Report]. "Gillum has clutched to varying polling leads in the preponderance of general election surveys, with a few showing his advantage as high as between five and seven points, a margin that would amount to a blowout in normally too-close-to-call Florida and unprecedented for any Democrat in memory."

GA Governor: "Georgia GOP Gubernatorial Candidate Ditches Final Debate At The 'Last Minute'" [HuffPo]. "The final televised debate between Georgia gubernatorial candidates Stacey Abrams (D) and Georgia Secretary of State Brian Kemp (R) has been canceled after the Kemp's 11th-hour decision to pull out of the Sunday forum. He has decided to campaign that day with President Donald Trump in the city of Macon instead." • Profile in courage…

GA Governor: "Earlier this year, after purging more than half a million voters—more than three hundred thousand of them erroneously—and sidelining fifty-three thousand voter-registration applications in this election cycle, most of them from African-Americans (Abrams is black), Kemp said, "For anyone to think there's a way to manipulate the process because you're secretary of state is outrageous" [Sue Halpern, The New Yorker].

VA-07: "Spanberger campaign kicks out undercover staffer working for Project Veritas" [Richmond Times-Dispatch]. "The campaign of Democrat Abigail Spanberger on Wednesday confronted and kicked out a volunteer who was working with Project Veritas, a conservative group that has used deceptively edited undercover video to try to embarrass Democrats and others…." • James O'Keefe, the founder of Project Veritas, is a creep, but "undercover" is richly ironic, given Spanberger's CIA background.
Realignment and Legitimacy
"Wall Street Tries to Shape Democratic Victory by Backing Moderates" [Bloomberg]. "For the first time in a decade, the securities and investment industries are spending more on Democrats than Republicans ahead of the Nov. 6 midterm elections. Bankers are also giving to Democrats. A big part of that is anti-Trump, but a lot of the money is flowing to moderate Democrats, a sign Wall Street is seeking Washington allies to temper the impact of progressives such as Representative Maxine Waters and Senator Elizabeth Warren, who are poised to hit the industry with subpoenas and tougher oversight….. "It's going to be a very thin majority," said Paul Merski, a lobbyist for the Independent Community Bankers of America. Moderate Democrats, especially those who win in swing districts, 'will be the deciding factor. And they agree with us on a lot of things.'" • I'm shocked.

"Democrats are playing 'defense' against the GOP's Wall Street deregulation agenda, Sen. Sherrod Brown says" [CNBC]. Brown: "Yeah, I have little interest in reimposing Glass-Steagall. That's an answer to a question that's not being asked. Breaking up the banks – they're too big and too powerful – that's not on my agenda. My agenda is to, as you say, play defense, to make sure we have a vibrant consumer protection agency." • That's throwing the red meat! That's the stuff to give the troops!

"Americans see voter suppression as a bigger problem than voter fraud" [WaPo]. "More than half of Republicans think that even one illegally cast ballot is a major problem; only a little more than a quarter of Democrats agree. But that these laws also have the effect of something that three-quarters of Republicans call a major problem — obstructing hundreds of legal votes — doesn't seem to prompt objections."

Thread on family separation, and the continuities between Clinton, Bush, Obama, and Trump. Lots of links:

1/x Thread on immigration detention and family separation during the Obama years.

Trump may be awful, but our treatment of immigrant families has been horrendous for years, Democrats & Republicans can't erase their guilt by pretending Trump is responsible for America's crimes. pic.twitter.com/aWqDPYDWr4

— Abolish ICE (@Jamie_Maz) June 20, 2018
Stats Watch
Productivity and Costs, Q3 2018: "Growth in productivity slowed in the third quarter but still remained respectable" [Econoday]. "The best of both worlds, of course, is to have strong real wage gains along with strong output and limited gains in hours worked — which is pretty much the mix of today's report." And but: "Productivity trend is improving while unit labor cost trend is slowing" [Econintersect]. "If data is analyzed in year-over-year fashion, non-farm business productivity improved 1.3% year-over-year, and unit labor costs were up 1.5% year-over-year [last month's final published 1.9%. Bottom line: the year-over-year data is saying that labor costs are outpacing productivity improvements."
Purchasing Managers Manufacturing Index, October 2018: "Led by a sharp increase in new orders, composite growth in October's PMI manufacturing sample is steady" [Econoday]. "Cost pressures are described as "intense", reflecting higher raw material costs and tariff-related pressure for metals, with pass through to customers accelerating. The steady-and-solid verdict from this sample is a positive indication for favorable closure to a strong year for manufacturing."
Institute For Supply Management Manufacturing Index, October 2018: "A little slowing from an extremely strong rate of growth is October's outcome for ISM's manufacturing sample" [Econoday]. "[A] little slowing is probably good news for ISM's sample which had been running at a record and perhaps unsustainable pace for more than a year. And even though growth has slowed, it remains very solid and points to a positive close for 2018." And but: "[B]elow expectations… and suggests manufacturing expanded at a slower pace in October than in September. This was still a solid report" [Calculated Risk].
Construction Spending, September 2018: "A big upward revision to August offsets a no-change headline for September construction spending. But year-on-year rates tell the story," up sharply [Construction Spending]. "This series is notorious for its volatility which the revision to August underscores. And though strength is evident in public spending and also areas of nonresidential construction, spending on single-family homes is a clear shortcoming in today's report and one that was unfortunately evident in last week's third-quarter GDP report which was pulled down by weakness in residential investment." And: "This was below consensus expectations, however spending for July and August were revised up" [Calculated Risk].
Challenger Job-Cut Report, October 2018: "A massive 44,000 layoff announcement at Verizon skewed October's count sharply higher" [Econoday]. "These results may have little immediate bearing on October's employment report for tomorrow, yet they may be an early warning shot that labor demand may be peaking." And: "For the third time this year, one company's [Verizon's] announcement has made up the bulk of job cuts for one month" [Econintersect]. "Retail continues to lead all sectors in job cut announcements with 92,375, 7,350 of which occurred in October. Much of these cuts were tied to Sears's bankruptcy and announcement of 142 additional store closures."
Jobless Claims, week of October 27, 2018: "October was a very healthy month for the labor market based on jobless claims data" [Econoday]. Very little effect from Hurricane Michael. Challenger's report earlier this morning does show a giant spike in layoff announcements during October and as these announcements are turned into fact a visible swelling in claims would be no surprise. But for now, going into tomorrow's employment report, the labor market looks extremely healthy." And: "This was slightly higher than the consensus forecast. The low level of claims suggest few layoffs" [Calculated Risk].
Shipping: "Package delivery robots coming to the Bay Area" [Supply Chain Dive]. "Autonomous delivery robots made by Starship Technologies will deliver packages to urban dwellers in the Milton Keynes area of the U.K., and will expand to the San Francisco area by the end of the year, the company told Supply Chain Dive in an email. Initially, autonomous parcel deliveries will be available within a three-mile radius of Starship facilities with robots making 15 to 25 deliveries per day operating from 7 a.m. to 11 p.m. The robots are able to make the journey to the user's door using 'many sensors, including 10 cameras, ultrasound sensors, radar, and GPS,' Henry Harris-Burland, vice president of marketing for Starship Technologies said in an email." • 15 to 25 deliveries a day doesn't seem like much. Of course, companies don't actually have to make money these days…
Shipping: "The bottom line for logistics companies is inextricably tied to the financial health of their customers. XPO Logistics Inc. saw its third-quarter results squeezed by a customer bankruptcy in Europe…. even as strong freight demand drove up margins in its less-than-truckload business" [Wall Street Journal]. "XPO reported $4.3 billion in quarterly revenue, $100 million off from analyst expectations. Costs from the customer bankruptcy dragged down operating income in its logistics segment and XPO lowered its full-year target by several million dollars."
Tech: "Father of Web says tech giants may have to be split up" [Reuters]. Underline that word "may." TBL: "Before breaking them up, we should see whether they are not just disrupted by a small player beating them out of the market, but by the market shifting, by the interest going somewhere else." • Oh.
Tech: "Announcing some security treats to protect you from attackers' tricks" [Google]. The headline doesn't reflect what is to me the lead, buried five paragraphs down: "we'll now require that JavaScript is enabled on the Google sign-in page." And: "Chances are, JavaScript is already enabled in your browser; it helps power lots of the websites people use everyday. But, because it may save bandwidth or help pages load more quickly, a tiny minority of our users (0.1%) choose to keep it off. This might make sense if you are reading static content, but we recommend that you keep Javascript on while signing into your Google Account so we can better protect you." • So we can better protect you….
Political Risk: "Opinion: Midterms could surprise, throwing a monkey wrench into investors' dreams" [MarketWatch]. "The midterms have caused some jitters, but most investors and traders still think Democrats will retake the House of Representatives by a small margin, while Republicans will maintain control of the Senate. To status quo-loving Wall Street, that's the best of all possible worlds…. If progressives Andrew Gillum and Stacey Abrams become governors of Florida and Georgia, Wall Street may start quaking in its boots, and the midterms, which haven't been a big factor in the recent sell-off, could suddenly loom large."
Political Risk: "Opinion: Investors should look forward to a green wave after the midterm election" [MarketWatch]. "While some shift in power is expected, and priced into the market early in the year, the magnitude of that shift and the impact that will have on policy is unknown until late in the year. Consequently, markets tend to rally near the election, when the results are more predictable, and continue to move upward after the votes are tallied. In fact, since 1950, the average one-year return following a midterm election is 15%; that's more than double the average return in all other years over the same timeframe."
Our Famously Free Press
"How a lie about George Soros and the migrant caravan multiplied online" [USA Today].
"Recode, the original good tech news site, is folding into Vox.com (but relaunching next year)" [Neiman Labs]. "The archives will remain up and no layoffs will happen." • Consolidation even among the small fry.
Gaia
"Econo-missed #6: Markets aren't enough to solve climate change" [Data for Progress]. "The market may prove to be a powerful tool in reducing carbon emissions, but the climate crisis is far too vast to be challenged from the market alone. More important than a carbon tax is government sponsored investment in our infrastructure and energy system — an investment made possible by a Green Jobs for All program. If a jobs guarantee can rebuild Americans' trust in government while we tax the rich back to the 20th Century, then maybe a Green New Deal is possible." • The author that a Federal carbon tax can be used to fund Federal programs (for example. Bruenig's "social wealth" fund). You can't get a Green New Deal going if your first act is to climb inside the austerity box.
"Energy company applies to drill wells near former Rocky Flats nuclear weapons plant" [Denver Post]. "Highlands Natural Resources Corp., registered in the United Kingdom, applied this month to the state for a spacing plan for wells on a 2,560-acre site where it has leased minerals in the area of the Rocky Flats National Wildlife Refuge. Rocky Flats, between Denver and Boulder, was converted to a wildlife refuge after a $7.7 billion Superfund cleanup of a plant that produced plutonium triggers for nuclear bombs from 1952 to 1989. The Department of Energy retains control of a 1,300-acre fenced core where contaminated waste is buried." • What could go wrong? (The filing is also under the wire for the possible passage of Proposition 112.)
Heatlh Care
"A Sense of Alarm as Rural Hospitals Keep Closing" [New York Times]. "In every year since 2011, more hospitals have closed than opened. In 2016, for example, 21 hospitals closed, 15 of them in rural communities." • Oddly, consolidation doesn't seem to be part of the story.
Not some Twitter troll:
This year's scariest Halloween costume goes to… pic.twitter.com/QtRbdmiR8T

— Administrator Seema Verma (@SeemaCMS) October 31, 2018
Class Warfare
Google walkout:
Good luck to Google employees on their walkout. We hope your demands are met! And we hope other tech workers take inspiration from your efforts. #googlewalkout https://t.co/PcB3s9GW6D

— NYC-DSA Tech Action? (@NYCDSATechWG) November 1, 2018
Note #2. I hope that applies to everyone on the Google campus.
"We're the Organizers of the Google Walkout. Here Are Our Demands" [The Cut]. "A commitment to end pay and opportunity inequity, for example making sure there are women of color at all levels of the organization, and accountability for not meeting this commitment. This must be accompanied by transparent data on the gender, race and ethnicity compensation gap, across both level and years of industry experience, accessible to all Google and Alphabet employees and contractors. Such data must include, but not be limited limited to: information on relative promotion rates, under-leveling at hire, the handling of leaves, and inequity in project and job ladder change opportunities. The methods by which such data was collected and the techniques by which it was analyzed and aggregated must also be transparent." • See query above.
News of the Wired
Safe European home:
#MAP: Share in each country who agree with the statement "Our people are not perfect, but our culture is superior to others." https://t.co/m1i1RipjMu pic.twitter.com/WlROWXHZHm

— Pew Research Center (@pewresearch) October 31, 2018
* * *
Readers, feel free to contact me at lambert [UNDERSCORE] strether [DOT] corrente [AT] yahoo [DOT] com, with (a) links, and even better (b) sources I should curate regularly, (c) how to send me a check if you are allergic to PayPal, and (d) to find out how to send me images of plants. Vegetables are fine! Fungi are deemed to be honorary plants! If you want your handle to appear as a credit, please place it at the start of your mail in parentheses: (thus). Otherwise, I will anonymize by using your initials. See the previous Water Cooler (with plant) here. Today's plant (MF):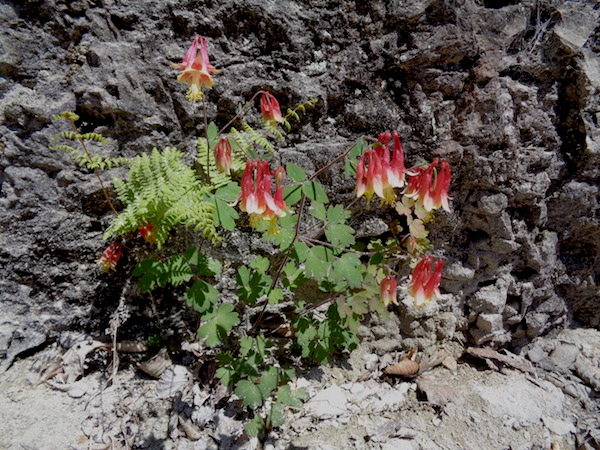 MF writes; "A wild columbine from Fort Hill, Highland County, Ohio. With a fern in the background. Fort Hill is a Hopewell Indian site at the very edge of the Appalachian Plateau." I love columbines, so elegant and old-fashioned. Until this year, mine have always done very well; not sure what the problem was, because I didn't change anything.
* * *
Readers: Water Cooler is a standalone entity not covered by the annual NC fundraiser, now completed. So do feel free to make a contribution today or any day. Here is why: Regular positive feedback both makes me feel good and lets me know I'm on the right track with coverage. When I get no donations for five or ten days I get worried. More tangibly, a constant trickle of small donations helps me with expenses, and I factor that trickle in when setting fundraising goals. So if you see something you especially appreciate, do feel free to click below! (The hat is temporarily defunct, so I slapped in some old code. The form below should work.)
Or Subscribe to make a monthly payment!