By Lambert Strether of Corrente.
Readers, sorry for the "late" post. My habit is to set my clock a little ahead, as a lash and a spur to actually press the submit button by deadline, but the Mac's latest OS seems to get huffy if my time is set "incorrectly," and so I accidentally reset the clock to eliminate my little margin. I think I should be able to set the date and time to whatever I damn well please! Whose computer is this? –lambert
Politics
"But what is government itself, but the greatest of all reflections on human nature?" –James Madison, Federalist 51
2020
"Poll: Biden and Sanders lead 2020 Dem field, followed by Beto O'Rourke" [The Hill]. "About 26 percent of Democrats want Biden to be the Democratic nominee in two years, while 19 percent want Sanders. [Rep. Beto O'Rourke (D-Texas)] came in third in the list of preferences at 8 percent… The Morning Consult/Politico poll surveyed 733 Democratic voters from Nov. 7 to 9 and has a margin of error of 4 percentage points."

Laying the groundwork:

The Walton family of Walmart is the wealthiest family in America, worth $180 billion. Middle class taxpayers should not have to subsidize Walmart's horrendously low wages to the tune of at least $6.2 billion every year.

— Bernie Sanders (@SenSanders) November 15, 2018

Oddly, or not, neither Biden nor O'Rourke or any other Democrats doing anything remotely similar.
2018
UPDATE "For First Act in Power, Democrats Consider Making Their Own Agenda Impossible to Pass" [New York Magazine]. "This week, Minority Leader Nancy Pelosi unveiled a list of new procedural rules that her caucus intends to implement when the next Congress is seated. Most of these measures are unobjectionable 'good government' reforms. But one of them would create a new — and all-but-insurmountable — obstacle to the passage of many of the policies that the Democratic Party claims to support. The rule, proposed by Pelosi and Massachusetts representative Richard Neal, would 'require a three-fifths supermajority to raise individual income taxes on the lowest-earning 80 percent of taxpayers.'….All this would be a bit less problematic if the Democratic Party had overcome its allergy to deficit spending (and/or accepted Modern Monetary Theory as its personal truth). But it hasn't: In addition to forbidding tax increases on the bottom 80 percent, Pelosi has vowed to honor the 'pay as you go' rule, which requires the House to fully finance any and all new government spending." • I really blame Sanders for nailing us inside Pelosi's austerity box; he had the platform, the advisors, and the framing ability to promote the MMT paradigm, and failed to do so. Just imagine what the Republicans will do, when they regain power, with a supermajority requirement for taxes!

"Why is this Brooks Brothers riot alumnus attending Broward's recount?" [Tampa Bay Times]. I can't imagine…. For those who came in late: "Quinn is most famous for allegedly leading the raucous upheaval outside the office of the Miami-Dade supervisor of elections— later dubbed the "Brooks Brothers Riot" — that some ultimately credited for the abrupt termination of recount efforts in the county."

"Stacey Abrams to seek new Georgia election in unprecedented legal challenge" [Salon]. "Stacey Abrams is preparing to ask for a new election to be called in her contested Georgia governor's race, under a state law that allows losing candidates to challenge election results based on 'misconduct, fraud or irregularities … sufficient to change or place in doubt the results.'… In order for a challenge to be successful, Abrams' team would need to show that there were enough irregularities that at least 18,000 voters were improperly barred from voting or had their ballots rejected…. In the years leading up to the election, Kemp, as Georgia's secretary of state, purged more than 550,000 people from the state's rolls. Investigative journalist Greg Palast has found that more than 340,000 of them were wrongly removed with no notice."
2018 Post Mortems
"Blue-state Republicans embraced the 2017 tax cuts. It may have cost them." [MarketWatch]. "[California's Mimi Walters, Steve Knight of California, Dan Donovan of New York, and Leonard Lance, Seth Grossman and Jay Webber of New Jersey] are all [Republicans] from states that stood to lose the most when the state and local tax deduction – and, to a lesser extent, the mortgage interest deduction – was capped. And while it's hard to unpack exactly what led voters in each of those districts to pick someone new, it's also hard to escape the idea that a deeply unpopular, partisan tax bill that opponents spun as "economic civil war," in the words of New York Governor Andrew Cuomo, couldn't have played at least some role."

"Lessons of 2018: Mid-sized cities bigger problem for Democrats than rural areas" [Bleeding Heartland]. "While many commentators have focused on declining Democratic performance among rural voters, attrition in Iowa's mid-size cities is a more pressing problem for the party's candidates at all levels. This post focuses on the vote for governor in seventeen "micropolitan" counties. Iowa has 40 "nonmetropolitan regional trade centers–counties containing cities of from 5,000 to just under 30,000. Eroding support in mid-size working-class communities is affecting Democrats across the country, not only in Iowa. I haven't seen any conclusive research on why that trend took hold." • At a guess, because their Main Streets are threatened or dying. Bleeding Heartland is always worth a read. Kudos to them for spotting this.
Realignment and Legitimacy
"The Tupperware Party" [The Baffler]. "Organizations like She Should Run, Emerge America, and EMILY's List declared themselves to be at the vanguard of ensuring that a new cohort of female candidates win public office at all levels of government. Other groups popped up, too, all intent on promoting women candidates for the 2018 cycle. The Pink Wave!… After filling out a flurry of questionnaires I got replies from two groups offering to interview me for their candidate training programs…. the interviewers cut straight to what I later learned is called the phone test: 'Take out your cell phone, scroll through it, and figure out who to call first about your campaign,' I am told. I naively mentioned the heads of community organizations who had urged me to seek office, business leaders of my acquaintance, a handful of left activists, and of course my future constituency, my neighbors. Wrong. That first phone call is meant to raise a seemingly arbitrary threshold of donor funds—$25,000." • Wait, what? This doesn't seem very different from garden variety Democrat corruption….

"When Tribalism First Entered American Politics" [New York Times] (review of The Red and the Blue, by Steve Kornacki). "The early Clinton era is presented as a parade of confrontations — over welfare, balanced budgets, health care — that, for a time, emboldened Gingrich's showdown wing of Republicanism, but also vaulted Clinton to a re-election that created an early version of today's blue America. Then came the probes and impeachment. By the time George W. Bush was elected in 2000, Kornacki writes, the country's split was set — 'these divisions were geographic, demographic and cultural.'… In 2018, "The Red and the Blue" implicitly leaves us with another one: When, exactly, was the pre-Trump political calm for which so many now yearn?"
Stats Watch
Industrial Production, October 2018: "Hurricane-related contraction in utility output and contraction in the usually strong mining component offset a respectable rise in manufacturing, all making for a slightly lower-than-expected… increase in total industrial production [Econoday]. "The gain for manufacturing led by business equipment and construction supplies is the good news in today's report and points to a healthy conclusion for what has been a positive 2018 factory sector." And: "The increase in industrial production was below the consensus forecast, however the previous months were revised up. Capacity utilization was above consensus" [Calculated Risk]. And but: "There was significant upward revision to last month's data. The best way to view this is the 3 month rolling averages which marginally declined. Industrial production remains in a long term upward trend" [Econintersect]. "Manufacturing employment rate of growth is accelerating year-over-year."
Kansas City Fed Manufacturing Index, November 2018: "This morning's industrial production report for October showed favorable gains for manufacturing as does Kansas City's manufacturing index" [Econoday]. "The nation's factory sector looks to keep up its solid pace through year end."
Quarterly Services Report, Q3 2018(Advance): "Information sector revenue for the third quarter of 2018 rose" [Econoday].
Banks: "Wells Fargo Cuts 1,000 Jobs Across the U.S. on Mortgage Woes" [Bloomberg]. "The cuts are part of Wells Fargo's effort "to focus our business on evolving customer preferences, the accelerating adoption of , and operational excellence and efficiency," Goyda said." • Oh great. Fire all the tellers…
Real Estate: "NYC Real Estate Brokers & Landlords Are Salivating Over Amazon Invasion" [Gothamist]. "StreetEasy searches for apartments for sale in Long Island City soared roughly 300% this past week, according to a release from the website. And Ben Landy, the CEO of Lease Buyout Advisors, a company that, in his words, 'helps rent stabilized tenants get the max amount of money from their buyout,' said that landlords in the area now have even more incentive to try and pay their rent-regulated tenants to vacate: 'It's gonna be an amazing time for buyouts.'"
Shipping: "Simply looking at this month versus last month – this was a great month. The three month rolling averages all improved. And we are in the middle of a trade war?" [Econintersect].
The Bezzle: "Uber driver attempting to deliver petition to company's headquarters gets tackled to the ground" [San Francisco Chronicle]. "An Uber driver who said he was trying to bring a petition to the company's headquarters in San Francisco on Friday was tackled to the ground by a security guard, and suffered shoulder and back injuries that required treatment at an emergency room." • The level of class we've come to expect from Uber.
Tech: "Mark Zuckerberg 'not able' to attend unprecedented international joint hearing in London" [UK Parliament]. "Facebook has declined an invitation to CEO Mark Zuckerberg from the relevant committees of five parliaments for an international joint hearing on disinformation and 'fake news', saying he is not able to be in London." • The level of class we've come to expect from Facebook.
Tech: "A Facebook patent would use your family photos to target ads" [The Verge]. "Facebook has filed a patent that would make it easier to target whole families with ads by analyzing the photos they post. The application, filed on May 10th and published today, covers an algorithm that would identify elements of photographs — like faces or other details— and cross-reference them with other data to build a profile of an entire household." • Facebook pollutes everything it touches, doesn't it?
Tech: "Try This: Just Log Out of Facebook" [New York Magazine]. "Short of nuking your entire account, logging out of Facebook is surprisingly effective at demonstrating just how much you can survive without this supposedly vital product. Maybe this is obvious to you. And yes, I'm still using Instagram, and most of the globe is on WhatsApp, but the core service of Facebook, its lifeblood, is now so worthless that, at an increasing rate, I forget it exists."
Tech: "Researchers Created Fake 'Master' Fingerprints to Unlock Smartphones" [Motherboard]. "In most cases, spoofing biometric IDs requires making a fake face or finger vein pattern that matches an existing individual. In a paper posted to arXiv earlier this month, however, researchers from New York University and the University of Michigan detailed how they trained a machine learning algorithm to generate fake fingerprints that can serve as a match for a "large number" of real fingerprints stored in databases." • And you can't change your fingerprint the way you can change a password. It's almost like biometric IDs had some other purpose than security…
Gaia
"At risk of extinction" [Canadian Geographic]. "All caribou in Canada are now at some risk of extinction, with more than half the [groups of caribou] meeting the scientific criteria for endangered and the others either threatened or special concern. Since 2004, only one group, Peary caribou, showed improvement, going from endangered to threatened. This as a result of some evidence of population recovery as warmer summers boosted forage growth after severe population die offs from weather events during the 1990s. Reasons for caribou's poor prospects vary, but the common thread is the glacial pace of any actions to address well-identified threats or common concerns. For boreal and mountain caribou, it is all about destruction of habitats by oil and gas, logging and other industries leading to heightened levels of predation (which is further exacerbated by recreational activities in some places). And in many ranges across these four [ranges], resource development has been allowed to continue, largely unabated. Rather than setting limits on habitat disturbance within imperilled caribou ranges, governments continue to rely on largely ineffectual project-by-project impact mitigation." • Petroleum projects should be fought where encountered.
"The con at the heart of the Atlantic Coast Pipeline" [Virginia Mercury]. "Dominion will point you to the voluminous work done as part of the Federal Energy Regulatory Commission's certification process for natural gas projects, but what they won't tell you is the agency's review of actual public need is stunningly cursory…. "We find that the contracts entered into by those shippers are the best evidence that additional gas will be needed in the markets that the ACP project intends to serve," [FERC] wrote in its certificate authorizing the project last year." Who are those shippers? They're almost all subsidiaries of the energy companies developing the project, which comes with a 14 percent rate of return they'll try to recoup from their ratepayers…. 'The fact that five of the six shippers on the ACP project are affiliated with the project's sponsors does not require the commission to look behind the precedent agreements to evaluate project need,' the certificate says." • The permitting process is almost always full of wildly stupid statements like this. Entertaining, at the very least.
"High-profile ocean warming paper to get a correction" [Science]. "Scientists behind a major study on ocean warming this month are acknowledging errors in their calculations and say conclusions are not as certain as first reported…. The study suggested greenhouse gas emissions may need to be cut much faster than anticipated to meet climate targets, because of more aggressive ocean warming calculated in a new model. The team examined changes in atmospheric ocean and carbon dioxide levels to assess how the ocean's heat content has changed over time. Keeling said the team incorrectly assessed oxygen measurements. Ocean warming likely is still greater than IPCC estimates, but the range of probability is more in line with previous studies."
"Rare microbes lead scientists to discover new branch on the tree of life" [CBC (DK)]. Original. "Two species of the microscopic organisms, called hemimastigotes, were found in dirt collected on a whim during a hike in Nova Scotia by Dalhousie University graduate student Yana Eglit. A genetic analysis shows they're more different from other organisms than animals and fungi (which are in different kingdoms) are from each other, representing a completely new part of the tree of life."
"Wollemi Pine, Dinosaur Tree" [JSTOR Daily]. "In 1994, an Australian park employee was exploring Wollemi National Park, a rugged area in the Blue Mountains west of Sydney. Hiking in a remote canyon, David Noble saw a tree that he did not recognize. Little did he know that his mystery tree would soon become an international sensation and a find of enormous scientific interest. He had found a living copse of Wollemia nobilis, the Wollemi Pine… Unlike most conifers, Wollemi Pines tend to grow in clonal shoots, like aspens. That means the existing trees are almost genetically identical, and have remained so for a very long time. Dinosaurs might not just have eaten Wollemi trees; they may have grazed on something genetically linked to these exact trees."
Water
"Nestlé pays $200 a year to bottle water near Flint – where water is undrinkable" [Guardian]. "Just two hours away [from Flint[, in the tiny town of Evart, creeks lined by wildflowers run with clear water. The town is so small, the fairground, McDonald's, high school and church are all within a block. But in a town of only 1,503 people, there are a dozen wells pumping water from the underground aquifer. This is where the beverage giant Nestlé pumps almost 100,000 times what an average Michigan resident uses into plastic bottles that are sold all over the midwest for around $1. To use this natural resource, Nestlé pays $200 per year…. On Friday, activists from Flint will join activists from Evart, where Nestlé pumps water. They will be joined by groups from Detroit, where people are having their water shut off, from north of the border, where the social justice group Council of Canadians is based, and from indigenous communities around the Great Lakes. Together, they want to promote a 'water summit' on 'human rights and water sovereignty."" • $200 does seem a bit low.
"The Water Atlas" (Scribd) [Pietro Laureano]. From the introduction: "In this beautifully illustrated work, Pietro Laureano shares with us the fruitsof more than a quarter of a century of careful observation of traditional know-ledge and techniques applied to urban settlements and landscape resourcesmanagement in all regions of the world. The book introduces us to very so-phisticated, thousand-year-old, capacities developed by local communities andcivilizations around the world, amongst which water harvesting techniques, re-cycling of organic wastes and used waters for soil fertility conservation or, inmore general terms, the ecosystemic approach to town planning, are anythingbut new! The volume is also the most convincing illustration of the fact that,whereas modern technological solutions rely on separation and specializationand for most of the time imply the mobilization of external resources, tradi-tional knowledge, which by its very nature applies the principle of integrationand uses internal renewable inputs, has proved over time to be effective in thedaily struggle of civilizations against adverse environments and, more recent-ly, against desertification."
Our Famously Free Press
"In cities across America, this morning's newspaper told you there was an election yesterday — but nothing about it" [Nieman Labs]. "Back when I was a kid, the best source of information on a big slate of elections was the next day's newspaper, which would be stuffed full of results, election-site vox pops, color from watch parties, and photos of politicians both ecstatic and deflated. But as our Ken Doctor reported last week, America's largest newspaper chain, Gannett, decided to do things differently this year. Rather than push back printing deadlines to accommodate the evening's tallies, Gannett papers were to report…no results. "Go to our website" was the mantra. 'It's updated more than once a day, ya know.'"
Police State Watch
It's not just the Kardashians who are privatizing public services. Thread:
In Houston, the well-off buy extra cops, who in turn make arrests and ship people to the county jail. What's wrong with this picture? pic.twitter.com/ow9YtUETec

— Franklin Bynum ? (@franklinbynum) November 2, 2018
Black Injustice Tipping Point
"As Silent Sam deadline looms, UNC officials quietly debate a difficult decision" [Herald-Sun]. (Silent Sam is a statute of a Confederate soldier.) "The university spent $390,000 on Silent Sam security in the 2017-18 fiscal year." • $390,000 is what? 20 adjuncts? 5 full professors? What are the priorities here?
"DeRay Mckesson's Misguided Case for Hope" [Hampton Institute]. "Above all else, whiteness is a relation to the means of production – the mechanisms, land, capital and resources to produce goods – and a more distant proximity to state violence. As intellectual Theodore W. Allen put it, whiteness is a "ruling class social control formation," not just a "privilege." Why are these terms all missing from his text?… To assert that racism is rooted in whiteness is to completely misunderstand both the beginning and current reasons of racism. As Mckesson previously states, whiteness is situated within a power dynamic. Under capitalism, what is the actual 'power' of that dynamic? Capital. Racism is not 'rooted in whiteness.' It is rooted in exploitation and domination, which are predicated on capital. As historian Walter Rodney put it, 'it was economics that determined that Europe should invest in Africa and control the continent's raw materials and labor. It was racism which confirmed the decision that the form of control should be direct colonial rule.'"
"Download Digitized Copies of The Negro Travelers' Green Book, the Pre-Civil Rights Guide to Traveling Safely in the U.S. (1936-66)" [Open Culture]. "[E]ven under the best possible conditions, road trips have their arduous stretches and even their dangers, a fact understood by nobody better than by the black travelers of the Green Book era. Published between 1936 and 1967, the guide officially known as The Negro Motorist Green Book informed such travelers of where in America (and later other countries as well) they could have a meal, stay the night, and get their car repaired without prejudice."
Class Warfare
"Oxford's 2018 word of the year is 'toxic'" [Quartz]. "Oxford reports a 45% spike in the number of times users have looked up the word, and reports that after "chemical," the word that most frequently follows it is "masculinity." The term toxic masculinity refers to the epidemic of male entitlement, alienation, and violence that underlies the #MeToo movement's tidal wave of trauma, as well as alarmingly high suicide rates for middle-aged men. Number six on Oxford's list of toxic subjects is "relationship," and indeed, even this website has published stories about toxic relationship habits."
News of the Wired
"Learning Chess at 40" [Nautilus]. "… And then my daughter began beating me…. There are, I learned, two forms of intelligence: 'fluid' and 'crystallized.' As first theorized by the psychologist Raymond Cattel, fluid intelligence is, basically, being able to think on one's feet, to solve new problems. Crystallized intelligence is what a person already knows—wisdom, memories, metacognition. Even if I was only learning chess for the first time, I had a lifetime of play behind me. Fluid intelligence is generally seen to favor the young, with the crystallized variety rewarded by age (though there are many exceptions)…. Not only has she since beaten me many times, but there was the look in her eyes as I checkmated her a second time."
"Your Brain Is Wired to Suck the Joy Out of Good News" [Medium]. "Together with Lyubomirsky, a psychology professor at the University of California, Riverside, Sheldon developed the hedonic adaptation prevention (HAP) model, a strategy for slowing down the deterioration of happiness that follows the boost from exciting life events. The key to holding on to happiness, he says, is twofold: appreciation and variety…. Appreciation — which the pair described in a 2012 paper as "the psychological opposite of adaptation" — means "intentionally savoring the state of affairs, or intentionally cultivating gratitude," explains Sheldon, a psychology professor at the University of Missouri. [And] '[The more varied [your experiences] are, the more memorable they are, and the more they factor into well-being judgments,' Sheldon says…. If appreciation and variety don't work for you, Jordi Quoidbach, a psychology professor at the University Pompeu Fabra in Spain has identified another strategy in his research: occasional abstinence from something that makes you happy."
"The Hidden Life of Modal Verbs" [JSTOR Daily]. "Declaratives without modals (or other linguistic hedges such as "I think," "possibly," etc.) have this straightforward objective power, even if the content is untrue….. The register of populist politics is definitive, repetitive, memorable messaging. Your typical politician or civil servant, however, may use longer, obscurer constructions with hedging to avoid being challenged on certain claims. A good example is the elegantly manipulative politician Frances Urquhart's classic line from House of Cards, "you might very well think that, I couldn't possibly comment," chock full of modal verbs with a side helping of plausible deniability. We're used to thinking that someone using this kind of language is probably untrustworthy, with something to hide…. [R]esearchers have noted that scientific and academic writing often contains quite a lot of linguistic hedging, such as the use of modal verbs, in the very environment that seems to call for powerful conviction and clarity."
Nancy goes meta:
Nancy by Olivia Jaimes for November 16, 2018 https://t.co/NlSA91WHZA pic.twitter.com/6ypIen7CAB

— Nancy (@SluggoIsLit) November 16, 2018
* * *
Readers, feel free to contact me at lambert [UNDERSCORE] strether [DOT] corrente [AT] yahoo [DOT] com, with (a) links, and even better (b) sources I should curate regularly, (c) how to send me a check if you are allergic to PayPal, and (d) to find out how to send me images of plants. Vegetables are fine! Fungi are deemed to be honorary plants! If you want your handle to appear as a credit, please place it at the start of your mail in parentheses: (thus). Otherwise, I will anonymize by using your initials. See the previous Water Cooler (with plant) here. Today's plant (EM):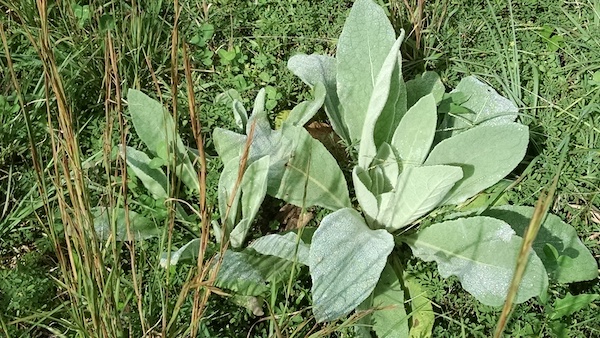 EM writes: "Mullein or bunny's ear, some locals call it rabbit tobacco or cowboy toilet paper."
* * *
Readers: Water Cooler is a standalone entity not covered by the annual NC fundraiser, now completed. So do feel free to make a contribution today or any day. Here is why: Regular positive feedback both makes me feel good and lets me know I'm on the right track with coverage. When I get no donations for five or ten days I get worried. More tangibly, a constant trickle of small donations helps me with expenses, and I factor that trickle in when setting fundraising goals. So if you see something you especially appreciate, do feel free to click below! (The hat is temporarily defunct, so I slapped in some old code.)
Or Subscribe to make a monthly payment!