By Lambert Strether of Corrente.
Politics
"But what is government itself, but the greatest of all reflections on human nature?" –James Madison, Federalist 51
2020
"New effort promises 1,000 trained Democratic staffers for 2020" [Politico]. "Anticipating a sprawling Democratic presidential field and a shortage of experienced, high-quality campaign professionals, a is launching a $4.5 million effort to train 1,000 staffers to be ready in time for 2020 combat. The group, called Arena, will begin holding training academies across the country in 2019, with a goal of deploying at least 450 of those trainees onto Democratic presidential primary campaigns or in state legislative races." • Guess who's on the board? Buffy Wicks! (See "New Anti-Berner Model Test In California's 15th Assembly District Election" at Down with Tyranny). "Left-leaning" my sweet Aunt Fanny.
2018
"Greens in Massachusetts claim official party status for 2020" [Boston 25 News]. "Ballot status means the party could hold primaries in 2020 and its nominees for president or any state office would be automatically listed on the November ballot."

"CBC votes no confidence in Democratic Chair Perez" [Politico]. "According to CBC members, Rep. Bennie Thompson (D-Miss.), the incoming chairman of the House Homeland Security Committee, started a debate over the national party's superdelegate policy, which led to a motion of no confidence in Perez, who took over the DNC in February 2017." • The Black Misleadership Class in action. Superdelegates are hardly "democratic." But since one looks in vain to the Democrat Party for any consistent principles whatever, this should not be surprising.

"Democratic election gains may spark Harris County bail lawsuit settlement" [Houston Chronicle]. "Standing with Manne and others in the courthouse hallway after the hearing was Franklin Bynum, a 36-year-old Democratic Socialist in the mold of Bernie Sanders, who was elected last week to the misdemeanor bench for County Criminal Court No. 8. Bynum said he'd read documents and sat through hearings in the historic bail case from the beginning. 'It was this lawsuit that originally inspired me to run for judge," Bynum said.' He said he and his fellow Democratic candidates all promised residents on the campaign trail they intended to settle the bail lawsuit quickly. 'Certainly, we're going to behave differently than the current judges did, like being obstinate …and defending the indefensible,' he said." • Good news!

"11,000 Votes May Be Missing in Florida Congressional Race" [Truthout]. • This is from Tuesday, the 13th, but it's worth a read for the detail on what an omnishambles the Florida system for counting votes is.

ME-02: "Golden Flips Maine House Seat for Democrats on Ranked-Choice Ballot" [Bloomberg]. "The expensive race had been seen as a test of President Donald Trump's appeal and shows Democrats can win back rural, working class areas with recruits like Golden, a state representative who sports tattoos on his forearms from his days in the service." • So, ME-02, a rural district, flips back from Trump. Exactly the sort of district the Democrat establishment wants to write off. I guess we'll see what kind of Committee assignments Golden gets…
2018 Post Mortems
"51 Percent Losers" [Matt Karp, Jacobin]. "in the long run, the Democrats' 51 percent solution, depending crucially on the votes of wealthy suburbanites, is a formula for disaster. It cannot repair our broken politics, much less transform our savagely unequal society. In fact, even in its short-term triumphs, it obscures (when it does not outright scorn) the one mode of struggle that can break the cycle: a political revolution driven by the needs and aspirations of the broader working class." • Also the only way to arrest fascism, if you care about that sort of thing. Princeton's Karp wrote the excellent This Vast Southern Empire.
Realignment and Legitimacy
Finally came across an analysis of fascism I may be able to accept, because it's from a historian, and isn't a simple-minded checklist (or liberal yammering). I'd also like to cross-check it with Robert Evans' magisterial The Coming of the Third Reich, which is also very textured, including diaries for example. From an Amazon review of From Robert Paxton, The Anatomy of Fascism:

But rather than come up with a proposed theoretical definition of fascism at the beginning and then trying to defend it, Paxton starts by examining what fascism looks like in the real world—how fascist movements actually began, how they took root and attracted a mass following, how fascist parties then rose to power and took control of the machinery of government, how they governed, etc.—and only after thoroughly considering all of these things does he finally, in the last few pages of the book, draw conclusions about what fascism really is.

I highly recommend that you read the entire book for yourself before considering Paxton's definition of fascism—it's the only real way to do justice to his approach to the subject. But for those of you who don't mind spoilers, here is how Paxton ultimately defines fascism, on the antepenultimate page of his book:

"Fascism may be defined as a form of political behavior marked by obsessive preoccupation with community decline, humiliation, or victimhood and by compensatory cults of unity, energy, and purity, in which a mass-based party of committed nationalist militants, working in uneasy but effective collaboration with traditional elites, abandons democratic liberties and pursues with redemptive violence and without ethical or legal restraints goals of internal cleansing and external expansion."

Suggestive… And in terms of "democratic liberties," the rot has been setting in for quite some time, and in a thoroughly bipartisan fashion. Ditto "community decline" (deindustrialization). So our immune system, as it were, was (and is) already weak. (A competing definition, the merger of corporations and the state, might be subsumed under "uneasy but effective collaboration with traditional elites.")

Also, quoting Paxton on the KKK:

[I]t is further back in American history that one comes upon the earliest phenomenon that seems functionally related to fascism: the Ku Klux Klan. Just after the Civil War, some Confederate officers, fearing the vote given to African Americans by the Radical Reconstructionists in 1867, set up a militia to restore an overturned social order. The Klan constituted an alternate civic authority, parallel to the legal state, which, in its founders' eyes, no longer defended their community's legitimate interests. In its adoption of a uniform (white robe and hood), as well as its techniques of intimidation and its conviction that violence was justified in the cause of the group's destiny, the first version of the Klan in the defeated American South was a remarkable preview of the way fascist movements were to function in interwar Europe.

(That's been my thought on the KKK.) From the reviews and excerpts, I think that Paxton isn't taking into account population-wide trauma, as from the Civil War (the KKK) and the trenches of World War I (Germany and Italy). I don't know the causality, but the commonality is suggestive. It may be that the Recessions ("deaths of despair") played a similar role in this country.

Back to the definition: The big missing piece, fortunately, is "mass-based party of committed nationalist militants." So far! We are nowhere near having anything like the KKK either during Reconstruction or the 1920s. Even Trump didn't show Birth of a Nation in the White House (unlike progressive icon Woodrow Wilson). However, it doesn't seem to me that liberal tactics of shaming and virtue signaling are going to be of much use preventing the emergence of such an entity (and the enormous monopolies and those productive and dynamic blue cities seem to be amplifying these entities, if anything. YouTube, in particular, is a cesspit, into which its algos are designed to suck you).
Stats Watch
Retail Sales, October 2018: "The first hard indication on what to expect for fourth-quarter consumer spending is positive but not as enormously positive as October's… headline surge" [Econoday]. And but: "The increase in October was above expectations, however sales in August and September were revised down" [Calculated Risk]. And: "October is the last month before Christmas shopping takes hold and the initial indication for holiday spending is healthy but not extravagant." But: "There was significant downward adjustment of last two month's data. Because of the downward revision, the gains in this month's report can be explained away. The real test of strength is the rolling averages which declined" [Econintersect].
Philadelphia Fed Business Outlook Survey, November 2018: "Moderation from a high level of growth is the indication" [Econoday]. "Growth in new orders slowed sharply… Optimism also seems to be fading, at least slightly… This report contrasts with greater strength in the Empire State report which was also released this morning. Together they offer a positive but not accelerating indication for November's factory activity." And: "Consider this a weaker report than last month as key elements declined – and backlog remains in contraction" [Econintersect].
Empire State Manufacturing Survey, November 2018: "In contrast to the softening in this morning's Philly Fed report, the sample for Empire State is reporting increasing strength in this month's activity" [Econoday]. "New orders fell back sharply in the Philly data but not in this report…. This report together with the Philly Fed data point to consistent but not accelerating conditions for the nation's factory activity in November. Yet manufacturing has been a leading sector for the economy and looks to end 2018 on a clearly positive note." And: "Because of the different trends of backlog and new orders – it is hard to say that this report was better than last month" [Econintersect].
Import and Export Prices, October 2018: "Last week's producer price report showed unexpected pressure in October as does today's report on import prices and export prices" [Econoday]. "Neither imports nor exports are getting any lift from finished goods where prices once again proved dead flat or nearly dead flat for all categories, whether capital goods, consumer goods, or autos. This has been a repeated indication that general price pressures on a global level remain soft." And: "Month-over-month price index for fuel imports increased (and non-fuel imports were little changed) – and the price index for agricultural commodities declined" [Econintersect].
Business Inventories, September 2018: Rose as expected [Econoday]. "Relative to sales, inventories look like they have further to climb… though retail inventories look thin given the strong headline gain for this morning's October retail sales report, overall inventories do appear to be moving more in line with sales which makes for a moderate outlook on inventory contribution to fourth-quarter GDP."
Jobless Claims, week of November 10, 2018: "Initial jobless claims are steady at low and favorable levels' [Econoday]. "Continuing claims had been making a long run of 45-year lows."
Retail:
This Amazon deal is so bad @FoxNews had me on one of their podcasts to talk about it and they didn't even mention that I'm a socialist.

— Lee J. Carter (@carterforva) November 15, 2018
Good to see both AOC and Carter on top of this; the Amazon deal is a wedge issue between left and liberals. So keep hammering.
The Bezzle: "Goldman Blames Rogue Staff for Its 1MDB Scandal. That May Not Wash." [New York Times]. "But the Wall Street firm seems unlikely to be able to slough off its role in the looting of a multibillion-dollar Malaysian government investment fund as the work of a few miscreants. Companies often claim that misconduct was just the product of "rogue" employees who do not reflect the true corporate culture of their organization. And so far that's the defense Goldman has put forth." • You'd think that whichever expensive public relations firm that's handling this debacle for Goldman would have heard of "The Laugh Test." Apparently not.
The Bezzle: "Blue Apron warns on revenue growth, shares tumble" [Reuters]. "Blue Apron Holdings Inc on Wednesday said it plans to cut marketing spending, sacrificing possible revenue growth to focus on promoting its meal-kit delivery service to its highest-paying, most profitable customers. Shares of Blue Apron slid more than 10 percent after the move was revealed in an early-morning conference call."
The Bezzle: "Uber lost over $1 billion in Q3 as it closes in on an IPO" [Engadget]. "Uber, according to its self-reported financials, said it lost (on a GAAP basis) $1.07 billion as it continues to invest in new areas, such as bicycles, scooters and freight shipments. The company is still growing however, as revenue rose 38 percent from a year ago to $2.95 billion. Albeit, those gains are down 51 percent from the previous quarter, meaning that overall the speed of growth is slightly down. Uber earned $12.7 billion from gross bookings, or the money it makes after paying commissions to drivers and delivery people, which is up 34 percent from the previous year." • Bicycles?
Tech: "Companies keep losing your data because it doesn't cost them anything" [Boing Boing (DK)]. "If companies were paying out damages commensurate with the social costs their data recklessness imposes on the rest of us, it would have a very clarifying effect on their behavior — insurers would get involved, refusing to write E&O policies for board members without massive premium hikes, etc. A little would go a long way, here."
Tech: "A browser for the next-generation Web" [Beaker]. "Beaker adds support for a peer-to-peer protocol called Dat. It's the Web you know and love, but instead of HTTP, websites and files are transported with Dat…. Deploy a website from your computer — no server required! Visitors connect directly to each other, sharing your site's files and helping keep it online…. Files are transported with the peer-to-peer network instead of being locked away on a server, so you can explore all the files that make up a website or app." • Interesting, at least. I installed the browser. It works. The Dat protocol has partial funding from the Knight foundation.
Mr. Market: "European stocks routed as financials take a hit on Brexit turmoil" [MarketWatch]. "European markets suffered broad losses Thursday, after the resignation of the U.K.'s Brexit secretary and other departures triggered massive uncertainty over the country's plans to exit from the EU and the future of the government. Banks were the hardest-hit sector, followed by insurers, with oil majors helping to balance the day….. Among banks, Royal Bank of Scotland Group finished the day down over 9% and Bank of Ireland Group shed nearly 8%. Airlines were also hard hit, with Ryanair Holdings tumbling 7% and easyJet losing nearly that much."
Mr. Market: "Traders haven't been this freaked out about tech stocks for 14 years — and their worry could be signaling disaster for the market" [Business Insider]. "Since the start of September, the tech sector has declined more than 11%, nearly double the benchmark S&P 500, which hasn't exactly been a beacon of strength itself. And as if that underperformance hadn't been bad enough, traders appear to be braced for even more turmoil…." • Making Yves' article in New York Magazine on "fake unicorns" in the venture capital industry all the more timely.
Health Care
"Left wants a vote on single-payer bill in new Congress" [The Hill]. "But the left's push for "Medicare for all" legislation would likely divide Democrats and pose a headache for House Minority Leader Nancy Pelosi (D-Calif.), who is poised to become Speaker in the next Congress." • Like those are bad things?
Gaia
"PG&E Plunges Into Crisis as It Faces Reckoning Over Fires" [Bloomberg]. "California's biggest utility was plunged into full-blown crisis by the possibility that its equipment sparked one of the catastrophic wildfires ravaging the state. Shares of PG&E Corp. plummeted as much as 32 percent Wednesday after the company said it had exhausted its revolving credit lines, signaling it was shoring up its cash to prepare for a possible credit downgrade to junk. The utility's filing also may have marked the start of a campaign to get bailed out by California's lawmakers — as it was after last year's fires." • Hoo boy.
"Massive crater under Greenland's ice points to climate-altering impact in the time of humans" [Science]. "Though not as cataclysmic as the dinosaur-killing Chicxulub impact, which carved out a 200-kilometer-wide crater in Mexico about 66 million years ago, the Hiawatha impactor, too, may have left an imprint on the planet's history. The timing is still up for debate, but some researchers on the discovery team believe the asteroid struck at a crucial moment: roughly 13,000 years ago, just as the world was thawing from the last ice age. That would mean it crashed into Earth when mammoths and other megafauna were in decline and people were spreading across North America…. The news of the impact discovery has reawakened an old debate among scientists who study ancient climate. A massive impact on the ice sheet would have sent meltwater pouring into the Atlantic Ocean—potentially disrupting the conveyor belt of ocean currents and causing temperatures to plunge, especially in the Northern Hemisphere. "What would it mean for species or life at the time? It's a huge open question," says Jennifer Marlon, a paleoclimatologist at Yale University." • Interesting story on how the science was done (including funding).
"Crossing the Sahara in the Fourteenth Century" [Lapham's Quarterly]. "Then there was the problem of water. It would be even better to say the problem of thirst, your constant companion during the crossing. All travelers, all geographers say the same thing: the water is sometimes "fetid and lethal" and, Yaqut al-Hamawi humorously reckons, "has none of the qualities of water other than being liquid." Such a beverage inevitably generates intestinal pains that make life difficult and sour the memory of the trans-Saharan experience. In good years, when there had been plenty of rain, water filled the rocky gullies, and people could drink and do laundry. In bad years, the burning wind dried out the water in the goatskins; consequently, a camel's throat had to be cut and its stomach removed. The water it contained was drawn off into a sump and drunk with a straw. In the worst-case scenario, one could kill an addax antelope and follow a similar procedure to extract greenish water from its entrails. Some authors remembered that the Maqqarî had formerly "established the desert route by digging wells and seeing to the security of merchants." But it was during the period when the big merchants of North Africa purported to deal with the material organization of the caravan and the route themselves; it was a time when captured bandits had their heads cut off."
"Setting standards for reproducibility in gut microbiome research" [Nature]. "Enthusiasm for microbiome research has outpaced agreement upon experimental best practices. Labs have often cobbled together workflows based on existing molecular techniques and analytical methods. Many experts now believe a reckoning is at hand, and that progress in the clinical application of gut microbiome data depends on researchers weighing the strengths and weaknesses of their methods. 'We have to normalize our approach to the science,' says [Raul Cano, chief scientific officer at BioCollective, a microbiome company based in Denver, Colorado]."
Class Warfare
"Companies struggling to fill jobs 'should try paying more,' Fed's Kashkari says" [CNBC]. "'I oftentimes hear businesses saying I just can't find the workers that I need,' the central bank official said during a conference on immigration in his home district. 'Now, I'm not entirely sympathetic with that view, because I've been saying you should try paying more, and you may be able to attract more workers.'" • Jeez Louise. What's wrong with this guy?
"5 Ways Smart People Sabotage Their Success" [Harvard Business Review]. "Bright kids typically receive a lot of reinforcement throughout their early lives that their intelligence is valuable. They grow up being told they're smart, and during their schooling, experience that success comes more easily to them than to others. It's easy to understand why, as a result, they would continue to focus on their intellect as a adults." • Some bright kids.
News of the Wired
"Men Cause 100% of Unwanted Pregnancies" [Medium]. • Certainly reframes the abortion debate, if debate it be.
"Somebody Had to Set a Bad Example" [Popula]. Of Elvis's 1956 record "Love Me": "It was a simple, beautiful performance of a simple, beautiful song, but it was a complex event: three 21st-century female country singers covering a song made famous by the 20th century's first male rock star, written by white R&B songwriters as a parody of country music."
Quite the catalog:
Here are the 749 song requests I played on the Fenway organ in 2018 (click/tap to enlarge). Thanks for making the best job be also the weirdest job. pic.twitter.com/tsFVeKT6It

— Josh Kantor (@jtkantor) November 13, 2018
This looks sustainable:
The Society of Aesthetic Contrarians will be conducting a guided walking tour of the intersection of Kostner, North and Grand, and environs,
at 2:00 pm. The tour is free but honoraria are cheerfully accepted. pic.twitter.com/c7hkgwB3Z0

— Adrian (@blagojevism) November 4, 2018
I once took a series of photographs of our small downtown. It is amazing how much asphalt dominates, and how the human eye (mine at least) don't even focus on it. But images from the camera's eye make asphalt's dominance leap out, as here.
* * *
Readers, feel free to contact me at lambert [UNDERSCORE] strether [DOT] corrente [AT] yahoo [DOT] com, with (a) links, and even better (b) sources I should curate regularly, (c) how to send me a check if you are allergic to PayPal, and (d) to find out how to send me images of plants. Vegetables are fine! Fungi are deemed to be honorary plants! If you want your handle to appear as a credit, please place it at the start of your mail in parentheses: (thus). Otherwise, I will anonymize by using your initials. See the previous Water Cooler (with plant) here. Today's plant (KP):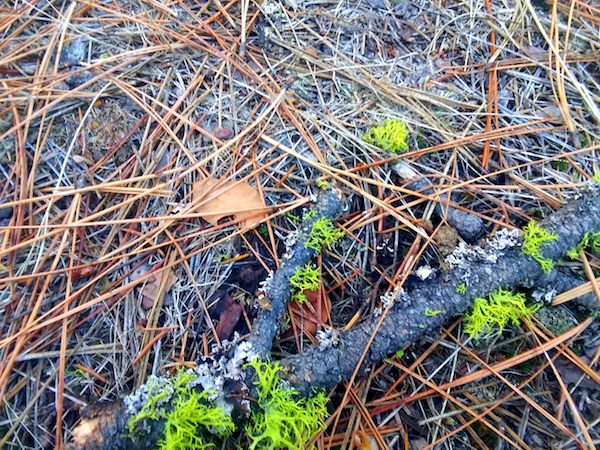 KP writes: "Lichen!"
* * *
Readers: Water Cooler is a standalone entity not covered by the annual NC fundraiser, now completed. So do feel free to make a contribution today or any day. Here is why: Regular positive feedback both makes me feel good and lets me know I'm on the right track with coverage. When I get no donations for five or ten days I get worried. More tangibly, a constant trickle of small donations helps me with expenses, and I factor that trickle in when setting fundraising goals. So if you see something you especially appreciate, do feel free to click below! (The hat is temporarily defunct, so I slapped in some old code.)
Or Subscribe to make a monthly payment!