For some time, this site has chronicled how CalPERS has been attempting to implement a "new business model" for private equity that is so criminally incompetent that insiders wonder if it actually is criminal. As one wrote:
In all my years of working with the system, I've never seen anything that makes my hair stand up on the back of my neck like this. Even though I can't point to anything specific, my gut says someone will go to jail if this gets done. And my gut has a good track record.
But the good news is CalPERS' incompetence extends to execution and messaging, so it is having increasingly obvious problems in getting this bad idea off the ground. CalPERS is not only changing its story but also radically revising what this "new model" is about, even after inaccurately broadcasting in a press campaign last May that the scheme was ready to go and had gotten board approval (CEO Marcie Frost had to walk that claim back at the next board meeting).
The latest example, which we'll discuss below, is yet another press backfire, a new article in a normally CalPERS-friendly venue, Pensions & Investments, which laid bare many of the dodgy elements of the plan. For what has the earmarks of a planted PR piece to go so badly off the rails says CalPERS is losing control of its sales pitch, which reflects the fact that the project is in a shambles.
Background: CalPERS Newfangled Private Equity "Business Model"
As you may recall, this scheme involves what CalPERS has called "four pillars":
Outsourcing an unspecified amount, but presumably a lot, of its existing investment in private equity funds to a fund of funds manager while also continuing to do some fund investment and oversight in house

Expanding its "emerging manager" program

Creating and funding a new entity, which Stanford's Dr. Ashby Monk depicted as a captive general partner, to invest in late stage venture capital

Creating and funding a second new entity to engage in "Warren Buffet style investing" with no Warren Buffet, which CalPERS translates as an "evergreen" fund that invests in "core economy"
CalPERS Has Already Dropped Major Elements of Its "New Business Model"
Since CalPERS announced its new scheme with great fanfare last May, including interviews by then Chief Investment Officer Ted Eliopoulos on Bloomberg and other financial news outlets, it has abandoned or made major changes in what was supposedly a ready-to-go initiative, proof of a lack of adequate preparation and investigation.
Specifically:
CalPERS has abandoned its effort to hire a fund of funds manager, an idea we derided as nonsensical for an investor of CalPERS' scale, since it would introduce an extra, unnecessary layer of fees and costs. As Pensions & Investments confirms:

Another difference in the private equity investment model from the earlier version is that CalPERS has jettisoned the idea of outsourcing much of its current, mostly commingled fund portfolio to a single manager.

CalPERS is no longer going to have a large expansion of its emerging manager program, which as we pointed out has been the worst performing of all of its private equity sub-strategies and more generally, academic studies have found that emerging managers underperform established funds, so there's no sound fiduciary basis for putting more money in this turkey

CalPERS said the two new vehicles would be dedicated to CalPERS. CalPERS is now admitting it will wind up having to have other investors in to placate its fund managers, raising the question of why CalPERS is putting them in business while having no control and having no upside. From Pensions & Investments:

The two outside partnerships would be the general partners and funded by CalPERS, which, at least in the beginning, would be the sole limited partner. Nor would CalPERS have a seat on either of the partnerships' advisory boards or own a slice of the general partnerships..
CalPERS Visibly Flailing About in Private Equity "New Business Model" Design
In the Pensions & Investments article, CalPERS admits it has been making this massive new scheme up as it goes, as reflected by P&I's bold header An evolving plan:
CalPERS' private equity plan has been evolving since officials went public with bits of its plan earlier this year.
This level of confusion should come as no surprise, since CalPERS recently admitted that it kept its own private equity staffers away from the project. Similarly, insiders say that the board's private equity expert, Meketa, has been kept in the dark. So this project has been led by people like John Cole, who as his LinkedIn bio shows, has no experience in private equity. This is a prescription for being taken to the cleaners even worse than CalPERS is now.
And even the polite-in-tone Pensions & Investments article exposes the lack of a sound justification and the incoherence of this scheme.
Lack of defensible rationale. P&I shows that CalPERS has not been meeting its private equity benchmarks unless you go back 20 years, which picks up the last part of the last spell of stellar private equity returns, from 1995 to 1999: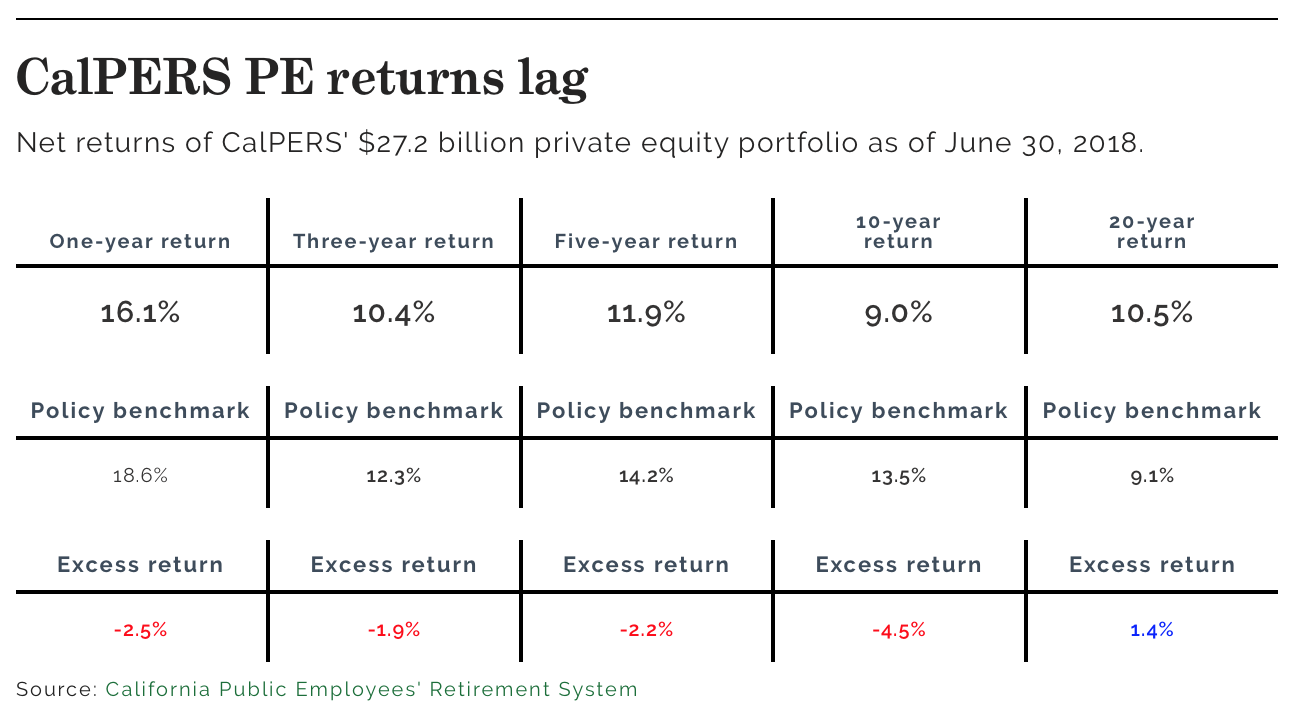 P&I points out that CalPERS has cut its benchmark, apparently to mask its poor performance: "Last year, CalPERS lowered its private equity benchmark to 150 basis points over the public markets from 300 basis points."
P&I also points out that even CalPERS expects private equity performance to fall further:
And officials expect lower private equity returns in the future, in part, due to higher investment prices and the $1.8 trillion in dry powder poised to make private equity investments.
Yet in defying its own information, CalPERS clings to private equity as currently constituted, paying huge fees to outside managers, when it has effectively admitted this approach isn't and won't deliver outperformance:
"We think the 150 basis points is a real expectation. Quite honestly, we do not have any other easy-to-identify alternatives to try to add that excess value on top of what we extract from the public equity markets," Mr. Baggesen told the investment committee.
This is either yet another admission of incompetence or another CalPERS Big Lie. CalPERS has confirmed Oxford professor Ludovic Phalippou's estimate that private equity fees and costs amount to a whopping 7% per year. CalPERS could easily get rid of 4% to 5% of that, all of which would increase returns, by bringing private equity in house. This would take time but the upside is worth the effort. Other funds, notably Canadian pension funds, have gone a long way in this direction, and more US public pension funds are going in this direction.
In the meantime, we have also discussed other options for CalPERS to obtain private-equity-level returns that don't require them to use private equity funds, such as "smart beta" funds, public market replication of private equity, leveraging its equity portfolio,1 or like German investors, who have an antipathy for private equity, leveraging the entire portfolio.
CalPERS also refuses to 'fess up why its private equity performance has been underwhelming, since it bodes ill for the new scheme. Departed Chief Investment Officer Ted Eliopoulos decided to reduce the number of private equity managers from over 200 to its current level of 99. CalPERS' consultant Meketa determined that this initiative was a failure and hurt CalPERS. Yet the idea of having two ginormous dedicated managers, even worse, newly constituted ones with no track record, goes further in this bad direction. And this would also make CalPERS' private equity program spectacularly undiversified. Wealthy individuals pay an extra layers of fees to hire funds of fund managers because they amount they have to invest in private equity is too small to allow them to achieve diversity among managers. In other words, CalPERS is choosing to create a completely unnecessary risk that other investors pay big money to avoid.
Enriching outside parties for no benefit to CalPERS. We've debunked the idea that CalPERS needs to create new fund managers, who will have no competitive advantage compared to exiting private equity firms, to put its money to work. Putting a new team in business amounts to an illegal gift of beneficiary monies, since CalPERS has been unable to explain what it getting that is of value in return.
CalPERS is designing the new entities so it will have no control whatsoever, as it admitted to P&I:
…CalPERS Direct will have relationships with two independent general partners whose sole limited partner would be CalPERS.

Employees of the two partnerships would not be CalPERS employees, nor would they be subject to civil service rules….

The two outside partnerships would be the general partners and funded by CalPERS, which, at least in the beginning, would be the sole limited partner. Nor would CalPERS have a seat on either of the partnerships' advisory boards or own a slice of the general partnerships, Mr. Cole said in the interview…

CalPERS' clout with the outside partnerships would come from being the sole limited partner, he said.
First, CalPERS has taken stakes in established general partners, such as Apollo, Carlyle and Silver Lake. The failure to establish some ownership when CalPERS is putting these ventures in business is highly suspect.
Second, the idea that being a limited partner gives CalPERS any say is spurious. As a tax exempt entity, CalPERS did not need to structure this vehicle as a limited partnership. It could have used a corporation, as it does with its captive real estate company Centerpoint, to achieve limited liability. So it appears the intention is to allow other limited partners, some of whom might be taxable, to join. And CalPERS has been forced to concede that it would only initially be the sole limited partner.
Having settled on a limited partnership as the legal structure, CalPERS cannot influence the general partner. It is required to be passive. So all of this chest-beating about pretend authority is a show for the rubes or an amazing display of ignorance.
Pretending CalPERS will be able to save on investment costs. Ted Eliopolous never claimed that CalPERS would lower its investment costs with this newfangled approach; he pointedly did not say so when asked directly on Bloomberg Television. Instead, he relied on the factually-challenged claim that CalPERS could not put enough funds to work otherwise.
CalPERS has only very intermittently tried to assert that the new entities would lower CalPERS' investment costs. That's because it's obvious they won't. First, CalPERS will be footing all the start-up costs for the new firms, which are expenses it never otherwise bears. Second, CalPERS will need to attract "talent" which means offering a competitive economic deal, given that the private equity market is doing well. Third, given how flaky CalPERS has been about this entire process, the one advantage it does have to offer, that its new teams won't face the hassle of raising new funds every four to five years, is offset by the fact that CalPERS could stop committing money.
Nevertheless, if you read the article carefully, you can discern that CalPERS plans to let its managers play "hide the ball" games that would allow them and CalPERS to pretend it is saving on fees and costs when they aren't. Recall that the biggest fee now paid in private equity is the annual management fee, the prototypical 2% per year in the "2 and 20" formula. Limited partners woke up to the fact that private equity firms, which controlled the companies in which they invested in, were pulling out all sorts of fees directly from the companies, in addition to the fees and costs paid by the fund, even "money for nothing" fees like "monitoring fees." Their first fix was to ask that a portion (why only a portion??) of those fees be "offset" against the management fees. As we've discussed at some length, that was a flawed approach, since the fees charged to the companies could exceed the management fees, plus the fund managers agreed to offset only specifically identified fees, meaning any creative new fees they dreamed up would go 100% into their pockets.
In the unlikely event that CalPERS gets this bad idea implemented, it is planning to create a false appearance of success by not having any management fees, but only annual fees set to cover the funds' actual costs. In theory, this is an excellent idea, one advocated by the Kauffmann Foundation in its classic report, We Have Met the Enemy and He Is Us. From the P&I story:
Rather than pay management fees based on the partnerships' assets under management, the partners would agree to "an appropriate and competitive operations budget that would allow them to do their jobs … but no more," Mr. Cole said. The reason is to establish a better alignment of interests between the outside partnerships and CalPERS.

CalPERS could not provide information on what it intends to pay in performance fees.

"As the numbers have grown and limited partners have been forced to pay a percentage of assets in management fees, management fees are becoming a windfall … a profit," Mr. Cole said. An operations budget brings management fees back to their original purpose, which was to give private equity firms money to do their jobs, he said.
So why don't we buy what CalPERS is selling? Because since CalPERS will have a completely arms-length relationship with the general partners, the "competitive operations budget" will include whatever the management of the new firms chose to pay themselves, plus they will be able to pull fees out of the portfolio companies to their hearts' content. And the odds favor that they will provide only the same minimal disclosure of portfolio company financials that limited partners get now. Without full, ready access to portfolio company books and records, CalPERS looks like it plans to allow its news fund managers to extract fees out of the portfolio companies on a no or low restriction basis, which buries them in the companies' overall results. CalPERS will then pretend it got a great deal on these ventures because it isn't paying management fees, when it has set itself up to have at least as much, if not more, taken out of its investments in a completely hidden manner.
CalPERS Can't Keep Its PR Story Straight
CalPERS tried depicting the investment strategies as "direct investing" and succeeded in snookering quite a few members of the press by mis-labeling the new entities as "CalPERS Direct". As the press has finally woken up to this Big Lie, CalPERS has had to admit that what it wants to do is yet more indirect investing. This has backfired on CalPERS by producing clearly confused reporting. Some media outlets have said straight up that what CalPERS is planning to do is indirect investing, either early on, like Dan Primack at Axios, or now, without admitting to the earlier mis-reporting. However, some reporters have tried to pretend that they weren't conned and so have been presenting the admission that CalPERS Direct is anything but as new news, which makes CalPERS look even more confused about what it is trying to do.
Moreover, CalPERS has gone hard into reverse about depicting its schemes as "innovative". Remember the letter from Marcie Frost to stakeholders, which just about no one was willing to run in their newsletters as CalPERS asked? Recall this priceless part:
We've Listened to Our Stakeholders
Here's what our stakeholders want: A healthier funded status. Strong returns. Innovative thinking.
So much for CalPERS ability to listen. CalPERS' stakeholders are apparently astute enough to recognize that "innovation" in finance amount to better ways for financiers to pick customers' pockets. A mere month after trying this spin out and having it backfire, CalPERS at its next board meeting trotted out a new pitch, that these approaches were "tried and true," no different than setting up a separately managed account with an existing private equity fund manager.
CalPERS continues to insult the intelligence of its beneficiaries. It apparently thinks they can't tell the difference between putting untested fund managers in business and giving them huge allocations, versus buying IBM and entering into conventional agreements with brand names.
Fortunately, the giant fund is getting more and more pushback on this terrible idea. A personal contact of Gavin Newsom has told the incoming governor he better wake up and get a handle on what is up at CalPERS because the next investment downturn means it will blow up on his watch and harebrained schemes like private equity industry enrichment will only make a bad situation worse. And from everything we have heard, stakeholder confidence in this scheme, already low, is dropping as CalPERS' efforts to shore it up backfire. If Marcie Frost wants to further damage her already tarnished reputation, pushing for a scheme that is increasingly recognized to be a garbage barge is just the way to do it.
____
1 As we've discussed in past posts, CalPERS' consultants have cooked the data to make this alternative look less attractive than it is by assigning an artificially low "observed volatility" to private equity. This plug is markedly lower than the volatility estimates CalPERS' own consultants, Wilshire and Meketa, use, and is also lower than the level that top private equity investors, the Yale endowment, employs.