By Lambert Strether of Corrente.
Last week, there were three (major) California wildfires in the news: The Camp Fire, which destroyed the town of Paradise in Northern California, and the Hill and Woolsey fires in Southern California, which are still burning, not entirely contained. Here is a map: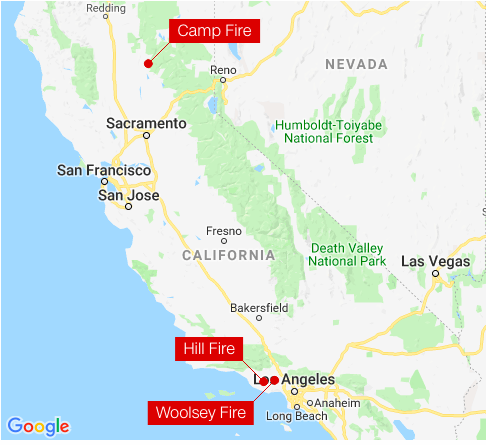 And here is a shot of the Camp Fire from space: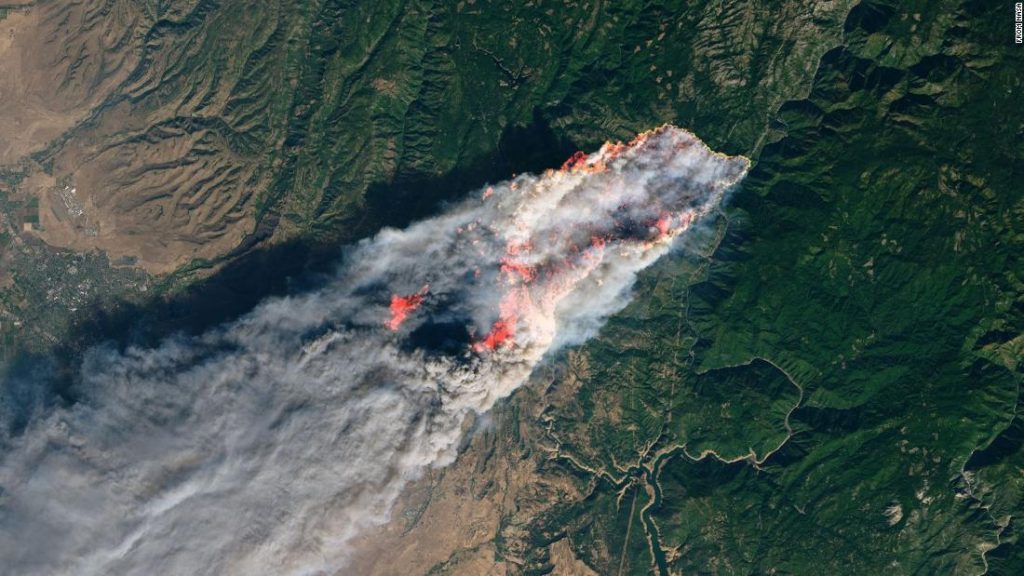 Impressive. (To add to the stress for Southern Californians, the fires are a only a few miles from the bar where the Thousand Oaks shooting took place.) Wildfires — not all of which are forest fires — are "compound events," "a combination of interacting physical processes that occur across multiple spatial and temporal scales." The mother of all compound events is, of course, science fiction author William Gibson's notional Jackpot, with which readers will be familiar. See here for the full quote, which I have shortened. Here Wilf (from the future) speaks with Flynn (from the past):
[The Jackpot] was androgenic, [Wilf] said, and [Flynn] knew… that meant because of people. Not that they'd known what they were doing, had meant to make problems, but they'd caused it anyway. And in fact the actual climate, the weather, caused by there being too much carbon, had been the driver for a lot of other things….

So now, in her day, he said, they were headed into androgenic, systemic, multiplex, seriously bad sh*t, like she sort of already knew, figured everybody did… No comets crashing, nothing you could really call a nuclear war. Just everything else, tangled in the changing climate: droughts, water shortages, crop failures…
… and wildfires, of course. In this post, I'm going to look at the tangle of news flow for this year's California wildfires at several scales, starting with the individual, then zooming out from the infrastructural to the regional, and finally outward to climate. I'll add a salute to the working class people fighting the fires, and conclude. At every scale, I'll try to use a little imagination, and speculate how the "seriously bad sh*t" might get worse; I'll label those sections: Stressors, on the assumption that if you have enough stressors at enough scales, your interacting physical processes will get even more dynamic than they already are. (I'll write other posts on how it all might get better, I promise.)
The Individual Scale
One thing you, as an individual, might find useful in preparing for a wlldfire is a "go bag" (one of those phrases, like "fry pan" or "no-fly zone" that makes me ashamed to be a speaker of American English. It seems to have arisen no later than 2004; Wikipedia redirects "go bag" to "bug-out bag"). From KQED, "Here's What You Should Have in Your Emergency Bag":
Medication
An extra set of keys
Eyeglasses or contact lenses
Hearing aids
A change of clothes
Some water and snack bars
Cash in small bills
A first-aid kit
Flashlight
A portable radio
Charging cables for your cellphone and a portable cellphone battery pack
A copy of your ID
respirator face mask
Obviously, a go bag is not a survival kit; the assumption is that outside the area from which you were evacuated, all systems are still "Go." Stressor: How many simultaneous fires in the same locale would it take for you to require an evacuation kit, instead of a go bag? (The respirator face mask is, I think, peculiar to the California area; I can't find the link, but I believe that masks make it hard for cellphone facial recognition systems to work; it would be a grim irony if more advanced technology makes it difficult to communicate with the outside world without removing your mask and breathing harmful particles from wildfire smoke.)
Another thing you, as an individual, might wish to do is escape from the fire in your car (assuming you have one). That was a big problem in Paradise. One example:
Jolly was driving just behind Davis, when she was rear-ended and her car pushed into a ravine. The car was stuck and filling with dense, black smoke.
I looked around and it just kept surrounding me growing bigger; I saw cars stuck in gridlock trying to leave, fire surrounding both sides of them.
(This is an entire genre of short videos of people driving through hellish flames, praying, or singing to their children.) Stressor: As above. Paradise is a small town about 26,000 people. What happens if multiple simultaneous fires gridlock an entire region? Apparently, the world's worst traffic jam was on China's Beijing-Zhangjiakou highway. It was 62 miles long and lasted for 11 days. Now throw a fire into the mix…
The Infrastructural Scale
First, it looks like Pacific Gas & Electric was up to its old tricks again. (See Naked Capitalism here and here for how PG&E skimping on maintenance caused 2017's wine country fires.) Downed wires are said to have sparked the Camp Fire. Sacramento CBS:
"We have eyes on the vegetation fire," said one firefighter in a call to dispatch. "It's going to be very difficult to access Camp Creek Road, it's nearly inaccessible."

Thursday morning at 6:43 a.m., Butte County firefighters called dispatch after seeing flames across the Feather River from Poe Dam.

"It is on the west side of the river, underneath the transmission lines," the firefighter went on to say. "Probably about 35 mph sustained wind on it."
Stressor: California just bailed out PG&E shareholders for liaibilities from the Wine Country fire. So there's little incentive for PG&E to change.
Second, I don't mean to be alarmist here, but what if the bridges melt?
Bridge made of steel and asphalt burns in Malibu, California #WoolseyFire

— Breaking911 (@Breaking9ll) November 10, 2018
Third, the complicity of the real estate industry (and the local governments that regulate land use). The Guardian:
Of the tens of thousands of homes burned by wildfires in California in recent decades, nearly all were located in this suburban-rural borderland. With housing shortages and high prices plaguing cities throughout the state, it is unsurprising that residents build on the fringes, places often replete with natural beauty. Yet residents are often unaware of the risks inherent in living there, and the need to mitigate those risks accordingly – their lives may depend upon it.
(This speaks to the idea that "natural disaster" is generally a misnomer; if you choose to build your house on the side of a volcano and it's destroyed by a lava flow, then proximate cause is your choice, not "nature").
The Regional Scale
Just because the Camp Fire didn't reach the Bay Area doesn't mean that the Bay area wasn't affected. From the San Francisco Chronicle:
Bay Area residents woke to a strong, sickening smell of smoke inside their homes Friday morning as thick, sooty air from the Camp Fire near Chico poured into the region… The Camp Fire ignited and quickly exploded out of control Thursday morning, and by afternoon the Bay Area was bathed in an eerie brownish-orangish glow. Many residents reported the smoke was stinging their eyes and hurting their throats. Parents kept their children indoors. It's not unusual for smoke from wildfires hundreds of miles away to reach the Bay Area, but with this one, the pollution reached the region in only six hours. The Bay Area Air Quality Management District has issued an air quality advisory for Friday and suggests people stay indoors and close windows if they smell smoke. Elderly persons, children and individuals with respiratory illnesses should take extra precautions to avoid exposure.
And wildfire smoke is a genuine health hazard. Wired:
"The air quality today is very bad, ," says Ralph Borrmann, a public information officer with the Bay Area Air Quality Management District. In the US, that might seem like an anomaly—but it's more a portent of the country's new, char-coated normal. As climate-change fuels increasingly large and frequent wildfires that hit closer and closer to densely populated urban centers, the smoke they produce is becoming a public health crisis.

Over the years, researchers have tried unsuccessfully to measure the full health effects of wildfire smoke. The general consensus, based on hospital records, is that more smoke means more trips to the doctor for things like asthma, pneumonia, bronchitis, COPD, and heart failure. Children, the elderly, women, African Americans, and those with underlying chronic diseases appear to be most susceptible. But it's been tricky to prove causation, because air pollution comes from so many places—wildfires, yes, but also tailpipes and factories.
Well, it's a complex event, or a complex of complex events. Causation is hard. Stressor: Because of causation issues, it's not possible to pursue legal remedies for harms due to forest fire smoke. San Francisco can't sue PG&E for putting X number of asthmatics into hospital wards, for example.
Climate: Less Moisture
Here is a terrific tweet storm from climate scientist Daniel Swain that I recommend you read in full:
If Northern California had received anywhere near the typical amount of autumn precipitation this year (around 4-5 in. of rain near #CampFire point of origin), explosive fire behavior & stunning tragedy in #Paradise would almost certainly not have occurred. (1/n) #CAfire #CAwx pic.twitter.com/2LBKjSVBMF

— Daniel Swain (@Weather_West) November 10, 2018
On dryness: "But what's causing that trend? Is it just bad luck? While the exact level of dryness in a particular year is somewhat random, less precipitation in autumn & spring–California's "shoulder seasons"–has long been a projected outcome of climate change." Based on the responses to Swain's tweet storm, this stressor: People wedded to their particular spatio-temporal process find it hard to see the compound event in its totality; this goes beyond "denial." It's not just climate, as Swain agrees. But it's not just brush control, either. No matter what you see on the ground…
(Fascinating true fact: The air can get so dry that moisture is actually sucked out of plants, making them even dryer and more suspectible to fire.)
Climate: The Role of Wind
The fires this year have been extremely fast-moving. Here's why. Wired:
The driving force has been extreme wind—gusts of up to 60 miles per hour, perhaps even 70 in the hills of Southern California—blowing through the state. Wind further desiccates already dry vegetation and pushes the fires along with incredible speed.

The fire-fanning winds originate in the jet stream, a band of strong winds in the upper reaches of the atmosphere. The jet stream strengthens at this time of year, amplifying its natural meandering nature and creating troughs that move south through California, which you can see in the tweet below. : They share a common origin in the jet stream.
stressor: More simultaneous fires, to the extent that California's firefighting capacity is overwhelmed. (Recall that we've already refused to disincentivize PG&E's shoddy maintenance practices by bailing them out; and high winds take down wires.)
Shout-out to the Firefighters
There are a lot of stories, but I'll just pick out one:
Hours later their engines were caught in the same traffic jam [see above] as cars ignited and trapped firefighters and fleeing residents alike. They all might have burned right there were it not for a Cal Fire bulldozer operator who "saved our bacon," Peck said. The bulldozer plowed flaming vehicles out of the roadway to clear a lane for the fire engines and several dozen vehicles to move to a grassy area that the bulldozer had scraped down to fireproof mineral soil. They all stayed in the makeshift refuge until the worst of the fire passed.
Kudos to the anonymous bulldozer operator! And not all those who fight fires are firefighters. Nurses, for example:
After working to ward off the fire, Ferguson's makeshift crew was instructed to return back to the hospital.

Once there, volunteers, staff, and even strangers rushed to set up IVs, water, gurneys, snacks, and blankets to help anyone they could. Ferguson and Chrissy stayed with their C-section patient, who couldn't even walk yet, in a car and helped her breastfeed her son and gave her pain medication. "I did get fearful but not enough to stop what I was doing," she added.
I should add that there is one really nasty aspect to who gets to be a firefighter, and it speaks California's essence as a high Gini co-efficient state. Russia Today:
Somewhere between 30 to 40 percent of the state's forest firefighters, or nearly 4,000 people, are low-level felons from state prisoners… Working in "Conservation Camps" set up by the California Department of Corrections and Rehabilitation (CDCR), the inmates are trained to clear brush that can potentially trigger a fire and also battle the flames when a blaze does occur…. For California taxpayers, the cheap labor amounts to more than $80 million in savings per year.
Worse, they can't get jobs as firefighters on release:
It's not easy for inmate firefighters to make the transition into professional firefighting. Wildland firefighter jobs are so competitive that 200 or 300 applications might come in for one opening, and Cal Fire is reluctant to promote the fact that they might hire well-trained felons over people with no criminal record, even for seasonal jobs. The Los Angeles County Fire Department won't hire felons at all. Still, an estimated 3 to 5% of inmates do make the jump, often by working with the U.S. Forest Service.
That seems dumb. It doesn't sound to me like California has a surplus of firefighters, and if it's got capacity now, it soon won't. It's also unjust.
Conclusion
I'll close with an image that's the quintessence of Jackpot; a firenado:
#Firenado seen yesterday evening from the #wildfires in Paradise, in California, #USA Video via LauraAnthony7 thanks for reporting…. #severeweather #extremeweather #CaliforniaFires pic.twitter.com/hdcgudZWQa

— WEATHER/ METEO WORLD (@StormchaserUKEU) November 9, 2018
Yikes! Expect more, if current trends persist:
I also created an animated version which helps to emphasize how weather conditions during California's fire season have evolved over time. #CaliforniaFires #ClimateChange pic.twitter.com/gkuRrdn2ZG

— Robert Rohde (@RARohde) November 12, 2018
Stressor: At some point, events compound: Nine fires in Southern California instead of three, drier brush, the flames moving faster than ever, high winds taking down power lines in too many places to count, traffic jams everywhere, firefighters doing triage because there are too few of them, too few trucks, too few air tankers, chemical retardants that fail because some MBA jiggered the formula, smoke that settles in over the Los Angeles basin and doesn't dissipate… A shortage of masks….
Comments from California readers, and readers in fire-prone areas, most welcome.