Good for the EU! Sic Semper Tyrannis (Steve C). On wildlife.
The war game that could have ended the world BBC (JTM)
Could these balls help reduce plastic pollution? BBC (David L)
How a key protein boosts memory, learning in the adult brain MedicalXPress
As if heroin weren't dangerous enough, it may come with lead poisoning ars technica
China?
Is Xi Jinping finally walking the talk on opening up China's economy as the trade war heats up? South China Morning Post

Trump's top trade adviser just warned Goldman Sachs and Wall Street not to leave their 'stench' on the US-China trade war talks Business Insider (Kevin W)
Brexit
Jo Johnson quits as minister over Brexit and calls for vote on deal Financial Times

Brexit: getting ahead? Richard North. Epic:

I have it on very good authority from somebody who has met him several times, that Jo Johnson, erstwhile transport minister, is as stupid as his brother – stupid in the way that only intelligent men can be.

'We Can't Stop Brexit' Der Spiegel. Interview with Corbyn. Well, that settles that. Note how hostile the interviewer was.

New blow to Theresa May as EU leaders demand scrutiny of Brexit deal Guardian

May's Brexit deal suffers major setback after EU 'rejects' UK arbitration mechanism Huffington Post. One of the only times we've seen Rees-Mogg demonstrate a shred of intelligence was when he asked how disputes under the Withdrawal Agreement would be adjudicated.

You Do the Math: Can May Get Her Brexit Deal Through Parliament? Bloomberg (vlade)

UK ministers present May with 'plan B' for no-deal Brexit scenario: Sun Reuters
Italy's budget row with EU escalates ahead of deadline WFSA
Italy says cutting deficit would be 'economic suicide' DW
Bank of England refuses to hand over Venezuela's gold – report RT. Kevin W: "On the principle of "What's yours is mine and what's mine is me own.'"
New Cold War
ISIS Again Claims Cyber Attacks Which Were Falsely Blamed On Russia Moon of Alabama

Ukraine-Russia Tensions Rise in Church Row Consortium News
Syraqistan
US to stop refueling Saudi planes in Yemen The Hill. UserFriendly: "Because they can do it themselves now."

Trump administration considers naming Yemen's Houthi rebels a terrorist group Washington Post (Kevin W)

Saudi Arabia considering breaking up OPEC — report DW (Kevin W)
Big Brother is Watching You Watch
Using Wi-Fi to "see" behind closed doors is easier than anyone thought MIT Technology Review (David L). More confirmation of the merits of my Luddite tendencies. No Wi-Fi devices in my apt.! Ethernet rules!

The DEA and ICE Are Hiding Surveillance Cameras In Streetlights Quartz
Election Aftermath
The 2018 Map Looked A Lot Like 2012 … And That Got Me Thinking About 2020 FiveThirtyEight (UserFriendly)

Will House Democrats Move to Impeach Trump? Bloomberg (fury). If the Dems want to increase the odds of Trump being re-elected, this is just the way to do it. And that is quite possible 'Democrats won the House but Trump won the election' – and 2020 is next Guardian

Palm Beach judge orders elections official to turn over ballots in legal win for Scott The Hill (UserFriendly)
Trump Transition
Landmark children's climate lawsuit hits new roadblock Grist
The Fastest-Growing Job in Local Government Governing. UserFriendly: "Just shoot me."
Paradise lost: California wildfire is the most destructive in state history Axios
Pacific Gas & Electric says it will help probe Associated Press (David L). On a fire for which its transmission lines may be responsible.
California wildfires: Malibu homes burn as death toll climbs to nine BBC
Fake News
Facebook Allows Governments to Decide What to Censor Counterpunch
France impounds Ryanair plane on tarmac before take-off ABC (Kevin W)
Amazon Is Kicking All Unauthorized Apple Refurbishers Off Amazon Marketplace Motherboard (Kevin W)
Tech's big five lost a combined $75 billion in market value on Friday CNBC
Amazon's HQ2 was a con, not a contest Recode
Google has responded to its employees' demands about sexual misconduct. Here are the changes it will and won't make. Recode
Facebook Follows Google To End Mandatory Arbitration For Sexual-Harassment Claims CNBC
Class Warfare
Ocasio-Cortez rips Fox News for cracking 'jokes' about her finances: It shows what they really think of working-class people The Hill (UserFriendly)

New Contractor For Food Stamps Upsets Cart For Farmers Markets Kaiser Health News
Antidote du jour. Tracie H:
Sherlock (standing), Willow (middle), and Tinkerbell (right).

Most of the time when I look upon these snugglers, they all look of one mind—comfortable and drowsy. Here, everyone seems to have something different on their minds.

It's been a while since I took this, but I'm guessing they were all snuggled together, Tinkerbell was probably grooming one of them until Sherlock got up. He probably sees a bird through the window. Willow, probably the grooming recipient, seems to be wondering why Sherlock's breaking up their snuggle time.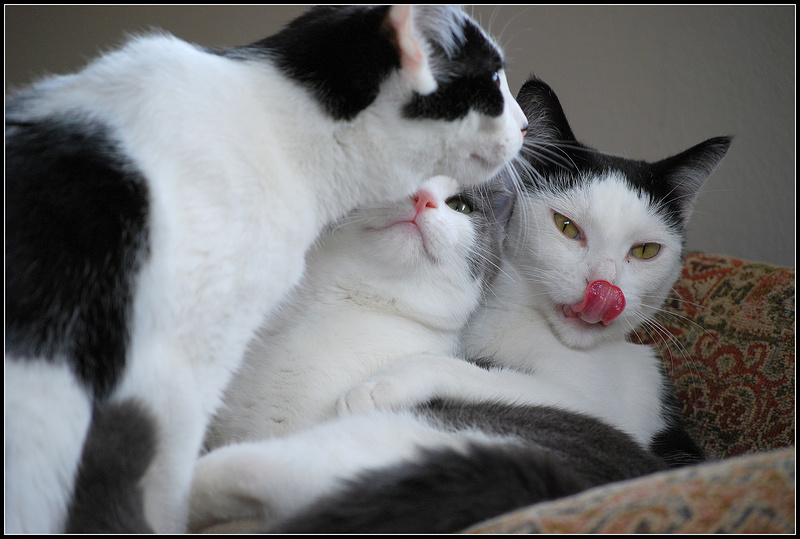 See yesterday's Links and Antidote du Jour here.