10 great English proverbs that are obviously bollocks Daily Mash. From last month, still worthy.
Massive global health study reveals "disturbing" trends New Atlas (David L)
How plants evolved to make ants their servants EurekAlert (Kevin W)
Israel Aims To Ban Gasoline, Diesel Vehicles By 2030 ars technica
Declassified military documents reveal the terrifying power of solar storms Metro (Kevin W)
UFO spotted by multiple pilots prompts investigation CNET (David L)
The plastic backlash: what's behind our sudden rage – and will it make a difference? Guardian. PlutoniumKun: "What I find interesting – and hopeful – is that this is a bandwagon right wing politicians (at least outside the US) are climbing onto. Which might mean something will get done."
Inside the hype and reality of the voice technology 'revolution' Recode
How NTP Controlled Coverage of Cell Phone Cancer Story MicrowaveNews (furzy)
China?
US tells China to remove missile systems in South China Sea Asia Times (Kevin W). Hoo boy.

Liu and Mnuchin Talk Trade for the First Time in Months Bloomberg
Myanmar's Aung San Suu Kyi stripped of Amnesty International's top human rights award abc.net.au (Kevin W)
Angela Merkel and the future of the EU DW
Nationalists and Patriots Illargi
Portugal Dared to Cast Aside Austerity. It's Having a Major Revival. New York Times (furzy)
Brexit
? RT @JenniferMerode #Brexit fatigue setting in in Brussels. One source says they have stopped reading British papers(!), because tired of 'cabinet deal imminent'/'cabinet deadlocked' story loop.

— Yannis Koutsomitis (@YanniKouts) November 12, 2018

Brexit shows that idiots and incompetents are in charge in UK Irish Times. PlutoniumKun: "Not quite as good as the heading, but Chris Johns is a mainstream business journalist (British, not Irish), it's not usual that writers like this use this type of language."
New Cold War
Nord Stream 2 Could Still Be Derailed By U.S. Sanctions OilPrice
Syraqistan
Big Brother is Watching You Watch
Facebook To Let French Regulators Investigate On Moderation Processes TechCrunch

Drive-By Shooting Suspect Remotely Wipes iPhone X, Catches Extra Charges AppleInsider

Crucifying Julian Assange Truthdig (RR)
Trump Transition
1 Citing "multiple sources", @ABC reports that Mueller team is "not getting what they want" from Paul Manafort's cooperation deal. If true, this will be no surprise to the small # of us who have actually relied on the available facts, not our imagination: https://t.co/mduGIvo3ug

— Aaron Maté (@aaronjmate) November 9, 2018

Trump and Big Media: Clash or Collusion? Consortiumnews
Sinema defeats McSally in Arizona Senate race The Hill
Over-reach is a risk for the Democrats after the midterms Financial Times
Democrats Say Their First Bill Will Focus On Strengthening Democracy At Home NPR. UserFriendly:
It's 3 things that democrats would run away from if they could actually pass it. If they actually cared about voter turnout they would push election day registration which, unlike automatic registration, has been shone to increase turnout by around 5%.
Environmental damage prompts a rethink among US coastal voters Financial Times (David L)
California Burning
Black Injustice Tipping Point
Black security guard who stops shooter is then shot and killed by police The Hill (UserFriendly)
Fake News
Kill Me Now
I Watched Joe Biden Give An Award To George W Bush So You Don't Have To
Comcast should be investigated for antitrust violations, say small cable companies The Verge
Students in Brooklyn protest their school's use of a Zuckerberg-backed online curriculum designed by Facebook engineers Business Insider (David L). We may need a new category, "Neoliberal Infestations".
U.S. Chip Cards Are Being Compromised in the Millions ThreatPoat
Boeing Withheld Information on 737 Model, According to Safety Experts Wall Street Journal. Jerri-Lynn: "Send in the lawyers."
Class Warfare
Antidote du jour. Tracie H:
Sorry I mucked up the water bowl. Maybe you could empty it and make it fresh? Orrr, maybe make it bigger? And bring raccoon treats? Please? Thank you.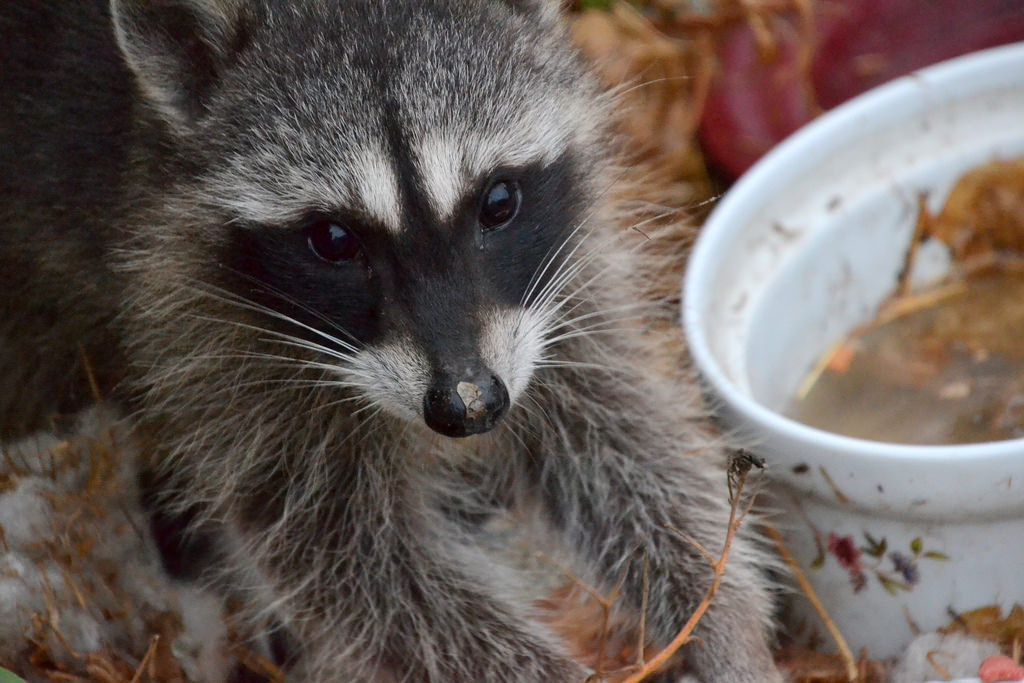 And a bonus video. A bit slick, but still fun. I liked the cat door bit:
Not a normal bonus but worth your tome. Hat tip UserFriendly:
See yesterday's Links and Antidote du Jour here.