Don't be a turkey: Keep grease out of sinks, wipes out of sewer pipes Minnesota Pollution Control Agency (Chuck L)
These animals eat absurd amounts of food National Geographic (David L)
Garfield the tomcat has a lucky escape The Nation Thailand (furzy). This is the sort of thing that would normally be a story only in a very small town..
The microscopic structure of a cat's tongue helps keep its fur clean Economist (David L)
Spider silk is five times stronger than steel—now, scientists know why Science (David L)
Huge waterspout hits Italy's south-western city BBC (David L)
The Genius Neuroscientist Who Might Hold the Key to True AI Wired (UserFriendly)
U.S. judge selects first case in federal Monsanto weed-killer litigation Reuters (David L)
Widely used reference for the human genome is missing 300 million bits of DNA MedicalXpress (Robert M)
Insulin shortage could affect 40 million people with type 2 diabetes Guardian (Kevin W)
Young People Are Having Less Sex Atlantic (UserFriendly)
World's first full-body medical scanner generates astonishing 3D images New Atlas (David L)
A Molecular Mechanism for Alcoholism? Science Magazine
Romaine lettuce is not safe to eat, CDC warns U.S. consumers Washington Post (J-LS) Says a lot about the US that they can't isolate this even a bit.
Anti-vaccination stronghold in N.C. hit with state's worst chickenpox outbreak in 2 decades Washington Post (Kevin W)
China?
How 'The New York Times' Deceived the Public on North Korea Nation (resilc). From last week, still germane.
From Politico's morning newsletter yesterday:
FRESH EURO NUMBERS: Three out of four Europeans see the euro as a good thing for the EU as a whole, according to an annual Eurobarometer survey previewed by Playbook. That, for the second year running, is the highest proportion since people started using the EU's cash. The highest "good" mentions for the euro overall come from Ireland, Luxembourg, Slovenia and Spain — all above or equal 80 percent. The least convinced are the citizens of Cyprus, Italy, Belgium and France — but there's still a majority in favor of the common currency in all 19 countries.

Good for my country? The survey polled 17,000 or so people in eurozone countries. Sixty-four percent of them said the common currency is good for their nation. The biggest surprise and biggest change from 2017? Fifty-seven percent of Italians think the euro is a good thing for Italy — up a substantive 12 percentage points. Here's the most telling chart from the survey
Italy Orders Seizure of Migrant Rescue Ship New York Times (Kevin W)
Brexit
Spain threatens to reject Theresa May's Brexit deal over Gibraltar Independent (Kevin W). Here this was supposed to have been settled. Oopsie.

Diarmaid Ferriter: North was always treated differently to rest of UK Irish Times (PlutoniumKun)
New Cold War
Russia, West clash over chemical arms watchdog's new powers AFP. Kevin W: "This is going to cause some serious trouble."
Syraqistan
Syria – Back In The Arab Fold Moon of Alabama

Saudi official hints at Qatar-canal announcement The National. UserFriendly: "lol this is what it looks like when a spoiled brat throws a temper tantrum while he just so happens to be crown prince."
Big Brother is Watching You Watch
Gift Guide: Black Friday tech deals that are actually pretty good TechCrunch. EM:

'Our advice? Stay inside and shop online where you can, be aware that most of the best deals are stocked in hilariously low quantities and don't be stubborn and buy some no-name Android tablet just because the sign says it's 80 percent off and, well, they're out of the TV you wanted anyway.' My advice? Stay away from the boatload of spyware gadgetry featured in this TechCrunch piece. An actual TV deal would have been a refreshing outlier here. If I didn't – cough – know better, I'd surmise that TechCrunch is getting paid by the likes of Amazon to push the latter's line of spyware products.

Microsoft's Office 365 outage is a big backwards step for security Wired (David L)
Trump Transition
The Hitlergate Hearings Consent Factory, Inc. UserFriendly: "ROFL"
California's expensive race for schools chief is over as Tony Thurmond defeats Marshall Tuck Los Angeles Times Los Angeles Times (EM). From a few days back but still important.
California Burning
Wildfires Lead To Redder Sunsets And Cooler Temperatures In California Forbes (David L)

California's Wildfires Could Mean a Generation of Lung Problems FiveThiryEight
U.S. Coast Guard orders energy company to clean up massive 14-year-long oil spill in Gulf of Mexico or face $40,000-a-day fine Washington Post (David L)
Gunz
Where to avoid if you don't want to be shot in America Guardian (Dr. Kevin)
Fake News
Facebook gives £4.5m to fund 80 local newspaper jobs in UK Guardian

Declassified 1949 CIA manual gives warning to disinformation on social media The Hill (UserFriendly)
Mr. Market Has a Sad
Worst Day of an Awful Year Leaves No Corner of Market Unscathed Bloomberg

Global markets retreat as tech rout spreads Financial Times
Subprime Rises: Credit Card Delinquencies Blow Through Financial-Crisis Peak at the 4,705 Smaller US Banks Wolf Street. EM:
'In other words, the overall banking system is not at risk, the megabanks are not at risk, and no bailouts are needed. But the most vulnerable consumers – we'll get to why they may end up at smaller banks – are falling apart … The real problem with credit cards isn't the banks – credit card debt is not big enough to topple the US banking system. It's the consumers, and what it says about the health of consumers.' The analysis of Wells Fargo's cost of funding was interesting – average cost of funding $1.73 trillion in loans was a mere 0.87%.
New York City subway and bus services have entered 'death spiral', experts say Guardian. So depressing.
Airlines face crack down on use of 'exploitative' algorithm that splits up families on flights Independent
Apple Co-Founder Claims Self-driving Isn't Realistic, Sick of Lies The Truth About Cars (Randy K)
Principles for Dummies American Affairs (Scott). Ray Dalio takedown.
SEC sends a message: ICOs are securities offerings Yahoo (EM)
Class Warfare
Antidote du jour. Stephanie: "This is my cat Leo, I caught him in the middle of his bath!!! And he was REALLY enjoying his bath!!!"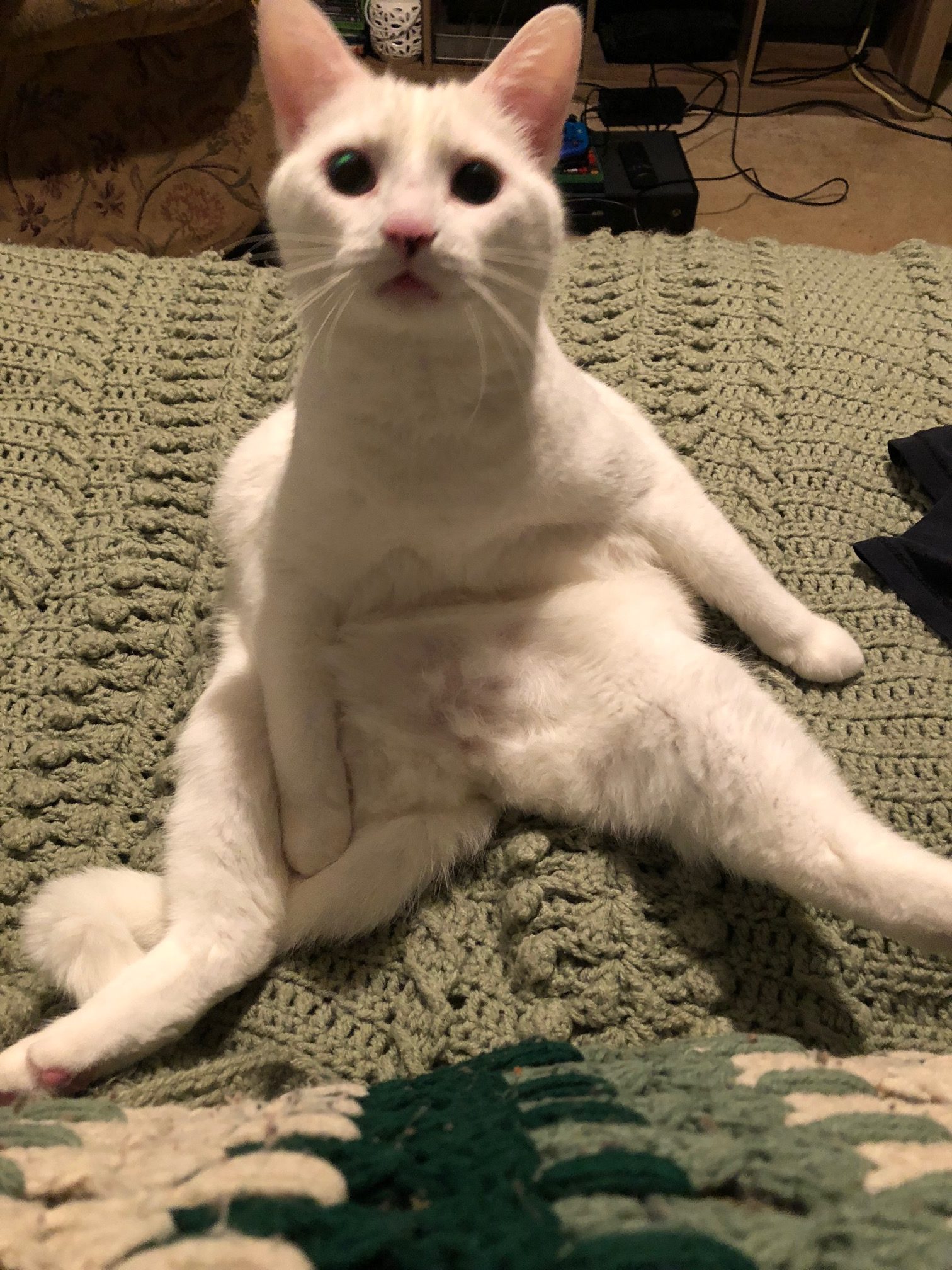 See yesterday's Links and Antidote du Jour here.