By Lambert Strether of Corrente.
I've long since written off Xmas as a vile orgy of consumerism, like Saturnalia, but lacking the spiritual content. And more secular holidays, like July 4 (baseball, hot dogs) or Veterans Day (parades) or Labor Day (should be May 1) or Washington's Birthday (those teeth) or Martin Luther King Day (depths of January), seem to have been emptied of their content as well, perhaps because now that they've all become "floating Mondays," they make clear that the real purpose of a holiday (Old English hāliġ dæġ, holy day) is to be the third day of a three-day weekend. Not so Thanksgiving, gloriously positioned on a Thursday![1] But the real reason I love Thanksgiving — erasing, as is not usually my method, the contested history[2] — is that today Thanksgiving embodies what should be a central value in "our" civilization: Conviviality, first amplified by the Slow Food movement:
Three years later, on December 10, 1989, the Slow Food movement was born. The Slow Food Manifesto, drafted by co-founder Folco Portinari and endorsed by delegates from 15 countries, condemned the "fast life" and its implications on culture and society:

"We are enslaved by speed and have all succumbed to the same insidious virus: Fast Life, which disrupts our habits, pervades the privacy of our homes and forces us to eat Fast Foods… A firm defense of quiet material pleasure is the only way to oppose the universal folly of Fast Life… May suitable doses of guaranteed sensual pleasure and slow, long-lasting enjoyment preserve us from the contagion of the multitude who mistake frenzy for efficiency. Our defense should begin at the table with Slow Food. Let us rediscover the flavors and savors of regional cooking and banish the degrading effects of Fast Food." (Excerpt from the Official Slow Food Manifesto, as published in "Slow Food: A Case for Taste" in 2001)

The concept of is the heart of the Slow Food movement: .
"Enslaved" is a strong word. But is it so wrong? If you're looking for an alternative set of values to accumulation — perhaps because you're concerned about climate change — than conviviality isn't such a bad place to start. We can see "taking pleasure in the processes of cooking, eating, and sharing meals with others" if we look at the regional distribution of dishes. Here's one example:
Here's what your part of America eats on Thanksgiving. https://t.co/WDpqVXnoSY pic.twitter.com/4drVC50DJ3

— FiveThirtyEight (@FiveThirtyEight) November 18, 2018
(Mashed potatoes aren't on the map because they're universal, hence not "disproportionately common.") Frankly, I'm having a hard time comprehending Mac and Cheese as a side dish, but if people in the South take pleasure in it, have at it, say I! Here's a map of most Googled recipes:
Thanksgiving cooking starts tomorrow! This map raises some questions, though. I'm rarely ashamed of Texas, but all the googling of green bean casserole is concerning. Mississippi isn't any better. They are literally googling a "recipe" for fast food. And… https://t.co/Y6BLuhOGtc pic.twitter.com/G39Zsm97fB

— Donald Martin (@donaldmartin) November 19, 2018
Note Mac and Cheese showing up again in South and North Carolina, confirming the map above. Another map of most-Googled recipes, but different:
Finished up with your #Thanksgiving food? Here's a map showing most googled recipe for each state, via @UpshotNYT pic.twitter.com/jPbM8i7ye5

— Jayson Prentice (@SeverePlains) November 28, 2014
No doubt Maine googles "Pumpkin Whoopie Pie," because it goes so well with coffee brandy, but why New Hampshire? But do note the enormous and wondrous regional variation, from those Whoopie Pies all the way down to flan de calabaza in Florida, and heading west to persimmon bread — what the heck is persimmon bread? — in California. (All of California?)
I confess that I find the national seeking out of conviviality ("firm defense of quiet material pleasure") round the Thanksgiving table encouraging. More like this, please.
* * *
This being Naked Capitalism, I cannot forbear to add some material that's a bit more newsy:
1) California communities will serve Thanksgiving dinner to thousands of Camp Fire evacuees CNN. Lincoln, CA is "are giving up their Thanksgiving plans to help prepare hundreds of meals for Paradise families who were displaced by the fire."
[Lincoln] officials offered one of the community's largest buildings, the McBean Pavilion, for the event. The city's fire department donated more than 100 turkeys. Local wineries offered wine, and breweries offered beer.

A local casino is offering 100 apple pies and a community bakery is offering 100 pumpkin pies.

"I'm overwhelmed by it," [Kris] Wyatt said. "Everyone is offering volunteering, doing table decorations and making signs."

Wyatt said she's heard from more than 100 volunteers who want to help set up, serve, clean up and create activities for the kids. She said they're expecting more than 100 families from Paradise.
See above at conviviality. And notice they're sharing. Not just individuals, but institutions. They're not offering "50% off to Paradise residents, children under 5 FREE" either….
2) This $150,000 Thanksgiving dinner is the world's most expensive Yahoo Finance:
This year's dinner, which at a total price of $150,000 is nearly three times more than the average U.S. household income, comes complete with all of the world's finest ingredients, as well as keys to a 2018 Maserati Levante nestled inside a $135-per-pound free-range, organic turkey sprinkled with gold flakes…. "Along with the [Thanksgiving dinner] package comes a great list of non-edible amenities," [Old Homestead co-owner Marc Sherry] said. Among them are a $15,000 Black Friday shopping spree at iconic Manhattan retailers, concert tickets to a Billy Joel concert at Madison Square Garden and a weekend getaway at the Poconos Cove Haven Resort, among other perks.
There's much, much more, but then there's this:
The dinner has to be paid upfront in cash or certified check.
Quite the contrast to Kris Wyatt's Thanksgiving in Lincoln, CA. Back to the Third World–
3) Turkey and romaine lettuce recalls, food safety concerns loom this Thanksgiving USA Today
A turkey salmonella outbreak, potentially spread throughout the entire processing industry, has led health officials to advise extra caution to prevent food poisoning as cooks prepare the Thanksgiving turkey.

The outbreak identified earlier this month has hospitalized 63 people and sickened 164 in 35 states, killing one in California, according to the Centers for Disease Control and Prevention and the U.S. Department of Agriculture's Food Safety and Inspection Service.

But health investigators . That has led them to say the strain involved may be widespread throughout the turkey industry including ground turkey, turkey patties and full turkeys.
"Have not been able to identify a single supplier…." gives me pause. From ESRI, a series of maps showiing where your Thanksgiving dinner comes from, here turkeys: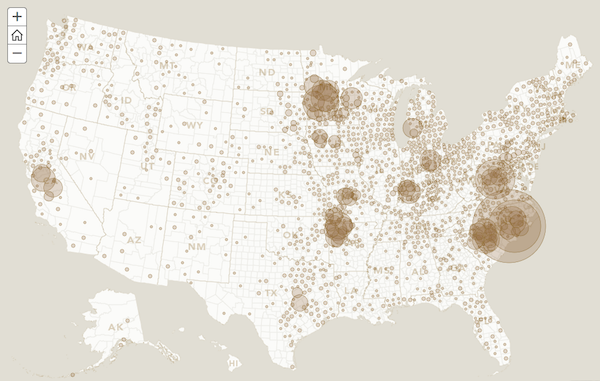 Minnesota raises more turkeys than any other state, followed by North Carolina, Arkansas, and Indiana. A far cry from the regional ingredients promoted by Slow Food. And there's nothing less convivial than food poisoning, is there?[3]
4) Thanksgiving doesn't have to cost so much Marketplace
In its survey of people hosting Thanksgiving dinner, LendingTree found the average feast feeds 11 guests, and hosts spend $251 on food and another $83 on dishes, decorations and other supplies.

That survey also asked respondents how much work they were missing. Those who took time off sacrificed some $587 in wages, on average. More than a quarter of hosts said Thanksgiving was a financial strain, but 76 percent of hosts also said they loved doing it.

Is there any better lesson for the holidays? Whether you're serving an organic heirloom bird or a frozen Butterball, it's important to weigh your emotional cost too.
11 people seems like a lot, to me! Very encouraging if you're worried about "Bowling Alone." But I dunno about that "emotional cost" concept they snuck in there. Surely the whole point of conviviality is that it's not market-driven?
* * *
Happy Thanksgiving! Yes, I know this is the day before Thanksgiving, but I figure you'll be too busy conviviating, eating, slumping onto the couch, watching the Lions lose again, and playing cards or charades to share your Thanksgiving thoughts tomorrow, so why not share them today?
NOTES
[1] Just like Election day, positioned on a Tuesday, which should also be a national holiday, but isn't. Also like Canadian Thanksgiving, which takes place on the second Monday of October. I did attend a Canadian Thanksgiving one, in Anglophone Quebec, and the theory seemed much the same. But perhaps there were subtleties I missed.
[2] In my family, the process of sharing, which probably functioned because it never did include political discussions or, I think luckily, up-and-coming boyfriends, was in fact facilitated by two examples of contested history: The playing of Alice's Restaurant and Stan Freberg's The United States of America:
[3] Thanksgiving food safety tips.