NASA turning over moon landing efforts to companies in the private sector Associated Press :-(
How the Next Generation of Plastics Could Flip the Scales on Climate Change Inverse (David L)
High-tech search company claims to have discovered Atlantis BGR (David L)
Patents on pot? U.S. lawsuit puts cannabis claims to the test Reuters (EM)
CRISPR-baby scientist fails to satisfy critics Nature (Robert H)
Asian ticks have arrived in the United States, and they've brought disease with them BGR
China?
Godzilla' in Buenos Aires: Asia cowers as Trump battles Xi Asia Times (Kevin W)
Brexit
New Cold War
Trump confronts new Russia test with Ukraine crisis The Hill

Why Everything You've Read About Ukraine Is Wrong Forbes. 2014 piece recommended by Olga.

By Terminating the Treaty of Friendship with Russia, Ukraine Renounces Its Territorial Integrity Vineyard of the Saker (furzy)
Syraqistan
CNN Submits to Right-Wing Outrage Mob, Fires Marc Lamont Hill Due to his "Offensive" Defense of Palestinians at the UN Glenn Greenwald, Intercept

CNN: Reverse Firing of Marc Lamont Hill For Endorsing a One-State Solution to Israel-Palestine Crisis Action Network

Ukrainian leader calls on NATO to send warships after clash with Russia abc.net.au. Kevin W: "Not a good idea. The average depth of the Sea of Azov is about 20 feet while the draft of a Arleigh Burke-class destroyer is 30.5 feet."
Big Brother is Watching You Watch
Google Shut Out Privacy, Security Teams From Secret China Project Intercept

Dems demand info on law enforcement's use of Amazon facial recognition tool The Hill

Home Routers Under Attack by NSA-Spawned Malware: What to Do TomGuide (David L)
Trump Transition
Keep this in mind amid attempts to spin today's Michael Cohen plea over Trump Tower Moscow into a huge development: all of its details were revealed long ago, and it reads not as collusion thriller, but as slapstick buddy comedy starring Cohen & Felix Sater. https://t.co/2bfwhTd4pr

— Aaron Maté (@aaronjmate) November 29, 2018

Border Fence Quietly Slated to Expand as Congress Debates "the Wall" Truthout

Comey Files Legal Challenge to Block House Republican Subpoena Bloomberg (furzy)
Climate Concerns Increase; Most Republicans Now Acknowledge Change Monmouth University Polling Institute (UserFriendly)
Democrats Taking Key Leadership Jobs Have Pocketed Millions From Pharma Kaiser Health News
Bernie Sanders not stepping into Senate Energy void as liberals fear Manchin Politico. UserFriendly: "lol I love how this all gets pinned on Sanders."
Comey challenges House GOP subpoena in federal court The Hill
Bernie Sanders Puts Forward a Program That Could Split the Democratic Party Glen Ford (GlennF)
Gunz
For Defense Against Active Shooters, University Hands Out Hockey Pucks NPR (David L)
Fake News
Boxer Floyd Mayweather Jr., Music Producer DJ Khaled Agree to Settle SEC Cryptocurrency Charges Wall Street Journal
Bond Traders Everywhere Reprice Rate Outlook as Growth Sputters Bloomberg
Payless sold discount shoes at luxury prices — and it worked Moneywatch (Kevin W)
South African lawmakers accuse McKinsey of possible crimes Financial Times
Hard Choices Harvard Business School (Scott)
October new home sales plummet — but take it with a big grain of salt Angry Bear
Sedans Aren't Dead. American Sedans Are: The supremacy of Japanese cars has been 40-plus years in the making. Joe Nocera, Bloomberg
Class Warfare
'This Is About Systematically Impoverishing People' FAIR (UserFriendly)

Calling for Policies That Work for World's Children, "Not a Handful of Billionaires," Bernie Sanders Delivers Keynote Address at Sanders Institute Gathering CommonDreams
Antidote du jour. Tracie H: "Pleeeeeease, may I have another biscuit?' (Merlyn)"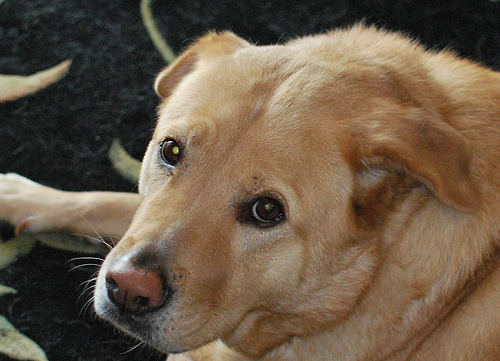 And a bonus (hat tip Janice G):
A very special and beautiful moment!

This 59-year-old chimpanzee was refusing food and ready to die — until she received one last visit from an old friend.

?ig: BurgersZoo/ Unilad pic.twitter.com/XjspzU55n5

— The Invisible Man (@invisibleman_17) November 24, 2018
See yesterday's Links and Antidote du Jour here.