By Jerri-Lynn Scofield, who has worked as a securities lawyer and a derivatives trader. She is currently writing a book about textile artisans.
Once again, corporate  Democrats are determined  to snatch defeat from the jaws of their recent House electoral victory.
As Common Dreams tells the story, in A Staggeringly Bad Idea': Outrage as Pelosi Pushes Tax Rule That Would 'Kneecap the Progressive Agenda':
Nearly three-quarters of the American public and a historic number of Democratic lawmakers support Medicare for All, but the House Democratic leadership is considering using its newly won majority to impose a rule that would "recklessly betray" the grassroots forces that put them in power by making single-payer and other progressive priorities impossible to enact.

According to a list of Democratic proposals obtained by the Washington Post, House Minority Leader Nancy Pelosi (D-Calif.)—who is currently fighting back against efforts to prevent her from becoming House Speaker—is pushing for a rule that would "require a three-fifths supermajority to raise individual income taxes on the lowest-earning 80 percent of taxpayers."

In response, MoveOn.org called the proposal "a staggeringly bad idea."

Though the proposed rule is framed as an effort to protect the financial well-being of middle class Americans, Eric Levitz of New York Magazine pointed out that "while progressives are committed to increasing the discretionary income of the bottom 80 percent, that does not necessarily mean keeping their tax rates frozen at historically low levels."
Levitz in For First Act in Power, Democrats Consider Making Their Own Agenda Impossible to Pass grasps the full significance of these rules, which would effectively gut the ability of Democrats to enact a progressive agenda:
This week, Minority Leader Nancy Pelosi unveiled a list of new procedural rules that her caucus intends to implement when the next Congress is seated. Most of these measures are unobjectionable "good government" reforms. But one of them would create a new — and all-but-insurmountable — obstacle to the passage of many of the policies that the Democratic Party claims to support.

…

This proposal is, in effect, a progressive revision of an existing House rule: Under Paul Ryan's leadership, the current Republican majority established a supermajority requirement to raise income taxes on anyone. …

To be sure, in the present context, with Mitch McConnell leading the Senate and Donald Trump in the White House, the supermajority requirement is of no real consequence. The Republican Party is not going to sign off on middle-class tax hikes — or at least not to finance new social spending. Once procedural rules are established, however, they can be difficult to eliminate. There are plenty of Democrats in the House who don't want to be forced to chose (publicly) between voting for higher taxes on the middle class and against a priority of the progressive base. Such lawmakers are sure to value (and thus, insist on the preservation of) a procedural obstacle that allows them to forgo voting on legislation that forces them to make such hard choices by rendering such bills impossible to pass without GOP buy-in (which is to say, impossible to pass). [Jerri-Lynn here: my emphasis]

ll this would be a bit less problematic if the Democratic Party had overcome its allergy to deficit spending (and/or accepted Modern Monetary Theory as its personal truth). But it hasn't: In addition to forbidding tax increases on the bottom 80 percent, Pelosi has vowed to honor the "pay as you go" rule, which requires the House to fully finance any and all new government spending.
I've included the extended quotation for its shoutout to MMT –  which I am pleased to see,  is garnering increasing traction in more and more places.
What Gives?
What's going on here? This new rule would prevent Democrats from 'pursuing  policies with broad popular support, – e.g, free college, Medicare for all, and instead embrace Republican spending constraints. Admittedly, at present, as  Levitz recognizes, with Trump as  President, and Republicans in control in the Senate, this might seem to be an abstract concern. But why should Democrats be legitimizing and indeed doubling down and accepting such austerity arguments?
As the Common Dreams account makes clear, the restriction has been opposed by the likes of Richard Phillips, senior tax policy analyst for the Institute on Taxation and Economic Policy (ITEP), Democracy for American, and Stephanie Kelton:
Pelosi's new procedural rules would kneecap the progressive agenda. "Between now and January, the progressive forces within Team Blue's tent must work to nip this rule in the bud." https://t.co/0fNL8XYHq6 pic.twitter.com/3VSXZkPyz0

— Stephanie Kelton (@StephanieKelton) 16 November 2018
I ask again: why the rush by Democrats  to shackle their majority power?
Is this proposed rule really motivated by angst over busting the budget?
Or sincere concern over alienating voters who don't want to see their taxes increased?
Please.
Now, readers who've absorbed the implications of MMT know that taxes don't finance spending, for those countries that issue their own fiat currency. So I'm not going to  discuss that issue here, as plenty of other posts lay out the basics of MMT, and this post isn't about whether any US politicians – explicitly or implicitly – embrace its tenets.
Here's what I do want to discuss. This crazy tax rule is indeed intended to shackle House Democrats and maintain the ridiculous tax-cutting fetters promoted by Republicans – and, on many occasions, endorsed and extended by Democrats – over the last decades.
Why would Democrats possibly want to do this?
Are they mere masochists, who enjoy losing elections?
Answer: IMHO, the mainstream leadership is running a bit scared. They're not stupid, and they know that not only are their preferred policies electorally unpopular, but there's a chance – a small chance – that some of these progressive initiatives might take fire – e.g., Medicare for all, free college. So they want to prevent serious consideration of such popular ideas.
Now, I understand that even if the House were to pass such initiatives they'd be squashed by the Senate, or quashed by Trump's veto.
That Pelosi seriously proposes these procedural rules is further evidence that the Democratic leadership responds to donor demands rather than voter concerns – unless she is congenitally stupid. And I don't think so.
Instead, let me suggest what motivates her behavior.
Allow me to insert a chart, taken from Thomas Ferguson, Paul Jorgensen, and Jie Chen's latest money and politics paper, Big Money—Not Political Tribalism—Drives US Elections.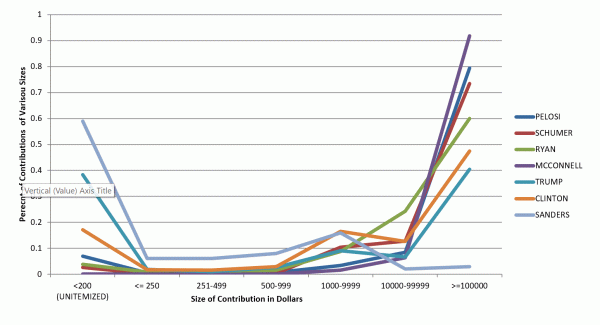 The link takes you to the summary version of the article; see here for the complete text.
What the chart makes clear is that Pelosi is second only to Mitch McConnell in being beholden to big money interests.
Aha! Now we're getting somewhere.
Paying the Piper
Now, while Pelosi and other corporate Democrats attempt to adopt rules that restrict their ability to pursue electorally popular policies, I see some signs of small green shoots.
Pelosi's bid to serve once again as Speaker of the House looks at present no means assured. As was widely reported yesterday, 16 House Democrats have written a letter opposing her leadership bid, according to the Washington Post, Sixteen dissident Democrats vow to oppose Pelosi as next speaker:
"We are thankful to Leader Pelosi for her years of service to our Country and to our Caucus," her opponents wrote. "However, we also recognize that in this recent election, Democrats ran on and won on a message of change."
This represents a serious threat, for as the WSJ reports in Nancy Pelosi Works to Quell Dissent Within Her Party, discussing her leadership bid:
A preliminary vote on the speakership is scheduled for next week, when Democrats will endorse their candidate. Mrs. Pelosi, 78 years old, is running unopposed thus far.
Pelosi only needs to win a majority of votes cast, and she's expected to clear this preliminary hurdle. But the breakdown of the vote itself will signal the likelihood  of whether she'll ultimately be re-selected as Speaker, a position she held from 2007 through 2011.
According to the WSJ:
Democrats will control at least 232 House seats after winning dozens in the midterms, which gives them a majority. Rep. John Yarmuth of Kentucky, the top Democrat on the Budget Committee, predicted that if Mrs. Pelosi "gets 190 votes, 200 votes, I think that's a pretty good indication" she could be speaker. If she garners significantly less than that in next week's caucus vote, "that would probably embolden those who want change."
The more serious reckoning will follow in January, once the new Congress is seated. Again according to the WSJ:
A final vote will come in January, when the new Congress is sworn in. Mrs. Pelosi is seeking to become the first House speaker to regain the gavel after losing it since Democrat Sam Rayburn of Texas did so in 1953. Her detractors, who are all-but resigned to her winning in next week's caucus vote, are trying to block her path on the House floor in January.

The January vote will involve all House members, Democrats and Republicans alike, and Mrs. Pelosi will need a majority of those who vote for a candidate. If Democrats don't gain any more seats from the five undecided races, and all members vote for a candidate, Mrs. Pelosi can lose as many as 15 Democrats and still win the 218 votes needed for a majority, assuming all Republicans vote against her. Lawmakers can vote "present," instead, which would shrink the number of "yes" votes she needs.
CNN has done the math, in Understanding the math Nancy Pelosi faces in the race for House speaker. If every member of the incoming House votes for a candidate – 16 Democrats could votes for someone else, and she'd still have a bare majority. Note that 16 Democrats signed the letter, and assuming they all vote no, that means she can't lose any more support.
If her opponents eschew voting outright no, and instead opt to vote present, up to 32 of them can vote present and she would still win – albeit with a smaller majority.
Let's hope that the latest pushback against this insane tax rule succeeds in warning Pelosi– or whoever is selected as the next speaker of the House – that this supermajority tax rule will doom the Democrats to further electoral oblivion – and should therefore not be adopted, whatever their donors might prefer.