By Lambert Strether of Corrente.
Politics
"But what is government itself, but the greatest of all reflections on human nature?" –James Madison, Federalist 51
2020
Sort of amazing no other (likely) candidates are doing Town Halls like this, or anything remotely similar:

On Monday, Dec. 3 at 7 p.m. we're holding a national town hall on climate change, an issue that does not get nearly enough attention in the mainstream media. Let's go forward to protect the planet and create millions of good-paying jobs.https://t.co/AJPHmfyswT pic.twitter.com/pKk3ApNTHs

— Bernie Sanders (@SenSanders) November 19, 2018

"Democratic operatives eager to join Biden's 2020 campaign — if only he would declare" [NBC]. "The Biden family heads to Nantucket for Thanksgiving as the paperback version of his 2017 book, "Promise Me, Dad," hits shelves. The first-person account of Biden's closing months as vice president is centered around his eldest son Beau's brain cancer diagnosis, and the impact Beau's death had — and continues to have — on the Biden family…. Next month, the same weekend that New Jersey Democratic Sen. Cory Booker travels to New Hampshire, the first-in-the-nation-primary state, Biden will be in neighboring Vermont closing out a promotional tour for the paperback. It will be his main public engagement until he makes a final decision about his political future… He also said he remains committed to keeping the promise he made to his son: 'Be engaged, Dad, he was saying. Stay in the game. Keep fighting for what you believe in. Don't give up.'" • I think I liked McCain's schtick better.
2018 Post Mortems
"Make No Mistake, We Liberals Will Squander Our Hard-Won Gains" [McSweeney's Internet Tendency]. "We're going to take this moment by the horns and settle."

"OPINION: The Midterm Results Are a Serious Wake Up Call for Progressives" [Independent Voter Network]. "Our Revolution, Justice Democrats, Brand New Congress and the Democratic Socialists of America endorsed a combined 107 candidates for Congress this year. Forty-four of them won their primaries and only 12 won their general elections. Five of those 12 were already incumbents. Five more of them were longtime party politicians in line for higher office, rather than insurgent candidates. Only two of them were actually opposed by the party and unseated establishment Democrats in the primaries — Alexandria Ocasio-Cortez and Ayanna Pressley. There are 435 members of Congress…. As a result, the blue wave is a corporate wave that has swept in the same kind of Democratic politicians that drove working people into Donald Trump's arms after eight years of Obama."

"Why Democratic policies outperform Democratic politicians in rural America" [The Hill]. "The Democratic platform consistently outperforms Democrats in red, rural states. Just look at the progressive ballot measures passed across the country this cycle…."

"These Unheralded Democratic Wins Could Reshape Voting Rights Across the Country" [Mother Jones]. "[Three Democrats] took over secretary of state jobs previously held by Republicans [in Arizona, Colorado, and Michigan]. These races were unheralded next to congressional and gubernatorial races across the country, but these officials now have the power to enforce state voting laws in 2020, advocating and implementing practices that will make it easier to vote in critical swing states." • "In swing states." Why not make it easier to vote everywhere, fpr everyone? It's the same mentality that led Al Gore to challenge the votes only in counties he thought he would in in Florida 2000.

GA Governor: "Stacey Abrams: The Exit Interview" [Rolling Stone]. "The more than 200 polling precincts that were closed, the 53,000+ registrations that were suspended and the untold thousands of voters who were purged from the rolls were not a specific attack on the Abrams campaign. The voter suppression we witnessed in Georgia was not happening because Abrams is a black woman; this was a consequence of a Republican Party that has taken advantage of a neutered Voting Rights Act and shortchanged millions of their small-d democratic voice. This was bigger than Stacey Abrams. Abrams, speaking with Rolling Stone by phone Sunday, was quick to point to how the issues at hand were systemic… Now Abrams has announced a new organization, the aforementioned Fair Fight Georgia, which she described in her speech as 'an operation that will pursue accountability in Georgia's elections and integrity in the process of maintaining our voting rolls.' It was surprising, and not, that Abrams had such an effort ready to launch on the same day that she ended her campaign."

MI: "How the Democrats Took Back Michigan" [The Atlantic]. "Debate what counts as a blue wave in the rest of the country, but there was a tsunami off the Great Lakes. It was enormous and swept over everything: governor, Senate, attorney general, two flipped House seats with two female alumnae of the Obama administration, plus another that put a Palestinian American woman in John Conyers's old spot, five flipped state Senate seats, five flipped state House seats, all the way down to the state supreme court and the state university boards. They legalized recreational pot, and the vote wasn't close. They banned gerrymandering. They created automatic voter registration and an absentee-ballot process, essentially a backdoor way to institute early voting, which together will almost certainly lock in long-term the gains Democrats made."
Realignment and Legitimacy
"We've settled on a shallow conception of democracy. And that's dangerous" [Tim Wu, Guardian]. "there's another, nearly lost, democratic tradition, in which the goals of a democracy and a worthy civilization are irreducibly linked to the healthy development of its citizens along social, intellectual, and spiritual dimensions. In this older conception, a great democracy is one that serves as a cauldron for the building of good character and the pursuit of a worthwhile life – one that includes but also goes beyond mere material security." "Mere" material security? "Material security" is something most Americans do not have. Much as I like Tim Wu, material security is where we should start. We can work our way up Maslow's hierarchy later.

"Portrait of a fake news troll and the racist retiree who believes everything he writes" [Cory Doctorow, Boing Boing]. • Worth a read. The trouble with this piece, and the WaPo story it links to, is that the entire political class lost its mind after the Bush Administrations epic fake news exploit on WMDs. Whatever the problem is, it's larger than some fake news operation on Facebook, or the racist retiree.
Stats Watch
Housing Starts, October 2018: "Yesterday's housing market index may have unexpectedly plummeted but today's housing starts and permits report, though soft, at least is in the ballpark of expectations" [Econoday]. "The good news on starts comes from multi-family units… Permits show nearly equal declines for single-family and multi-units… Rising mortgage rates, tied directly to Federal Reserve rate hikes, are proving a major headwind for housing as are material and labor shortages. However strong the 2018 economy has been, housing is not part of the success story." And: "The backward revisions this month were slightly upward.The nature of this industry normally has large variations from month to month (mostly due to weather) so the rolling averages are the best way to view this series – and it shows permits rate of growth slowing and completions rate of growth now slowing" [Econintersect]. "We consider this a weaker report relative to last month." And: "Housing starts in October were slightly below expectations, however starts for August and September were revised up. Overall this was close to expectations" [Calculated Risk]. "Note the relatively low level of single family starts and completions. The "wide bottom" was what I was forecasting following the recession, and now I expect further of increases in single family starts and completions."
Retail: "Why I Won't Upgrade My Phone Until It Can Turn Into a Magic Pony" [Medium]. "[T]oday there are essentially two operating systems — Apple and Android — and our phones all basically look the same and can do the same things. For all the millions poured into marketing campaigns, most people can't tell the difference between one year's iPhone and the next…. f[F]r most of us, phones just don't feel special enough anymore to warrant their steep price tag. As status symbols, they're a far cry from designer handbags or luxury cars. A black rectangle just doesn't give off the same godlike aura as a Porsche or Vuitton bag… But there's a bigger problem that has nothing to do with the relative inconspicuousness of phones: incremental innovation. Each year, we're told via loud, energetic ads that we should upgrade to the next version of our device. But at the end of the day, what are we really getting in exchange beyond a slightly better camera and screen?"
Commodities: "Column: 'Dr Copper' may be favouring fundamentals over trade politics" [Reuters]. "[i]n recent weeks there are signs that the copper market is starting to shrug off political concerns and focus more on supply and demand fundamentals. Copper is often viewed as an early indicator for economic health, hence its nickname as 'Doctor Copper', the base metal with a doctorate in economics…. However, before becoming too bullish on copper, it's worth bearing in mind the industrial metal has a solid correlation with the China PMI, and the official measure has been trending weaker since May, and at 50.2 in October, was only barely above the 50-level that separates expansion from contraction. If the China PMI turns higher in coming months on the back of Beijing's stimulus, then copper's recovery should be confirmed."
Shipping: "UK running out of food warehouse space as no-deal Brexit fears rise" [Guardian]. "Frozen and chilled food warehouses, storing everything from garden peas to half-cooked supermarket bread and cold-store potatoes, are fully booked for the next six months, with customers being turned away, industry representatives said." • Hoo boy. Wonder if the same applies to pharmaceuticals. Readers?
The Bezzle: "California Car Dealers Abruptly Close Without Warning, but Massive SEC Fraud Probe Offers Hint" [Jalopnik]. "A California auto dealer abruptly closed most of its locations this past week without explanation, according to multiple reports, leaving employees unable to cash their paychecks amid rumors of a possible sale. But records filed in an ongoing fraud case brought by the Securities and Exchange Commission offer some insight as to the possible root cause: the dealership's owner has been struggling to grapple with an immense load of debt…. Momentum [Auto Group] is ranked by Automotive News as the 124th largest auto dealer in the U.S., closing $565 million in sales last year." • Hmm.
The Bezzle: "Uber insiders describe infighting and questionable decisions before its self-driving car killed a pedestrian" [Business Insider]. • This is a must read, so I'm going to pull out just one telling detail: "A squishy thing" is Uber's term for a human or an animal. Algorithms being notoriously poor at dealing with the squishy.
The Bezzle: "Bitcoin-Rigging Criminal Probe Focused on Tie to Tether" [Bloomberg]. "The probe follows allegations made in a June paper by University of Texas Professor John Griffin and co-author Amin Shams. Griffin and Shams wrote that trading in Tether shows a pattern of underpinning, and manipulating, Bitcoin. They claimed that Tether was used to buy Bitcoin at pivotal periods, and that about half of Bitcoin's 1,400 percent gain last year was attributable to such transactions. Griffin briefed the CFTC on his findings earlier this year, according to two people with direct knowledge of the matter."
The Bezzle: "No End in Sight for Crypto Sell-Off as Bitcoin Breaches $4,250" [Bloomberg]. "Turmoil engulfed cryptocurrency markets again on Tuesday, with every major coin extending a rout that's rocked confidence in the nascent asset class just as U.S. regulators try to close in on alleged fraud… After months of enjoying relative stability, cryptocurrency bulls are left reeling by a sudden market downturn in November and increased regulatory reviews. Digital assets have now lost almost $700 billion of market value since crypto-mania peaked in January, according to CoinMarketCap.com. Trading on futures markets, where investors can bet against Bitcoin, has soared."
The Bezzle: "Why aren't chip credit cards stopping "card present" fraud in the US?" [Ars Technica]. "A security analysis firm called Gemini Advisory recently posted a report saying that credit card fraud is actually on the rise in the US. That's surprising, because the US is three years out from a big chip-based card rollout. Chip-based cards were supposed to limit card fraud in the US." The issue is that merchants aren't complying with chip card requirements, and still asking or requiring customers to swipe. More: "From the merchant's perspective, the cost of fraud might be less than the cost of figuring out what needs to be done after they buy a chip card reader." • What a mess. (Personally, I hate the chip card readers: They slow down the transaction badly, as compared to swiping. The article doesn't mention this, but I wonder if that could partially account for merchant reluctance? Those seconds on line add up….)
The Bezzle: "LuLaRoe is facing mounting debt, layoffs, and an exodus of top sellers, and sources say the $2.3 billion legging empire could be imploding" [Business Insider]. Lots of ugly details. Looks like the collapse of a classic multilevel marketing scheme. And this: "Thousands of others reached deep, sometimes into debt, in hopes of achieving the same rewards [as the top sellers]. These people directly fund the company. They include stay-at-home moms, single women, and people with limited mobility who were attracted to the idea of running a business out of their homes."
Tech: "One of the fathers of AI is worried about its future" [Technology Review]. Yoshua Bengio: "[W]e need to have more democracy in AI research. It's that AI research by itself will tend to lead to concentrations of power, money, and researchers. The best students want to go to the best companies. They have much more money, they have much more data. And this is not healthy. Even in a democracy, it's dangerous to have too much power concentrated in a few hands." • Bengio seems a little naive…
Tech: "[Updated] How I Went From Tesla Delivery Hell To Tesla Giving Me Control Of Their Site Forums With Over 1.5 Million Tesla Account Contacts" [DansDeals]. "Tesla built a truly magnificent machine… [The] service was horrific and reading through the Tesla's forums on forums.tesla.com I was hardly the only person with major service issues. There were thousands of threads from people who had delivery and service issues, but the company didn't have anyone online to respond to issues and take care of problems." So the writer complains, and escaltes. And then: "I checked back on the forums after an hour and noticed something was weird. Suddenly I had the ability to edit and delete everyone's posts!" • Hilarity ensues.
Gaia
"Thousands of homes incinerated but trees still standing: Paradise fire's monstrous path" [Los Angeles Times]. "Gray smoke meant vegetation. Black smoke meant homes, possibly entire city blocks. The Camp fire was no longer just a wildland fire. 'It was an urban conflagration,' Pangburn said. 'It was structure-to-structure-to-structure ignition that carried the fire through this community.'… Pangburn's assessment — that the Camp fire in Paradise was an urban conflagration, structure to structure — opens the door for fire behaviorists to consider the strengths and weaknesses of the state's codes for protecting property in fire-prone, rural environments." • Again, the fires were "compound events." Low moisture, high winds, disinvestment from the electrical infrastructure, real estate development, and now zoning and buildng codes all played a role.
"Antarctic melting slows atmospheric warming and speeds sea level rise" [Eurekalert]. "As the Antarctic ice sheet melts, warming of the atmosphere will be delayed by about a decade but sea level rise will accelerate, according to new research scheduled for advance online publication in the journal Nature. The study is the first to project how the melting of the Antarctic ice sheet will affect future climate, said first author Ben Bronselaer of the University of Arizona, adding that current climate models do not include the effects of melting ice on the global climate." • Great! Now we can relax for another ten years!
Class Warfare
"Sheryl Sandberg and the emptiness of leaning in" [WaPo]. "Sandberg's failure at Facebook exposes an emptiness at the heart of the argument that made her famous. Women, Sandberg argues in her 2013 mega-selling book, "Lean In," should take a seat at the table. That's all well and good. But what should they do once they're sitting there? Sandberg herself, consummate table-sitter, has offered an answer over her company's year of horrors: Keep everything exactly the same." • Sounds familiar….
News of the Wired
"Why We Should Let the Pantheon Crack" [Nautilus]. "'Too often, we're trying to make old structures conform to theories we learned for steel and concrete,' [John Ohsendorf, a professor of engineering and architecture at the Massachusetts Institute of Technology] says. Those materials remain strong under immense stresses in modern buildings. But buildings like the Pantheon 'stand because of their geometry,' he says, 'and the way builders conceived them was really through their geometry.' Cracks and deformations, he argues, are not necessarily flaws; they're often a sign that a building adapted to a sinking foundation centuries ago and found a new conformation.'" • Anybody who lives in an old house knows this.
"The Importance of Learning Primitive Communication Methods When No Phone Will Work and the Internet is Crashed" [Survivor Supply].
Fortunately, there are some good, old-fashioned alternatives [to the Internet and cell phones] dating from thousands of years ago to a few decades. Here are some of the highlights of what we'll cover:

Morse code
Semaphore
Emergency Body signals
Ground signals
AM/FM radio
NOAA Weather Radios
Smoke signals
Gunfire
Walkie talkies
CB radio
Ham radio
Physical message boards
So this is Christmas:
Okay, what happened here? pic.twitter.com/6pvtXJbMaE

— Juliet Landau (@julietlandau) November 19, 2018
* * *
Readers, feel free to contact me at lambert [UNDERSCORE] strether [DOT] corrente [AT] yahoo [DOT] com, with (a) links, and even better (b) sources I should curate regularly, (c) how to send me a check if you are allergic to PayPal, and (d) to find out how to send me images of plants. Vegetables are fine! Fungi are deemed to be honorary plants! If you want your handle to appear as a credit, please place it at the start of your mail in parentheses: (thus). Otherwise, I will anonymize by using your initials. See the previous Water Cooler (with plant) here. Today's plant (CR):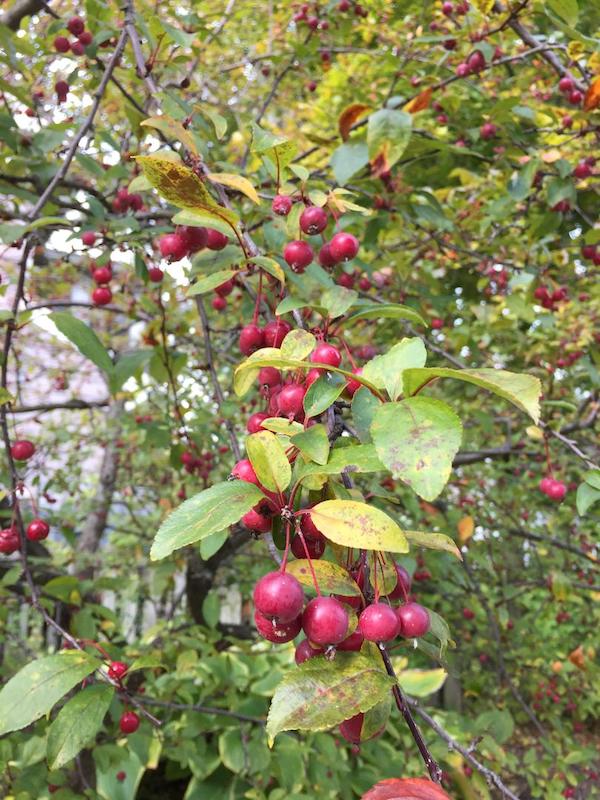 CR: "My crabapple tree feeds the birds well into winter."
* * *
Readers: Water Cooler is a standalone entity not covered by the annual NC fundraiser, now completed. So do feel free to make a contribution today or any day. Here is why: Regular positive feedback both makes me feel good and lets me know I'm on the right track with coverage. When I get no donations for five or ten days I get worried. More tangibly, a constant trickle of small donations helps me with expenses, and I factor that trickle in when setting fundraising goals. So if you see something you especially appreciate, do feel free to click below! (The hat is temporarily defunct, so I slapped in some old code.)
Or Subscribe to make a monthly payment!