By Lambert Strether of Corrente.
Trade
"The Latest Sign of a U.S.-China Trade Truce: Corn" [Bloomberg]. "Corn futures gained on Friday after Chinese officials were said to be preparing to restart purchases of American supplies as soon as January in another sign that China is working on a lasting detente with the U.S. The Asian nation may buy at least 3 million metric tons of U.S. corn, according to people familiar with the discussions, who declined to be identified as the information is confidential. Corn for delivery in March gained as much as 0.8 percent in Chicago as soybeans and wheat declined. The Chinese government is also considering various options for how to handle the 25 percent retaliatory tariffs on American corn that China adopted in July, the people said." • The source is "Chinese officials." That locution, "the people," seems odd. Presumably an algo can't be a source?
"China to Announce Resumption in U.S. Soy Purchases Soon" [Bloomberg]. "The final decision will be made by the State Council or cabinet, said the people, who declined to be identified as the matter is confidential. Details to be decided include whether the volume should be 5 million tons or 8 million tons and if commercial companies should buy a further 2 million tons and be reimbursed for the 25 percent tariffs, the people said."
Good question:
How long until Canadians in China are sewing American flags onto their backpacks…? #RoleReversal

— Darryl Daugherty, PI K.Err. (@DarrylDaugherty) December 13, 2018
Politics
"But what is government itself, but the greatest of all reflections on human nature?" –James Madison, Federalist 51
2020
Well done:

HISTORIC VICTORY: The Senate has voted to stop U.S. military support for the Saudi-led coalition fighting in Yemen. This is the first time ever that the Senate has voted to end an unauthorized war. https://t.co/8SLVTA5m2d

— Bernie Sanders (@SenSanders) December 13, 2018

Sanders on social. #2 after Oprah:

Pretty interesting study by the @anotheracronym team of the 2020 crowd's digital reach > pic.twitter.com/an6C0Z8iNV

— Gabriel Debenedetti (@gdebenedetti) December 14, 2018

Amusing to watch the press and the political class hastily erase Sanders' role in this.

"Beto is the new Bernie" [The Week]. • No.

They're bi-coastal!

Biden and Kamala Harris pose for photo together as 2020 speculation grows https://t.co/WSEfqbw4G5 pic.twitter.com/QM4K6QfKMs

— The Hill (@thehill) December 13, 2018

"California could have seismic impact on 2020 Democratic presidential race" [Reuters]. "The nation's most populous liberal state has moved its presidential nominating contest to early in the 2020 calendar, a shift its leaders hope will give it maximum impact on the selection of a Democratic nominee and push candidates to address progressive issues such as climate change." • ***cough*** Kamala Harris ***cough***

"Top House Democrats join Elizabeth Warren's push to fundamentally change American capitalism" [Vox]. "A group of five House Democrats — critically including newly elected assistant leader Ben Ray Luján and Progressive Caucus Chair Mark Pocan along with Reps. Jan Schakowsky, Stephen Lynch, and Brendan Boyle — are joining her by co-sponsoring a House version of Warren's Accountable Capitalism Act. Pocan and Schakowsky are longtime progressive stalwarts, but Luján's co-sponsorship is a bit more surprising. He ran the Democratic Congressional Campaign Committee during its very successfully 2018 cycle, and he's now stepping up into the No. 4 spot in the Democratic hierarchy, setting himself up as a leading contender for speaker when newly adopted term limits take effect in 2022. The proposal would have drastic consequences, redistributing trillions of dollars from rich executives and shareholders to the middle class — but without involving a penny in taxes…. The Accountable Capitalism Act focuses on… of it." • The Bearded One would, I think, call that a contradiction.
2018
NC-09: "North Carolina's election fraud scandal has both parties planning for another campaign" [CNN]. "Democrats are zeroing in on Republican nominee Mark Harris' ties to operative at the center of the alleged election fraud, demanding Harris personally address the depth of their relationship, while escalating nationwide fundraising appeals to back their candidate, Dan McCready. Republicans have sought to nudge Harris from the stage, most clearly by moving to mandate a new primary in the case a new general election is called, and by suggesting — as one senior party official did to CNN — that the mess has rendered him damaged political goods…. The decision to re-run the midterm race, which Harris initially appeared to have won by a slim margin in November, ultimately rests with the State Board of Elections, which is overseeing an investigation into allegations of an absentee ballot fraud operation directed by an operative on the payroll of a firm hired by Harris."
Please Kill Me Now
"Ossoff strikes populist tone as he mulls Senate bid" [Atlanta Journal-Constitution]. "[At] Ossoff's town hall meeting in rural northeast Georgia… he unveiled an urgent, populist message railing against the corporate influence in politics and a national economy 'built on debt and consumption.' 'There's more and more cynical politics. Student debt is skyrocketing. We're still maintaining this unfathomably large empire that costs trillions of dollars,' said Ossoff. 'We're doing nothing for crumbling infrastructure at home. And we wonder why there's so much anger.'" • Ossoff ran against Handel as an especially mushy centrist. Now he's a populist. What will he be the next election cycle? Born again?

No:

I have exclusively obtained the menu for this week's Thursday Senate GOP lunch pic.twitter.com/8bGjN6gYul

— Seung Min Kim (@seungminkim) December 13, 2018

Hot beef sundaes?
Realignment and Legitimacy
"Is the Women's March Melting Down?" [Tablet Magazine]. Perhaps the most anodyne paragraph: "Since it was conceived on the rooftop in the chaotic days after Trump's election, the Women's March has never really escaped the contradictions and internal conflicts present at its founding. There wasn't any one rift that could be healed or moved beyond; there were many—over personalities, ideology, money and organization. Is it a 501(c)(4) organization called Women's March Inc. or a different entity, a 501(c)(3) called the Women's March Foundation? And why is it that there are two entities and the group will only acknowledge one? But those are not the only kinds of questions that have pulled at the seams of the movement. There are profound questions, too, about its core values and what, exactly people are marching for." • Worth reading in its entirety, for all the detail; grab a cup of coffee. Suffice to say that there's a real distinction between the national and the local.

"Why Is The Center For American Progress Betraying The Left? [Current Affairs]. tl;dr: Because they're liberals, and liberals, like conservatives, oppose the left. Also donors. One tidbit: "The Center for American Progress does not just accept shady donations. It also gives them. Journalist Andrew Perez reported that according to financial disclosure forms, CAP donated $200,000 last year to the American Enterprise Institute. The AEI is a right-wing free-market think tank perhaps best known as the longtime home of racist social scientist Charles Murray." • Well worth a read!

"Analysis: In democracies' political chaos, new model emerges" [Associated Press]. "Bickering in the Oval Office. Shouting at the Houses of Parliament. Rioting on the Champs-Elysees. It's a chaotic moment for the countries that have long underpinned the global order, a time of instability for the balance of power that has reigned for decades…. It's a similar narrative in each place: People outside the centers of power are rejecting political elites they feel take them for granted, and backing new movements that eschew the rules and that often play to their basest thoughts. To be clear, this isn't a weakening of democracy. In a way, it's the opposite." • Unusual to see a piece of this nature and tone from AP. Countless small and not-so-small papers are ripping it from the wire and printing it, even now…

Why not just outlaw electronic voting? Thread:

1/ Why do we oppose Electronic Ballot Marking devices with barcodes? Let's break it down. Start with the fact that it's a computer put between a voter and her ballot. That is unnecessary technology that creates opportunity for programming errors/mischief. pic.twitter.com/oicBbMoXtz

— Marilyn Marks (@MarilynRMarks1) December 13, 2018
Stats Watch
Industrial Production, November 2018: "Big jumps for utilities and mining more than offset a flat performance at manufacturers" [Econoday]. "Manufacturing had been showing some life in this report but today's data include a sharp downward revision to October… These results, together with the previously released factory order data for October, point to a factory sector that may be running a bit out of gas going into year end." And: "The increase in industrial production was above the consensus forecast, however the previous months were revised down. Capacity utilization was at consensus" [Calculated Risk]. And but: "There was downward revision to last month's data. The best way to view this is the 3 month rolling averages which marginally declined. Industrial production remains in a long term upward trend" [Econintersect].
Purchasing Managers Index Composite FLASH, December 2018:"December's initial PMI samples report noticeably slowing rates of growth" [Econoday]. "Today's report echoes the slowing in the manufacturing component of November industrial production which fell into the minus column. Yet however much manufacturing and also services may be slowing, a strong holiday shopping season, which is the indication from the retail sales control group, would point to a quick rebound for the new year. "
Retail Sales, November 2018: "Sharp contraction in gasoline sales held down November retail sales" [Econoday]. "When excluding autos and also gasoline, the strength starts to show… and when looking at the control group, which excludes gasoline and several other components that slowed in November, sales really jump… in a reading that ultimately defines the strength of the results." And: "The increase in November was slightly above expectations; sales in September were revised down, revised up in October" [Calculated Risk]. And: "There was upward adjustment of last month's data. The real test of strength is the rolling averages which declined" [Econintersect[.
Business Inventories, October 2018: "Business inventories open up the fourth-quarter on a positive note, rising" [Econoday]. "Inventories relative to overall sales, however, may be looking less lean. [T]he inventory-to-sales ratio [rose] to 1.35 from 1.34. This is a reminder of the large and welcome inventory build during the third quarter which has lifted stocks, perhaps, to balanced levels." And: "Inventories significantly grew this month. Our primary monitoring tool – the 3 month rolling averages for sales – declined again but remains in expansion. As the monthly data has significant variation, the 3 month averages are the way to view this series. Overall business sales are improving since the low point in 2015 – and the trend over the last 6 months shows little change in the rate of growth" [Eocnintersect].
Consumer Credit: "Just Released: A Closer Look at Recent Tightening in Consumer Credit" [LIberty Street Economics (TW)]. "Particularly in the context of a strong economy and still relatively low, though rising, interest rates, the elevated flow into serious delinquency is potentially concerning. Evidence from the SCE Credit Access Survey, SLOOS, and our Quarterly Report on Household Debt and Credit suggests that looser credit standards and an increase in subprime card issuance during the 2013-16 period are likely to have contributed to the rise in delinquency rates. However, the increase in the delinquency rate can be seen even within finer credit score buckets, which is consistent with a loosening in underwriting standards beyond just credit scores with more cards going to more marginal applicants. Alternatively, the increase in the credit card delinquency rate may reflect the gradual rise in interest rates or weakening economic conditions facing subgroups of borrowers, even while the economy overall is doing well." • Interesting read.
Apparel: "Keeping Clothes Out of the Garbage" [Anthropocene]. "The industry, driven by fast fashion, has steadily become one of the most serious polluters in the world. Clothing manufacture was never exactly tidy, what with toxic dyes, copious amounts of water needed for growing fiber and processing fabrics, and waste from factories. But in 2015, carbon emissions from clothes surpassed those emitted from all international flights and all maritime shipping combined. Cotton, for example, uses more pesticides than any other crop—and organic cotton takes up more land and much more water than conventionally grown cotton. At the same time, clothes are worn for less time than they ever have been previously." • This is a very good summary, and it reinforces what we've all discussed: The post-NAFTA crapifcaiton of clothing.
Commodities: "The explosive dominance of soy over a century went unnoticed by most Americans—except for those growing it" [The New Food Economy]. "Although soy products like tofu have been consumed for tens of decades in this country by certain populations like Asian-Americans, Seventh-day Adventists, and health- and environmentally-conscious eaters, most soy products are consumed indirectly or invisibly—as cooking oil, the ubiquitous emulsifier soy lecithin, or as soy-fed beef, pork, poultry, and even factory-farmed fish." • A good round-up on the soybean.
Commodities: "Exclusive: Dutch hospitals to drop U.S. body brokers, cite ethical concerns" [Reuters]. "Two major Dutch hospitals say they will stop importing human body parts from American firms, which they have been doing without any regulation for a decade… Earlier this year, Reuters reported that one broker under scrutiny by the U.S. Federal Bureau of Investigation – Portland, Oregon-based MedCure – has used a Dutch hub to distribute tens of thousands of kilograms of human body parts across Europe since 2012. U.S. authorities suspect MedCure sold body parts tainted with disease to American and foreign customers, a concern triggered in part by such shipments to Canada and Hong Kong, according to people familiar with the investigation."
Tech: "Verizon signals its Yahoo and AOL divisions are almost worthless" [NBC]. "In a filing Tuesday with the Securities and Exchange Commission, or SEC, Verizon Communications Inc. said it was taking a $4.6 billion charge on the goodwill balance of Oath, the division it created in June 2017 after it spent billions of dollars to buy Yahoo Inc. and AOL Inc. Oath was supposed to be Verizon's big push into web-driven advertising, a bid to compete with behemoths like Google LLC and Facebook Inc. in the U.S. online ad market." • That was their idea? Wowsers.
Tech: "Postmates unveils Serve, a friendlier autonomous delivery robot" [Tech Crunch]. "Serve can carry 50 pounds of goods for 25 miles on a single charge — enough to make around a dozen deliveries per day. Thanks to a low center of gravity achieved by building the battery into the bottom of the chassis, it's less likely to get cow-tipped. It uses Velodyne Lidar and a NVIDIA XAVIER processor to tell where it's going. A Postmates spokesperson tells me, of the scalability and efficiency of the rovers, that 'ultimately we believe that there will be a world where goods move rapidly at almost zero cost to the consumer.'" And then there's this: "There's also the question of what happens to the labor Serve replaces." • Not really. Falling life expectancy will ultimately take care of the problem.
Gaia
"Satellite spies methane bubbling up from Arctic permafrost" [Nature]. "As icy permafrost melts to form lakes, microbes break down organic matter in the thawing ground beneath the water and release methane, a potent greenhouse gas. Researchers have measured the amount of methane seeping out of hundreds of lakes, one by one, but estimating emissions across the Arctic remains a challenge. Understanding how much methane is being released by these lakes is crucial to predicting how much permafrost emissions could exacerbate future climate change….. [Melanie] Engram's results suggest that previous research over-estimated how much methane was coming from many large lakes, partly because scientists have spent more time studying smaller lakes with relatively high emissions."
"Viking cat skeletons reveal a surprising growth in the size of felines over time" [Science]. "Many animals shrink when they become domesticated—the average dog is about 25% smaller than its wild cousin the gray wolf, for example—but a curious thing appears to have happened to cats during the Viking era: They got bigger. More research is needed to confirm the new finding, but there's a good chance it had to do with being better fed." • Or rather, inducing better feeding.
"When humans are wiped from Earth, the chicken bones will remain" [New Scientist]. "The explosion in chicken farming and the rapid changes in the form of chickens due to selective breeding make them an ideal sign of our time…. The modern broiler chicken – the variety farmed for meat – is now unrecognisable from its wild ancestor, the red jungle fowl. Though chickens were domesticated around 8000 years ago, they have undergone especially marked changes since intensive farming took off in the middle of the 20th century…. The modern broiler chicken – the variety farmed for meat – is now unrecognisable from its wild ancestor, the red jungle fowl. Though chickens were domesticated around 8000 years ago, they have undergone especially marked changes since intensive farming took off in the middle of the 20th century…. If future geochemists were to analyse the carbon and nitrogen isotopes in these fossils, they would see a striking difference compared to wild fowl, thanks to the chicken's homogenised diet."
"Earth's first life-forms played it cool in deep ocean, Stanford study finds" [San Francisco Chronicle]. "But why, the two scientists wondered, did life-forms become more complex in such a cold, dank and forbidding place a mile beneath the waves, where light and food are scarce? Why not in shallower water, where most marine life thrives now? Because, researchers Tom Boag and Erik Sperling found, the deep ocean might have been very cold, but it stayed cold. Temperature swings, they said, would have made it tough for single-cell organisms to evolve into bigger critters."
Water
"Harvard Quietly Amasses California Vineyards—and the Water Underneath" [Wall Street Journal]. "The university's endowment manager, Harvard Management Co., was stealthily building a sizable grape-growing business on the Central Coast…. With the land, it was acquiring rights to vast sources of water in a region where the earth's warming is making the resource an ever-more-valuable asset…. Harvard's bet has proven prescient. The $39 billion fund, among America's biggest endowments, now values its vineyards at $305 million, up nearly threefold from in 2013, while its overall natural-resources investments have done poorly… David Gladstone, chief executive of Gladstone Land Corp. , a publicly traded farmland-investment trust, says the recent California drought was profitable for his company and tenant farmers because they had access to water while others didn't. The changing climate has made control of water more valuable, he says. "'That is certainly true in most of the U.S., but very true in California.'" • That's nice. Nancy Pelosi owns a (vanity) winery, so she's in good company.
"40 million Americans depend on the Colorado River. It's drying up" [Grist]. "Under the current rules, federal water managers project a 52 percent chance that an official water shortage will be declared in fall of 2019, with mandatory cutbacks beginning in 2020. A shortage is more than 99 percent certain the following year. The problem is, due to systematic over-use, even those cutbacks won't be enough to prevent the river from falling still lower, so the multi-month series of meetings this year have centered around agreeing on deep cuts starting right away. To be clear: There is no remaining scenario that does not include mandatory cutbacks in water usage along the Colorado River within the next few years. The long-awaited judgement day for the Southwest is finally here." • Maybe we can start using dew collectors, like the Fremen in Dune.
Health Care
"Case Study of 1" [Alex Press]. The conclusion: "I just wish it, all of it, would be classified correctly, as murder: the mistreatment, the abuse, the insurance mix-ups, the lack of access in the first place, the disdain, the bills, what that psychiatrist did today. It's homicide, on a mass scale: take a number, wait until it's called." • A must-read.
"How do resource-constrained countries commit to universal health care?" [WaPo]. "Thailand, Brazil and South Africa share similarities that made them ripe for comparison…. [E]ach country's decision to pursue health-care reforms was unexpected, given a number of factors…. [I]n line with recent work that has shown how major new social programs in developing countries [such as our own] do not always reflect the priorities of citizens, my research highlights that the impetus for reform may actually be less broad-based than we might expect. While traditional activism was important, I found that democratization also empowered well-situated elites from esteemed professions, who in turn drew on their privileged positions in the state, their knowledge and their social networks, to outmaneuver the broader professions of which they are a part and deliver benefits to those who needed them." • Very interesting. The author doesn't say this, but it's hard not to conclude that our own elites must, therefore, be more corrupt and/or ineffective than those of Thailand, Brazil, or South Africa. Unsurprising!
"A local TV station dedicated three years to investigating hospital bills" [Poynter Institute]. "[KUSA-TV Denver Investigative Reporter Chris Vanderveen], investigative producer Katie Wilcox and photojournalist/editor Anna Hewson have produced more than 36 in-depth stories and two hours of prime-time specials about Colorado patients who were willing to share their detailed medical records to prove that hospitals, clinics, doctors and other caregivers game the system to charge patients for care that was never provided. And, the team learned, when patients can't or don't pay, they risk their homes and their credit ratings." And:
The series caught fire when 9News reported the story of a man who went to the emergency room to have a splinter removed from his thumb.

"He got a $2,100 bill," Vanderveen said. "That seemed stupid."

"We didn't have any intention of following medical billing stories for years, but at the end of that first story we put up an email, showusyourbills@9news.com, and it became a treasure trove of stories. People were willing to send us their medical bills," he said.
Remember that when the liberal Democrats go to work on their #1 policy priority: Preventing #MedicareForAll.
"Even among the insured, cost of illness can be devastating" [Harvard Gazette]. "Despite the Affordable Care Act's much-touted expansion of health coverage in the U.S., a first-ever poll of America's seriously ill demonstrates that insurance alone isn't enough to protect against the high cost of care." • Please allow me a moment to stagger about in astonishment at this discovery by the good folks at Harvard. More: "The poll showed that though 91 percent of respondents had health insurance, 53 percent of those with insurance had trouble paying their medical bills…. More than a third of the seriously ill with insurance — 36 percent — used all or most of their savings to pay for care, 21 percent had trouble paying for basic necessities, and 28 percent lost or had to change jobs because of illness." • Hey, they had "access" to care, didn't they? So kwitcherbellyachin'.
Class Warfare
Classic. https://t.co/YdhcPKzZNW

— J (@consbyname) December 14, 2018
Image definitely worth clicking on.
News of the Wired
"Thoughts on Proust" [Dark Ages America] (Morris Berman's blog). "Soul error is the belief that there is no inner worth in here; that only what is outside of me, that which I can't obtain, has value. This is what renders social life a farce, a gigantic waste of time. Feeling deeply inadequate, we are driven, forever on edge, always out to impress others that we are special, better than everyone else. This renders social interaction sterile, a vapid charade. The same dynamic applies to friendship and "love." Involuntary memory, as far as Proust is concerned, is the only way out. It amounts to epiphany, revelation. It comes unbidden: suddenly, you are purely a body, purely kinesthetic awareness, existing outside of time. This is what feeds the soul; this is the soul's true need. At the end of the day, this is all we have. Tolstoy said much the same thing. Can everyone choose this path, as Proust believed? The historical record would suggest not…."
"The Liberal Arts May Not Survive the 21st Century" [The Atlantic]. "For many years, wisconsin had one of the finest public-university systems in the country. It was built on an idea: that the university's influence should not end at the campus's borders, that professors—and the students they taught—should 'search for truth' to help state legislators write laws, aid the community with technical skills, and generally improve the quality of life across the state…. But the backbone of the idea almost went away in 2015, when Governor Scott Walker released his administration's budget proposal, which included a change to the university's mission. The Wisconsin Idea would be tweaked. The 'search for truth' would be cut in favor of a charge to 'meet the state's workforce needs.'" • Of course, "meet state's workfoce needs" is anti-competive; it reinforces existing businesses without fostering the creativity to create new businesses (or lines of business). So you can see why "business leaders" would like that.
"Behind the hidden art of Baltimore's bathroom graffiti" [Baltimore Insider]. • Word of the day: latrinalia. Since this is a family blog, I can't quote my favorite, but feel free to search the page on "Hershkovitz."
"The 25 worst passwords of 2018, based on 5 million passwords leaked on the internet" [Business Insider]. "1. 123456 (Rank unchanged from last year)." "1. 123456 (Rank unchanged from last year)." And cheekily: "24. password1 (New)." "You said letters and at least one number!"
Neato:
#5yrsago Aluminum castings of ant-nests https://t.co/aME26BFctJ pic.twitter.com/5fYwFm5O89

— son of an asylum seeker, father of an immigrant (@doctorow) December 13, 2018
I wonder if there is a topology of ant-nests [pause]. Apparently so, or at least a morphology.
* * *
Readers, feel free to contact me at lambert [UNDERSCORE] strether [DOT] corrente [AT] yahoo [DOT] com, with (a) links, and even better (b) sources I should curate regularly, (c) how to send me a check if you are allergic to PayPal, and (d) to find out how to send me images of plants. Vegetables are fine! Fungi are deemed to be honorary plants! If you want your handle to appear as a credit, please place it at the start of your mail in parentheses: (thus). Otherwise, I will anonymize by using your initials. See the previous Water Cooler (with plant) here. Today's plant (SS):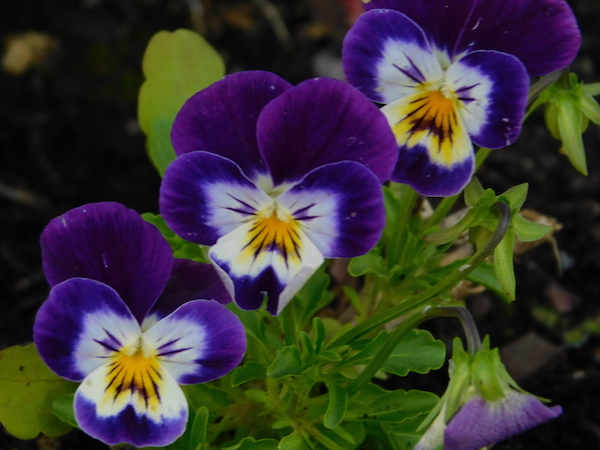 SS writes: "These are wild mini-pansies (bratki) that seem to last into early winter in Poland. Love the angry face. It is even more visible as the picture is being rendered."
* * *
Readers: Water Cooler is a standalone entity not covered by the annual NC fundraiser, now completed. So do feel free to make a contribution today or any day. Here is why: Regular positive feedback both makes me feel good and lets me know I'm on the right track with coverage. When I get no donations for five or ten days I get worried. More tangibly, a constant trickle of small donations helps me with expenses, and I factor that trickle in when setting fundraising goals. So if you see something you especially appreciate, do feel free to click below! (The hat is temporarily defunct, so I slapped in some old code.)
Or Subscribe to make a monthly payment!