By Lambert Strether of Corrente.
Politics
"But what is government itself, but the greatest of all reflections on human nature?" –James Madison, Federalist 51
2020
"Why We Cannot Nominate a Young Person in 2020" [Benjamin Studebaker]. "The vast majority of would-be young Bernies will still be under 35 in 2020 and won't be legally allowed to run for president. Alexandria Ocasio-Cortez isn't even 30 yet. She's about as old as Jennifer Aniston was in the middle of her Friends run…. Most of us in the left-wing political space haven't actually done anything yet. Ocasio-Cortez is young by American political standards but she's older than the vast majority of young people I know who might one day be interested in running for stuff…. The people in their 40s who support Bernie never received the kind of grassroots support Bernie received when they were younger, and consequently they never had the opportunity to build a resume for the presidency. As a result, the overwhelming majority of Democratic politicians in their 40s and 50s are centrists who came of age politically in the 90s and 00s… They were advanced in the party because the Clinton generation promoted them. They have spent their political lives working with Gore and Kerry and Obama and that's the discourse they swim in. Corey Booker is 49. Kamala Harris is 54. Beto O'Rourke is 46. Kirsten Gillibrand is 52. Amy Klobuchar is 58. This group has a shared set of political instincts–they are the instincts that helped them build the careers they now enjoy, but they are not instincts we can trust. They have been tutored in triangulation from the time they were political toddlers. From the point of view of the left, the 40-60 group is a lost generation. It's an entire generation of American politicians who were taught all the wrong things… . We need someone who was left-wing even before the Clintons watered that down and changed what it meant for most people. Forget the 90s, we need someone who was too left-wing for the Democratic Party in the . There is only one such person left alive. First name Bernie, last name Sanders." • This is a neat example of viewing an institutional problem through a generational lens. Who, then, would run a Sanders administration? Probably not a lot of people from Harvard and Yale. People from state schools like UMKC. Lots of adjuncts. Rather like FDR, as Thomas Frank says in one of his talks (which I'm too lazy to find). You'd have to blow up the system of liberal credentialing, the backscratchocracy so-called meritocracy. If you think the liberal reaction to Trump was intense…

"How Come So Many Bernie Bros Are Women and People of Color?"[Katie Halper, Common Dreams (RH)]. (Halper has a fun podcast.) "A recent CNN poll shows that among potential Democratic candidates in Iowa caucuses Senator Bernie Sanders has the highest approval rating from people of color…. But despite evidence like the new CNN poll, in which Sanders had the highest approval among non-white voters, outlets reporting on the survey studiously avoided mentioning that key finding which undermines the media narrative about Sanders' struggle to appeal to minority voters." • The post, despite the headline, then pivots to a long and interesting report on the recent Sanders Institute Gathering in Burlington, Vermont.

Oh, Clara:

Clara Jeffery is promoting this as a poll of black women, and somehow failed to mention that it is exclusively a poll of politicians, donors, and operatives. pic.twitter.com/P7z2npzVSV

— Carl Beijer (@CarlBeijer) December 18, 2018

It certainly is odd that that Sanders is the only one pounding on this:

What I want to know is: if Sears has $25 million to give bonuses to executives, why is the company telling laid off employees they don't have the money to pay their severance? https://t.co/qDrNJAnA7w

— Bernie Sanders (@SenSanders) December 18, 2018

Sanders doesn't have any problem with women and/or PoC he can't solve. He has problems with women and/or POC pundits and gatekeepers, and that may not be soluble, because they have interests and values that are opposed to his; see this important article by Adolph Reed. (I could wish Reed where a slightly punchier polemicist; every time I read that article I look for the catchphrase that would allow me to characterize this subclass of the political class, and I can't find it. Grr!)

"Beto O'Rourke Removed From 'No Fossil Fuel Money Pledge' Following Sludge Report" [Sludge]. "Texas Democratic Rep. Beto O'Rourke has been removed from a pledge he signed to reject large donations from fossil fuel PACs and executives, following a recent Sludge investigation of federal campaign finance records. Sludge reported on Dec. 10 that the congressman had accepted dozens of contributions of over $200 from oil and gas executives and had not reported refunding them. Oil Change USA, which led a coalition of environmental and democracy organizations to create the No Fossil Fuel Money Pledge, attempted to reach O'Rourke's campaign and congressional office but did not hear back. Nor did Sludge."
2018 Post Mortem
AOC's campaign was small donor-based, and she wasn't offered DCCC money, which would have requried her to pledge to spend four hours a day on the phone servicing large donors. And so:

This also means @Ocasio2018 will have roughly 8 (!) hours per day more than her colleagues to spend on legislation, at hearings, reading, writing, doing press, meeting with constituents, etc. Her colleagues schedule is more like the following: /1 https://t.co/Y4jqzohzep

— Ryan Grim (@ryangrim) December 18, 2018

(Grim's 8 hours includes 4 hours to service lobbyists.)
New Cold War
"The Mueller delusion" [Matthew Walter, The Week]. "Meanwhile Mueller is doing a good impersonation of a delusional power-crazed middle-school librarian. 'Did you ever have a conversation with Rob and Pat in this library? Did you use your library voice? Okay, was it on a Tuesday? No, it was actually a Wednesday, and you, sir, are getting detention. Oh, what's that? You happen to know that Kev and Phil were smoking cigarettes on the loading dock back in the seventh grade? Thank you, thank you so much! No, that's all right, I can ring their employers.' If you don't recognize this as a more or less accurate description of what Mueller has so far publicly accomplished with the considerable resources at his disposal, you are being willfully, blinkeringly partisan. Which is fine. That is the nature of politics." • Heh.
Realignment and Legitimacy
"The bad economics of PAYGO swamp any strategic gain from adopting it" [Economic Policy Insitute]. "A PAYGO rule means that any tax cut or spending increase passed into law needs to be offset in the same spending cycle with tax increases or spending cuts elsewhere in the budget. Incoming House Speaker Nancy Pelosi has indicated that the House of Representatives will abide by PAYGO in the next Congress, and this decision has sparked much controversy…. [F]undamentally, it is terrible economics to view federal budget deficits as always and everywhere bad. Making good policy in the future will require that voters be educated on this front. Why not start now?… Why am I taking you on this extended walk down the memory lane of irrational deficit-phobia? Because it had terrible consequences. The recovery from the Great Recession was the slowest in post-World War II history, and the degree of fiscal austerity can entirely explain its slowness." • Important!

"Imperatives for Democrats" [Harold Meyerson, The American Prospect]. Background: Tammy Baldwin put forth a version of Warren's proposal for co-determination and Republicans didn't even attack her for it. "Other than investigating and possibly impeaching Donald Trump, will the rest of the congressional session be given over to intra-party disputes over how far to extend Medicare and how green a New Deal to promote? Or will the Democrats heed the lesson of the non-attack on Baldwin's co-determination proposal and realize that they can support legislation that begins to shift the balance of power in the economy, and win widespread support in the process? Will they realize they can come together around an agenda that directly benefits America's workers?" • Lol no.

"Michelle Obama reflects on 'refreshing' tradition of sharing candy with George W. Bush" [The Hill]. • Lol no.
Stats Watch
Current Account, Q3 2018: "A steep deepening in the third-quarter trade gap drove the current account deficit" upward [Econoday].
Existing Home Sales, November 2018: "Existing home sales showed some life in November" [Econoday]. "Despite weaknesses the story of November's report is positive especially given the run of disappointments for housing data especially on the new home side of the market." And: "The key for the housing – and the overall economy – is new home sales, single family housing starts and overall residential investment. Overall this is a reasonable level for existing home sales, and the recent weakness is no surprise given the increase in mortgage rates" [Calculated Risk].
MBA Mortgage Applications, week of December 14, 2018: "Despite lower interest rates, mortgage activity declined" [Econoday]. "[O]ngoing financial market volatility and economic uncertainty likely dissuaded some potential borrowers."
Leading Indicator: "Run of positive billings continues at architecture firms" [The American Institute of Architects]. "Architecture firm billings growth expanded in November by a healthy margin… AIA's Architecture Billings Index (ABI) score for November was 54.7 compared to 50.4 in October. With the strongest billings growth figure since January and continued strength in new project inquiries and design contracts, billings are closing the year on a strong note." And: "According to the AIA, there is an "approximate nine to twelve month lag time between architecture billings and construction spending" on non-residential construction. This index has been positive for 14 consecutive months, suggesting a further increase in CRE investment in 2019″ [Calculated Risk]. • So, in contrast to Mr. Market's butterflies, the real economy of trucking and building seems solid, and housing is at least no worse than usual.
Shipping: "November truck tonnage is mixed, reports ATA" [Logistics Management]. "On an annual basis, [seasonally adjusted (SA)] tonnage was up… The ATA's not seasonally-adjusted (NSA) index, which represents the change in tonnage actually hauled by fleets before any seasonal adjustment and the metric ATA says fleets should benchmark their levels with," declined. And: "I tend to put heavier weight on the CASS index which this month agreed with the ATA that the growth rate significantly declined year-over-year" [Econintersect].
The Bezzle: "Fraud is rampant in fish supply chains , New York AG finds" [Supply Chain Dive]. "Seafood mislabeling — often referred to as 'fish fraud' — is a known and rampant phenomenon…. The incentive at any link in the supply chain is pretty clear. If the customer can't tell the difference, then a cheaper species can be sold as a more expensive one with little or no recourse." • So, instead of "lemon market," we could say "fish market"" More: "One in four unpackaged seafood items is mislabeled in New York state with a strong suggestion of intentional mislabeling, according to a new report for the Office of the New York State Attorney General. Lemon sole, red snapper, grouper and salmon labeled "wild" according to the report are likely to be incorrectly labeled and in some cases, an entirely different — and cheaper — fish."
The Bezzle: "Elon Musk's new tunnel 'a little rough around the edges'" [Associated Press]. "The car jostled significantly during the ride, which was bumpy enough to give one reporter motion sickness while another yelled, 'Woo!'" • So Elon's latest self-promoting bad idea has quality assurance problems. I'm shocked. At least there aren't any submarines.
Transportation: "The Scooter Invasion Is in High Gear" [Industry Week]. "One key segment for electric two-wheelers, especially in large, congested cities and university campuses, is the micromobility market. According to the National Household Travel survey of 2017, about half of the vehicle trips in the country are less than 3 miles. As a result, many commuters are hopping on scooters and e-bikes for these short jaunts, partly for their allure, but also to escape traffic. Lime and Bird—the two leading e-bike and scooter suppliers, respectively, of large cities—are the most prominent players in this segment."
Transportation: "Boeing lifts India aircraft forecast to 2,300 jets" [FlightGlobal]. "[Boeing raised] the figure from last year's forecast of 2,100 aircraft, and 2016's 1,850 aircraft…. For the entire South Asia region, which includes India, Boeing is forecasting a commercial services market valued at $430 billion over the next 20 years."
Gaia
"Potential for 100,000-Plus Jobs If We Fix Our Parks" [Pew Charitable Trust (Furzy Mouse)]. "A Pew-commissioned analysis by the Cadmus Group, a consulting company, found that addressing the National Park Service's $11.6 billion maintenance backlog would create or support nearly 110,000 infrastructure-related jobs. This number, based on fiscal year 2017 NPS data, is a reminder of the powerful economic impact of national parks. California has the most to gain, with the potential for more than 17,000 jobs. Rural states also stand to benefit, with a possible 6,600 jobs in Wyoming. And Virginia, which has a mix of urban and rustic settings, could benefit from 9,600 jobs. If NPS' deferred maintenance was fully funded, communities could see construction workers repairing roads and trails, preservation experts restoring deteriorating historic sites, and engineers overhauling outdated sewer, water, and electrical systems that can threaten safety and the environment." • So it's reasonable to guesstimate that reforestation would create an order of magniture more.
* * *
Children of the corn syrup:
You live in a society whose every production industry is based around a government-subsidized chemical feedstock.

Corn is not a _food_.
Corn is a _platform_.

— SwiftOnSecurity (@SwiftOnSecurity) December 18, 2018
"Costco's 100 Million Chickens Will Change the Face of Nebraska" [Civil Eats]. "'Here you have a retailer who will now—from cradle to grave—have complete control of the entire production system,' says John Hansen, farmer and president of the Nebraska Farmers Union. '[Costco will] own the birds, they'll control all of the particulars of the birds' genetics, the production. They'll own the feed mill and they'll have control of the processing plant. If this model works, what will it mean for the rest of the poultry industry? Will other retailers, like Walmart, be close behind?'… Main Street Project's approach—which has been implemented in Northfield, Minnesota, and on several Native American reservations, including on Winnebago tribal territory in northeastern Nebraska—works with a group of farmers who raise chickens for meat and eggs in conjunction with growing hazelnuts and other perennial trees and shrubs, cover crops, and small grains that provide additional cash value while acting as feed for the birds." • Also plenty of local opposition to Costco expressed through the permitting process.
"Neolithic dairy farming at the extreme of agriculture in northern Europe" [Proceedings of the Royal Society B]. "[W]e examine food residues in pottery, testing a hypothesis that Neolithic farming was practiced beyond the 60th parallel north. Our findings, based on diagnostic biomarker lipids and δ13C values of preserved fatty acids, reveal a transition at ca 2500 BC from the exploitation of aquatic organisms to processing of ruminant products, specifically milk, confirming farming was practiced at high latitudes. Combining this with genetic, environmental and archaeological information, we demonstrate the origins of dairying probably accompanied an incoming, genetically distinct, population successfully establishing this new subsistence 'package'."
* * *
Cultural change (1):
Walk into a non-smoker's house and light up a cigarette. Watch how they react.

We need *that* reaction to carbon gluttony. https://t.co/jC9kn2SOOV

— Dr. Brett Favaro (@LetsFishSmarter) December 12, 2018
Cultural change (2):
What's all this black shit coming out of the ground?

Dunno, it's killing everything it touches though.

Yeah, some kind of poison.

Do you… do you want to set it on fire?

— Jar O' Farts (@bnothingp) December 14, 2018
Louis CK (ick) is persona non grata now, but "If God Came Back" seems a propos.
* * *
For some reason, images of trees started appearing in my Twitter timeline (and I have crippled Twitter's algos, so perhaps something is happening in my sector of the zeitgeist. All in one day–
The first:
Trees are astonishing whenever you notice. pic.twitter.com/1YM6nDsHoR

— Jedediah Purdy (@JedediahSPurdy) December 18, 2018
The second:
Sometimes the big picture feels more complete when you see the details. These trees are covered in «ice thorns» which give them their shimmering white appearance. pic.twitter.com/ydm7WMmN8w

— Steven J. Gibbons (@stevenjgibbons) December 18, 2018
The third:
The at least 2,000 year old olive tree of Vouves,on the island of Crete,still bears olives. The tree stood here when Rome burned in AD64, and Pompeii was buried under a thick carpet of volcanic ash in AD79. Cemeteries from the Geometric Period (900-700 BC) were discovered nearby. pic.twitter.com/tHbwmTOMQ9

— Ticia Verveer (@ticiaverveer) December 18, 2018
And also today: "New York City's surprising wealth of native trees" [Anthropocene]. "[A] new study [(original)] shows that even the most populous city in the United States contains significant stands of forest dominated by native tree species… [B]ased on stand density measurements from the new study, the researchers estimate that there are 5 million trees in the city's urban forest stands alone – which cover just 5.4% of the city's area." • Based on the new study, the invasive, competition-suppressing, and stinky Tree of Heaven, which accounts for 9% of the urban canopy, accounts for only 1% of the forest canopy.
And Arbor Day was back in April!
Class Warfare
"Beyond Relief" [The Baffler]. "Mutual aid is an organizational theory premised on the principles of cooperation, collectivism, and solidarity. It has been used extensively throughout history by anarchist, socialist, and other emancipatory movements, from trade unions to cooperatives… [M]any grassroots disaster relief networks, from Occupy Sandy to Mutual Aid Disaster Relief, use the slogan 'Solidarity Not Charity.'… In the last year, Mutual Aid Centers have popped up across the entire island—all in coordination with the original center in Caguas, but all responding to their own unique contexts. There are now at least eight of them, stretching from the far west to Mariana, just inland from the eastern coast of the island, and up into the town of Las Marías, high in the Cordillera Central mountain range…. While all of this community building and popular education is taking place within a void created by a negligent government, it is not happening within a vacuum of power. Certainly the state has abandoned its post when it comes to disaster response and many other essential public services, but it is still very much involved in protecting the interests of the disaster capitalist class—who have a very different idea of what the future of Puerto Rico should look like."
News of the Wired
"Classical and quantum computers are vying for superiority" [Nature]. "Theoretical physicist Seth Lloyd at the Massachusetts Institute of Technology in Cambridge speaks for many when he says the field is in a period of explosive progress — but that the hype is also getting out of control. 'The whole quantum-computing field is just going hogwild right now,' he says. Is a quantum computer even needed? High-profile work by an 18-year-old computer scientist earlier this year suggests not, at least for one specific task. Ewin Tang effectively taught an old computer a new trick — one that was previously thought to need a quantum system."
"Radical mycology is scaling up. Can it retain its open-source ethos?" [New Food Economy]. "But underlying an informal, playful air [at the fifth biennial Radical Mycology Convergence (RMC)] was a serious conviction in the vast, as-yet-untapped power of fungi to change the world. The modern mycological conversation is vast: Proponents highlight the critical role mycelia play in Earth's ecosystems; their potential for mitigating pollution, waste and contamination; the vast world of culinary and medicinal mushrooms; the growing field of fungal fabrication; and the eerily intelligent behavior of distributed fungal networks—often referred to as "nature's internet." Underscoring these wide-ranging discussions was a common theme: that a deeper understanding of the interrelations among plant, animal, and fungal life is necessary to navigate a fraught future…. as mushrooms become more popular, concerns are also raised about the culture that will emerge around them. Increased study and commercial use of fungi may lead to pharmacitization, as sacred medicines are abstracted into pills, and natural processes industrialized to scale without adequate considerations of the impact on ecologies. Mycophiles' enthusiasm over a growing profile for fungi is tempered by concerns that it may come at a cost."
* * *
Readers, feel free to contact me at lambert [UNDERSCORE] strether [DOT] corrente [AT] yahoo [DOT] com, with (a) links, and even better (b) sources I should curate regularly, (c) how to send me a check if you are allergic to PayPal, and (d) to find out how to send me images of plants. Vegetables are fine! Fungi are deemed to be honorary plants! If you want your handle to appear as a credit, please place it at the start of your mail in parentheses: (thus). Otherwise, I will anonymize by using your initials. See the previous Water Cooler (with plant) here. Today's plant: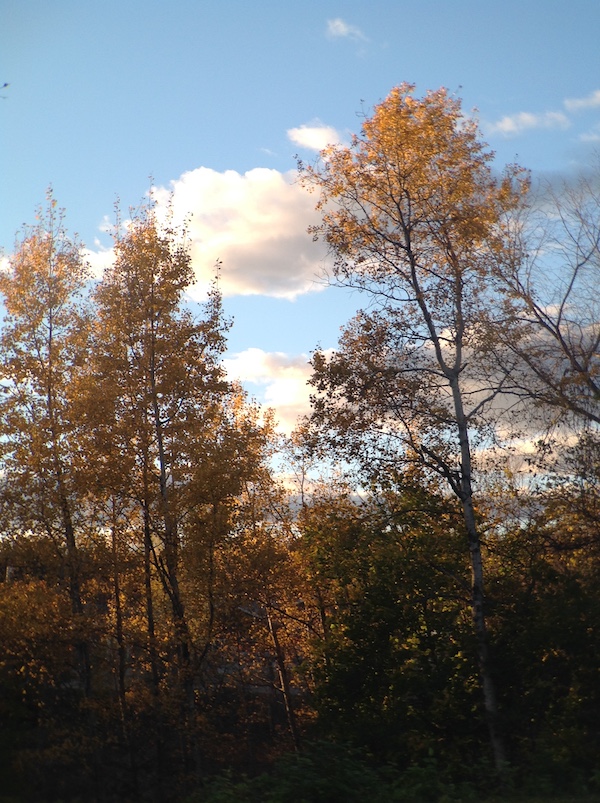 Trees near the house.
* * *
Readers: Water Cooler is a standalone entity not covered by the annual NC fundraiser, now completed. So do feel free to make a contribution today or any day. Here is why: Regular positive feedback both makes me feel good and lets me know I'm on the right track with coverage. When I get no donations for five or ten days I get worried. More tangibly, a constant trickle of small donations helps me with expenses, and I factor that trickle in when setting fundraising goals. So if you see something you especially appreciate, do feel free to click below! (The hat is temporarily defunct, so I slapped in some old code.)
Or Subscribe to make a monthly payment!