By Lambert Strether of Corrente.
*** Ruth Bader Ginsburg Health Update: Supreme Court Justice Has Cancerous Lung Growths Removed ***
Trade
They issue press releases:
#China's Central Economic Work Conference news release promising on external reforms: pic.twitter.com/crz2zeKEFg

— Bert Hofman (@berthofmanecon) December 21, 2018
"How to fix America's dysfunctional trade system" [Ryan Cooper, The Week]. "Timothy Meyer and Ganesh Sitaraman at the Great Democracy Initiative have a new paper that presents a solid starting point for developing a fundamental reform of American trade structure…. Then there is the problem of pro-rich bias. Put simply, the last few decades of trade deals have been outrageously biased towards corporations and the rich. They have powerfully enabled the growth of parasitic tax havens, which allow companies to book profits in low-tax jurisdictions, starving countries of rightful revenue (and often leading to companies piling up gargantuan dragon hoards of cash they don't know what to do with). Corporations, meanwhile, have gotten their own fake legal system in the form of Investor-State Dispute Settlement trade deal stipulations…. Meyer and Sitaraman suggest renegotiating the tax portions of trade deals to enforce a "formulary" tax system — in which profits are taxed where they are made, not where they are booked." • This is well worth a read for all the policy suggestions. And then there's this:
[F]or all its other disastrous side effects, Trump's haphazard tax on aluminum has dramatically revived the American aluminum industry. Ensuring a reasonable domestic supply of key metals like that is so obviously a security concern — for military and consumer uses alike — that it wouldn't have even occurred to New Deal policymakers to think otherwise. It takes a lot of ideological indoctrination to think there's no problem when a small price disadvantage causes a country to lose its entire supply chain of key industrial commodities.
Yep.
Politics
"But what is government itself, but the greatest of all reflections on human nature?" –James Madison, Federalist 51
2020
"The Democratic Party Is Getting Ready for a Very Messy 2020 Primary Race" [New York Magazine]. "The basic debate schedule itself acknowledges the likely massive field, and the potential for a drawn-out scrap for delegates that will ultimately determine the nomination. Perez said the first debate will be held in June 2019 — earlier than Republicans' late-summer kickoff in 2015 — and the last one is scheduled for April 2020 — deep into the primary calendar, once the early-voting states and Super Tuesday have passed, and by which point the field is (usually) much winnowed. Perhaps not this time."

"Critics Say Bernie Sanders Is Too Old, Too White, and Too Socialist to Run for President in 2020. They're Wrong." [The Intercept]. "Despite refusing to join the Democrats in the wake of the 2016 election, the party's base still adores him. As of October 2018, he had a whopping 78 percent approval rating with Democratic voters." • Yeah, but who cares about them?
2018 Post Mortem
"Americans Actually Voted in the 2018 Midterms" [Bloomberg]. • These are very interesting charts, but marred by being two-dimensional. It's really absurd to put AOC and CIA asset Spanberger in the same blue box, or consider them both "left."
Mattis Flap
Let The Hagiography Begin (1):

All Americans should take time to read General Mattis's letter of resignation. It is a truly beautiful letter that speaks to our very best values as a nation. https://t.co/XY0mvqfv9q

— Nancy Pelosi (@NancyPelosi) December 21, 2018

Let The Hagiography Begin (2):

Sen. Schumer: "Sec. Mattis was 1 of the few symbols, the few items of strength & stability in this administration. Everything that indicates stability, everything that indicates strength, everything that indicates knowledge is leaving this administration." https://t.co/Bd79j1n4xF pic.twitter.com/22Byt1iZkh

— The Hill (@thehill) December 21, 2018

Breath of Sanity (1): "Random Observation" [Eschaton]. "Whatever the brain worms are telling him, I'm pretty sure that I'd generally prefer Donald Trump be running Not War instead of War, almost no matter what."

Breath of Sanity (2):

Holy crap. I agree with Stephen Miller on Wolf Blitzer's show on #CNN. He's calling for US to get out of other nation's wars!!! The world is upside down.

— Medea Benjamin (@medeabenjamin) December 20, 2018

Breath of Sanity (3):

1. I support withdrawing US troops from all these wars, overt and covert.
2. Trump is an unstable authoritarian who cannot be trusted.
3. "Mattis was an adult" is bullshit. He's a hawkish war criminal.
4. It's very telling that the war party in DC is furious.

— jeremy scahill (@jeremyscahill) December 21, 2018

"How the Trump-Mattis alliance crumbled" [CNN]. "Eight months before his resignation, Mattis managed to forestall the Syria troop withdrawal after the President announced during a rally in Ohio that US troops would soon be coming home. Meeting later in the Situation Room, Trump told his military and national security advisers they had six months to wrap up the mission in Syria." • Interesting…

"Fear Mounts as Mattis Quits Pentagon" [Daily Beast] • And fear means clicks!
New Cold War
"Prosecutors win court fight over secret subpoena of a foreign company" [WaPo]. "A federal appeals court ruled Tuesday against a foreign company embroiled in a secret subpoena fight… Officials have not confirmed who the prosecutors on the case are, but on the day the court order under appeal was issued, two lawyers were observed exiting a sealed hearing before Chief Judge Beryl A. Howell of the U.S. District Court for the District of Columbia — who oversees grand-jury proceedings — along with five prosecutors with the special counsel's office, including appellate specialist Michael Dreeben… The framing of the debate suggests that whatever the company is, it is not one that has a significant business presence in the United States, because foreign firms operating in America typically comply with demands from U.S. authorities for evidence." • Hmm.
Realignment and Legitimacy
"Democrats Just Blocked Alexandria Ocasio-Cortez's Push For A Green New Deal Committee" [HuffPo]. "Democratic leaders [***cough*** Pelosi ***cough***] on Thursday tapped Rep. Kathy Castor (D-Fla.) to head a revived U.S. House panel on climate change, all but ending a dramatic monthlong effort to establish a select committee on a Green New Deal. Castor's appointment came as a surprise to proponents of a Green New Deal. … Despite weeks of protests demanding House Democrats focus efforts next year on drafting a Green New Deal, the sort of sweeping economic policy that scientists say matches the scale of the climate crisis, Castor told E&E News the plan was "not going to be our sole focus." She then suggested that barring members who have accepted donations from the oil, gas and coal industries from serving on the committee could be unconstitutional. "I don't think you can do that under the First Amendment, really," she said." • Cool. Liberals totally on board with Citizens United. I don't think this appointment is the end of the issue.

"Liberals No Longer Feel Your Pain" [Ted Rall, Counterpunch]. "I noticed the de-empathification of the Democratic Party during the implementation of Obamacare. I lived in one of many counties with zero or one plan on offer…. On Facebook I complained about the paucity of affordable plans in my online health insurance marketplace. "I don't know what you're going on about," one of my friends snarked. 'I found an excellent, affordable plan.' My friend lives in Manhattan… In the 1970s right-wing Republicans like Richard Nixon promoted the cliché of the "limousine liberal": self-righteous, hypocritical, privileged and disconnected from Joe and Jane Sixpack. I don't know if it was true then. It certainly is now." • Falling life expectancy in flyover isn't even on liberal Democrat radar as a policy issue.

"Do America's Socialists Have a Race Problem?" [The New Republic]. The deck: "Inside a raging debate that has split the country's most exciting new political movement." The paragraph that caught my eye: "In one notable dispute, a brake light repair initiative in the [Momentum (democratic centralist?)] East Bay DSA was flatly rejected by the chapter's co-chairs, who refused to put it up for a vote. The repair clinics first sprouted in New Orleans as a strategy to combat police brutality, as people of color are often pulled over for problems as innocuous as broken taillights. These traffic stops can even lead to—as in the case of Philando Castile—killings by the police. While DSA chapters across the country soon began replicating the program, and embraced it as an effective way to build a stronger working-class base, East Bay leadership remained strongly resistant to the campaign. In a private conversation, one East Bay co-chair insinuated to a member of color organizing the clinic that it would look like 'white saviorism.' A former member of the chapter's leadership referred to it as 'charity' in a blog post." • Well, that's just dumb. Super dumb. FWIW, I thought the headline was a bit clickbaity, and the author, though writing in good faith, probably missed plenty of local nuance. That said: (1) America's socialists have a problem with race, because America does; and (2) America's socialists also have a problem with class, for the same reason, and (3) the Democrat Party has a substantial presence among aspirational policy entrepreneurs of color, shall we say, who have their own strongly felt institutional objectives. Worth noting that back in the 30s, the CPUSA was one of very few institutions to defend the Scottsboro Boys (the NAACP being the other). So it's not like there's no heritage here to build on.
Stats Watch
GDP, Q3 2018: "The third quarter was a strong one for the economy, getting a boost from an overdue inventory build but driven once again by the most important factor and that is consumer spending" [Econintersect]. "Whether continued strength for the consumer can be expected in the fourth quarter will get an indication later this morning with the personal income and outlays report for November."
Personal Income and Outlays, November 2018: "November was a mixed month for the consumer as personal income managed only a lower-than-expected … gain which is offset, however, by a solid and higher-than-expected … rise for consumer spending" [Econintersect]. "November was a mixed month for the consumer as personal income managed only a lower-than-expected 0.2 percent gain which is offset, however, by a solid and higher-than-expected 0.4 percent rise for consumer spending."
Durable Goods Orders, November 2018: "A swing higher for the always volatile aircraft group gave an outsized lift to durable goods orders" [Econoday]. "The biggest disappointment, and the heart of the capital goods group, is machinery where November orders sank a very steep 1.7 percent." • Not good, in a capitalist economy.
Kansas City Fed Manufacturing Index, December 2018: "This morning's durable goods report proved no better than mixed as have many of the recent regional manufacturing reports including Kansas City's composite index for December which slowed" [Econintersect]. "And flattening is a reasonable description for the nation's factory sector in general, ending what was a strong 2018 with a bit of fizzle."
Consumer Sentiment, December 2018 (Final): "Consumer sentiment ends this month at a stronger-than-expected index level" [Econintersect]. "The feeling of this report is very much like personal income and outlays, hinting at consumer spending strength at a time of limited income growth and very flat inflation."
Corporate Profits, Q3 2018: "After-tax corporate profits rose a year-on-year 6.1 percent" [Econintersect].
The Bezzle: "Wall Street's Billionaire Machine, Where Almost Everyone Gets Rich" [Bloomberg]. "Eric Smidt is a new kind of super-rich. He made his fortune by transforming an old-fashioned business into a giant ATM, an overhaul aided by one of the hottest plays on Wall Street: collateralized loan obligations. Meet the new aristocrats of debt—the people and companies cashing in on a record boom in these once-marginal investments whose relatively high returns have attracted yield-hungry investors. They've fueled a rapid buildup in corporate debt that some think could become the epicenter of the next credit crisis but has been minting money for many." • Oh.
The Bezzle: "Personally I've Never Experienced Anything Like That" [Current Affairs]. "Amazon pays employees specifically to tweet that they are well-treated and not exploited. And they're very vigilant—I recently wrote an article pondering the ethical quandary of shopping at Amazon while being critical of its labor practices, and the very same "Fulfillment Center Ambassador" from one of the news articles about the practice ("Phil") popped up to tell me that he himself feels he is treated fairly…. [A]ssuming they are people and not robots (however much Amazon is intent on blurring the distinction between those two categories), and they are treated well and sincere in relating their positive experiences, I think it's worth pointing out the very simple problem with what they're saying. 'I have not experienced this problem personally' does not make a very good case that 'This problem is not experienced by others.'"
The Bezzle: "Uber's entire business model is in jeopardy after losing its latest legal battle over the rights of UK drivers" [Business Insider]. "Uber has lost its latest court bid to stop its British drivers being classified as workers, entitling them to rights such as the minimum wage, in a decision which jeopardizes the taxi app's business model…. Uber said it would appeal the verdict, meaning the legal process will continue."
The 420
"The world's biggest beer company is looking at making cannabis drinks" [CNN]. "Could Budweiser drinkers soon be swapping beer for pot? AB InBev (BUD), the world's biggest brewer, said Wednesday that it's teaming up with Canada's Tilray (TLRY) to research cannabis-infused drinks. It's the latest major company to start exploring the pot market following decisions to legalize recreational marijuana in Canada and a number of American states. AB InBev and Tilray will invest a combined $100 million into researching non-alcoholic drinks containing cannabis elements." • My vision of marijuana legalization was always small, local growers and no corporate advertising. Oh well.
"Pot Unites Democrats, Republicans as Ex-Party Chiefs Join Tilray" [Bloomberg]. "Tilray Inc., the first cannabis company to list directly on a U.S. exchange, announced Thursday the formation of a 10-person advisory board including Howard Dean, a former presidential candidate and chairman of the Democratic National Committee between 2005 and 2009, and Michael Steele, head of the Republican National Committee from 2009 to 2011."
Gaia
"What a Newfound Kingdom Means for the Tree of Life" [Quanta]. "The tree of life just got another major branch. Researchers recently found a certain rare and mysterious microbe called a hemimastigote in a clump of Nova Scotian soil. Their subsequent analysis of its DNA revealed that it was neither animal, plant, fungus nor any recognized type of protozoan — that it in fact fell far outside any of the known large categories for classifying complex forms of life (eukaryotes). Instead, this flagella-waving oddball stands as the first member of its own 'supra-kingdom' group, which probably peeled away from the other big branches of life at least a billion years ago…. Impressive as this finding about hemimastigotes is on its own, what matters more is that it's just the latest (and most profound) of a quietly and steadily growing number of major taxonomic additions. Researchers keep uncovering not just new species or classes but entirely new kingdoms of life — raising questions about how they have stayed hidden for so long and how close we are to finding them all." • Like Hollywood, nobody knows anything. Or at least not much. Although I have known some flagella-waving oddballs, generally in corporate environments…
"Widespread, occasional use of antibiotics in U.S. linked with resistance" [Harvard School of Public Health] (original). "The increasing prevalence of antibiotic resistance in the U.S. appears more closely linked with their occasional use by many people than by their repeated use among smaller numbers of people, according to a large new study from Harvard T.H. Chan School of Public Health…. 'Our findings suggest that combatting inappropriate antibiotic use among people who don't take many antibiotics may be just as important, or more important, to fighting resistance than focusing on high-intensity users,' said lead author Scott Olesen, postdoctoral fellow in the Department of Immunology and Infectious Diseases. 'More antibiotic use generally means more antibiotic resistance, but it seems like the number of people taking antibiotics might matter more than the amount they're taking.'"
Police State Watch
"Alabama police department blames Satan for spike in homicides" [Atlanta Journal-Constitution]. This was the now-deleted Facebook post from the Opp Police Department:
THIS PAST SUNDAY, A YOUNG MAN WAS SHOT AND KILLED IN KINSTON. MONDAY NIGHT, A MOTHER WAS SHOT AND KILLED IN NORTHERN COVINGTON COUNTY. THERE HAVE BEEN FIVE MURDERS IN COVINGTON COUNTY IN 2018. THESE MURDERS HAVE BEEN DONE BY OUR YOUNG PEOPLE. THIS IS HAPPENING BECAUSE WE HAVE TURNED AWAY FROM GOD AND EMBRACED SATAN. WE MAY HAVE NOT MEANT TO DO SO BUT, WE HAVE. IT IS TIME TO ASK FOR GOD'S HELP TO STOP THIS. IT IS TIME TO BE PARENTS AND RAISE OUR CHILDREN, NOT HAVE THEM RAISE US. IT IS TIME TO FULLY SUPPORT LAW ENFORCEMENT AND STAND BY THE OFFICERS AND DEPUTIES THAT ARE FAR TOO OFTEN HAVING TO WALK INTO THESE DANGEROUS SITUATIONS AND CLEAN UP THE MESS. FRIENDS, IT IS TIME TO STAND UP AND BE RESPONSIBLE, GROWN UP LEADERS IN OUR COMMUNITY. BOTTOM LINE, THERE ARE SHEEP; THERE ARE WOLVES AND THERE ARE SHEEP DOGS. WHICH GROUP DO YOU BELONG TO?
I am successfully resisting my urge to mock (well, except for the ALL CAPS) because of the multiple levels of tragedy: So many deaths in a small town, and the evident inablility of the local elites to cope. And it's not any more crazypants than what you hear from a typical neoliberal economist. Just no pseudo-mathematics.
Class Warfare
"Is It Merely A Labor Supply Shock? Impacts of Syrian Migrants on Local Economies in Turkey" (PDF) [Doruk Cengiz, Hasan Tekguc, Political Economy Research Institute]. "We use a large and geographically varying inflow of over 2.5 million Syrian migrants in Turkey between 2012 and 2015 to study the effect of migration on local economies. We do not find adverse employment or wage effects for native-born Turkish workers overall, or those without a high school degree. These results are robust to a range of strategies to construct reliable control groups. Our analysis suggests that migration-induced increases in regional demand, capital supply, and productivity enable local labor markets to absorb inflow of migrant labor." • Contra post-Mariel studies of Florida.
Xmas Cheer
"Hackers Celebrate Holidays With Fake Amazon, Apple Receipt Attacks" [NewYork Magazine]. "You get an email about an order from Amazon or Apple you're not quite sure you placed — but who knows in the last-minute rush to make the Christmas deadline? You click through to see what exactly you ordered, and congrats, you've just got spear-phished. Happy holidays! Two recent phishing attacks outlined over at Bleeping Computer, work slightly differently but use the same basic principle to lure users in: send them a receipt for a purchase, get them to click through to a link to see what the purchase was for, and then hope the user makes some unwise choices." • Stay safe out there!
News of the Wired
"The intertwined quest for understanding biological intelligence and creating artificial intelligence" [Stanford HAI]. "Thus both neuroscience and AI have deeply shared scientific goals of understanding how network performance and decision making arises as an emergent property of network connectivity and dynamics. Therefore the development of ideas and theories from theoretical neuroscience, and applied physics and mathematics could help in analyzing AI systems. Moreover, the behavior of AI systems could change the nature of experimental design in neuroscience, focusing the experimental effort on those aspects of network function that are poorly understood in AI. Overall, there is much to be gained from tighter connections between neuroscience, AI, and many other theoretical disciplines, which could bring about unified laws for the emergence of intelligence in biological and artificial systems alike, as we suggest next." • If we really understood biological intelligence — the epigraph for the article is from Richard Feynman: "What I cannot create, I do not understand" — would handing that understanding over to, say, Jeff Bezos be a good thing? Why?
* * *
Readers, feel free to contact me at lambert [UNDERSCORE] strether [DOT] corrente [AT] yahoo [DOT] com, with (a) links, and even better (b) sources I should curate regularly, (c) how to send me a check if you are allergic to PayPal, and (d) to find out how to send me images of plants. Vegetables are fine! Fungi are deemed to be honorary plants! If you want your handle to appear as a credit, please place it at the start of your mail in parentheses: (thus). Otherwise, I will anonymize by using your initials. See the previous Water Cooler (with plant) here. Today's plant (4Corners):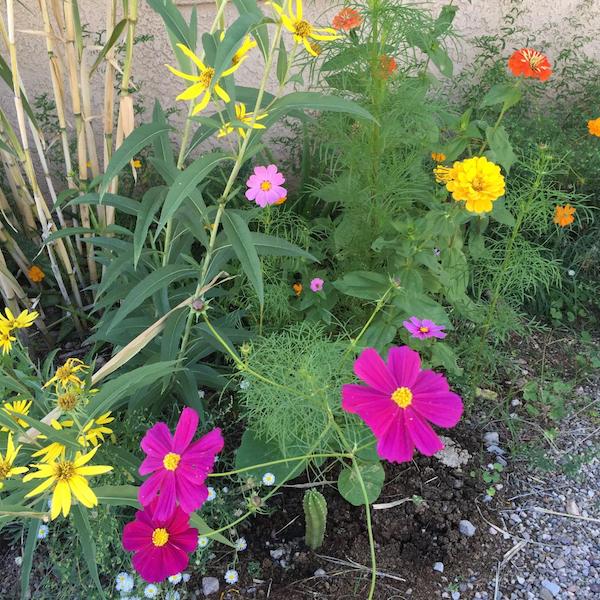 Everything is still sunny inTucson, AZ! I love floral tapestries like this, made up of different colors and textures.
* * *
Readers: Water Cooler is a standalone entity not covered by the annual NC fundraiser, now completed. So do feel free to make a contribution today or any day. Here is why: Regular positive feedback both makes me feel good and lets me know I'm on the right track with coverage. When I get no donations for five or ten days I get worried. More tangibly, a constant trickle of small donations helps me with expenses, and I factor that trickle in when setting fundraising goals. So if you see something you especially appreciate, do feel free to click below! (The hat is temporarily defunct, so I slapped in some old code.)
Or Subscribe to make a monthly payment!