By Lambert Strether of Corrente.
Politics
"But what is government itself, but the greatest of all reflections on human nature?" –James Madison, Federalist 51
2020
"Bernie Sanders: Concentrated Wealth is Concentrated Power" [The Real News Network]. Sanders: " My vision is pretty simple. My vision is that we have got to have the guts to take on Wall Street, take on the pharmaceutical industry, take on the insurance industry, take on the 1 percent, create an economy that works for all. And while we do that, we bring our people, and that is black, and white, and Latino, and Native American, and Asian American together. I think that's the way you do it. And we're beginning, beginning, beginning to see that. We're seeing great young candidates who didn't wait on line for 20 years to get permission to run, but kind of jumped in and beat some long-term incumbents. They're saying, hey, I come from the community. I know what's going on in this community, and I'm going to fight for working people, and I'm not afraid to take on big money. We're seeing that. We got to see more of that." • Nice get for TRNN!

"Would-be 2020 Dem candidates head for the exits" [The Hill]. Out, or so they say: Deval Patrick, Michael Avenatti, Ratface Andy Cuomo. "'I think each have their separate reasons for not running,' said Patti Solis Doyle, who served as campaign manager to Hillary Clinton during her 2008 bid for the presidency. 'But the reason most potential candidates decide not to run— whatever the office— is not seeing a path to victory.'" • My question: Why is Patti Solis Doyle still in public life?

From the Department of Things I Would Never Have Thought Possible:

But also 19 year old, after shaking his hand:
"My whole body's numb. I think I cried twice."

"He and Obama mean everything to me. I would love to see Biden 2020." https://t.co/lpWuLgy6kz

— Edward-Isaac Dovere (@IsaacDovere) December 6, 2018

Wait 'til ten years from now, when the 9-year-old finds out student loans aren't dischargeable in bankruptcy, thanks to that loveable, Amtrak-ridin' goof, Joe Biden.

"The Worst Democraps Who Want To Be President– Part IV, Joe Biden" [Down With Tyranny]. Part 4 of a series. Part 1 is Tulsi Gabbard.

"What Does Beto O'Rourke Actually Stand For?" [Current Affairs]. "Having spent nearly a decade reporting on American politics, I can say there is something very odd about "Beto-mania." Typically, politicians have both elite friends and enemies, meaning donors, activist organizations, lawmakers, and pundits, within their own political party. O'Rourke has critics in the GOP—they successfully defeated him in Texas's Senate race. But he should presumably also have critics within the elite functionaries in the Democratic Party as well. Elizabeth Warren and Bernie Sanders both have their elite critics across the political spectrum. The former is loathed by Wall Street, the latter is loathed by pretty much everyone who runs a Democratic-aligned think tank or has a rolodex of party mega-donors. But O'Rourke, on the other hand, seems to have received nothing but praise from everyone from Wall Street donors like Wolf to Obama alumni like Pfeiffer to a large liberal following enamored by his skateboarding at Whataburger and his passionate defense of kneeling NFL players. He has become a uniting figure for Democrats, beloved by all and loathed by none. What kind of Democratic politician can be so adored? Maybe one who rarely, if ever, challenged the powerful." • Indeed…
2018
If I'm following the coverage correctly, the going rate for election theft in North Carolina is $500 bucks. That's Third World territory:

2016 primary: Dowless works for Todd Johnson (R), who wins Bladen mail-in absentees 221-4-1 (!) over Harris (R) & Pittenger (R).

2018 primary: Dowless works for Harris (R), who wins Bladen mail-in absentees 437-17 (!) over Pittenger (R).

A blatantly obvious absentee mill. #NC09 https://t.co/fCA4ZWgPEx

— Dave Wasserman (@Redistrict) December 5, 2018

"Potential Democratic candidate aims to block Manchin from top environmental position" [Guardian]."Jay Inslee, the governor of Washington state, wants to block Joe Manchin from serving as top Democrat on energy committee."
Realignment and Legitimacy
"This is the all-female number-crunching team that delivered the House to Dems" [McClatchy]. Is it "good enough" that they're women? Let's look at policy:

Their unwavering focus wasn't by accident: Throughout 2017 and 2018, the DCCC's data team conducted extensive research on the GOP's health care legislation and later its tax law, devising the messages that would best resonate with voters. For health care, for example, research showed the message needed to connect directly with people's lived experience of rising health care costs and the number of people who would lose insurance in their community. Criticism of the tax law, meanwhile, worked best when not emphasizing big corporate tax cuts but the harmful effect it could have on Social Security and Medicare, and big breaks for specific corporations such as pharmaceutical companies.

Translating: The liberal Democrat line of "saving the ACA" (and nothing more) also promoted by Democrat front group Indivisible was successful in suppressing #MedicareForAll, by not mentioning it as an option. Since preventing #MedicareForAll is the #1 goal of the Democrat leadership, these women did a great job for the clients they service.

"What is Central to Belief System Networks?" (PDF) [Mark Brandt Chris Sibley Danny Osborne, PsyArXiv Preprints (DK)]. "Here, we test whether operational (i.e. positions on specific issues) or symbolic (i.e. affective attachments to political groups and labels) components are most central by modeling a political belief system as a network of interconnected attitudes and beliefs. Across seven annual waves of representative panel data from New Zealand, we find that symbolic components are more central in the system than operational components (d's range 0.78 – 0.97). Symbolic components were also closer than operational components in the network to self-reported voting (d = -2.28) and environmental behaviors (d's = -1.62 and -1.54). These findings are consistent with perspectives that emphasize the importance of symbolic politics in tying belief systems together and motivating behavior, and further the link between political belief system research and network science." • Then again, in answer to the statement "Most people can be trusted," 56% of New Zealanders answered "yes," where only 38% of Americans did (World Values Survey), and if you're "from Missouri," surely you'd want to see policy positions, not virtue signaling? So I'm not sure the survey results transfer to this country (although, as somebody who cares about policy, that is what I would say).

"Pueblo Sin Fronteras uses caravans to shine light on the plight of migrants — but has that backfired?" [Los Angeles Times]. "Pueblo Sin Fronteras insists that migrants have decided for themselves where to travel and when to protest, and that it simply "accompanies" those who have already decided to try to reach the United States." • Little reporting on this (see Buzzfeed in March). Here's the Pueblo Sin Fronteras website. There's no contact information or list of board members. Funding goes through a 501(c)3, Freedom for Immigrants (board). Here's their Wikipedia entry. Here's the Influence Watch (Capital Research Center) listing; apparently (even they) don't think Soros funded it. (I started poking through the interpretation they gave to links, and it doesn't look to me like they've really mastered the material.)
Stats Watch
Lots of statistics today.
Productivity and Costs, Q3, 2018: "This is a mixed report showing a positive gain for output but stubborn weakness in real compensation" [Econoday]. • So what's not to like?
ADP Employment Report, November 2018: "In as-expected results, ADP estimates that private payroll growth in Friday's employment report will moderate" [Econoday].
Challenger Job-Cut Report, November 2018: "First it was Wells Fargo then Verizon and now General Motors making for a third straight month of elevated Challenger results" [Econoday].
Jobless Claims, week of December 1, 2018: "Initial jobless claims did come down in the December 1 week but not as much as expected" [Econoday]. "[C]laims, which are coming off historic lows back in October, are still very low and still point to very strong demand for labor."
Factory Orders, October 2018: "Held down by downturns in the defense goods and also civilian aircraft, factory orders sank 2.1 percent in October" [Econoday]. "Areas of strength in October include sharp order gains for fabrications, computers & electronics, and also electrical equipment….. Monthly swings in aircraft can badly cloud results this report which focuses attention on the smoother reading of year-on-year change. This remains solidly positive."
Purchasing Managers Services Index, November 2018: "Steady growth at a solid level is the message from the services PMI sample" [Econoday]. "This is a mixed report underscored by an easing but still positive view of future business conditions."
Institute For Supply Management Non-Manufacturing Index, November 2018: "[C]ontinues to report robust rates of growth" [Econoday]. "[T]he message from this report is very strong and together with the services PMI released earlier this morning point to a very strong pace of growth for the bulk of the economy going into year end."
Quarterly Services Survey, Q3 2018: "Year-on-year, third-quarter information sector revenue grew" [Econoday].
International Trade, October 2018: "A slight 0.1 percent decline in exports and a slight 0.2 percent gain in imports made for a sizable 1.7 percent deepening in the nation's trade deficit in October to $55.5 billion which is just outside Econoday's consensus range" [Econoday]. "The deficit with China was very deep… [U]nfortunately marks a very weak opening for fourth-quarter net exports."
Shipping: "Treasury task force proposes sweeping USPS changes, Amazon and e-retailers on edge" [Freight Waves]. This is the Task Force Report discussed 11/28 at NC. "The report calls for stronger oversight by the Postal Service Board of Governors, which sat empty until last April. It also suggests the agency consider other revenue streams, such as renting out unused real estate to businesses, charging outside shippers for access to people's mail boxes, and issuing hunting and fishing licenses. Some of the proposed changes, including increasing package prices, can be enacted without intervention from Congress, but other proposed changes would require lawmakers to act. The main focus of attention is on Amazon, however, and the proposal to increase prices on the commercial (or non-essential) delivery items." • If this report is accurate, what is not present is a plan to prepare the USPS for sale.
The Bezzle: "Uber plans smaller, more cautious self-driving car launch" [Reuters]. "After it receives approval from the state of Pennsylvania, Uber plans to begin driving "a handful" of cars on a mile loop between two company offices in Pittsburgh." • The "loop" is a controlled environment, so the programmers are controlling their inputs tightly. This is an admission that the value of Uber's algo, insofar as Level 5 autonomy is concerned, is zero.
Tech: "The State of Web Browsers" [Ferdy Christant]. "The web now runs on a single engine. There is not a single browser with a non-Chromium engine on mobile of any significance other than Safari. Which runs webkit, kind of the same engine as Chromium, which is based on webkit. On desktop, Edge's departure from running their own engine, means there's only one last man standing to counter the Chromium dominance: Firefox. Which is falling from a cliff, on its way to join the "everybody else" gang of insignificant browsers. With no serious way to truly counter it due to their near-absence on mobile, and their lack of control in pushing browser installs. So Chromium it is. If you're now waiting for a message of hope or a happy ending, I have none. Just like the IE era, the new monopoly was not created by means of a level playing field where the best browser has won, the world is a lot messier than that. The new monopoly was created by control over markets, and the ability to push a browser to billions of users in ways subtle and not so subtle. In this round, it was done via a capable browser (Chrome) unlike the previous round (IE6)."
Gaia
"How to get the carbon out of industry" [The Economist]. "According to McKinsey, almost half of the CO2 emitted by the entire industrial sector comes from four industries; cement, steel, ammonia and ethylene. Unless consumption patterns change, all of them will have to cut emissions while meeting rising demand for cars, buildings, plastics and infrastructure. And because most of their products are commoditised, higher costs imposed by decarbonisation risk 'carbon leakage'—the possibility that places with laxer climate policies will produce the commodities more cheaply." • Hmm. So perhaps there's a place for tariffs after all?
"Emissions are still rising: ramp up the cuts" [Nature]. "The world is quickly and irrevocably moving towards a clean, cheap and reliable energy system. Over the past decade, the costs of generating solar energy have plummeted by 80%. Morocco, Mexico, Chile and Egypt are producing solar power for 3 US cents or less per kilowatt hour — cheaper than natural gas. Installations are growing. Today, more than 50% of new capacity for generating electricity is renewable, with wind and solar doubling every 4 year…. Coal is being priced out. A record number of US coal-fired power plants will be retired this year, even relatively new ones… Rising emissions are of grave concern. But the low-carbon transition is snowballing, bowled along by the underlying economics."
"Trump Aims to Lift Hurdle to Coal Plants No One Wants to Clear" [Bloomberg]. "The Trump administration is removing a key barrier to constructing new coal-fired power plants in the U.S. — but don't expect any utilities to actually build them….. Although that regulatory mandate was one obstacle to building coal power plants, economic and market realities have created much higher hurdles, which analysts say will endure no matter what the Trump administration does." • So Trump is evil signaling?!
"As De Blasio Touts Climate Change Divestment, NYC's 'Designated Banks' Continue To Invest In Fossil Fuels" [Gothamist]. "But nearly one year after the initial divestment pledge was made, the city is still doing business with the institutions directly responsible for the climate crisis. Rather than hastening the move toward green investment, big banks are ramping up their fossil fuel investments, while collecting billions of dollars in cash deposits from the New York City government."
"Cargo shipper Maersk pledges to cut carbon emissions to zero by 2050" [UPI]. ""We will have to abandon fossil fuels. We will have to find a different type of fuel or a different way to power our assets. This is not just another cost-cutting exercise. It's far from that. It's an existential exercise, where we as a company need to set ourselves apart," Maersk CEO Soren Toft told the Financial Times on Tuesday."
"The Blob hides in the deep" [GeoSpace]. "Marine heatwaves are not new. But heatwaves are getting more intense and more frequent with a changing climate. Over the fall and winter of 2013 and 2014, satellites detected above normal temperatures in the surface waters of the northeast Pacific. At its peak, the mass of warm water—nicknamed "The Blob"—had water temperatures up to 3 degrees Celsius warmer than normal and covered an area larger than Australia. Scientists repeatedly thought the marine heatwave was abating when satellite observations of sea surface temperatures moderated after winter storms. But satellites cannot measure temperatures below the surface. '[The new] work highlights that you cannot effectively monitor the ocean with just satellites,' says Jennifer Jackson, an oceanographer with the Hakai Institute. Jackson and colleagues showed what satellites missed—that substantial heat remains at depth." • Oh dear.
"Billions of Ocean Nanoplastics Can Get Lodged in Sea Creatures in Only a Few Hours" [Motherboard]. "In less than the span of a workday, nanoplastics in water can make their way into organisms, a new study shows. In just six hours, scallops placed in water spiked with plastic nanoparticles had billions of particles throughout their major organs." • Eesh.
Water
"Your water footprint is just as important as your carbon footprint" [Quartz]. "The average American water footprint is 7,800 liters per day. Compare that with Germans who have a water footprint of 3,900 liters or the Chinese with 2,900 liters. Before you buy your next new outfit, pre-order an upcoming mobile phone, or buy more food than you can eat, consider how your water footprint will grow with these purchases." • Be a better consumer. Oh.
Gunz
"Mother shoots son who pulled out samurai sword during argument, Fort Worth police say" [Dallas News]. The only thing that will stop a bad son with a sword is a good Mom with a gun.
Our Famously Free Press
"Why I Started Blogging" [Inside Higher Ed]. "I cannot recommend blogging strongly enough as a practice which will enhance your work, whatever your work may be…. Everyone should blog. Better yet, everyone should work under conditions which makes blogging possible. If we do that, lots of other things become possible as well." • #JobsGuarantee….
"Scientific communication in a post-truth society" [Proceedings of the National Academy of Sciences]. "Distrust in the scientific enterprise and misperceptions of scientific knowledge increasingly stem less from problems of communication and more from the widespread dissemination of misleading and biased information. We describe the profound structural shifts in the media environment that have occurred in recent decades and their connection to public policy decisions and technological changes. We explain how these shifts have enabled unscrupulous actors with ulterior motives increasingly to circulate fake news, misinformation, and disinformation with the help of trolls, bots, and respondent-driven algorithms. We document the high degree of partisan animosity, implicit ideological bias, political polarization, and politically motivated reasoning that now prevail in the public sphere and offer an actual example of how clearly stated scientific conclusions can be systematically perverted in the media through an internet-based campaign of disinformation and misinformation. We suggest that, in addition to attending to the clarity of their communications, scientists must also develop online strategies to counteract campaigns of misinformation and disinformation that will inevitably follow the release of findings threatening to partisans on either end of the political spectrum."
Imperial Collapse Watch
Xmas lights:
Finished decorating for the holidays, Rudolph has nothing on this B-52!
Anything to add about Santa this year @Whiteman_AFB? pic.twitter.com/xRrc2hm7Il

— B-2 Pilot (@PilotB2) November 29, 2018
Class Warfare
"Five-Year Trends Available for Median Household Income, Poverty Rates and Computer and Internet Use" [United States Census Bureau]. " Some highlights from the report include that, when comparing the 2013-2017 period to the 2008-2012 period, median household income increased in 16.6 percent of all counties (521 counties) between the 2008-2012 period and the 2013-2017 period while poverty declined in 14 percent of all counties 441 counties). Alternatively, when comparing the same time periods, median household income declined in 222 counties (7.1 percent) and poverty rates increased in 264 counties (8.4 percent)."
News of the Wired
"The Last Curious Man" [GQ]. "Gabrielle Hamilton (owner and chef, Prune): [Tony Bourdain] was an awkward dude. When he's on, you know, he can perform. And perfectly. But I think he has social anxiety. I know he does. Tony's famously like, 'Just don't leave my side. We're about to walk into this room, and there's gonna be 450 people in it. And they're all gonna say hi to me, and can you not be far?'" • I'm probably the last person in the world to have read Kitchen Confidential, but I still think it's great.
"The Hippies Were Right: It's All about Vibrations, Man!" [Scientific American] (DL). Big if true.
* * *
Readers, feel free to contact me at lambert [UNDERSCORE] strether [DOT] corrente [AT] yahoo [DOT] com, with (a) links, and even better (b) sources I should curate regularly, (c) how to send me a check if you are allergic to PayPal, and (d) to find out how to send me images of plants. Vegetables are fine! Fungi are deemed to be honorary plants! If you want your handle to appear as a credit, please place it at the start of your mail in parentheses: (thus). Otherwise, I will anonymize by using your initials. See the previous Water Cooler (with plant) here. Today's plant (via):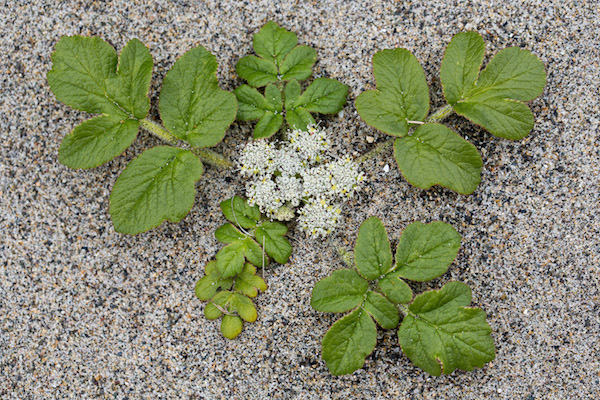 Glehnia littoralis leiocarpa.
* * *
Readers: Water Cooler is a standalone entity not covered by the annual NC fundraiser, now completed. So do feel free to make a contribution today or any day. Here is why: Regular positive feedback both makes me feel good and lets me know I'm on the right track with coverage. When I get no donations for five or ten days I get worried. More tangibly, a constant trickle of small donations helps me with expenses, and I factor that trickle in when setting fundraising goals. So if you see something you especially appreciate, do feel free to click below! (The hat is temporarily defunct, so I slapped in some old code.)
Or Subscribe to make a monthly payment!