By Lambert Strether of Corrente.
Trade
"Lingering tariffs on steel and aluminum could are a huge obstacle for congressional passage of the U.S.-Mexico-Canada Agreement next year. Lawmakers on both sides have expressed displeasure that the duties remain in place despite a new NAFTA deal, with American industries and agriculture still taking hits from the two U.S. neighbors' retaliatory tariffs on more than $15 billion worth of U.S. goods… Negotiations to lift the tariffs, and likely replace them with quotas, are expected to continue this week" [Politico].
Politics
"But what is government itself, but the greatest of all reflections on human nature?" –James Madison, Federalist 51
2020
"He's running. She's running. Everyone's running." [The Week]. "Well, if you thought the GOP's 2016 clown car was too crowded, wait till you see the Democrats' 2020 crew. By my count, no fewer than 30 people could end up running for the Democratic nomination in 2020. Maybe the early forums and debates can make use of risers — you know, the kind you see at choral concerts, with 10 or so candidates standing side-by-side three rows deep…. The 2020 race for the White House may turn out to be bewildering, but it's exceedingly unlikely to be boring." • As I keep saying, expect continued volatility…

"Camille Paglia: 'Hillary wants Trump to win again'" [American Spectator]. Paglia: "If the economy continues strong, Trump will be reelected. The Democrats (my party) have been in chaos since the 2016 election and have no coherent message except Trump hatred… Screechy Elizabeth Warren has never had a snowball's chance in hell to appeal beyond upper-middle-class professionals of her glossy stripe. Kirsten Gillibrand is a wobbly mediocrity. Cory Booker has all the gravitas of a cork. Andrew Cuomo is a yapping puppy with a long, muddy bullyboy tail. Both Bernie Sanders (for whom I voted in the 2016 primaries) and Joe Biden (who would have won the election had Obama not cut him off at the knees) are way too old and creaky…. Given how thoroughly she has already sabotaged the rising candidates by hogging the media spotlight, I suspect she wants Trump to win again. I don't see our stumbling, hacking, shop-worn Evita yielding the spotlight willingly to any younger gal." • Sometime Paglia rises above invecitive. And sometime she doesn't.

"When Barack Met Beto" [New York Magazine]. "We'll have to see if the flirtation of ObamaWorld with Beto O'Rourke waxes or wanes. But if it continues, you could definitely imagine early canvassers for the fluent Spanish-speaking Beto holding signs with United Farm Workers slogan adopted by Obama '08: Si Se Puede!" • Forgotten nothing, learned nothing…
2018
FL: "Confusion clouds restoration of Florida felons' voting rights" [Tampa Bay Times]. "The passage of Amendment 4 by nearly two-thirds of voters ends a system implemented by Scott and Cabinet members in 2011 that required felons to wait five years after completing their sentences before they could apply for restoration of their civil rights, including the right to vote… In Florida, a person who's convicted of a felony still loses the right to vote. The removal process involves a multitude of agencies from court clerks to the prison system to the Florida Department of Law Enforcement, and the due process safeguards involved take more than four months. Counties wanted clear direction from the state. But the state's position is that the Legislature should have a voice — the same Legislature that for decades refused to address the issue of felons' voting rights, which prompted advocates to collect enough voters' signatures to force a statewide referendum, bypassing the Legislature." • Another example of pesky voters being ignored by the powers-that-be.

MI: "Lame-Duck Power Grabs Aren't New, But Republicans in Wisconsin and Michigan Are 'More Aggressive'" [Governing]. "The current bills are part of a recent trend. Legislatures largely controlled by Republicans have been attempting to assert their authority over other branches and aspects of the political process more aggressively in recent years. Legislators have launched attacks on judicial independence, expanding or contracting the size of courts. They've also moved to limit or even overturn laws approved by voters at the ballot. Last week, the Ohio Senate passed a bill that would limit the ways in which courts could interpret statutes. On Monday, Utah GOP Gov. Gary Herbert signed a bill to roll back provisions of a medical marijuana initiative approved by voters last month. On Tuesday, the Michigan House voted to weaken laws enacted in September to raise the minimum wage and require paid sick leave — laws that were passed to stave off ballot initiatives. Legislators have justified their actions by noting that, because they represent relatively small districts, they make up the branch most representative of the public will.'" • Laboratories of democracy….
Bush Hagiography
"Alan Simpson cried while writing George H.W. Bush's eulogy — so he wouldn't cry while giving it" [WaPo]. • No.

"Furloughed Willie Horton Pays Respects At George H.W. Bush Funeral" [The Onion]. • That's more like it.
Realignment and Legitimacy
"The Democrats' Hispanic Problem" [Politico (RH)]. "Parra, the Democratic strategist who used to work for Harry Reid, says his party 'always expects demography to float our boat,' instead of making a real effort to engage Hispanics on issues they care about…. The good news for Republicans in 2018 was that they improved on their performance from 2016 in all kinds of Hispanic communities. At the Bob Graham Education Center in Miami Lakes, named for the white Democratic icon whose family built that heavily Cuban and Republican city, Trump won the precinct by 30 points. But DeSantis and Scott each won it by 40. At Felix Varela High School west of Miami in the heavily Colombian neighborhood of The Hammocks, Scott lost by 25 points and DeSantis lost by 26 points, but Trump had lost by 34 points. The potentially bad news for Republicans in 2020 is that Trump will be back on the ballot, and it's not clear how much of their improvement in 2018 was a result of his absence."

"Jeffrey Epstein and the Decline of the American Experiment" [Vanity Fair]. Concluding paragraph: "All of this is enough to turn some of us into tricoteuses, eagerly picturing a tumbrel of Davos panelists on its way to the Place de la Concorde. But history has some harsh lessons for revolutionaries. It also has only bad reviews for drain-the-swamp movements or Maoist-stye "anti-corruption drives," because governing by campaigns rather than law makes things even worse. (If #MeToo has a vulnerability, it is that its nature as a mass movement has supplanted the formation of something consistent and systematic.) It's mighty unsatisfying to say, but steady, boring structural amelioration, plus insistence on equality under the law, is probably our best hope. We could start by making sure rich crooks go to jail when they commit crimes. If we felt more ambitious, we could also make a habit of examining all our policymaking, whether in education or immigration or regulation, with an eye to its effects on social trust—so hard won, so easily lost. It might allow us to produce elites worthier of their positions, and tomorrow's Americans could regain some of what today's have squandered. But, boy, have we left them a lot to clean up."
Stats Watch
MBA Mortgage Applications, week of November 30, 2018: "Driven by the third consecutive weekly drop in interest rates, mortgage activity increased" [Econoday].
Commodities: "Congo declares cobalt 'strategic', nearly tripling royalty rate:" [Reuters]. "Democratic Republic of Congo has declared cobalt a "strategic" substance, a government decree showed on Monday, nearly tripling the royalty rate miners will pay on the key component in electric batteries to 10 percent…. Before they were designated "strategic", the minerals were all subject to a royalty rate of 3.5 percent. That was already an increase over the 2 percent rate in Congo's previous mining code, which was in effect until June. Congo is Africa's top copper producer and mines more than 60 percent of the world's cobalt." • Love the photo of the "artisanal miner."
Tech: "Does 'don't be evil' still apply, Google?" [Editorial Board, WaPo]. "The Intercept reported last week that leaders at Google tried to push Project Dragonfly, the company's development of a censored search engine for the Chinese market, while keeping it as quiet as possible — and that they tried to sideline the typical privacy review process to do it. Days before the Intercept published its reporting, hundreds of employees publicly signed on to a letter calling on Google to drop Dragonfly. Now, staffers have raised more than $200,000 in pledges to fund a possible strike… By protesting a closed-off effort to bolster a closed-off system, employees are proving they remain committed to . Executives should show they are committed, too." • I confused my ginormous monopolies there, reading the headline, and for a moment I thought the worms on WaPo's Editorial Board had turned; but no. But does the board really think that Google and Amazon have different "aniimating principles"? Big if true.
Tech: "Reddit cofounder Alexis Ohanian issued an ominous warning for Facebook: 'We've hit peak social'" [Business Insider]. "When asked whether he was referring to Twitter, Ohanian said: "All of them. Social media as we know it, Twitter, Facebook, Instagram, all these.""
Finance: "Hedge Fund Dream Job Is Vanishing [Bloomberg]. "Analysts as young as 30 are facing what they might call 'headwinds' in a changing Wall Street. Automated trading, a world awash in data and passive investing have made stock pickers less influential. Hedge fund fees are down, making analysts targets for cuts. European regulations have put researchers out of work. And in a 10-year bull market juiced by the Federal Reserve's low rates and bond buying, insights more expensive than 'buy the dip' cost too much." • What a shame.
Honey for the Bears: "October 2018 Leading Index Review: Generally A Slowing Rate of Growth" [Econintersect]. "At this point, Econintersect continues to see NO particular dynamic at this time which will deliver noticeably better growth in the foreseeable future – and the majority of the [Philadelphia Fed's Leading Index and all major leading indicators] are forecasting slowing rate of growth."
Gaia
"Oakland Faces Lawsuit Over Obstruction of Coal Shipping" [Courthouse News]. "[Oakland Bulk & Oversized Terminal (OBOT)] developers – including Phil Tagami, a friend of Gov. Jerry Brown – want to haul coal by train from nearly 1,000 miles away in Utah and ship it to Asia through the $250 million facility. The terminal is being built next to the Port of Oakland and would be capable of exporting up to 10 million tons of coal annually, making it the largest coal export terminal on the West Coast. But in June 2016, the Oakland City Council passed two measures prohibiting the storage and handling of coal and petroleum coke at any bulk-materials facility in the city after multiple studies found coal dust blowing off trains can cause asthma or cancer, and that emissions from the terminal would worsen air quality in West Oakland, a community primarily composed of low-income people of color that already suffers from some of the worst air quality in California due to its proximity to major freeways and the port. The new regulations brought the project to a halt…. OBOT's developers have invested more than $30 million in the project and will suffer more than $100 million in damages if they can't complete it. They want court orders forbidding Oakland from interfering with the project and requiring it to fulfill its obligations under the contract." • More like this please. (Note that the OBOT opponents lost the first case because they got the arithmetic wrong on a science issue. If you're an activist, you've got to get the science — and the law — right. You've got to be better than the corporations and the State; unfair, but so is life. Fortunately, ordinary people have done this again and again.)
MMT
On a post-card:

Good summary of Modern Monetary Theory. pic.twitter.com/MKlZgKqctb

— Richard Tye (@widespreadhaze) December 1, 2018
Health Care
"Why Do Hospitals Hate Sleep So Much?" [Kevin Drum, Mother Jones]. "The whole point of hospitals is to care for sick people, and getting adequate sleep is a critical part of recovery. So why would every part of every hospital be designed without the slightest consideration of sleep?… solutions aren't hard to fathom. In fact, they're trivially easy to figure out. This is why hospital routines strike me as deliberate negligence: they could only be put in place by administrators who literally don't care about anything except the convenience of doctors." • Or, possibly… profit?
"Medicare for All Is Even Better Than You Thought" [Jacobin] (original). "Previous estimates suggested that Medicare for All would save $2 trillion. But it's even better: a new study finds that Bernie Sanders's bill would save $5.1 trillion — while providing universal, comprehensive coverage."
Neoliberal Epidemics
"Lawler: US Death Rate Up, Life Expectancy Down in 2017" [Calculated Risk]. "What is especially striking about this table is the sharp increase in death rates among 25-44 year old over the last five years." • I don't want to be cranky about this, but could McBride at least have mentioned income and education, proxies for class? Demographics isn't the magic key that unlocks every door! That said, demographics are important, and McBride has this to say on the National Center for Health Statistics (NCHS) data:
First, there is obvious "mistake" in the Census 2017 projections for "infant" deaths. Second, the Census 2017 death projections for 15-84 year olds for calendar year 2017 (approximated in the above table) were a whopping 170,424 below actual deaths for this broad age group. The Census 2017 death projections for subsequent years have the same "issues," overstating infant, child, and 85+ deaths and significantly understating likely deaths for all other age groups. These "issues" make the Census 2017 population projections of little use for those who use population projections to forecast key economic variables such as labor force growth, household growth, etc.
Couldn't those "optimistic, diverse, dynamic, moving forward" places get to work on this? I mean, what sort of monsters preside over a population where falling life expectancy has become the, er, norm?
Class Warfare
"Nation's First Charter School Strike Halts Classes for 7,500 Chicago Students" [Governing]. "Hundreds of educators at Chicago's Acero charter schools walked off the job Tuesday morning, halting classes for 7,500 predominantly Latino students and launching the nation's first strike over a contract at the independently operated campuses…. The CTU has said key issues include reduced class sizes, maternity and paternity leave, a revamped teacher evaluation system and better pay. The union said they were also unable to secure commitments on special education services and guaranteed protections for undocumented students and families."
"Venture Capitalists Are Taking $18-an-Hour Jobs to Understand the Gig Economy" [Bloomberg]. "As startups that rely on contract staffers reach ever higher valuations, VCs and bankers alike are trying their hand at the workers' side of companies' apps—running errands, shuttling cargo, and the like. The benefits of afternoons spent sorting other peoples' laundry, say acolytes of the strategy, can mean the difference between cinching the deal and losing it, or understanding the way the business works and getting it wrong." • Can't they hire this done?
News of the Wired
"Are There Bacteria in Your Brain?" [Nautilus]. "What do we know about gut-brain behavior? You can manipulate behavior and cognition and even structure with the microbiome. If you take germ-free mice, which have no microbiome, and colonize them with regular mice feces using a fecal transplant, a lot of their behavioral symptoms will become ameliorated. And if you put H. pylori bacteria into mice, they develop new cognitive and behavioral problems. The fecal microbiota (which is the gut microbiota obtained from feces) is different in people with different illnesses. People with Parkinson 's have a different microbiota than people who don't have it." • I'm seeing real commercial possibilities here…
"Tumblr's anti-porn algorithm is flagging basically everything as NSFW" [Daily Dot]. "Tumblr and Twitter are already full of screencaps showing random posts mislabeled as explicit material. In some cases, you can kind of see how the mistake happened (for instance, art with partial but non-sexual nudity, or images that a bot might mistake for a human body), but there's also a ton of content that appears to have been flagged at random. Some are G-rated or abstract art, which suggests an immediate problem for the many illustrators who use Tumblr as a portfolio site. Others are everyday photos like this person's gallery of dinosaur pics. There are also examples of potentially NSFW content that escaped the algorithm, while family-friendly posts got flagged on the same blogs. For instance, artist Erika Moen (who is known for her sex education comic Oh Joy Sex Toy) noticed that her fully-clothed selfies had been flagged as explicit, but her photos of dildos had not…. Meanwhile, the site's contingent of Nazi bloggers remains relatively unscathed." • Sounds legit.
* * *
Readers, feel free to contact me at lambert [UNDERSCORE] strether [DOT] corrente [AT] yahoo [DOT] com, with (a) links, and even better (b) sources I should curate regularly, (c) how to send me a check if you are allergic to PayPal, and (d) to find out how to send me images of plants. Vegetables are fine! Fungi are deemed to be honorary plants! If you want your handle to appear as a credit, please place it at the start of your mail in parentheses: (thus). Otherwise, I will anonymize by using your initials. See the previous Water Cooler (with plant) here. Today's plant (PlutoniumKun):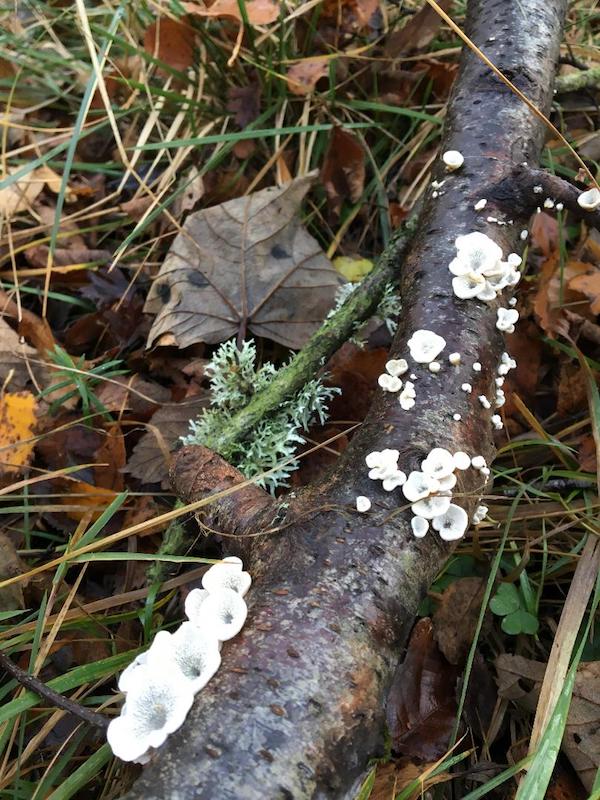 A tapestry of the forest floor.
* * *
Readers: Water Cooler is a standalone entity not covered by the annual NC fundraiser, now completed. So do feel free to make a contribution today or any day. Here is why: Regular positive feedback both makes me feel good and lets me know I'm on the right track with coverage. When I get no donations for five or ten days I get worried. More tangibly, a constant trickle of small donations helps me with expenses, and I factor that trickle in when setting fundraising goals. So if you see something you especially appreciate, do feel free to click below! (The hat is temporarily defunct, so I slapped in some old code.)
Or Subscribe to make a monthly payment!