P-64, the mountain lion known for his successful freeway crossings, found dead after surviving Woolsey fire Los Angeles Times :-(
'Make better choices': Endangered Hawaiian monk seals keep getting eels stuck up their noses and scientists want them to stop Washington Post. NT: "A species even stupider than humans."
Fraser River chinook critical to orcas are in steep decline, new research shows Seattle Times (furzy) :-(
World's First Insect Vaccine Could Help Bees Fight Off Deadly Disease NPR (David L)
Listen to the soothing sounds of Martian wind collected by NASA's InSight lander Techcrunch
We Asked 105 Experts What Scares and Inspires Them Most About the Future Motherboard (resilc)
MIT researchers create a robot houseplant that moves on its own engadget (Dawn M)
Should you pass on the meat and reach for the muffins instead? Psychology Today (Guardian "report" and original study). Martha r: "The funniest and clearest debunking of a crap diet study by elite "scientists" that i have yet to see."
Researchers Decry "Misrepresented" Findings in Fuel Efficiency Rollback Plan Scientific American (Robert M)
Bitcoin falls 10% as bad news descends like 'cockroaches coming out of a hole' MarketWatch (EM)
California Gives Final OK To Require Solar Panels On New Houses NPR
UPS Tries Delivery Tricycles As Seattle's Traffic Doom Looms Wired
Huawei
Canadian Prosecutor Lays Out U.S. Allegations Against Huawei CFO Wall Street Journal. This story isn't paywalled and has a detailed summary of the bail hearing. The points that struck me:

….the warrant for Ms. Meng's arrest was issued by a court in New York on Aug. 22 of this year….

Mr. Martin, the attorney representing Ms. Meng, said she isn't a flight risk, saying that she would never breach a court order.

"You can rely on her personal dignity," he told the court, adding that she also would not flee because it would "humiliate and embarrass" her father, "who she loves."

Huawei executive accused of hiding connection to firm violating U.S. sanctions, B.C. court told Globe and Mail (Marshall). Key section:

Final approval to extradite Ms. Meng will be up to Justice Minister Jody Wilson-Raybould if the judge rules in favour of U.S. prosecutors. Ms. Meng, however, could appeal, which could delay a decision for years.
France: Macron scrapping fuel tax is 'not enough,' says man who inspired Yellow Vests DW
Brexit
From guurst. Be sure to watch the clip. It has an even more deadly quote:

"I think you would mess it all up for us, the way you have messed it all up for yourselves."

Heidi Nordby Lunde, president of Norway's European Movement, is sceptical about calls for the UK to strike a Norway-style deal with the EU. pic.twitter.com/uEpiO3yXPp

— Channel 4 News (@Channel4News) December 7, 2018

Theresa May told to quit by Cabinet ministers if her Brexit deal falls and she fails to get better terms from EU Telegraph

No-deal Brexit: Disruption at Dover 'could last six months' BBC. I have trouble understanding why six months. The UK's customs IT system won't be ready and there's no reason to think it will be ready even then. I could see things getting less bad due to adaptations but "less bad" is not normal

The Great Brexit Breakdown Wall Street Journal. Some parts I quibble with, but generally good and includes useful historical detail.

British MP suggests threatening Ireland with food shortages over Brexit, Twitter outrage follows RT (kevin W)

It's crunch time for Labour. Empty posturing on Brexit will no longer do Guardian. Shreds the Corbyn op-ed we criticized yesterday.

BREAKING: UK exhausted from endless stream of Brexit bollocks so here's a picture of some puppies. pic.twitter.com/nR9mMVbz5k

— Have I Got News For You (@haveigotnews) December 6, 2018
Big Brother is Watching You Watch
Trump Transition
Mueller says Manafort lied about contacts with Trump officials The Hill

Tucker Carlson: «Trump is not capable» Weltwoche (Anita)

Cohen's Leniency Bid Fails; U.S. Seeks Significant Jail Time Bloomberg
Dems Who Rejected Corporate PACs Took Money from Corporate-Funded NewDemPAC Sludge. Martha : "Packed with facts. Lists of candidates and donors quite detailed.".
A Black Perspective on GHW Bush Bruce Dixon, Black Agenda Report (Glenn F)
If @BlackSocialists weren't championing a message of truth for The People their campaign to raise $$$ would be a dud. But LOOK!! Look at what avg, ordinary ppl hav done for them!! They've dug down deep & given of what little they had to help @BlackSocialists make a difference!! https://t.co/6Ga0ZYiRW5

— Kate "For the Love of Humanity VOTE" Martin ??? (@K810Mt) December 7, 2018
L.A. County Sheriff's Department suspends operations by unit that stopped thousands of innocent Latinos on 5 Freeway Los Angeles Times
Jennifer Siebel Newsom could be California's 'first partner' Mercury News. EM:
This perfectly captures the kind of substance-free identity-political virtue signaling today's corporate Big Dollar Dems specialize in. Note that 'partner' even sounds like a corporate term. One wonders whether the Newsoms had the minister who officiated their wedding replace the word 'union' with 'merger'.
Fake News
Former diplomat challenges 'fake' Guardian claims about Julian Assange meeting Paul Manafort The Canary (furzy)
Facebook to buy back additional $9 billion of shares Reuters
Millions of Americans Could Face Surprise Emergency Room Bills in January Bloomberg. Gah.
Bitter end to dismal week on Wall Street Financial Times
From Nixon to Trump: Here's how stocks performed under each U.S. president Yahoo (resilc)
Uber Lays Groundwork for IPO Wall Street Journal
Congress may have accidentally freed nearly all banks from the Volcker Rule Yahoo (furzy)
US Regulators Have Essentially Become Do-Nothing Institutions ProMarket (Asher)
Class Warfare
Antidote du jour (martha r):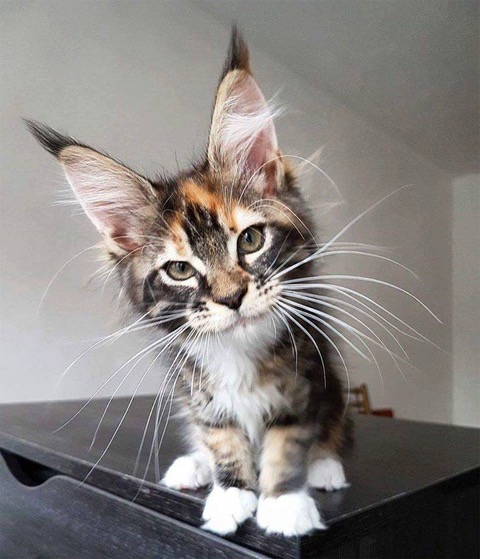 Bonus video. Robert H: "Household tips and cats – antidote bonus." Moi: "What chill cats."
See yesterday's Links and Antidote du Jour here.