By Jerri-Lynn Scofield, who has worked as a securities lawyer and a derivatives trader. She is currently writing a book about textile artisans.
I thought a couple of days after the weekend launch of Blue Planet II — a documentary I've yet to watch – might be an apt time to discuss efforts to make the fusion industry more sustainable, and less wasteful. The initial Blue Planet did much to alter public opinion towards waste – particularly the plastics problem .So I'm looking forward to the sequel.
Introduction to Sustainable Fashion
First off, I recommend  a long-read in Anthropocene, Keeping Clothes Out of the Garbage – particularly for readers new to the sustainable fashion beat. This article begins with some history – how in the last sixty years or so, we've come to gorge on cheap, shoddy, disposable clothing imports – rather than quality, locally-sourced  products that last. Fashion's waste problem  incorporates many different elements, beginning at the production stage, and extending through the many carbon-spewing activities that transport clothes to customers. Within my lifetime, the US once had a sizeable textile and apparel industry — 1 out of 8 jobs when JFK became President, IIRC, was in these sectors. Now, alas, these items are made elsewhere and imported.
One thing I found disturbing was the environmental impact the clothing industry will have by 2025  if 80% of emerging markets attain Western per capita consumption levels.
Figure 1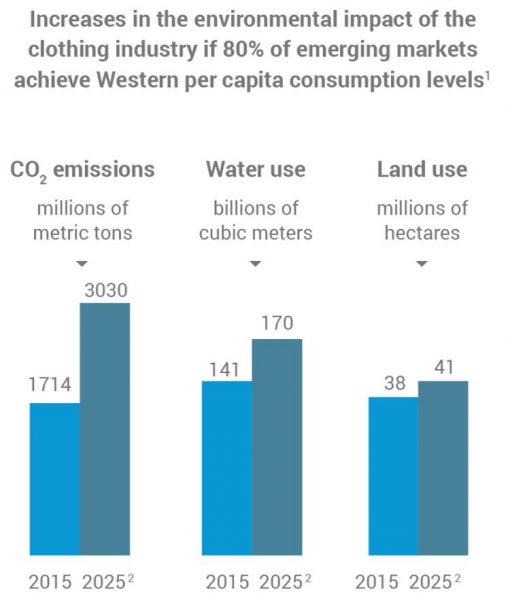 Source: Anthropocene, Keeping Clothes Out of the Garbage.
The article also includes lots of interesting detail on industry efforts to reduce fashion  waste. I think I'm reasonably familiar with this topic, and the article introduced me to many things I didn't know. Not to mention,  it's also well-written. So, if you're looking for an for a good introduction to fashion and sustainability,  start here. And if you already know something about this area, I think this piece is also well worth your time.
Clothes From Waste
The second phenomenon I wanted to discuss is another Blue Planet Effect: creating clothes from discarded plastic. a described in a recent Guardian article, Trawling for trash: the brands turning plastic pollution into fashion:
Brands including Gucci, Stella McCartney and Adidas are increasingly partnering with organisations such as Parley for the Oceans – which raises awareness of the destructive effect of ocean plastics – and sourcing materials regenerated from companies such as Aquafil, the textile manufacturer that transforms ocean waste into sustainable materials such as Econyl.

Last month, 4,000kg of discarded fishing nets were recovered from waters off the coast of Sicily by Healthy Seas, a joint-venture by non-governmental businesses, before being sent to a recycling plant in Slovenia. It is there that Aquafil spins it into sustainable material for use by the fashion industry.

Richard Malone, a former Central Saint Martins fashion student and now rising star in the designer world, is a leading adopter of Aquafil's materials. His most recent collection for London fashion week, available early next year, featured outfits made from Econyl and was praised by Vogue as "changing all the conversations about who buys and why".

"The fishing nets were extremely exciting," Malone said. "Tonnes are discarded in our oceans every year and [Aquafil's process] create an eco-nylon yarn that can be broken back to yarn again and again and reused, as well as create really beautiful, functional fabrics like sportswear and washable jerseys."

The growing trend for recycling ocean waste and turning it into fashion is, according to the Future Laboratory researcher Rachael Stott, "a definite Blue Planet effect".
These efforts are interesting, to be sure, but given the volume of plastics discarded each year, I wonder whether they are more than mere feel-good gimmicks, that only reuse a very small part of what goes into the oceans each year. According to the Guardian:
At Moshi Moshi Mind, the Danish fashion brand that opened its first UK store last month, the star of the season is a £255 winter coat that looks and feels like a traditional down padded coat yet is made entirely from plastic bottles retrieved from the sea. "The fabric is very fine and that has its own [design] challenges, but the idea is to learn and get better with time as we believe this is a long-term strategy," said the label's owner, Jenny Egsten-Ericson.
Stella McCartney – a long-term champion of sustainability in fashion – is going one step further and encouraging people not to buy new clothes at all, but to exchange, recycle, and repurpose existing garments, as discussed further in this TreeHugger piece, How Stella McCartney is encouraging people not to buy new clothes but instead to embrace the circular economy:
Maybe one of the most efficacious changes would be to eliminate fast fashion. But in the meantime, here's another idea: Embrace a circular economy by buying second-hand clothes – which is where Stella McCartney and resale consigner The RealReal come into the picture.

McCartney and The RealReal have had a partnership to drive consumers to participate in a circular economy through consignment – a partnership that has proven so successful that they have just announced they will be extending it through 2019. For those unfamiliar with The RealReal, it's the beloved-by-many online consignment site (with brick and mortar stores in New York and Los Angeles) where customers can sell and buy previously owned high-end apparel. The offerings are vast, everything is authenticated, and the process of both selling and buying really could not be easier.

The partnership provides incentives to help keep Stella McCartney items out of landfills by giving them a second life through resale. The partnership has yielded great results year over year, with The RealReal consignors of Stella McCartney items increasing by 65 percent and the number of Stella McCartney items consigned increasing by 74 percent.
MIT Fashion Show
Finally, I wanted to close by featuring a fashion show recently held at MIT, to transform trash into fashion, as The Tech reported in One designer's trash is another's treasure:
With the fashion industry leaving one of the largest global footprints in the world, UA Sustainability seeks to raise awareness for environmental issues in its student body. And what better way than a fashion show? Last Friday, the seventh annual Trashion Show took place in Walker Memorial. It was organized and hosted by UA Sustainability to promote waste reduction and sustainability on the runway. The show featured the creative styles of 17 designers, and 19 models strutted down Morss Hall wearing trash and various plastics, metals, paper, and recyclable materials not usually associated with high couture.

Sam Magee, Jessica Rosencrantz '05, and Professor John Fernandez were judging to decide the top three designs and the "Next Top Model." Rosencrantz '05 was an  undergraduate at MIT, majoring in biology and architecture, co-founded Nervous System, and is now working as a designer and artist. Sam Magee is manager of the student arts programs including the Arts Scholars, the Creative Arts Competition, the MIT START Studio, and the Grad Arts Forum. "It's always a blast to judge this," Magee said during the show. Finally, Fernandez is a professor in the Department of Architecture and Director of the Environmental Solutions Initiative. He discussed plans to highlight some of the Trashion Show designs during Earth Day Week.

The elegant black mermaid dress ("Curtain Call") was stunning, resembling a well-fitting dress despite being made from a reused trash bag, curtain, zipper, and snaps. I wasn't alone in my opinion; the design won the Audience Choice Award that night.
Takes me back to my undergrad years – peak Punk period – when women wore black trash bags, but not for 'sustainable' reasons.