Dear patient readers,
So so sorry, but as we announced in a post that is already up, we are cancelling our NYC meetup that had been set for this Friday, the 18th. Some readers said they will still go to the venue, Slainte, at 304 Bowery, informally. Normally I would come out, but I haven't left the house for days except to go to the drugstore to try to get some OTC relief from the flu.
Yves
* * *
By Lambert Strether of Corrente.
Politics
"But what is government itself, but the greatest of all reflections on human nature?" –James Madison, Federalist 51
2020
Harris:

One nation under a groove
Gettin' down just for the funk of itpic.twitter.com/C2kZrCaphy

— Kamala Harris (@KamalaHarris) January 15, 2019

But does she keep hot sauce in her purse?

Gillibrand (1):

Tonight I announced that I'm preparing to run for president, because I believe we're all called to make a difference. I believe in right vs. wrong – that wrong wins when we do nothing. Now is our time to raise our voices and get off the sidelines. Join me: https://t.co/I1vp93u0wh

— Kirsten Gillibrand (@SenGillibrand) January 15, 2019

Good things are good. Gillibrand (2):

somewhat puzzled by the 'young mom' thing, she had her kids at ~37 and 42 respectively. now she's 52 https://t.co/hSWTYd5Hbt

— Elizabeth Bruenig (@ebruenig) January 16, 2019

Motherhood, especially, is good.
2019
AOC on the Finance Commitee:

Personally, I'm looking forward to digging into the student loan crisis, examining for-profit prisons/ICE detention, and exploring the development of public & postal banking. To start. ?

— Alexandria Ocasio-Cortez (@AOC) January 16, 2019

"To start." Accompanied by Rashida Tlaib (MI), Katie Porter (CA) and Tulsi Gabbard (HI). If this personnel change is the result of cutting a deal with Pelosi, I think the deal was a good one (and Pelosi may get more than she bargained for).
New Cold War
Walking back RussiaRussiaRussia?!

After good pushback from @chrislhayes, John Brennan – who called Trump "treasonous" & took credit for helping spark initial Trump-Russia probe – backs off collusion theory ("I don't think I've said that"; "I don't know") & makes clear his concerns are based on Trump's "policies." pic.twitter.com/Fx1MlXCFtP

— Aaron Maté (@aaronjmate) January 16, 2019

On "I don't think I've said that," Brennan either isn't thinking or he's lying:

Donald Trump's press conference performance in Helsinki rises to & exceeds the threshold of "high crimes & misdemeanors." It was nothing short of treasonous. Not only were Trump's comments imbecilic, he is wholly in the pocket of Putin. Republican Patriots: Where are you???

— John O. Brennan (@JohnBrennan) July 16, 2018

"Indict Me, Robert: How Mueller Won the Hearts of America" [Vanity Fair]. • Put down your coffee before reading.
Realignment and Legitimacy
"One Year of Organizing: Notes from Suburban Philadelphia" [Medium]. "At first, I attempted to start a local Indivisible group in my town, but that was quickly thwarted by internal squabblings and uncooperative volunteers, who had no systematic critique of Donald Trump, outside of his dealings with Russia. I was adrift from any organizing, but I increasingly saw the rose ? populate Twitter and other social media: my interest was piqued. I tried to find the local DSA chapter but only discovered that there was a Philadelphia DSA, which covered the counties of Philadelphia, Bucks, Montgomery, Chester, and Delaware. For those not in the SEPA-know, that is a huge area. The closest DSA affiliated group was Arcadia YDSA, whom I contacted on Twitter. One of the chairs of Arcadia informed me that there was going to be a meeting for a 'BuxMont DSA' in the next week. I soon found myself in a raggedy diner, halfway between the county seats of Bucks and Montgomery counties. Around me sat a mix of students, gen-xers, and local Green Party members. I was nervous and felt like I might have been mistaken in coming to the 'meeting' — it was more of a dinner. We went around the table, introducing ourselves and saying what Socialist movement or faction was most interesting to you." • Sounds kinda like an AA meeting, which might not be a bad thing….

Everybody's doin' it, doin' it, doin' it….

Tucker Carlson is now suggesting that the #GreenNewDeal proposed by @AOC, @sunrisemvmt, and @JusticeDems is a plot to benefit Russia and Vladimir Putin. pic.twitter.com/slJEp3KXti

— Waleed Shahid (@_waleedshahid) January 15, 2019

"Poll: A majority of Americans support raising the top tax rate to 70 percent" [The Hill]. • Should have asked for more. And make sure it's the effective rate.
Stats Watch
Housing Market Index, January 2019: "Mortgage rates have been coming down and are likely giving a boost to the nation's home builders" [Econoday]. "Housing was the weakest sector of the 2018 economy though this report hints at an early through modest 2019 rebound. The housing market index is now a key reading for the new home sector given the government shutdown and delay of definitive new home sales data." And: "The National Association of Home Builders (NAHB) reported the housing market index (HMI) was at 58 in January, up from 56 in December. Any number above 50 indicates that more builders view sales conditions as good than poor" [Calculated Risk].
MBA Mortgage Applications, week of January 1, 2019: "Mortgage activity soared" [Econoday]. "Slowing global growth, Brexit and a Fed that says it will be patient with future hikes continued to keep rates more than 40 basis points below their peak in November." And: "The one week seasonally adjusted purchase index is at the highest level since 2010 (that spike in 2010 was related to homebuyer tax credit). It is just one week, and the seasonal adjustment in January is very strong (since activity is always soft in January)" [Calculated Risk].
Atlanta Fed Business Inflation Expectations, January 2019: "Inflation data have been very soft with sweeping declines seen for this week's reports" [Econoday]. "This is the lowest reading since May last year and underscores what may be a disinflationary theme emerging in the economy. These results do not speak to the need for Federal Reserve rate hikes."
Import and Export Prices, December 2018: "import prices were unchanged. Export prices also fell" [Econoday]. "The price rebound underway for oil points to headline firming in this report for January but the fundamental inflation story, like the themes of last week's consumer price report and yesterday's producer price report, remains very subdued and is not raising the need for Federal Reserve rate hikes." And: "Month-over-month price index for fuel imports decreased (and non-fuel imports was unchanged) – and the price index for agricultural exports increased" [Econintersect].
Business Inventories, November 2018: "Delayed due to the government shutdown" [Econoday].
Retail Sales, December 2018: "Delayed due to the government shutdown" [Econoday].
Commodities: "Exclusive: Chile nuclear watchdog weighs probe into fraud over lithium exports – documents" [Reuters]. "Chile's nuclear watchdog CCHEN is considering an investigation into potential fraud after an audit found that the agency for decades failed to properly record exports of ultralight battery metal lithium, documents obtained by Reuters show…. CCHEN in September denied a request to triple production from Albemarle, the world's top producer of lithium, citing, in part, uncertainty over how much lithium the company had already mined." • I wonder if we've factored resource wars into our arithmetic on how much electric vehicles will reduce greenhouse gases.
The Bezzle: "Blue Apron skirts standard-accounting rules to claim profitability" [Francine McKenna, MarketWatch]. "[Blue Apron's] rosy outlook for the first quarter and year is dependent on an adjusted, non-standard method of accounting that ignores chronic losses and declining revenue. By standard accounting, called GAAP, for Generally Accepted Accounting Principles, the results have been dismal, pushing the stock down 60% in the last 12 months…. Rosanna Landis Weaver, program manager, CEO Pay at nonprofit As You Sow, criticized the move. 'They call them "Generally Accepted Accounting Principles" for a reason,' she said. 'There are some limited rationales for straying from them, but for a company with a balance sheet like Blue Apron's to stray so far raises legitimate concerns.'" • But the stock got a bump!
The Bezzle: "WeWork's CEO Makes Millions as Landlord to WeWork" [Wall Street Journal]. "Adam Neumann has bought properties and leased them to his co-working startup, sparking conflict of interest concerns." • Downtown Josh Brown: "Great racket. SoftBank is a SuperMuppet." Uber would agree!
Tech: "Hackers broke into an SEC database and made millions from inside information, says DOJ" [CNBC]. "Federal prosecutors unveiled charges in an international stock-trading scheme that involved hacking into the Securities and Exchange Commission's EDGAR corporate filing system. The scheme allegedly netted $4.1 million for fraudsters from the U.S., Russia and Ukraine. Using 157 corporate earnings announcements, the group was able to execute trades on material nonpublic information. Most of those filings were "test filings," which corporations upload to the SEC's website." • Everything is like CalPERS. Well, not exactly. At least the SEC didn't let its database loose in the wild...
Honey for the Bears: "The White House now thinks the shutdown will be twice as bad for the economy than they originally thought" [Business Insider]. "After a tweak to the internal White House model, the administration now expects that the shutdown will deduct 0.13 percentage points from quarterly GDP for every week the closure persists, a White House official told INSIDER. Most Wall Street economists believe the shutdown will shave off 0.05 percentage points from quarterly GDP growth per week, though some have bumped up their estimates recently. This means that the White House number is more than twice as pessimistic as the consensus. Originally the model only included the lost productivity from 380,000 federal workers placed on furlough. But now the model also incorporates the downsides caused by the loss of revenue to federal contractors…."
Health Care
"2 retail giants are feuding over prescription drugs and it signals a 'seismic shift' for the future of healthcare" [Business Insider]. "CVS has said that directing Aetna customers into its stores to receive healthcare is a major element of the strategy for the combined company, because that can keep them healthier at a lower cost. To make space, CVS is removing some products from the front of the stores where it's piloting that new approach, the company revealed last week." • "Keep them healthier" [nods vigorously].
The Biosphere
"Does talking to people about climate change make any difference?" [Grist]. "[C]losing that gap between admitting there's a problem and being interested enough to act is an endeavor worthy of your precious time. It's cited again and again as the most fallow demographic for climate action — what John Cook at George Mason University's Center for Climate Change Communication calls the 'informed but idle.' 'Activating and empowering this group is one of the most productive things we can do to achieve social momentum on climate change,' he told the website Yale Climate Connections." • Hmm. Anyone with experience on this?
MMT
Speaking of communication:
"A little more than a month ago, Howard Dean had breakfast at the Hotel Vermont in Burlington with Stephanie Kelton…

'I expected some semi-Marxist bullshit," says Mr Dean, "but she's a real thinker.'" https://t.co/q9fcEegNf3

— Luke Kawa (@LJKawa) January 16, 2019
Kelton breaks through the calcified shell of the fossil-like Dean. Impressive.
Police State Watch
"Chicago Seized And Sold Nearly 50,000 Cars Over Tickets Since 2011, Sticking Owners With Debt" [WBEZ]. • "It started with citations for the city road tax collected through 'city stickers.' After failing to keep up with ticket payments, the city seized [Sandra Botello's] car and sold it to a private towing company, only to have none of the sale price applied to her debt. According to a WBEZ analysis of thousands of towing records and invoices, the city regularly pulls residents into a nexus of ticket-related debt and car seizures that is stunning in its scope." • Law enforcement for profit, just as in Ferguson. And a similar grift–
"PPA makes millions ticketing drivers for blocking street sweepers that rarely show" [The Philadelphia Tribune]. "Outside of Dr. Louis Brown's dermatology clinic in Northeast Philadelphia, a string of 'no parking' signs warn drivers to stay off the block on Tuesday mornings. The parking lanes on this stretch of Rising Sun Avenue are supposed to be kept clear so city street sweepers can clean trash out of the curb line between 7 and 9 a.m. Brown, a block captain who's had his business on the street for 25 years, says the $31 tickets his unlucky clients receive from the Philadelphia Parking Authority each Tuesday are very real. But the street sweepers themselves? Not so much. 'It's not to say it isn't done,' he said. 'But I haven't seen them come by in years.'" • Predation, just as above. (But how come a block captain doesn't have the clout to stop this? What am I missing, here?)
"Prison will close to visitors while all 2,000 women treated for scabies" [Detroit Free Press]. "As the problem persisted and spread, an outside dermatologist was brought to the prison a few days after Christmas and began to test women for scabies with positive results…Those findings were recently confirmed by a second dermatologist, after which an epidemiologist recommended the extraordinary measures the prison plans to take this week and next week." • We are ruled by the Harkonnens…
Guillotine Watch
Good taste:
This edible gold chocolate bar tastes like royalty ? pic.twitter.com/9K1Gawc8WS

— FOOD INSIDER (@InsiderFood) January 13, 2019
"Luxury Concierges Offer 'Bespoke Experiences' in Fight For the Ultra-Rich" [Bloomberg]. "Instead of meeting simple requests like last-minute helicopter rides to the Hamptons, "lifestyle managers" must be ready to stun with private tours of the Sistine Chapel or balloon rides over Buddhist temples in Myanmar. And for their increasingly younger customers, all must be instantly available via smartphone…. 'It's fun to say, 'Oh yeah, we had dinner on an iceberg and a cocktail party in the Great Pyramids," said William Reedy, Quintessentially's head of U.S. concierge servicing and a former lifestyle manager himself. 'It's not cool just because it was really expensive, but because it was something no one had thought you could do.'" • "Just because…"
Class Warfare
More on the Gillette episode:
"APA GUIDELINES for the Psychological Practice with Boys and Men" (APA) [American Psychological Association]. Interesting reading:
Despite these problems, many boys and men do not receive the help they need (Addis & Mahalik, 2003; Hammer, Vogel, & Heimerdinger-Edwards, 2013; Knopf, Park, & Maulye, 2008). Research suggests that (Pollack, 1995) (Addis & Mahalik, 2003; Wong, Ho, Wang, & Miller, 2017). Further complicating their ability to receive help, many men report experiencing gender bias in therapy (Mahalik et al., 2012), which may impact diagnosis and treatment (Cochran & Rabinowitz, 2000). For instance, several studies have identified that men, despite being 4 times more likely than women to die of suicide worldwide (DeLeo et al., 2013), are less likely to be diagnosed with internalizing disorders such as depression, in part because internalizing disorders do not conform to traditional gender role stereotypes about men's emotionality (for a review, see Addis, 2008). Instead, because of socialized tendencies to externalize emotional distress, boys and men may be more likely to be diagnosed with externalizing disorders (e.g., conduct disorder and substance use disorders) (Cochran & Rabinowitz, 2000). Indeed, therapists' gender role stereotypes about boys' externalizing behaviors may explain why boys are disproportionately diagnosed with ADHD compared to girls (Bruchmüller, Margaf, & Schneider, 2012). Other investigations have identified systemic gender bias toward adult men in psychotherapy (Mahalik et al., 2012) and in other helping services such as domestic abuse shelters (Douglas & Hines, 2011).
Well… Even if this is psychiatrists talking their book (a jobs guarantee for more members of the helping professions) it's hard to see how (for example) it would be a bad thing if fewer boys were drugged for being boys (ADHD). And a layperson imitating a popular psychiatrists might ponder the spectacle of a gender socialized to refuse help becoming very angry at being told, as they see it, to seek professional help (particularly if, wages and working conditions being as they are, they would be unable to take advantage of it in any case). I also searched the Guidelines for the label "toxic masculinity" — not in DSM-5, for good or ill, and with "no universally agreed-upon definition of the concept" — and it does not appear. So it would seem that the media controversy around "toxic masculintity" is taking place in parallel to the report, rather than as a reaction to it. Without minimizing the badness of whatever behaviors are being grouped together under the label — readers know how much I hate party culture at fraternities, surely a classic example of same — it would seem to me that any socialization practice is going to result in "damage" of some sort, in that the scope of human potential is reduced. Presumbly we do not want men to be (inverting the binaries) needy, weak, and unable to solve problems on their own? If not, what do "we" want? Solidarity, perhaps, but of course that's verboten under neo-liberalism.
And speaking of solidarity:
#giletsjaunes #GilletteAd #Gillette #french #protests pic.twitter.com/Gl1yQmxfQP

— David Hildebrand ? (@David4Progress) January 16, 2019
That was fast.
"The desperate pursuit of woke capital" [The Spectator (Darth Bobber)]. "Increasingly, corporate America is deciding to seek a safe space by becoming 'woke.' Woke capital refers to advertising and branding that takes a stand on social issues. Businesses focus on showing how much they care and highlight themselves helping the world in some way. Whether it's gender rights, anti-racism, environmentalism or vague hymns to global unity, advertisers rarely miss a chance to hit audiences with lines that would be rejected by Hallmark for being too corny." • It's always worth which tropes or topics, having been invented by one faction of the political class, can migrate seamlessly being used by other factions. "Fake news" is one obvious case; RussiaRussiaRussia is becoming another; and wokeness is a third. Indeed, there is only one trope I can think of that does not so migrate: The headine of this section. I can't imagine why some sneaker company hasn't adopted it.
* * *
"Judge Nixes Challenge Over Unpaid Shutdown Work" [Courthouse News]. "Denying federal employees a pass on working unpaid during the government shutdown, a federal judge ruled Tuesday that bending to their demands would be 'profoundly irresponsible' and throw the nation into 'disarray.' 'At best it would create chaos and confusion,' U.S. District Judge Richard Leon said from the bench this afternoon. 'At worst, it could be catastrophic.' Leon acknowledged the difficult position in which the shutdown has placed federal workers, who started missing paychecks last week, but said he could not grant the relief they were after. He said blocking the government from forcing employees to come in without pay could cause major disruptions to crucial government operations. 'It's hard not to empathize with the plaintiffs' positions,' said Leon, an appointee of President George W. Bush. 'They're not the ones at fault here.'" • Empathy won't pay my bills…
"Billionaires vs. LA Schools" [Portside]. "Unlike many labor actions, the Los Angeles teachers' strike is not really about wages or benefits. At its core, this is a struggle to defend public schools against the privatizing drive of a small-but-powerful group of billionaires…. Like the electoral insurgencies of Bernie Sanders and Alexandria Ocasio-Cortez, LA teachers have posed the central question of our time: Who should determine governmental policy — the working class or the rich?" • The squillionaires with bright ideas: The Waltons, Doris Fischer, Reed Hastings, Eli Broad, and Austin Beutner. Stephanie Kelton: "Read on an empty stomach."
"'Tacos for Teachers' GoFundMe feeds striking Los Angeles teachers" [CNN]. "The strike prompted the International Socialist Organization and Democratic Socialists of America to set up the fundraising page to help feed an estimated 32,000 striking teachers and staff members. Campaign organizer Clare Lemlich says the campaign started with the intention of bringing awareness of education issues to the city and to include more locals in the effort." • Sure is weird the Democrat Party can't mobilize to do something like this.
Precarity training:
This Chinese company has a humiliating punishment for employees who fail to meet their targets. pic.twitter.com/vOD7vPFNVC

— SCMP News (@SCMPNews) January 16, 2019
"The Women's March, under pressure from controversy, could implode. Here's why that might be OK" [Yahoo News]. A good piece with a lot of research, well worth a read. "But, [Longtime feminist civil rights activist Jo Freeman] adds, 'All movements are inherently unstable. There's no such thing as a permanent social movement. They rise, they peak, they fall. Instability, divisiveness, that's normal.' When it comes to the instability of the Women's March, however, 'two years is extremely short, when I look back and compare with the movements that I've been a part of. Still, will the thing break up and die? Probably not — the sentiments are too strong. But it could change.'" • It's almost like "movements" aren't about political power. And that is fine, normal, forty years of this, move along, people, move along, there's no story here.
News of the Wired
"The Cult of the Adult" [Six Perfections (DG)]. "The cult of obedience leads to abuse, genocide, environmental devastation, racism, xenophobia, misogyny, #metoo, and all the systemic horrors. Why don't we re-train our kids and adults to question things, to demand accountability and righteousness?" • Good question.
"The curious case of the Raspberry Pi in the network closet" [Christian Hascheck]. • Fascinating that most of the detective work is not technical, but relies on real-world traces left by the attacker.
"Editorial Mutiny at Elsevier Journal" [Inside Higher Ed]. "The entire editorial board of the Elsevier-owned Journal of Informetrics resigned Thursday in protest over high open-access fees, restricted access to citation data and commercial control of scholarly work. Today, the same team is launching a new fully open-access journal called Quantitative Science Studies. The journal will be for and by the academic community and will be owned by the International Society for Scientometrics and Informetrics (ISSI). It will be published jointly with MIT Press. The editorial board of the Journal of Informetrics said in a statement that they were unanimous in their decision to quit. They contend that scholarly journals should be owned by the scholarly community rather than by commercial publishers, should be open access under fair principles, and publishers should make citation data freely available." • Good!
* * *
Readers, feel free to contact me at lambert [UNDERSCORE] strether [DOT] corrente [AT] yahoo [DOT] com, with (a) links, and even better (b) sources I should curate regularly, (c) how to send me a check if you are allergic to PayPal, and (d) to find out how to send me images of plants. Vegetables are fine! Fungi are deemed to be honorary plants! If you want your handle to appear as a credit, please place it at the start of your mail in parentheses: (thus). Otherwise, I will anonymize by using your initials. See the previous Water Cooler (with plant) here. Today's plant (BLCKDGRD):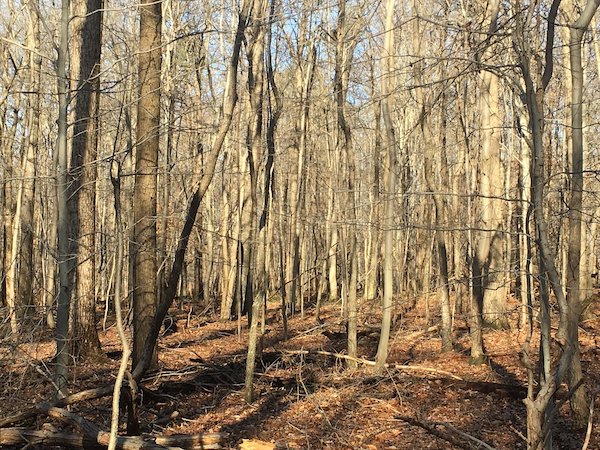 BLCKDGRD comments: "Winter woods still prettiest though the record rain this year deads the colors." One of the ald-school bloggers still standing; always worth a look.
* * *
Readers
: Water Cooler is a standalone entity
not
covered by the annual NC fundraiser, now completed. So do feel free to make a contribution today or any day. Here is why:
Regular positive feedback both makes me feel good and lets me know I'm on the right track with coverage
. When I get no donations for five or ten days I get worried. More tangibly, a constant trickle of small donations helps me with expenses, and I factor that trickle in when setting fundraising goals. So if you see something you especially appreciate, do feel free to click below! (The hat is temporarily defunct, so I slapped in some old code.)
Or Subscribe to make a monthly payment!