By Lambert Strether of Corrente.
Well, here we are in 2019. 2018 was quite a year! I expect continued volatility in all aspects of our political economy. –lambert
* * *
Trade
"US Trade Agenda for 2019 Is Packed" [Industry Week]. "The first quarter of 2019 will be pivotal, as the U.S. and China are trying to deescalate a trade war and Trump will have to decide whether to hit car imports with tariffs…. And: "First half of 2019: Congress may hold an up-or-down vote for the U.S.-Mexico-Canada Agreement, which would replace NAFTA. Senate Majority Leader Mitch McConnell has said a vote is high on the agenda for the new year, though multiple Democratic lawmakers argue the administration needs to go back to Mexico and Canada to negotiate stronger labor and enforcement provisions. Those demands could significantly delay the vote."
"Promised tariff relief for farmers uncertain in government shutdown" [Supply Chain Dive]. "With [USDA's Farm Service Agencies (FSA)] shut down, U.S. farmers have lost their main method of interaction with the federal government. FSA offices were open until Dec. 28, after which they remain closed until a new deal to end the shutdown is reached. With harvests finished now, farmers must decide whether to sell their wares at a historically low prices or store their produce to wait for a more favorable market, assuming that is financially realistic. On top of uncertainty in the promised payouts, the USDA's year-round programs are also suspended including farm lending programs. Plus, many storage facilities and silos are also already full."
"The Making of a Trade Warriot" [The Atlantic]. "Lighthizer believes that the shrinking of the American steel industry isn't a mere by-product of technological shifts, but the result of a war China has been waging for decades. He and his allies think the growing superpower will now take the fight to other U.S. interests, threatening the nation's economic hegemony. Now he's preparing his own battle plan, refined over a career of lobbying. He plans to bend the rules of the global economy in America's favor—even if that means breaking the system America itself created." • This is a very interesting article, using Lighthizer's biography, which spans the neoliberal era, as a lens.
Politics
"But what is government itself, but the greatest of all reflections on human nature?" –James Madison, Federalist 51
2020
"Why We're Not Releasing 2020 Race Ratings Yet" [Nathan Gonzales, Inside Elections]. "I love elections, particularly congressional races, but I'm just not in a hurry to jump to 2020. And I'm completely fine with holding off on releasing our race ratings until next year. If I didn't like elections, I would probably need to take a long look at doing something else with my life…. Whether it's the increased importance of fundraising, the pressure to clear the field of other contenders, or just the constant mandate to "win the day" every day, our election "cycles" are constant…. But the analysis can wait a few weeks." • Hear hear. But since not all agree–

* * *

"The most overrated and underrated 2020 Democrats" [Ryan Cooper, The Week]. Good fun. Dark horses: "1. Oprah. Cost: 3 cents. Verdict: Buy. If there's anything Trump has taught us, it's not to underestimate the power of celebrity." • N-o-o-o-o….

"Axelrod: Why Warren will be such a major player in 2020" [David Axelrod, CNN]. "I served in the White House when Warren, then a special House counsel, was pummeling treasury officials over treatment of Wall Street executives who were culpable in the financial crisis. I saw her inaugurate the Consumer Financial Protection Bureau, the government watchdog that saved billions for consumers before the Trump administration relegated it to the sidelines. She has offered a series of serious ideas about government and Wall Street reform, and is one of the most incisive members of the Senate. Warren also has laid the groundwork for her candidacy more assiduously than most, running an extensive, sophisticated operation in 2018 to help Democratic candidates around the country, even as she ran for re-election to the Senate." • That last point is important. Sanders did the same, but not at the same level.
2019
PayGo (1):

The House needs 18 NO votes to stop PAYGO on Thursday.
There are 2 confirmed NO votes so far. @RoKhanna & @AOC
Let's stop this fiscal madness in its tracks.
We need a flexible budget to rebalance our economy. https://t.co/5UoieCG8xF

— Stephanie Kelton (@StephanieKelton) January 2, 2019

PayGo (2):

If there aren't 18 Dems in the house who vote to block #PayGo, there aren't 18 Dems that really support Medicare4All. #PayGo is the Pelosi plan to stop all progressive goals. https://t.co/1VPrAnMV2S

— Pat the Berner🌹 (@PatTheBerner) January 2, 2019

"Democrats Unveil Changes To House Rules On Debt Ceiling, Ethics" [NPR]. "Democrats are changing the rules regarding motions "to vacate the chair," a procedural tool that could be used to force out a sitting House speaker. It is the procedural weapon that conservatives led by Rep. Mark Meadows, R-N.C., were planning to use to try to oust Speaker John Boehner, R-Ohio, in 2015 before he made the decision to step down. Democrats plan to tweak the rules so that a motion to vacate can only be offered on the House floor if a majority of either the House Republican Conference or the House Democratic Caucus agrees to do so. The change limits the ability of any one member to wreak havoc on the floor and ultimately bolsters incoming House Speaker Nancy Pelosi, D-Calif., against potential agitators in either party." • Indeed.
2018 Post Mortem
"50 Interesting Facts About the 2018 Election" [Cook Political Report]. "20. Finally, a point of curiosity: Democratic U.S. Sen. Elizabeth Warren of Massachusetts did not air a single television ad in her re-election campaign. Her race wasn't competitive – she got 60 percent of the vote. But did she miss an opportunity to make some early gains in her expected 2020 presidential campaign? The Boston media market reaches about one-third of the population in New Hampshire, the home of the first presidential primary. Warren could have aired some positive ads in her re-election campaign that might have had the added benefit of giving her a head start in the "first in the nation" state. It's possible that Warren decided to save her war chest for later; according to her post-election FEC report, she had about $12.5 million in the bank at the end of November."
Realignment and Legitimacy
"Private Equity Controls the Gatekeepers of American Democracy" [Bloomberg]. "Devices made by Election Systems & Software LLC, Dominion Voting Systems and Hart InterCivic Inc. will process about nine of every ten ballots next week. Each of the companies is privately held and at least partially controlled by private equity firms." • There is no reason for these companies to exist. One wonders what HR1 will do about that.

"Tar Heel of the Year: The Rev. William Barber — activist, advocate and preacher" [Charlotte News & Observer]. "'You can't follow Jesus and not say something when you see injustice,' Barber says. 'We're not allowed to stand down and retreat. The prophetic call demands that we say something.."

"Dual Power: A Strategy To Build Socialism In Our Time" [DSA Libertarian Socialist Caucus]. "To accomplish these things as a movement of the working classes in all our variety, we must organize with all who are exploited and oppressed by the capitalist system. That means working together not just in the workplace…" • "Just" is doing a lot of work in that paragraph. How much DSA organizing is really done in the workplace at all?
Stats Watch
Purchasing Managers Manufacturing Index, December 2018: "Report after report are pointing to tangible easing in manufacturing activity and optimism at year-end, the likely result of falling oil prices but also tough comparisons with prior strength" [Econoday]. "This report as well as a run of regional data from Richmond, Kansas City and especially Dallas all point to trouble for December as the manufacturing sector appears to have ended a very strong year on a very soft note."
Capital Investment: "Solid Recovery for Combined U.S. & Canadian Industrial Spending" [Industrial Reports]. "[C]ombined U.S. and Canadian planned capital spending rebounded in November showing $37.18 billion compared to October's $22.81 billion. The research organization reported 204 planned U.S. and Canadian projects in November. Planned U.S. project spending nearly doubled in November with $31.90 billion in planned investment compared to the October total of $17.04 billion. Canadian planned investment showed a small drop in November with $5.28 billion in spending, down from $5.77 billion in October. Projects in both nations ranged in value from $1 million to $10 billion."
Data: "Why the jobs report will continue to be produced even though it relies on the shutdown Census Bureau" [MarketWatch]. "To produce the monthly jobs report, the Labor Department relies on the Census Bureau to conduct the survey of households, which is used to derive the unemployment rate and other key facets of what's called the employment situation report. The Labor Department itself conducts a separate survey of business establishments, which reports on job growth, earnings and other data. The Labor Department is fully funded; the Census Bureau, which is part of the Commerce Department, is not, one of a number of agencies shut due to a lapse of funding while Congress and President Donald Trump argue about funding for border protection. Labor Department spokesman assures that is not a problem. The Labor Department has always paid the Census workers."
Commodities: "The most unexpected prediction is that a sand shortage will "grind the gears" of the global construction industry" [Logistics Management]. "'Urbanization and infrastructure development are resulting in a global shortage of sand, the second most extracted natural resource after water,' states [A.T. Kearney's Global Business Policy Council (GBPC)]. Two-thirds of construction material is concrete, which itself is composed of two-thirds sand." • Hmm.
Commodities: "NYSE warns Wyoming coal producer it could be delisted" [Bozeman Daily Chronicle]. "The Casper Star-Tribune reports the NYSE notified Gillette-based Cloud Peak Energy that it had six months to remedy its low stock price or it would be delisted…. As of September, [the company] employed about 850 miners in Wyoming."
Gentleman Prefer Bonds: "Should Pensions Own Utilities? Congress Has Considered It Before." [Governing]. "This year, a proposed House bill would have cleared the way for pensions to buy municipal assets, such as water and sewer authorities. The idea has advantages for pensions and is likely to be attractive to governments with major pension funding issues. Think: Chicago, Connecticut, Illinois, Kentucky and New Jersey. For one, it would immediately boost the value of the pension fund because the utility's worth would be based on its future revenue expectations. New Jersey did something similar by transferring ownership of its lottery to the state pension fund in 2017. At the time, the lottery was valued at $13.5 billion, which helped reduce — on paper at least — the pension's unfunded liabilities. Proceeds from the lottery also helped lower how much the state had to annually contribute to pensions. Another appealing aspect is the potential benefit to struggling municipalities. Offloading the asset to a pension fund would result in a one-time cash infusion for the local government…. Municipal Markets Analytics' Matt Fabian warns that the idea's attributes are largely based on accounting gimmicks. 'It's only really the appearance of better funding on the assumption that the pension fund could sell the asset,' he says."
The Bezzle: "Lost in space: They paid $100,000 to ride on Xcor's space plane. Now they want their money back" [Los Angeles Times]. "The story of Xcor and its ticket holders — 282 of them, as of the most recent count — is a cautionary tale for the space tourism age. In purchasing tickets for a brief bout of weightlessness at the fringes of space, would-be astronauts are placing the ultimate speculative bet. None of the space vehicles developed by the two major players, Virgin Galactic and Blue Origin, are fully operational yet. But some tourism firms have collected money upfront; Virgin Galactic's price is as much as $250,000. In the case of Xcor, the bet came up snake eyes." And: "When Xcor unveiled its plans for the two-seat Lynx space plane in 2008 at a press conference in Beverly Hills, company officials estimated flight tests would begin in 2010." • Oopsie.
Tech: "YouTube faces backlash on Twitter over lifted, uncredited holiday video" [The Verge]. "When Lily Hevesh opened Twitter and saw YouTube's Christmas video, it looked very familiar. That's because it was her own. YouTube's tweet doesn't credit Hevesh at all, or mention her YouTube channel. The tweet also cuts Hevesh's intro, which acts as a welcome to her channel for those who stumble upon the video. Hevesh's original video, uploaded to YouTube on December 23rd, has just over 60,000 views, but YouTube's lifted version boasts more than 250,00o." • What a nice Xmas gift from the good folks at Google.
Mr. Market: "Here's (Almost) Everything Wall Street Expects in 2019" [Bloomberg]. "Morgan Stanley called theirs The Turning Point. One Bank of America Merrill Lynch note went with The Big Low. Another from JPMorgan opted for Countering the bears. The titles of Wall Street's 2019 investment outlooks say it all: The world's largest banks and money managers are gearing up for the last hurrah of one of the longest bull markets in history. This is the reader's digest of research notes for the year ahead." • Sounds like this is the sort of thing you'll like, if this is the sort of thing you like.
Honey for the Bears: "This month the Econintersect Economic Index (EEI) significantly declined, and is now below territory associated with normal expansions. This is a departure from the previous three months where the index's growth rate was little changed" [Econintersect]. "The economic data produced this month has significantly degraded. This is the nearly the largest single month drop in our index this century. Our major worry is the rapid deceleration of growth in rail transport data – a usual flag for a slowing economy. And then there is housing growth going negative – never a good sign (but this time buyers are not buying because housing is not affordable – time will tell if this could be a recession signal). The forward looking leading and coincident data trends are mostly indicating deceleration of the rate of growth..However, the predictive coincident indices are still showing positive rate of growth trends."
Rapture Index: Unchanged [Rapture Ready]. Record High, October 10, 2016: 189. Current: 183. Remember that bringing on the rapture is a good thing. –>
MMT
"The Minsky Millennium" [Jacobin]. From November, still germane.
Gaia
"How an ant colony remembers" [The Week]. "From day to day, the colony's behavior changes, and what happens on one day affects the next. I conducted a series of perturbation experiments. I put out toothpicks that the workers had to move away, or blocked the trails so that foragers had to work harder, or created a disturbance that the patrollers tried to repel. Each experiment affected only one group of workers directly, but the activity of other groups of workers changed, because workers of one task decide whether to be active depending on their rate of brief encounters with workers of other tasks. After just a few days repeating the experiment, the colonies continued to behave as they did while they were disturbed, even after the perturbations stopped. Ants had switched tasks and positions in the nest, and so the patterns of encounter took a while to shift back to the undisturbed state. No individual ant remembered anything but, in some sense, the colony did." • Another aneural biological cognition system. Perhaps when we speak of, say, the liberal Democrat "hive mind" we are being something more than metaphorical?
"Root branching toward water involves posttranslational modification of transcription factor ARF7" [Science]. "Plant roots grow not in response to architectural blueprints but rather in search of scarce resources in the soil." • Cool.
Health Care
"Democrats Winning Key Leadership Jobs Have Taken Millions From Pharma" [Kaiser Health News]. Your winnings, sir.
"The light alternative to Medicare for All" [Axios]. "'Medicare for All' is the idea that's been getting attention from progressive Democrats, but Forbes flags another one that could get attention over the next two years: letting people buy into Medicare between the ages of 55 and 64. Between the lines: It's a more incremental, centrist option for Medicare expansion than the sweeping idea that's generating excitement in Democratic circles. (Bill Clinton floated a version of it during his presidency, and moderate House Democrats are its main backers now.)" • Why 55? Why not 54? Or 53? 52? Why not 0?
'Medicare for All' Gains Favor With Democrats Looking Ahead to 2020 [New York Times]. "Asked if his vision of Medicare for all included private Medicare Advantage plans, Adam Green, a founder of the Progressive Change Campaign Committee, an advocacy group, said: 'No, absolutely not. Why would it? Medicare for all, in the end, means fundamental systemic change. People would no longer be at the mercy of for-profit insurers that make money by denying people care.." • "Fundamental systemic change" is, however, not necessarily attractive in and of itself….
Our Famously Free Press
"Politics in 2019 will have a lot more backbone" [Alternet]. • This story is vacuous, but it was a placeholder for me to count how many times the word "reveal" appeared in Alternet's front page. Now it's four; when I stashed this link, it was seven. I'm not sure what this says about the zeitgeist, but nothing good.
Class Warfare
How intersectionality ought to work:
In the 1934 S.F. General Strike, Harry Bridges convinced strikers that full equality for Black longshoremen was necessary. He urged Blacks to join strikers on the picket, saying that when the strike was won, Blacks would work on every dock on the West Coast. He kept his promise. pic.twitter.com/WWc6MyCIpH

— PandaDog🏴🚩 (@R6Rider) December 14, 2018
"Q & A with Avner Offer & Gabriel Söderberg" [Princeton University Press] (authors of The Nobel Factor The Prize in Economics, Social Democracy, and the Market Turn). "Nobel prize-winners provide a high-quality sample of economics. The prize has a halo that makes economics credible to the wider public, for policies which are often inimical to the public interest. It arose out of the long conflict between the interests of the wealthy in stable prices, and of everyone else in social and material improvement. Between the wars, this conflict became focused in central banks, which became a brake on social democracy. After the Second World War, the Swedish Central Bank clashed repeatedly with the social democratic government over financing the welfare state, and extracted the prize as a concession. The prize was then captured by conservative Swedish economists, who used it to provide credibility for sustained resistance to social democracy. This story shows how ideas and arguments work through society and politics, and how the prestige of science has been mobilised for political ends." • Princeton, eh?
"I Was A Cable Guy. I Saw The Worst Of America." [HuffPo]. • Hmm. Well written, but I'm not sure about that title.
News of the Wired
"A strange museum at the 'centre of the world'" [BBC]. "In 1985, the French-born parachuting pioneer [Jacques-André Istel] cajoled California's Imperial County Board of Supervisors into designating a spot on his property as The Official Centre of the World. (Audacious, perhaps, but not necessarily inaccurate, given that anywhere on the Earth's surface could be the centre.)… Today, 20 granite monuments, arranged at artful angles across the desert floor, collectively make up The Museum of History in Granite, a sort of open-air bank of knowledge for the ages." • The monuments remind me of the Watts Towers. There must be a word for life-long idiosyncratic projects like this, but I don't know what it is. Maybe in German?
The container for the thing contained:
i can't believe y'all still doing that 9-5 shit pic.twitter.com/7sU2qE7CPe

— tara (@internettara11) December 30, 2018
All labor is skilled labor:
when you're forklift certified pic.twitter.com/n6aUXeiuoN

— Bob (@MochaPoster) December 25, 2018
* * *
Readers, feel free to contact me at lambert [UNDERSCORE] strether [DOT] corrente [AT] yahoo [DOT] com, with (a) links, and even better (b) sources I should curate regularly, (c) how to send me a check if you are allergic to PayPal, and (d) to find out how to send me images of plants. Vegetables are fine! Fungi are deemed to be honorary plants! If you want your handle to appear as a credit, please place it at the start of your mail in parentheses: (thus). Otherwise, I will anonymize by using your initials. See the previous Water Cooler (with plant) here. Today's plant (CW):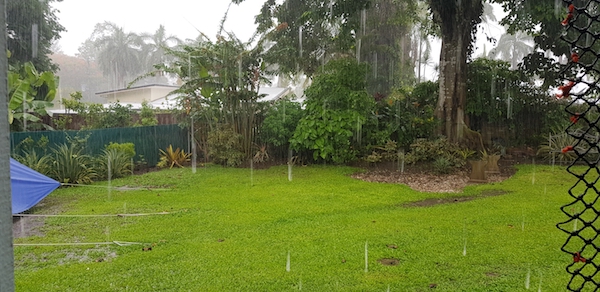 CW: "Attached is my backyard during one of our heavier down pours. Had over a metre of rain in December, not a new record, but it surprised many of the locals. Time you guys travelled down under, would give you as much 'perspective' as me in your place." Yves has been to Australia; I have not. But rain? Rain? Can any readers send pictures of plants in snow? It's about that time.
* * *
Readers: Water Cooler is a standalone entity not covered by the annual NC fundraiser, now completed. So do feel free to make a contribution today or any day. Here is why: Regular positive feedback both makes me feel good and lets me know I'm on the right track with coverage. When I get no donations for five or ten days I get worried. More tangibly, a constant trickle of small donations helps me with expenses, and I factor that trickle in when setting fundraising goals. So if you see something you especially appreciate, do feel free to click below! (The hat is temporarily defunct, so I slapped in some old code.)
Or Subscribe to make a monthly payment!