By Lambert Strether of Corrente.
Politics
"But what is government itself, but the greatest of all reflections on human nature?" –James Madison, Federalist 51
2020
"How to Fix the Democratic Presidential Debates" [Politico (RH)]. "As the 2020 campaign beckons, the Democrats are facing the improbable probability that more than two dozen candidates will be pursuing the presidency. Imposing a rational structure for TV debates with such a large field will be not just improbable but impossible. Well, with one exception: The only way to do this fairly is to get rid of all the debates. That's right: No debates! Let's cancel political Christmas, at least for all of next year…. The DNC, according to the Washington Post, is contemplating going beyond poll numbers—"possibly including staffing, fundraising and number of office locations"—to decide who participates and how." • Idea: Take the debates away from the DNC, which obviously wants to rig the process again, and give them back to the League of Women Voters. Then let them figure it out.

"O'Rourke marvels at Beto-mania, conceding it's 'a great question' whether he's ready for White House" [Dallas Morning News]. "'The fact that we came close doesn't diminish the bitterness of the loss,' [O'Rourke] said, acknowledging the very real doubts about whether someone who couldn't win election in his home state deserves promotion to commander in chief. 'Oh yeah. I think that's a great question,' he said. 'I ask that question myself.'… Over and over, he said he wants time to 'regroup' after nearly two years on the road. 'I'd love to take a backpack up into the Gila Wilderness' — a vast expanse in New Mexico, a hundred miles from El Paso — 'and just spend some time thinking through stuff,' he said."
New Cold War
"New Senate Reports Are an Indictment of the White House's Inaction on Disinformation" [Slate]. This is Slate's lead:

The Senate Intelligence Committee has just released two new reports on Russian disinformation, revealing in unusually rich detail the scope of Russia's interference not only in the 2016 U.S. presidential election but also in our day-to-day democratic dialogue since. One report was prepared by New Knowledge and the other by the University of Oxford and Graphika. Each report's specific findings are well worth close study by anyone concerned with foreign interference in U.S. elections and our broader democratic processes; so is an excellent summary offered by New Knowledge's co-founder Renée DiResta. (Full disclosure: Renée and I both serve on the editorial board of Protego Press.)

Never mind the incestuous relationship in the disclosure; that's common in the Beltway. What strikes me as odd is the instant credibility given to New Knowledge and Oxford's "Computational Propaganda Project." Why do we give them any more credibility than CrowdStrike? Is it conceivable they're talking their book? Or that they're simply cut-outs for the intelligence community? Taking off my tinfoil hat, and putting on my close reading trifocals, I note the phrase: " day-to-day democratic dialogue." As with "our democracy," you should always question who the implicit "we" is. Is the concept that "our democratic dialogue" — with David Brock's million dollar trolling for the Clinton campaign through Brietbart's video fakery to access journalism driven by anonymous intelligence sources — was somehow pristine, clean, pure until the Evul Russkis joined in the fun?
Realignment and Legitimacy
"Here's What The Big Fight Over The DNC's Data Is Really About" [HuffPo]. "On one side, Perez, top DNC staff and a host of other top national Democratic operatives argue that Democrats must develop their own version of the Republican National Committee's Data Trust. The Data Trust is an independent for-profit entity that houses all of the Republican Party's national and state-level voter information for use by presidential and congressional candidates and outside Republican groups…. Currently, state-level Democratic parties own the voter data through a voter file co-operative managed by TargetSmart, a private data management firm. The parties share the data with the DNC, which operates the software through which users access the data. Campaigns use the information for such things as how to decide where candidates should campaign and what messages they should emphasize, to predict how different constituencies will react to certain issues and to complement traditional polls of the race. But a key gap in the Democratic system is the inability of outside groups to access and input data in real time instead of after its collection…. "We can change the current system to see the data in real time," said Nebraska Democratic Party Chairwoman Jane Kleeb. "My problem is turning over decades of work to a group of consultants who are not on the ground and who are not accountable to a whole state infrastructure that has lived before us and will live on well after us.'" • Those five consultants who took, IIRC, $700 million from the Democrat Party for setting a dumpster on fire, as Nomiki Konst pointed out.

"Women's March in Washington State Disbands Citing Farrakhan Ties to National Leadership" [The Tower]. • I'd be more concerned with what happened to the money from merch, and all the weird governance issues.

"WHAT IS TRUMP?" [New Left Review]. "[T]he issue is not to explain why, in the aftermath of a severe financial and economic crisis in the capitalist core, accompanied by a massive upward transfer of wealth by ruling centrists, blue and red, right-wing—and, in a few instances, left-wing—outsiders have come to power, but rather why these politicians have largely remained within the established framework. In short, the question is not why our contemporary politics resembles those of the 1930s, but why it does not. For this, it is necessary to take the comparison seriously, systematically contrasting the era of classical fascism—roughly, from 1922 to 1939—with the present period, in order to enable greater theoretical and political clarity about the situation today. I do so along four comparative axes: geopolitical context, economic crisis, relations of class and nation and, finally, the character of civil society and of political parties." • As usual with NLR, the style is fruitcake-dense, but the analysis is rigorous and very interesting. Grab a cup of coffee.
Stats Watch
Housing Starts: "Mostly good news finally greets the housing sector as both starts and permits are showing an uplift in November results that top Econoday's consensus range" [Econoday]. "Year-on-year rates continue to speak to the general weakness of housing with total starts down… Today's report is positive especially for builders of multi-family units but the weakness on the single-family side won't be giving much lift to what are downcast expectations for the nation's housing sector." And: "The backward revisions this month were slight. The nature of this industry normally has large variations from month to month (mostly due to weather) so the rolling averages are the best way to view this series – and it shows permits rate of growth improving and completions rate of growth now slowing" [Econintersect]. "We consider this a stronger report relative to last month." And: "Total housing starts in November were above expectations (due to the volatile multi-family sector), and starts for September and October were revised up, combined" [Calculated Risk]. "Note the relatively low level of single family starts and completions. The 'wide bottom' was what I was forecasting following the recession, and now I expect some further increases in single family starts and completions."
Retail: "As Sex Ceases to Sell, Modesty Has Its Fashion Moment" [Bloomberg]. "In October a forum at New York's Fashion Institute of Technology defined 'modest fashion' as generally 'loose-fitting clothing that covers as much of the body as the wearer wishes.' Steven Frumkin, dean of the Baker School for Business and Technology at FIT, says the fresh attention is the result of several factors but suggests it was catalyzed primarily by the new influence and buying power of Muslim women."
Banks: "European banks bleed millions from physical cyber attacks through devices like the Raspberry Pi" [IT Pro]. "Posing as job seekers, couriers and inspectors, the cyber criminals used three types of device to connect to a bank's network and syphon data. Netbooks, Raspberry Pi devices and Bash Bunnies – a special tool for carrying out USB attacks – were all used after access to the building was gained… The clandestine devices were simply plugged in and left, only to be controlled remotely via GPRS, 3G or LTE by the attackers. Meeting rooms were a common target as tables often have multiple communications and data transfer-related sockets to facilitate presentations, which can be accessed and exploited easily for ill-gotten gain."
The Bezzle: "Dr. Elon & Mr. Musk: Life Inside Tesla's Production Hell" [Wired]. "When he arrived, Musk began marching through the factory. He walked along the assembly line, red-faced and urgent, interrogating workers he encountered, telling them that at Tesla excellence was a passing grade, and they were failing; that they weren't smart enough to be working on these problems; that they were endangering the company, according to someone who observed him. Employees knew about such rampages. Sometimes Musk would terminate people; other times he would simply intimidate them. One manager had a name for these outbursts—Elon's rage firings—and had forbidden subordinates from walking too close to Musk's desk at the Gigafactory out of concern that a chance encounter, an unexpected question answered incorrectly, might endanger a career." • No wonder stuff catches on fire.
The Bezzle: "Blue Apron becomes a penny stock, trading under $1 for the first time (APRN)" [Business Insider]. "The meal-kit maker has had a rough go of things since announcing its plans for a public listing. First Amazon announced plans to buy Whole Foods, causing Blue Apron to slash its IPO range to $10 to $11 a share, down from $15 to $17, as investors fretted over the competition such a deal would bring. Then, less than a month later, Amazon rolled out its meal-kit business….. [A] few months later, Blue Apron's announced it was having trouble keeping its customers." • Blue Apron is also another tech startup that abuses its workers. So, schadenfreude!
The Bezzle: "Bitcoin ATMs May Be Used to Launder Money" [Bloomberg]. "Bitcoin has crashed since hitting an all-time high last year, but the market for machines that allow people to buy Bitcoins in person hasn't slowed down at all. BTMs are a legal and fast-­growing part of the crypto world, despite flying under the regulatory radar. They're fast and require less hassle than online exchanges such as Coinbase. Over the past few years, they've been popping up in corner stores, casinos, and smoke shops…. BTMs are almost by definition perfect vehicles for dirty money. A Bitcoin bought at a machine in Harlem would be instantaneously deposited into a digital wallet, which could be owned by the person standing at the machine, a drug cartel in Colombia, or a ransomware hacker…. By his estimate, more than half the machines in the U.S. aren't following the rules—meaning they don't verify identification or impose limits on transactions—­potentially resulting in more than $500 million in illicit cash being laundered annually. "That should be getting someone's attention," [Arnold Spencer, general counsel at Dallas-based Coinsource, the largest BTM operator in the world] says, adding that there are plenty of legitimate customers using BTMs—speculators, for instance, and immigrants sending money home to their families in countries like the Philippines and Mexico." • $500 million doesn't seem like very much, at least as an absolute number.
The Bezzle: "Corruption is costing the global economy $3.6 billion dollars every year" [World Economic Forum]. • That seems low.
The Bezzle: "The auditor of Citi, Credit Suisse and Deutsche Bank was tipped off before regulatory inspection" [Francine McKenna, MarketWatch]. "The auditor of some of the world's largest banks including Citigroup, Credit Suisse and Deutsche Bank was tipped off before a regulator inspected them. It's been previously reported that KPMG executives were able to extract from the regulator, the Public Company Accounting Oversight Board, confidential information ahead of inspections, and use that information to correct their work and at least in one instance, withdrawn an opinion…. The SEC moreover said in January that the KPMG audits of these companies should continue to be relied upon…. Corporate governance expert Nell Minow, the vice chair of ValueEdge Advisors, said investors shouldn't be satisfied with the SEC's statement. 'The breadth and seriousness of the charges and the importance to the financial markets of the companies affected should require a through internal investigation with results made public. If the SEC or KPMG do not insist on it, investors and clients should.'"
The Bezzle: "The Silence Of The Brands: 90% Of Consumer IoT Vendors Don't Let Researchers Report Vulnerabilities" [Forbes]. "In all, a total of 331 consumer product companies were included in the results; collectively responsible for many hundreds of IoT product lines and millions of devices sold. These covered everything from Internet connected toys from the likes of Hasbro and Mattel, through to weapons brands such as Armatrix, Tracking Point and Vaultek, not to mention D-Link, NEC, OnePlus, Sonos and TomTom. A shocking 299 (90.3%) of them had no form of public vulnerability disclosure policy, leaving just 32 (9.7%) with any form of scheme for security researchers to use. Of that 32 only 15 had an incentive, or bug bounty, program to encourage security researchers to find the holes in their products that could be exploited by threat actors. One company actually went as far as to state that security research was not permitted by putting restrictions on security research in its terms of service."
Tech: "Amazon has explored getting into consumer health diagnostics — testing for disease at home" [Business Insider]. "If Amazon moves ahead, "the notion of being able to connect consumers to a health testing product that sits in the home, as well as delivering treatments, would be quite revolutionary," said Greg Yap, a tech-driven life sciences investor with Menlo Ventures, who does not have direct knowledge of Amazon's plans. Yap said there are a lot of potential hurdles, including regulations that require a physician to interpret the results. Amazon has also been in talks with telemedicine companies in recent months, says a different person familiar, which might hint at a potential solution to the problem. Amazon could work with a network of doctors to remotely approve a prescription via a smartphone or laptop." • So Alexa hears me cough…
Tech Dystopia (1):
My toothbrush wants to know where I am at all times. pic.twitter.com/SDdwUUVGJq

— Andrew Crow (@AndrewCrow) December 17, 2018
Tech Dystopia (2):
This is why techy 'solutions' for ageing and emergency care scare me. This one went out of business and this poor woman probably died thinking someone had been called. pic.twitter.com/Iu3VYDbsb4

— Holly Jolly Brockwell (@holly) December 17, 2018
Transportation:
so a delivery robot caught fire on berkeley's campus and students set up a candlelight vigil for it pic.twitter.com/alen7vF7Ho

— James Wenzel ? (@ratherbright) December 15, 2018
So why did the bot catch fire?
Mr. Market: "Stock Market Votes With Its Feet" [John Authers, Bloomberg]. "[T]hese technical factors could not have had such a powerful effect without deep underlying unease. That will be put to the test in the new year, but the final Federal Reserve meeting of 2018 now gives one big opportunity to change or reinforce the negative narratives out there. The market has voted with its feet in the last few weeks; we must await the Fed meeting, and then the new year, to find out if it is weighed in the balance and found wanting."
Mr. Market: As I keep saying, we seem to be talking ourselves into this one:
Buy signal: NYT SundayStyles leads with market downturn explainer. pic.twitter.com/dLFnTRjgmV

— Andrew Sollinger (@AFSollinger) December 16, 2018
The Style section?
The Fed: "Fed Stuck In An Uncomfortable Situation" [Tim Duy's Fed Watch]. "The Federal Reserve faces a most uncomfortable confluence of events as central bankers begin their two-day meeting to ponder the path of rate policy. In a nutshell, equities continued to struggle in the midst of fairly solid data as President Trump complains yet again about rate hikes while stoking the uncertainty that appears at least partly if not mostly to blame for the volatile equity markets…. Recent data remain largely consistent with the Fed's outlook… Households continue to spend at a healthy rate… Even initial jobless claims, the boogeyman of the bears, tumbled sharply… All told, outside of the downdraft in equities and related financial tightening, I don't think there is much here to induce large shifts in the Fed's forecasts for 2019…. In a sense, Trump's weaponized uncertainty drives down equity prices which in turn induces the Fed to do what Trump wants and stop raising rates. How much does the Fed have to do to cushion the stock market against Trumpian uncertainty? How much to cushion the economy against the same?" • Fascinating exercise in reflexivity.
Gaia
"On Having No Head: Cognition throughout Biological Systems" [National Library of Medicine]. "Here, we survey a wide-ranging literature on memory and sensory systems-based cognition in organisms (biological systems) lacking animal/human-type brains. Our goal is to acquaint readers interested in cognition with numerous aneural model systems in which this subject can be pursued, and to draw the attention of bench biologists working on those systems to cognitive, information-focused perspectives on the mechanisms they are studying. Importantly, in discussing cognitive performance in the various systems, we do not mean the full-blown human-like cognitive performance, or human-type of self-awareness and consciousness. We are avoiding issues of the 'Hard' problem of cognitive science, and do not claim anything like higher-order symbolic representations. Our definition is purely functional and minimalist (Calvo and Baluška, 2015), drawing attention to the similarities in computational tasks performed by diverse biological systems, at all levels of complexity, other than animal and human brains." • Fascinating, and "aneural" is a strong candidate for Word of the Day.
Class Warfare
"Ambient Cruelty" [Real Life]. "The freedom to vent feels empowering, but when unleashed on a reputation-based labor market, where a widespread reliance on reviews and ratings is the primary monitor of quality assurance, negative self-expression allows users of apps like Uber or TaskRabbit to enjoy the benefits of an arbitrary power of punishment free of guilt. By emphasizing the user's 'right' to have their opinions heard, and to dissatisfaction with any less-than-perfect 'experience,' platforms encourage users to be cruel without feeling cruel. Normalizing negativity creates a slush fund of data that employers can use at their discretion against employees." • Precarity rather does resemble slavery, doesn't it? At least in the constant presence of the lash.
He got a good rating:
uber driver showed up without a car. just told me to hop on. dude gave me a piggyback ride all the way to the 7 eleven. five stars

— everett byram (@rad_milk) December 11, 2018
Joke! Ha ha….
"Predictim Claims Its AI Can Flag 'Risky' Babysitters. So I Tried It on the People Who Watch My Kids." [Gizmodo]. "The notion that a private algorithm was being deployed to analyze teenagers' and low-income workers' musings and selfies on social media, determine their "risk level," and deliver the results to excitable parents struck many as a grim portent for the future of the informal workforce."
"Star Economist at Harvard Faces Sexual Harassment Complaints" [New York Times]. "Former employees said Dr. Fryer often reminded junior researchers that his recommendations could vault them to top graduate programs — or ground their careers. Several women said Dr. Fryer had written negative recommendations after they angered him in some way, or refused to write a recommendation at all."
Xmas Cheer
Dealing with package thieves:
Hat tip to whoever forwarded this to me; I watched it for a lot longer than I should have. Part of me says "Business model!" Another part of me says that our environment is already booby-trapped enough.
News of the Wired
"Twitter is relaunching the reverse-chronological feed as an option for all users starting today" [The Verge]. "[Twitter] said today that it will introduce a prominent new toggle in the app to switch from the ranked timeline to the original, reverse-chronological feed. The company says the move comes in recognition of the fact that Twitter is often most useful in real time, particularly during live events such as sports games or the Oscars." • Or insurrections…
"Smartphones Are the New Security Blanket for Kids" [Medium]. "Pediatrician and psychoanalyst D. W. Winnicott coined the term 'transitional objects' in the mid-20th century. He recognized that young children often become attached to a special blanket, a teddy bear, or some other toy [or "security blanket"]. Today, my son is 13, and now his Android smartphone fills the transitional role…. Just think about what it must be like for kids to hear us refer to their transitional objects in the same language we use to describe cigarettes, cocaine, amphetamines, and opiates. It's not helpful, nor is it a valid analogy. Yes, playing video games activates the brain's dopamine pathways. If it didn't, they'd be no fun. All pleasurable experiences raise our dopamine levels — running around outside, reading a good book, riding a roller coaster, eating a hot fudge sundae. But hard drugs raise dopamine levels by about 10 times as much. It's a totally different thing. So much so that by stuffing digital devices and dangerous inebriants into the same linguistic container, grown-ups could be doing their kids a serious disservice." • I dunno. I'd be curious to know what any parents in the readership think about this (noting that Silicon Valley squillionaires don't agree).
He kicked it in the head and quit clean:
1/ Some personal news: I've decided to quit Facebook around the end of the year. I am doing this – after being on Facebook for nearly 12 years – because my own values and the policies and actions of Facebook have diverged to the point where I'm no longer comfortable there.

— Walt Mossberg (@waltmossberg) December 17, 2018
So Mossberg finally surrendured his transitional object?
* * *
Readers, feel free to contact me at lambert [UNDERSCORE] strether [DOT] corrente [AT] yahoo [DOT] com, with (a) links, and even better (b) sources I should curate regularly, (c) how to send me a check if you are allergic to PayPal, and (d) to find out how to send me images of plants. Vegetables are fine! Fungi are deemed to be honorary plants! If you want your handle to appear as a credit, please place it at the start of your mail in parentheses: (thus). Otherwise, I will anonymize by using your initials. See the previous Water Cooler (with plant) here. Today's plant (via):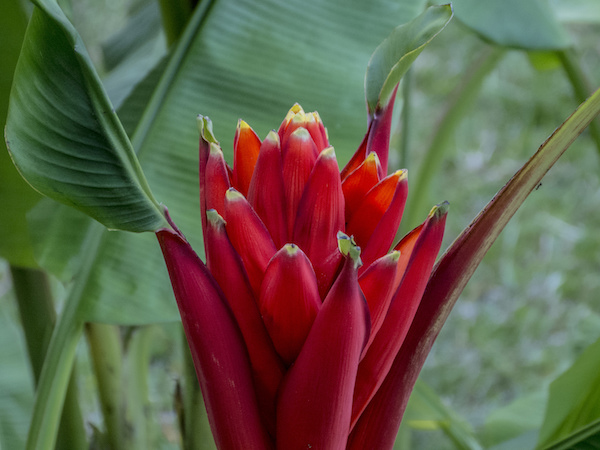 Musa coccinea (red torch banana).
* * *
Readers: Water Cooler is a standalone entity not covered by the annual NC fundraiser, now completed. So do feel free to make a contribution today or any day. Here is why: Regular positive feedback both makes me feel good and lets me know I'm on the right track with coverage. When I get no donations for five or ten days I get worried. More tangibly, a constant trickle of small donations helps me with expenses, and I factor that trickle in when setting fundraising goals. So if you see something you especially appreciate, do feel free to click below! (The hat is temporarily defunct, so I slapped in some old code.)
Or Subscribe to make a monthly payment!