By Lambert Strether of Corrente.
Politics
"But what is government itself, but the greatest of all reflections on human nature?" –James Madison, Federalist 51
2020
"First thoughts on Elizabeth Warren's prospects in Iowa" [Bleeding Heartland]. • Worth reading in full for a look at Warren on the trail, and the first of a series at Bleeding Heartland. This caught my eye: "The second half of Warren's Des Moines event consisted of Q&A for about 25 minutes, followed by the last portion of her speech. The questioners were not pre-screened. Rather, numbered tickets were drawn out of a bucket to determine who would get a turn. Warren explained that they use this system to give everyone an equal chance to be heard, not just the people who rush to the microphone first. The following day in Ankeny, they did random drawings again." • That's very good (and, as sortition, distinct from Occupy's progressive stack). Somebody on Warren's campaign staff is really thinking. If your read Warren carefully though, you will see a major disjunction between her structurak message (e.g., "corruption") and her policy recommendations (e.g., "access* to health care"). This is a consistent pattern for Warren. The mountain will labor, and bring forth a mouse! NOTE * So, Warren has dropped #MedicareForAll.

"Warren demands details on Mnuchin's December calls to bank CEOs" [American Banker]. "Sen. Elizabeth Warren, D-Mass., is asking Treasury Secretary Steven Mnuchin why he called chief executives of the six largest U.S. banks to confirm they had adequate liquidity in the midst of market turmoil in December. 'The public announcement of these calls was a rare step for a Treasury Secretary to take,' Warren said in her letter to Mnuchin dated Jan. 18. 'Moreover, your calls sought to assuage a concern — the liquidity of banks — that neither banking regulators nor executives had publicly indicated was a problem.'…. 'Given the outsized role of liquidity problems in the 2008 financial crisis, we would like to better understand the nature of the call you had with Secretary Mnuchin regarding risks to the U.S. banking system,' Warren said."

Harris (1):

How to lose to Donald Trump, Part II. pic.twitter.com/OimrETKl7d

— Amir (@AmirAminiMD) January 21, 2019

As Mark Blyth says: The Hamptons are not a defensible position.

Harris (2):

I slept on a sofa in a driveway for three months. I lived in an RV on a driveway for one month. I actively fought to keep people's houses from being stolen from banks. We were fighting AGAINST #KamalaHarris to save homes. YES I WILL actively do everything I can to expose her!

— PMbeers (@PMbeers) January 22, 2019

I've said it before and I'll say it again: Some clever campaign operative or elected on the left needs to find people who fought foreclosure and fought Harris, and make a video compilation.

UPDATE "Dehumanization by Deification: On Kamala Harris and 'Black Women Will Save Us'" [Verso]. "[T]here is a duly irresponsible and unacceptable idea that an individual's politics are beyond reproach because they possess a marginalized identity (or multiple ones)… This superficial politics of representation (i.e. the idea that elevating minorities to positions of power is an unquestioned social good regardless of their politics) and a weird fetishization, rather than actual respect, for non-white womanhood." • Yes, it certainly is odd that Harris' campaign site has no mention of policy…. In 2017, we didn't have a name for devotees of this "irresponsible and unacceptable idea,." Now we do: identitarians.
2019
Very true:

Seems like way too many D's seem to have forgotten just how horrendously awful each day of Bush-Cheney-GOP Congress was, how there was ALSO a shocking story of corruption & callous incompetence & malevolence EVERY day

— El Çid (@EnBuenora) January 18, 2019

So many #Resistance members seem to think that malevolence is a recent discovery, and discovered by them. Worth remembering what a horror show the Iraq War was. And on top of that, we had the PATRIOT Act, warrantless surveillance, torture…. You know, all the things Obama normalized and consolidated, and handed off to Trump.
Realignment and Legitimacy
If you want to be owned by class reductionists, keep doing this:

Spotted at the New York's #WomensMarch2019 ?

?: @vicenews's @meetmissjoness pic.twitter.com/BhoVplwXtX

— VICE (@VICE) January 19, 2019

"THEY SAW A PROTEST": COGNITIVE ILLIBERALISM AND THE SPEECH CONDUCT DISTINCTION" (PDF) [Dan M. Kahan, David A. Hoffman, Donald Braman, Danieli Evans, & Jeffrey J. Rachlinski, Stanford Law Review]. "The Free Speech, Equal Protection, and Due Process Clauses all mandate governmental evenhandedness. Within their respective domains, each forecloses the state from privileging particular affiliations, ways of life, or points of view and mandates that law be justified by its contribution to secular interests—physical security, public health, economic prosperity—valued by all citizens. But if decisionmakers (particularly adjudicators) unconsciously apply these provisions to favor outcomes congenial to favored ways of life, citizens who adhere to disfavored ones will suffer the same array of disadvantages for failing to conform that they would in a regime expressly dedicated to propagation of a sectarian orthodoxy. This distinctively psychological threat to constitutional ideals, which we will refer to as 'cognitive illiberalism,' has received relatively little attention from commentators or jurists…. The study results thus highlight the need to fortify constitutional theorizing with psychological realism. ." • Seems like recent events at the Lincoln Monument provide a test case. Much food for thought, here.

Yesterday, the FBI. Today, the CIA:

— CIA (@CIA) January 21, 2019

UPDATE "Many 2020 Democrats Silent On Trump's Afghanistan, Syria Withdrawals" [HuffPo]. • Many responses, most focusing on Trump's "government by tweet." But this:

The following Democrats have made no public statements on the withdrawals, and did not respond to HuffPost's request for comment:

Rep. John Delaney (D-Md.)
Sen. Kirsten Gillibrand (D-N.Y.)
Former Vice President Joe Biden
Former Housing Secretary Julian Castro
Former Rep. Beto O'Rourke (D-Texas)

Biden was at the dentist, too?
Stats Watch
Existing Home Sales, December 2018: "Mortgage rates began to move down in December but it wasn't soon enough to help the month's resales" [Econoday]. "The housing sector may have ended a soft 2018 on a down note but the outlook for 2019 — as long as the labor market stays healthy and rates hold steady — may well be positive." And: "December 2018 Headline Existing Home Sales Decline and Remain In Contraction Year-over-Year" [Econintersect]. "The rolling averages have been slowing since the beginning of 2017. This month the rolling averages remained in contraction – and worsened. Housing inventory is historically low for Decembers. Despite the NAR's assertion that "After two consecutive months of increases, existing-home sales declined in the month of December" – even using their wackiy methodology to determine rate of growth – the rate of growth year-over-year has been in contraction and declining for the last 4 months." And: "Comments on December Existing Home Sales" [Calculated Risk]. "The current YoY increase in inventory is nothing like what happened in 2005 and 2006. In 2005 (see red arrow), inventory kept increasing all year, and that was a sign the bubble was ending. In 2018 (light blue arrow), inventory followed the normal seasonal pattern…. Also inventory levels remains low, and could increase much more and still be at normal levels. No worries."
The Bezzle: "The Cab Ride That Nearly Killed Me Changed How I Think About Ride-Hailing Apps" [Bloomberg]. Excellent article. On tidbit: "On my way home, I wrote down in my notebook only some of what the accident had cost everyone. Me: left vertebral artery. Driver: livelihood + S$3,700 in fines and expenses. Grab: S$20, the refund they'd given me after the accident." • And there you have it. Well worth a read.
Tech: "The design flaw behind MacBook Pro's 'stage light' effect" [iFixIt]. "The Touch Bar generation of MacBook Pro always had its quirks, but the thin-at-all-cost design may finally be proving more trouble than it was ever worth. The latest issue to crop up—dubbed 'flexgate' by one of our users, Alex—reveals that the compact design for the display's flex cables is prone to fatigue and failure, leading to a host of display problems that can't be easily (or cheaply) fixed…. The issue is fairly simple: the current generation of MacBook Pro laptops (2016–present) uses flexible ribbon cables to connect the display to a display controller board beneath the Touch Bar. These cables wrap over the board, where they're secured by a pair of spring-loaded covers—and they're subjected to the stress of bending with every opening and closure of the laptop. Within a seemingly short time, those cables are starting to fatigue and tear. The backlight cable is generally the first to go, producing the infamous 'stage light' symptoms, and eventually giving out entirely when the laptop is opened more than about 40°…. In an apparent effort to make the display as thin as possible, Apple designed the cables as part of the display, so they cannot be replaced." • Hey, Tim. Still waiting for that new MacBook Pro you promised….
Concentration: "Panel discusses the past and present of monopolies" [Gainesville Sun]. "About 40 people crowded into Pugh Hall on the University of Florida campus to listen to the panel discuss the history of anti-monopoly on Thursday at 6 p.m. The panelists, Richard John, Victoria Woeste and Matt Stoller, spoke with the audience about the large businesses that control their own industries — Facebook and Google included. 'They're not tech companies,' said Stoller, a fellow at the Open Markets Institute. 'They're advertising companies.' With control of about 63 percent of the online ad market, Facebook and Google have a monopoly on advertising, Stoller said. The revenue they receive used to go to newspapers, arts, sports and more."
Rapture Index: Closes down two on wild weather ("The lack of activity has downgraded this category"), global turmoil ("The lack of activity has downgraded this category"). [Rapture Ready]. Record High, October 10, 2016: 189. Current: 179. Breaking through the 180 floor! Remember that bringing on the rapture is a good thing.
Health Care
"25 Ways the Canadian Health Care System Is Better Than Obamacare" [Ralph Nader, Common Dreams]. • Missed this over the holidays! Put it in your fridge for skeptics to read.
"Cancerous Growth" [Jacobin]. "A new study reveals that the US cancer death rate has dropped 27 percent since 1991. This is fantastic news: the nation's number-two cause of death is getting less deadly by the year. For some people, that is. At the same time, the gap in cancer mortality between the rich and the poor is actually widening. The concurrence of these trends can mean only one thing: we're making breakthroughs in medicine, but our deeply unequal system means that not everyone is benefiting from them." • Everything's going according to plan!
The Biosphere
"Surprising Network Activity in the Immature Brain" [Max Planck Florida Institute for Neuroscience, Nautilus]. "[L]ocal connections build a network activity scaffold. Following the well-accepted plasticity rule "what fires together wires together," activity mediated by local connections can then guide the subsequent formation of long-range network connections. In a twist of the oft-used phrase, "think globally, act locally," developing cortical circuits act locally to achieve global effects. Future studies will test the prediction that activity dependent plasticity mechanisms shape the structure of long-range connections based on the instructive activity patterns derived from local cortical connections."
Neoliberal Epidemics
Pushers:
I'm finally reading through the court filing in the Massachusetts Sackler case. It is staggering. The Sacklers wanted to sell OxyContin as an *uncontrolled substance*. The INVENTOR of the drug had to persuade them that – while profitable – this would be a dangerous idea pic.twitter.com/3yEzElZ3l9

— Patrick Radden Keefe (@praddenkeefe) January 17, 2019
"Activists Call on Harvard to Strip Art Museum of Sackler Name" [Harvard Crimson]. "Local activists and at least one public official are calling on Harvard to remove the Sackler family's name from their buildings after a memorandum filed in federal court Tuesday alleged the family knowingly understated the risks of its company's addictive opioid product… For years, members of the Sackler family have sought to distance themselves from Purdue and its addictive narcotic, which many have blamed for its role in spurring the opioid crisis…. But this week's filing sheds new light on the extent to which multiple members of the family remained involved in the company and its efforts to deceive the public about the risks associated with OxyContin, even after they agreed to a Justice Department settlement in 2007." • How odd that Harvard's administration isn't on top of the issue, and hasn't taken action voluntarily.
Guillotine Watch
"From Kim Kardashian's bestie to dining deity: The rise of Foodgod" [Los Angeles Times]. Photo caption: "Jonathan Cheban, also known as Foodgod, getting a 'truffle shower' at Il Pastaio in Beverly Hills." • No.
Class Warfare
Fun with excavators:
I was on that job an was supposed to get paid the Friday before Xmas, could have been skint for all they knew, never got my money until the 2nd week of January, only a matter of time before something like this happened ??‍♂️? pic.twitter.com/WvQ91aRRgL

— Joe fearon (@joefblue) January 21, 2019
Precarity Training (1):
Here, China Glass Bridge
???? pic.twitter.com/mHqmw1ckSu

— ?? ทดลอง เป็นคนดี ? (@KaPaeng08) January 20, 2019
Precarity Training (2):
would you try this? pic.twitter.com/CcJvUR5rwl

— TRAVEL! (@travelsbeauties) January 19, 2019
No safety nets here!
Harvard Business School's application volume has, according to @claychristensen, "fallen off a cliff."

It costs nearly $400k now, and only makes sense if you plan on making outrageous money afterwards. pic.twitter.com/sgG6IJdyNT

— Austen Allred (@AustenAllred) January 17, 2019
"LA Teachers Strike with Sarah Jaffe" (podcast) [Blubrry]. "The teacher strike wave continues as more than 30,000 members of United Teachers Los Angeles walk picket lines not only for the higher wages that they deserve but also for the well-funded and great schools that the city's working-class students of color have long been systematically denied—a situation that has been exacerbated by a corporate reform-led school board and superintendent dead-set on privatizing the district. UTLA has in recent years been led by a militant, rank-and-file caucus that has shunted aside the old guard's narrow vision of service unionism in favor of a big-picture movement unionism that makes the struggles of teachers, parents and students one on and the same. Sarah Jaffe is [Daniel Denver's] guest for a discussion of the strike, social reproduction and lessons from Rosa Luxemburg."
"Federal Workers: Shutdown and Out" [Labor Notes]. "Forty percent of the government's civilian workforce besides postal workers are being deprived of money to pay for rent, gas, groceries, and car and student loan payments… Federal unions are legally prohibited from advocating a strike against the federal government. The specter of a mass firing, as Reagan did to striking air traffic controllers in 1981, always looms large. But Joseph McCartin, the foremost historian of the public sector labor movement, suggested in the American Prospect that unpaid federal workers might use a tactic with a long history among public sector workers: spontaneous sickouts. Some workers have begun taking such initiatives. Uncoordinated sickouts by TSA officers forced Miami and Houston's biggest airports to shut one terminal each over the weekend…. By January 14, the TSA itself was conceding that the national rate of sick calls was three times as high as the same day a year ago." • Why we need the history (and historians). As next–
"Kinky Labor Supply and the Attention Tax" [Kortina]. "Over the past few decades, labor force participation has sharply dropped for men ages 20-34. Theories about the root cause range from indolence, to a lack of skills and training, to offshoring, to (perhaps most interestingly) the increasing attractiveness and availability of leisure and media entertainment. In this essay, we propose that the drop in labor participation rate of young men is a result of a combination of factors: (i) a decrease in cost of access to media entertainment leisure, (ii) increases in both the availability and (iii) quality media entertainment leisure, and (iv) a decrease in the marginal signalling utility of (conspicuous) consumption goods for all but the highest earners." This is fascinating:
Consumers are no longer signaling on a local scale, but rather on an internet scale. On the one hand, this amplifies signal, because you can reach likeminded people who aren't part of your local community, but on the other hand… As an example, consider how this increased competition plays out in online dating platforms. On Tinder, the top 20% of men are competing for the top 78% of women. Why? It's a matter of the breadth of selection. Offline, due to the constraints of physical space and time, any given woman would have a finite set of potential partners to choose from. Online, the selection is much more vast and most women only "like" the most attractive men. The Gini coefficient for the 'Tinder economy' is 0.58, which means that it has higher inequality than 95% the world's national economies – in other words, it's pretty grim if you're a man in the bottom 80%…. We believe that this effect can be extrapolated into most contexts where digital distribution is used for signalling purposes.
So perhaps all that incel foofrah has a material basis….
"Re-envisioning Socialist Feminism for a New Century" [Christine R. Riddiough, Democratic Left]. A new DSA publication: "On the July 4 weekend of 1975, about 1,600 women gathered in Yellow Springs to discuss socialist feminism theory and practice. The conference was organized by about ten socialist feminist women's organizations from around the United States, joined by two chapters of the New American Movement (one of DSA's predecessor organizations)…. The 1975 conference referred to above was the culmination of the work of these organizations. And it was also its downfall. In the two years after the conference, almost all of the sponsoring organizations disbanded. This was, in part, due to the changing political climate that resulted in the rise of the Right and the election of Ronald Reagan in 1980. In addition, the attacks on women's liberation groups by sectarian groups intensified after the conference. These groups were not interested in advancing socialist feminism but rather in siphoning off members from the women's movement and in suggesting the "correct line" the groups should take. They were extremely divisive within these organizations and undermined the ability of the women's groups to fight for women's liberation." • Leaving those "sectarian groups" unnamed seems oddly decorous. Nevertheless, interesting history from one who was there.
News of the Wired
"How Buke and Gase built a huge indie rock career—and its own guitars, software" [Ars Technica]. "In manufacturing their own instruments, gear, tools, and software solutions, Buke and Gase may have had great sounds in mind, but perhaps they did it for a greater purpose: to engineer the tools needed for such an intense working relationship. Albums as remarkable and fully formed as Scholars couldn't emerge from anything less." • Fascinating and hopeful. Not sure on the music, but my tastes are not universal, and perhaps readers will disagree?
"Life Without the Tech Giants" [Gizmodo]. "Amazon, Facebook, Google, Microsoft, and Apple collectively make products that we love, products that we hate (but can't stop using), and products that dictate how we communicate and how we are seen….We're now realizing it's as possible to get addicted to these buttons, clicks, screens, and scrolls as it is to get hooked on nicotine or heroin….The common retort to these concerns is that you should "just stop using their services." So I decided to try…. Over the next few weeks, I'll tell you—and show you, there's video documentation by my colleague, Myra Iqbal—the tale of blocking these companies. It wasn't easy. You have no idea how hard it is to find a phone that's not touched by Apple or Google. " • A series to look forward to. The technical approach was to block their IP addresses.
Got a grant?
— Archillect (@archillect) January 9, 2019
* * *
Readers, feel free to contact me at lambert [UNDERSCORE] strether [DOT] corrente [AT] yahoo [DOT] com, with (a) links, and even better (b) sources I should curate regularly, (c) how to send me a check if you are allergic to PayPal, and (d) to find out how to send me images of plants. Vegetables are fine! Fungi are deemed to be honorary plants! If you want your handle to appear as a credit, please place it at the start of your mail in parentheses: (thus). Otherwise, I will anonymize by using your initials. See the previous Water Cooler (with plant)
here
. Today's plant (CW):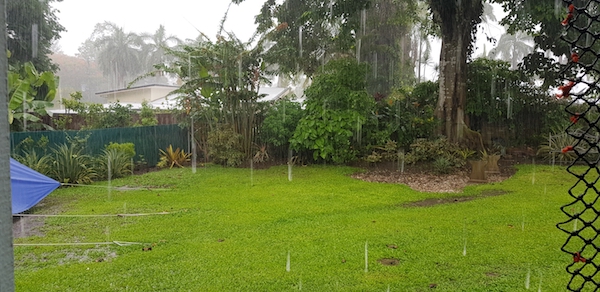 CW write from Queensland, Australia: "My backyard during one of our heavier down pours. Had over a metre of rain in December, not a new record, but it surprised many of the locals." Impressive!
* * *
Readers
: Water Cooler is a standalone entity
not
covered by the annual NC fundraiser. So do feel free to make a contribution today or any day. Here is why:
Regular positive feedback both makes me feel good and lets me know I'm on the right track with coverage
. When I get no donations for five or ten days I get worried. More tangibly, a constant trickle of small donations helps me with expenses, and I factor that trickle in when setting fundraising goals. So if you see something you especially appreciate, do feel free to click below! (The hat is temporarily defunct, so I slapped in some old code.)
Or Subscribe to make a monthly payment!