By Lambert Strether of Corrente.
Trade
"Wilbur Ross Says U.S., China 'Miles and Miles' From Resolving Trade War" [Bloomberg]. "'People shouldn't think that the events of next week are going to be the solution to all of the issues between the United States and China. It's too complicated a topic,' Ross said. 'I believe that China would like to make a deal. I believe that we would like to make a deal. But it has to be a deal that works for both parties.'"
"Party is over for dirt-cheap solar panels, says China executive" [Reuters]. "Solar panel prices tumbled around 30 percent last year after China, the world's largest producer, cut subsidies to shrink its bloated solar industry, pushing smaller manufacturers to the brink of collapse. To raise cash and stay afloat, manufacturers cleared inventory and diverted sales offshore, sending prices into a downward spiral – offering up a windfall for solar power generators and investors in solar farms… Luo said solar panel prices were already stabilizing and he expected them to rebound by 10 to 15 percent as the Chinese industry consolidates over the next year or two. Given panels represent close to half of a solar farm's installation costs, that threatens to eat into the returns of investors. China is home to almost a third of the world's cumulative installed solar capacity and its manufacturers dominate the industry, despite being slapped with anti-dumping tariffs and getting caught up more recently in the U.S.-China trade war."
Politics
"But what is government itself, but the greatest of all reflections on human nature?" –James Madison, Federalist 51
2020
"Is Elizabeth Warren's Wealth Tax Constitutional?" [Kevin Drum, Mother Jones]. "The 16th Amendment allows the federal government to levy direct income taxes, even if the income is derived from real or personal property, but a direct federal tax on property itself is still forbidden by the Constitution unless it's proportional to the population of each state—which I'm sure is something Warren doesn't have in mind."

"5 Things To Know About Kamala Harris" (video) [The Onion].

Sanders on Venezuela:

Pretty weak tea. Surely our sanctions have something to do with the state of Venezuela's economy? Thing is, we "interfere" in Latin America all the time; it's not some sort of intermittent thing.

Clintonites still doing enforcement:

Tulsi Gabbard should be awarded zero opportunity to participate in a DNC debate. Absolutely none. I'm sure she has this in the back of her mind, so let's just get that out of the way.

— Adam Parkhomenko (@AdamParkhomenko) January 12, 2019
New Cold War
I loved Spy Magazine so much:

Forgive the bragging, but this long article we published in Spy magazine exactly 27 years ago called "Publicists of the Damned," starring Roger Stone and his partner Paul Manafort, has aged well. https://t.co/YyDgQsq1SO pic.twitter.com/aGJy6JnFpp

— Kurt Andersen (@KBAndersen) January 25, 2019

Hard to believe that Manafort and Stone changed their schtick at all for Trump (or that they're uniquely corrupt, for that matter).
Realignment and Legitimacy
"Trump Administration memo opens door to mass sickout by ATC" [The Air Current]. "A sharp increasing in staffing issues at ATC centers around the U.S. may signal a tipping point in the month-long partial government shutdown. An interpretation of an Office of Personnel Management memorandum obtained by The Air Current related to Senate bill 24 — the Government Employee Fair Treatment Act of 2019 — circulated Thursday amongst air traffic controllers nationally, opening the door to an unofficial sick-out by essential staff responsible for the country's airspace navigation. The bill, signed on January 16 by President Trump, ensures that furloughed government employees will be paid at the conclusion of the government shutdown…. The interpretation circulated by a NATCA staffer at Boston Center of OPM's official guidance for "excepted employees" under the law to permit approved leave as a furlough, meaning sick leave will be paid back and to staff and not charged against their overall bank of leave." And then this:

"I would never imply that we're going to abuse sick leave, and the mere suggestion that we're doing so to get free leave is considered a job action punishable by law…however it is cold and flu season and our contractual protections regarding sick leave still apply so ," said one controller.

Very dry humor. This may be happening:

Airports currently impacted by FAA staffing shortages: DCA EWR LGA PHL TPA

Posted delays between 41 minutes and 1h15m pic.twitter.com/iyD3IinjrM

— Jason Rabinowitz (@AirlineFlyer) January 25, 2019

Here is the FAA's flight delay site (assuming the data is good). And the FAA says everything is fine:

#FAA Statement: Staffing Update pic.twitter.com/CMVcyTNSz5

— The FAA (@FAANews) January 25, 2019

And it may be! Strategically, this again heightens the fact that our complex transportation network is extremely vulnerable to disruption by collective action. It would be deeply ironiic if the neoliberal era, which could be dated as starting with Reagan firing striking air traffic controllers, was ended by air traffic controllers calling in sick.

More on transport:

I'm on an @amtrak train to DC. Every car looks like this. Conductor said it's been like this during the shutdown. Tourists aren't going to DC because of the shutdown. It's wild. Like the twilight zone. pic.twitter.com/kWYfimwo13

— Emily C. Singer (@CahnEmily) January 25, 2019

So look on the bright side: The Acela is empty.

* * *

Stoller on Democrats (1):

Insiders see quasi-bribery regularly, but often think 'this is just how it works and you're dumb if you don't get that.' The culture of Dems is about deference to the powerful while lying to supporters, which is why insiders are so messed up in the head. https://t.co/Jnop1bbKY5

— Matt Stoller (@matthewstoller) January 24, 2019

Ouch!

"Leading liberal thinktank will no longer accept funds from UAE" [Guardian]. "The Center for American Progress, one of the most prominent liberal thinktanks in Washington, will no longer accept funding from the United Arab Emirates, the Guardian has learned. The group said it is parting ways with what it views to be anti-democratic governments across the globe, seeking to distinguish itself from the authoritarian regimes with which Donald Trump's administration has developed a close rapport." •. They've done it for years, but suddenly it's wrong because Trump. Also, the article doesn't say they've stopped taking anonymous population…

Stoller on Democrats (2). The hook is an AOC attribution remark re: Jason Furman — gotta get the detail right — but Stoller places Furman in context:

1. So talking Jason Furman for a sec, because @AOC criticized a paper he wrote in 2005 titled "Wal-Mart: A Progressive Success Story" as sponsored by Walmart and she's getting blowback for it. Let me just offer a couple of observations about what is and isn't fair.

— Matt Stoller (@matthewstoller) January 25, 2019

The whole thread is important, but especially the conclusion:

15. This Democratic culture of deference must end. It simply must. We do not have time for this anymore. We get one more shot at governing, and if we screw that up like we did the Obama administration, we'll get a competent authoritarian. It'll be over.

— Matt Stoller (@matthewstoller) January 25, 2019

Yes, imagine if Trump were disciplined, and had political operatives as good as, say, Karl Rove.
Stats Watch
Durable Goods Orders, December 2018: Delayed by the government shutdown [Econoday].
New Home Sales, December 2018: Delayed by the government shutdown [Econoday].
UPDATE The Bezzle: "Reality Check :: Facebook, Inc" [Plainsite (Deschain)] (full report). "Yet as bad as things have been of late for Facebook, with endless privacy breaches and Russian interference in the 2016 presidential election hanging over Menlo Park like a spectre, we believe that the situation is far worse than investors realize. Facebook has been lying to the public about the scale of its problem with fake accounts, which likely exceed 50% of its network. Its official metrics—many of which it has stopped reporting quarterly—are self-contradictory and even farcical. The company has lost control of its own product." • Quite the polemic, and big if true. Readers?
The Bezzle: "Second Former L.A. Charter School Official Facing Federal Charges" [My News LA]. "The former CEO of Los Angeles charter school network Celerity Educational Group is expected to be arraigned next month on federal charges of conspiracy to misappropriate and embezzle public funds. Grace Canada, 45, of Torrance is the second ex-Celerity official to be charged with corruption by Los Angeles federal prosecutors. Celerity founder Vielka McFarlane pleaded guilty earlier this month to a conspiracy charge that she misspent $2.5 million in public education funds intended for students." • At some point, charters should become an issue in teachers' strikes.
The Bezzle: "Tesla Reportedly Expects to Have Cash to Make Big Debt Payment" [Yahoo Finance (Bob)]. "Not only has Tesla's cash balance decreased from $3.4 billion at the end of the company's fourth quarter of 2017 to $3 billion by the third quarter of 2018, but Tesla has a massive debt payment due in March of this year. This debt combined with Tesla's recent update saying it will take significant efforts and "some luck" to achieve "a tiny profit" in its first quarter show why the company's cash is such a hot topic. But Fox Business News, citing company insiders, is reporting on Thursday that Tesla thinks it will have the cash required to make this payment without needing to raise any capital." • That's nice.
The Bezzle: "The mysterious story of former Theranos president Sunny Balwani, who former employees saw as an 'enforcer' and now faces criminal charges of wire fraud" [Business Insider]. "The relationship [between Theranos founder Elizabeth Holmes and former Theranos president Sunny Balwani[ was one of the reasons [Wall Street Journal reporter John] Carreyrou knew he had a big story on his hands. In 2015, Carreyrou said he read a New Yorker interview with then-Theranos board member Henry Kissinger. Kissinger said in the interview he tried to set Elizabeth up on dates, not realizing that she was in a relationship. 'It instantly became clear to me that she was lying to her board about this romantic relationship that she was having with the number two of the company, who by the way, was also about 20 years older,' Carreyrou told Business Insider." • Now I can't unsee the picture of Henry Kissinger trying to set up Elizabeth Holmes on dates.
Tech: "'Businesses Will Not Be Able to Hide': Spy Satellites May Give Edge From Above" [New York Times]. "Orbital Insight, in Palo Alto, Calif., is one of the first companies to build a business around cube satellite data. Sitting in Orbital's offices on a recent afternoon, James Crawford, the company's founder and chief executive, who goes by Jimi, opened his laptop and pulled up a report on three big-name retailers: J. C. Penney, Macy's and Sears…. Based on the company's satellite data, a color-coded line graph showed a steady drop in the number of cars parked outside the thousands of stores operated by the three retailers. The drop was particularly steep for Sears, which had filed for bankruptcy just days earlier. "This is one of the reasons they've been under so much pressure," Mr. Crawford said…. Mr. Crawford believes the satellite analysis will ultimately lead to more efficient markets and a better understanding of the global economy. Fred Abrahams, a researcher with the advocacy group Human Rights Watch, sees it as a check on the world's companies and governments." • Not for tracking, say, pollution, carbon, dumping, etc.
Transportation:
If Uber and Lyft were just symptoms of bad transit, you would expect most rides to originate in areas that have poor transit service.

What's actually happening is the opposite. Uber and Lyft do the most business in the places that are BEST served by transit. pic.twitter.com/tVUfkrye1Q

— Angie Schmitt (@schmangee) January 11, 2019
Mr. Market: "Goldman, Morgan Stanley Ask to Cancel Trades After $41 Billion Flash Crash" [Bloomberg]. "Some of the amendment requests were to settle the trades at a higher price, according to the people, who asked not to be named discussing a sensitive topic. It wasn't clear whether the at-market sell orders from Goldman and Morgan Stanley triggered the brief plunge or whether other factors in the pre-open auction were at play, some of the people said. Spokesmen for Goldman and Morgan Stanley declined to comment."
Honey for the Bears: "Americans stopped buying homes in 2018, mortgage lenders are getting crushed, and an economic storm could be brewing" [Business Insider]. "As 2018 headed toward its close, Americans' appetite for buying homes fell off a cliff. In December, US existing-home sales cratered to 4.99 million, 10.3% below the mark from the year-ago period, according to data released earlier this week by the National Association of Realtors.That's the steepest decline in more than seven years… At Wells Fargo, mortgage-banking income fell by 50%, to $467 million, in the fourth quarter, while originations declined by 28%, to $38 billion. JPMorgan, meanwhile, saw mortgage income fall to $203 million, a 46% drop from the same period last year. Originations fell by 30%, to $17.2 billion…. Significant housing declines have foreshadowed nine of the 11 post-World War II recessions in the US, according to another note by UBS from December examining the housing slowdown."
The Biosphere
Excellent talking point:
New rule: Anyone who opposes investments for a Green New Deal has to tell us how they will pay for the damage from intense hurricanes, floods, droughts, wildfires, rapid sea level rise and ecological devastation.

— Ro Khanna (@RoKhanna) January 24, 2019
"Fighting Climate Change with a Green TVA" [People's Policy Project]. "The TVA, which was originally established during FDR's New Deal, is the largest public power company in the country…. Around 54 percent of its current energy production comes from non-carbon sources, with the bulk of that coming from nuclear…. Put simply: the TVA knows how to successfully produce large amounts of carbon-free electricity. So it should be up to the task of helping to decarbonize the electricity supply in its current service area and across the country…. The TVA also has a special power that no other climate policy can take advantage of: it issues its own bonds…. The TVA is the federal government's power company and the federal government should use its direct authority to make it into the kind of power company the country and the earth needs."
"Climate Change Is a Public Health Emergency" [Scientific American]. Eight examples. The conclusion: "Despite all of this, it is also important to realize that tackling climate change presents "the greatest global health opportunity of the 21st century" and that the barriers to achieving this are primarily sociopolitical (rather than economic or technical). Actions to mitigate climate change offer a wealth of immediate and local health benefits that include reducing air and water pollution from fossil fuel combustion, designing cities to include more green spaces and with active commuters in mind, avoiding massive costs in health care and emergency relief, and ensuring energy, food and water security. Put simply, if you care about your health, you should care about climate change too."
"This demographic catastrophe will hit us all" [Unherd]. "Birth rates of well below replacement level are now commonplace in the developed world. For instance, Italy's is about 1.4. If such a rate is maintained over three generations then that means the second generation will be 70% of the size of the first, and the third generation half the size of the first. That's quite the demographic slide, but consider what happens if the birth rate drops even lower to approximately 1. If that is maintained over three generations, then the second generation will be half the size of the first, and the third a mere quarter. In other words a fall in the fertility rate from 1.4 to 1, which South Korea shows is possible, doubles the rate at which new generations halve in size." • Isn't this good, in terms of not overwhelming the carrying capacity of the biosphere? Certainly better than a mass die-off!
"Human evolution's ties to tectonics" [Nature]. "[Lewis Dartnell] asks how Earth has affected us, through our long evolution to big brains, small jaws and scrawny bodies that somehow cooperate with each other enough to make us the planet's dominant eukaryotic species. All this began, Dartnell argues, with the tectonic processes that created the East African Rift — the area that today runs from Somalia and Ethiopia down to the coast of Mozambique. The uplift of mountains here caused a rain shadow that dried and warmed East Africa, turned jungle into a park-like savannah, and enticed early hominins to leave the trees and become game hunters, runners, thinkers, cooks and, eventually, empire builders…. only an acquaintance with Earth science allows people to understand whether there is a risk in building their houses on the Russian River floodplain in California or an eroding cliff in Goa, India; how the sediment under a house might withstand a magnitude-8.0 earthquake; whether the aquifers in a valley's hills are sufficient to sustain a golf course; and whether its soils can support plant communities that won't turn into a fatal tinderbox during dry years of a climatic cycle. In our current geopolitical climate, this knowledge is more important than ever."  • Another book to read…
Health Care
"Millennials Ditching The Doctor; What's At Stake" [WLNY]. "More and more millennials are ditching the doctor and many don't even have a primary care physician, according to a survey by the Kaiser Family Foundation…. "I think there's a few reasons. I think the primary one happens to be access to care," he said. 'We found that millennials tend to want to have access to care right away, they want it immediately and they want to be able to see a doctor quickly.' 'When they feel well, they don't want to go to the doctors, and they don't,' he continued. 'So then when they feel unwell, they're like I want to see a doctor right away and not wait for weeks for an appointment.'" • Crazy millennials! They want to see a doctor right away, as if they lived in Canada or the UK or France!
"Apple is in talks with private Medicare plans about bringing its watch to at-risk seniors" [CNBC]. "Health experts say that seniors are an ideal market for the Apple Watch, which has introduced features that can be used by anyone, but are most beneficial to seniors, including fall detection and cardiac arrhythmia monitoring. It also makes sense as a business model for insurers, as seniors are a particularly lucrative market…. 'It's the segment of health insurance with the highest dollar revenue and margin per member,' explains Augustin Ruta, a health insurance consultant at A2 Strategy Group. Ruta also noted that Medicare members enrolled in these private plans tend to have lower churn rates, which gives insurers more of an incentive to invest in members' long-term health outcomes."
Our Famously Free Press
Excellent, must-read thread on the collapse of the newspaper business:
For those who aren't quite sure why these media layoffs keep happening, or think "it's the internet!" or "people don't pay to subscribe," there's a lot more going on. Though that is part of that. Here's a cliffs notes version – not exhaustive but it hits the highlights:

— Jeremy Littau (@JeremyLittau) January 24, 2019
Access journalism and material interest:
If your career relies on monetizing your relationships with people in power, then you have a financial interest in destroying any political candidate who threatens to toss your monetizeable contacts out of power.

— David Sirota (@davidsirota) January 18, 2019
"Can't Afford to Tell the Truth" [London Review of Books]. "The World Service newsroom used to have a commitment to accuracy so extreme it touched on the absurd. The story goes that one duty editor refused to report on a fire in the Strand which he could see with his own eyes until it was confirmed by Reuters. Despite such rigidities, and in part because of them, the BBC World Service news was famously trustworthy. In addition, the channel had dedicated correspondents, stringers and writers whose deep knowledge of the countries on which they reported resulted in consistently well-informed, clearly written, accurate output. Some of that quality remains, but much of its output today consists of scraps offered by domestic journalists – a source of contamination, in Moore's words – who consider the World Service a waste of their time. Since the BBC's upper echelons rarely, if ever, listen to the station, contributing to the World Service does nothing to enhance a reporter's career prospects. Moore's account of its decline, overseen by incompetent, ill-motivated and grossly overpaid managers, will be too detailed for some. Emails from on high that most staff deleted unopened are reproduced and closely analysed. He is furious that the senior executives who dismantled the best aspects of the World Service were paid so much while having so little to offer." • Everything Is Like CalPERS.
"Gannett lays off journalists across the country" [Poynter (MR)]. "Gannett began slashing jobs all across the country Wednesday in a cost-cutting move that was anticipated even before the recent news that a hedge-fund company was planning to buy the chain…. Gannett owns USA Today and 109 other local media companies." • Very bad.
"It doesn't take a ton of nasty comments to sink a reader's perception of a news site" [Nieman Labs]. "Experiments with more than 1,500 testers showed that people who only saw uncivil comments had diminished loyalty, value, and overall positive attitudes toward the news site in question. Readers who encountered majority-civil comments weren't as disheartened, but with the internet these days, that can be a hurdle… The comment sections aren't playing games; they're part of the battle to rebuild trust."
"No, tech companies shouldn't fund journalism" [Columbia Journalism Review]. "Facebook announced it would spend $300 million over three years on journalistic content, partnerships, and programs. The announcement commits the social network to match the funding rival tech giant Google said it would spend on such programs—but more importantly increases the already-dangerous co-dependency between big tech and newsrooms…. For much of its history, journalism was supported by patronage: the golden era of vastly-profitable journalism which could still serve the public interest was a mere few decades, or a profession dating back centuries. Advertising allowed journalism to get away from that, but a return to patronage—via tech firms—isn't the answer…. A social media levy is an attempt to duck difficult questions about how we fund public interest journalism, a way to ask government to step in and fund journalism without having the tough conversation of what that means and how it works. We need to hold big tech to account. We need to find a sustainable model for quality journalism. And to achieve either, we really should try to keep those conversations separate."
Guillotine Watch
"How Elon Musk's secretive foundation hands out his billions" [Guardian]. "The entire website of Elon Musk's private charitable foundation is shorter than many of the Tesla CEO's contentious tweets…. Documents obtained by the Guardian reveal how the foundation has put that vague mission statement into practice. Together, the documents show that many of the organization's donations have gone far beyond its stated scope. Some have benefited the billionaire's own initiatives and, indirectly, his family, while others have tackled his pet peeves – the foundation has given more money to artificial intelligence research than to any of the more traditional charities it says it supports… Recipients have included a school attended by Musk's own children, a charity managed by his brother, a protest group fighting gridlock on Musk's commute to SpaceX, and even an art project at Musk's favorite festival, Burning Man."
Class Warfare
"'AI' to hit hardest in U.S. heartland and among less-skilled: study" (charts) [Reuters (EM)]. "The spread of computer-driven technology into middle-wage jobs like trucking, construction, and office work, and some lower-skilled occupations like food preparation and service, will also further divide the fast-growing cities where skilled workers are moving and other areas, and separate the high- skilled workers whose jobs are less prone to automation from everyone else regardless of location, the study found."
"Remembering Erik Olin Wright" [Dissent]. "Decades of research culminated in his 2010 magnum opus Envisioning Real Utopias. For Wright, 'real utopias' were democratic and egalitarian 'real-world alternatives that can be constructed in the world as it is that also prefigure the world as it could be, and which help move us in that direction.' Such institutions range from Wikipedia to the Mondragon federation of worker cooperatives in Spain. The short version of Wright's thesis is that the left can erode capitalism with these institutions, while taming capitalism in the political sphere. The long-term result is socialism."
"From Women's Strikes to a New Class Movement: The Third Feminist Wave" [Viewpoint]. "For E.P. Thompson, 'class' is a historical category before being a theoretical one, a category that must therefore be articulated starting from the empirical observation of individual and collective concrete behaviors that – over time – express a class character and create class institutions (trade unions, parties, associations, etc.). This means that the notion of class is dynamic, referring to a historical process rather than expressing the essence of a static entity. In other words, understood as a historical category, the notion of class cannot be reduced to the sociological categorization of social groups on the basis of classificatory and quantitative criteria. For example, the definitions of the working class as the set of all wage workers or of all those who, employed or not, have no other resources than the sale of their labor-power, although not in themselves false, are vague, abstract, and incomplete. In short, these definitions contain an element of truth, but if taken as complete definitions they lead to analytical misunderstandings and political errors with relevant consequences. On the contrary, for Thompson class is the point of arrival and not the starting point of a process of formation. As paradoxical as it may seem, class is the product of class struggle and not its presupposition." • Important!
News of the Wired
"The Medieval Origins of the Modern Footnote" [medievalbooks] (from 2014). "[A]s long as notes were few and short, a reader could simply insert them – interlinearly – over the relevant word or passage…. Cleverly, in this system the very position of the remark identified the word to which it referred. However, as the number and size of such comments increased, it became impossible to place them between the lines. The great blank space provided by the margins was now drafted into service. It is here that the absence of a proper reference system was felt. As the marginal body of remarks and critique began to accumulate, the page became a real messy place, a labyrinth in which it became impossible for readers to find specific pieces of information (Fig. 3). In came the footnote." • Footnotes, in modern usage, are profoundly democratic, because the enable readers to check sources, and not simply rely on the authority of the author.
"No One Is Prepared for Hagfish Slime" [The Atlantic (DK)]. "Hagfish produce slime the way humans produce opinions—readily, swiftly, defensively, and prodigiously… Typically, a hagfish will release less than a teaspoon of gunk from the 100 or so slime glands that line its flanks. And in less than half a second, that little amount will expand by 10,000 times—enough to fill a sizable bucket. Reach in, and every move of your hand will drag the water with it…. Astonishingly, to create a liter of slime, a hagfish has to release only 40 milligrams of mucus and protein—1,000 times less dry material than human saliva contains. That's why the slime, though strong and elastic enough to coat a hand, feels so incorporeal." • Maybe if the Twitter had a totem animal… That said, hagfish slime is a fascinating subtance!
* * *
Readers, feel free to contact me at lambert [UNDERSCORE] strether [DOT] corrente [AT] yahoo [DOT] com, with (a) links, and even better (b) sources I should curate regularly, (c) how to send me a check if you are allergic to PayPal, and (d) to find out how to send me images of plants. Vegetables are fine! Fungi are deemed to be honorary plants! If you want your handle to appear as a credit, please place it at the start of your mail in parentheses: (thus). Otherwise, I will anonymize by using your initials. See the previous Water Cooler (with plant) here. Today's plant (Carla):
Carla writes: "Finally, some snow in the NE Ohio January. These purple cone flower seeds feed the birds."
Plus a non-plant photo from sunny Los Angeles (TF):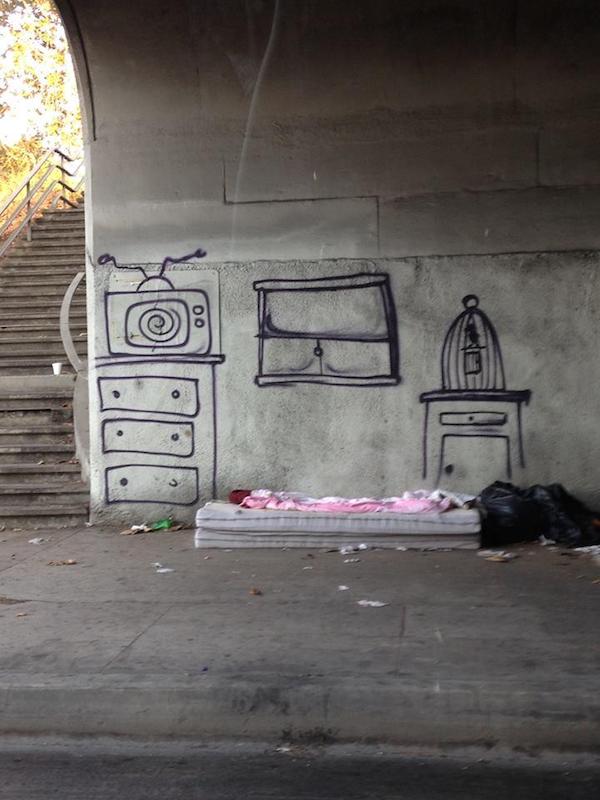 TF writes: "Seemed appropriate for Water Cooler. Touching and heartbreaking."
* * *
Readers: Water Cooler is a standalone entity not covered by the annual NC fundraiser. So do feel free to make a contribution today or any day. Here is why: Regular positive feedback both makes me feel good and lets me know I'm on the right track with coverage. When I get no donations for five or ten days I get worried. More tangibly, a constant trickle of small donations helps me with expenses, and I factor that trickle in when setting fundraising goals. So if you see something you especially appreciate, do feel free to click below! (The hat is temporarily defunct, so I slapped in some old code.)
Or Subscribe to make a monthly payment!