By Lambert Strether of Corrente.
Politics
"But what is government itself, but the greatest of all reflections on human nature?" –James Madison, Federalist 51
2020
That was fast:

This is a brilliant answer, Howard. Amazing. You're exactly what the country needs. Here's my invoice. https://t.co/hlSelZmCz7

— Matt Stoller (@matthewstoller) January 28, 2019

So much for Howard Schultz.

UPDATE Warren:


Tim Sloan doesn't think I have an "informed" opinion about how he's helped lead @WellsFargo. But I've actually been paying pretty close attention, and I've got a long list of reasons why I think he should be fired. (Get comfortable, this is gonna take a while.) pic.twitter.com/zn6N1X2TRO

— Elizabeth Warren (@SenWarren) January 28, 2019

It's a good list, but this tweet also encapsulates my issue with Warren: She lists a bunch of activities that ought to be criminal, if they aren't; they all involve stealing money from customers. So why is she calling for Sloan to be fired? Why doesn't she want him to go to jail? Why not take Wells Fargo's banking license away. There's a disproportion between Warren's (justified) outrage at the problem, and the small-bore solution she proffers.

UPDATE Clinton:

In Puerto Rico for CGI's 5th Action Network meeting with @BillClinton. Kicked off the week by going to see @Lin_Manuel & the incredible cast of Hamilton perform to benefit the hurricane recovery efforts.

We. Had. The. Best. Time. pic.twitter.com/4A3waBYQlX

— Hillary Clinton (@HillaryClinton) January 28, 2019




Ugh, Hamilton. No doubt the CGI can do for Puerto Rico what it did for Haiti. Oh, and "We. Had. The. Best. Time." I.Hate.That.Locution. I imagine a liberal Democrat fingerwagging at each ".".

UPDATE "Hillary Clinton reportedly may run for President again in 2020" [New York Daily News]. "I'm told by three people that as recently as [last] week, she was telling people that look, given all this news from the indictments, particularly the Roger Stone indictment, she talked to several people, saying, 'Look, I'm not closing the doors to this.'" • I say, do it! Never mind the grift, think of the entertainment value!

UPDATE "Wall Street freaks out about 2020" [Politico]. "After mentioning Bloomberg, Wall Street executives who want Trump out list a consistent roster of appealing nominees that includes former Vice President Joe Biden and Sens. Cory Booker of New Jersey, Kirsten Gillibrand of New York and Kamala Harris of California. Others meriting mention: former Virginia Gov. Terry McAuliffe, former Colorado Gov. John Hickenlooper, former Maryland Rep. John Delaney and former Texas Rep. Beto O'Rourke, though few really know his positions. Bankers' biggest fear: The nomination goes to an anti-Wall Street crusader like Sen. Elizabeth Warren (D-Mass.) or Sanders. 'It can't be Warren and it can't be Sanders,' said the CEO of another giant bank. 'It has to be someone centrist and someone who can win.'" • Pass the popcorn.

A good idea:

Every Democrat running in 2020 should be pressured to release a shortlist of who they plan on appointing to key Cabinet positions so that they don't do another bait-and-switch if they actually make it into office.

— Aidan Smith? (@55Counties) January 28, 2019
2019
A good first bullet:

The GOP is:
– weak on fighting for working class Americans
– weak on crime
– weak on equal rights
– weak on national security
– weak on rejecting racism
– weak on moral courage
– weak on family values

So yeah, I'd say this a representative choice of their values. https://t.co/7Lc9QJGv0M

— Alexandria Ocasio-Cortez (@AOC) July 26, 2018

Everything else is bad. "Family values"? Really? You can argue that AOC is trying to co-opt Republican rhetoric, but I think that's like trying to co-opt hagfish slime.
Realignment and Legitimacy
On the DSA brakelight clinics:

everyone & their mom outside of New Orleans has something bad to say about brake light project but we still out here doing them monthly, recruiting members thru it, developing broad leadership, strengthening community ties & influencing dozens of other chapters to do the same ??‍♀️

— lilprole93 ? (@lilprole93) January 27, 2019

And the ensuring thread, summarized by alert reader Martha R:

Doing brake lights doesn't prevent us from doing a ton of M4A work, labor organizing, Socialist night school or candidate pressure campaig
We're on #5 in Harrisburg and they are great! We owe a lot to the guide from New Orleans
that is great to hear, our brake light organizers are about to release a revised manual!!
you know I'm gonna mail you one just for you guy ;)
Who the hell could have anything bad to say about fixing brake lights for local working and lower class folks in the community? It's beautiful praxis and I envy y'all with the resources and labor to pull them off regularly.
Mid TN just held our 3rd yesterday!
We have been contemplating something similar and someone mentioned a guide somewhere, do you know where we could get more info?
this is our 1st brake light handbook that we released a month or 2 after the first clinic. we have been doing them monthly for a year and finalizing our updated handbook that reflects the political growth we've had since then
http://dsaneworleans.org/wp-content/uploads/2018/04/brake-light-clinic-guide.pdf …
our brake light organizers (I don't volunteer at the clinics anymore) are always down to help and I can put you in touch with them if u want, DM me

"Gimme a Brake (Light): a DIY Guide (pdf) [New Orleans DSA]. From the introduction:

It's beyond me why anybody, let alone a putative socialist, could object to this.
Stats Watch
Consumer Confidence, January 2019: Delayed by the government shutdown [Econoday].
International Trade in Goods, December 2018: Delayed by the government shutdown [Econoday].
Retail Inventories [Advance], December 2019: Delayed by the government shutdown [Econoday].
Wholesale Inventories [Advance], December 2019: Delayed by the government shutdown [Econoday].
Capital Investment: "$1.5 trillion U.S. tax cut has no major impact on business capex plans: survey" [Reuters]. "The Trump administration's $1.5 trillion cut tax package appeared to have no major impact on businesses' capital investment or hiring plans, according to a survey released a year after the biggest overhaul of the U.S. tax code in more than 30 years. The National Association of Business Economics' (NABE) quarterly business conditions poll published on Monday found that while some companies reported accelerating investments because of lower corporate taxes, 84 percent of respondents said they had not changed plans. That compares to 81 percent in the previous survey published in October." • So much for the Laffer Curve…
Commodities: "In the new lithium 'Great Game,' Germany edges out China in Bolivia" [Reuters]. "China has been quietly cornering the global lithium market, making deals in Asia, Chile, and Argentina as it seeks to lock in access to a strategic resource that could power the next energy revolution…. [ACI Systems GmbH's] win means Germany now has a foothold in the final frontier of South America's so-called Lithium Triangle: the Uyuni salt flat in Bolivia, one of the world's largest untapped deposits. The triangle comprises lithium deposits in an area that includes parts of Chile, Argentina and Bolivia."
Retail: "[C]ompanies including Walmart Inc. are starting to send the robots down the aisles to check when goods need to be replenished. Tracking goods in stores has taken on more urgency in the era of e-commerce, as more retailers try to keep inventory costs down by blurring the lines between digital and physical-store distribution channels" [Wall Street Journal]. "If retailers find in-store robots can navigate the aisles and count at the same time, they may be a step closer to turning their stores into real fulfillment stores." • Shopping's not fulfulling now?
The Bezzle: "The Trump presidency is paying off bigly for Uber" [Quartz]. "On Jan. 25, the Republican-majority National Labor Relations Board (NLRB) ruled in a 3-1, party-line vote that shuttle van drivers for SuperShuttle are independent contractors, not employees. The ruling strips SuperShuttle drivers in Dallas-Fort Worth, who had sought to organize, of that right. Protected bargaining is only granted to traditional employees. This case is not about Uber, and yet it is entirely about Uber. SuperShuttle's business model is a shabby, low-tech version of Uber. The company enlists shuttle drivers who own their vehicles and pay their on-the-job expenses. It provides them with a dispatch system to receive ride requests. The thesis on which the labor board based its decision—that SuperShuttle drivers are not employees because they "have total autonomy to set their own work schedule"—could easily have been penned by Uber."
The Bezzle: "Chinese Self-Driving Startup Roadstar.ai Drops Co-Founder For Alleged Corruption, Faked Data" [The Drive]. "Less than one year ago, Roadstar.ai raised $138 million from the likes of Shenzen Venture Capital Group, Wu Capital, Yunqi Partners and others to build a test fleet, collect data, and develop autonomous drive systems. Now, the unthinkable has happened: co-founder and former CTO Zhou Gang has reportedly been booted from the company amid allegations that he took kickbacks from investors, and faked data both for internal reporting and for a government regulatory report." • "Unthinkable"? Not to NC readers, I am sure. The deck: "Now they're looking like the Theranos of self-driving." Atrios: "Whispers: They All Are." Indeed!
Concentration: "Amazon.com Inc. is shifting the traditional lines between supplier and seller with its latest push to build a bigger line of exclusive products. The online retail giant is asking consumer-goods companies to create brands exclusively for Amazon… after finding that developing the products on its own is too costly and time-consuming" [Wall Street Journal]. "The plan is being run through an accelerator program Amazon launched last year and means the company is effectively outsourcing the work of creating its own new brands to the manufacturers. Those companies normally would profit more from selling goods through a range of retailers, but they're anxious for the boost Amazon can give them on its platform."
Concentration: "Self-Regulation and Regulatory Intermediation in the Platform Economy" [SSRN]. From the abstract: "Digital platforms are not only market intermediaries between different groups of platform users. They are also providers of governance mechanisms that are essential for the functioning of digital markets. Moreover, public regulators are increasingly relying on platforms as regulatory intermediaries, drawing on their superior operational capacities, data pools and direct access to platform users." • Yikes…
Honey for the Bears: "The Upside of Caterpillar's Bleak Results" [Bloomberg]. "The industrial bellwether reported fourth-quarter earnings on Monday that missed analysts' estimates by the most in a decade as rising manufacturing costs and an increase in provisions for credit losses at its financing arm weighed on results. Caterpillar expects only a modest sales increase in 2019 and a smaller gain in earnings per share than analysts anticipated. If you needed more evidence that global economic growth is losing steam, this is it. One of the biggest topics of discussion in industrial circles has been around whether stocks have sold off sufficiently to reflect that slowdown; Caterpillar's more than 9 percent drop on Monday suggests they haven't, and its results are a good reminder of how quickly economic momentum can shift." But the upside: "Caterpillar's move to add back restructuring costs as these bills fall to more manageable levels pays lip service to the idea that these really are one-time expenses. I will point out, though, that the idea falls a bit flat if you think changing economic conditions may soon force Caterpillar to again rethink its employee and factory base." • Yes, that is the upside.
Honey for the Bears: "The U.S. manufacturing upturn may be losing momentum in one of the sector's biggest markets. A growing number of industrial companies say their sales are softening in China…, as a slowdown in the country's economy reaches factories on the other side of the globe [Wall Street Journal]. "That's a big turnaround from the previous decade, as U.S. exports to China doubled over the decade through 2017 to $130 billion a year. Now, companies like PPG Industries Inc. and industrial glue maker H.B. Fuller Co. are reporting weaker demand there, a softening that ON Semiconductor Corp. Chief Executive Keith Jackson says is 'weaker than seasonal.' Smaller manufacturers may have more to lose."
Rapture Index: Closes down one on earthquakes. "The lack of activity has downgraded this category." [Rapture Ready]. Record High, October 10, 2016: 189. Current: 178. Continuing down, now that the 180 floor is broken. Remember that bringing on the rapture is a good thing.
The Biosphere
"From the Northern to the Southern Cross" [Nicholas Buer, Astronomy Picture of the Day, NASA]. Love the 1995-style site design; unfortunately, there seems no way to subscribe:

From NASA:
Explanation: There is a road that connects the Northern to the Southern Cross but you have to be at the right place and time to see it. The road, as pictured here, is actually the central band of our Milky Way Galaxy; the right place, in this case, is dark Laguna Cejar in Salar de Atacama of Northern Chile; and the right time was in early October, just after sunset. Many sky wonders were captured then, including the bright Moon, inside the Milky Way arch; Venus, just above the Moon; Saturn and Mercury, just below the Moon; the Large and Small Magellanic Clouds satellite galaxies, on the far left; red airglow near the horizon on the image left; and the lights of small towns at several locations across the horizon. One might guess that composing this 30-image panorama would have been a serene experience, but for that one would have required earplugs to ignore the continued brays of wild donkeys.
"Ancient Canadian quinoa suggests food globalized earlier than we thought" [Quartz]. "Three thousand years ago, a vast trading system existed among the people of North America, moving obsidian from present-day Wyoming, shark teeth from the Atlantic Coast, copper from the Great Lakes region, and mica from southern Appalachia. The recent discovery of 3,000-year-old quinoa seeds in Ontario, Canada suggests that food staples may have been traded in that network as well." • And then came the Columbian Exchange…
"Strange jellyfish-like 'blobs' found in 600 million year old rocks in China are believed to be Earth's earliest animal" [Daily Mail] (original). "Fossil evidence of the ancient creatures, which resemble jelly fish, was discovered in 600 million-year-old rocks. The previously unknown animal doesn't have a name yet but microscopic analysis showed similar features to comb jellies – including tentacles and mucous layers. The carnivorous comb jelly species still exist today, feeding on small marine organisms…. If the fossil is an ancient relative of a comb jelly, this would suggest that it was part of of a larger food web and a complex ecosystem."
"The earth breathing":
"The Mauna Loa graph of atmospheric CO₂ is a thing of beauty, but also a stark reminder of human impact on climate", @richardabetts https://t.co/jpxk1omUM9

Watch this mesmerizing animation by @robbie_andrew of the Earth breathing…https://t.co/CXyAMsk4oc pic.twitter.com/6ibXdbaTr9

— Glen Peters (@Peters_Glen) January 27, 2019
"Paving the Road To Fewer Carbon Emissions" [Anthropocene]. "Keeping roads maintained could reduce carbon emissions from vehicles by up to 2 percent, shows the research published in the International Journal of Sustainable Transportation. These savings would more than offset the pollution that road construction generates. Plus, better-paved roads would cut transportation agency spending by 10–30 percent, and would also save drivers 2–5 percent in fuel, tire wear, and repair and maintenance costs, the study found."
"Trump rollbacks for fossil fuel industries carry steep cost" [Associated Press]. I'm pulling out this one paragraph, because the detail is so telling: "Last month, the AP revealed that the administration understated the advantages of installing better brakes on trains carrying crude oil and ethanol. Transportation Department officials acknowledged they miscalculated potential benefits by up to $117 million because they failed to include some projected future derailments." • Holy moley, after Lac-Mégantic was destroyed by a runaway oil train whose brakes failed?
Brakes are a great metaphor for regulation, just as failed brakes are a great metaphor for the behavior of the fossil fuel industry, and its enablers in the administration(s).
Water
"The complete guide to the impending water crisis" [Quartz]. "The 2018 National Threat Assessment from the US intelligence community notes that the increasing scarcity of fresh water driven by climate change, urbanization, and development will affect human health and fuel economic and social discontent—and possibly upheaval. 'Water scarcity, compounded by gaps in cooperative management agreements for nearly half of the world's international river basins, and new unilateral dam development are likely to heighten tension between countries,' the assessment says." • Paging Dr. Micheal Burry…
"A Water Crisis Is Brewing Between South Asia's Arch-Rivals" [Bloomberg]. "Pakistan, India and Afghanistan are among the world's eight most water stressed countries. Waiting for hours or going days without water supply is the new normal in some crowded South Asian cities. The Indus river, one of Asia's longest that originates in the Tibetan Plateau and flows into the Arabian sea near Karachi, has shriveled to a shadow of its former self. Water scarcity has led to regular protests in cities from Shimla in India to Lahore in Pakistan. Most South Asian nations are heavily dependent on agriculture that consumes the majority of fresh water supply. Rice and sugarcane are grown by flooding the entire area with more than four feet of water. About 60 percent of households in India rely on agriculture while about half of Pakistan's labor force is employed by the industry."
Health Care
"Giant steps – the next stage in the fight for Medicare for All" [National Nurses Union]. • On Jayapal's bill. The phrase "single payer" does not appear, so WTF?
Our Famously Free Press
"The Crisis Facing American Journalism Did Not Start With the Internet" [Slate]. "We have lost about 20 percent of local newspapers in the United States since 2004, and at least 900 communities now are without any local news source in that same time frame…. People want to blame the internet for the news industry's troubles, but the seeds go back to the 1980s…. Owning a printing press really used to be a license to print money—there's a reason that became a cliché. Independent and family-owned newspapers began merging into larger companies and conglomerates by the mid-20th century, and those companies were enormously profitable (to the tune of 30 percent margins) in the 1970s and '80s even though readership declines began at the start of that run. Everyone wanted to own newspapers, and so the publicly traded newspaper chains borrowed money and went on buying sprees because the upside in that economy outweighed the risk. But big profit margins create expectations, and during the 1980s investment strategies were not built around innovation but rather keeping profits high for shareholders." • In other words, capitalists butchered capital allocation (unless you think that the social function of capitalists is looting; many now do, and who can blame them?)
"How independent journalists are covering more than just 'the amount of rust' in America's overlooked regions" [Poynter Institute]. "Local news outlets, [independent journalist Lyndsey Gilpin (Whitesburg, Kentucky)] said, play an essential role in going beyond the national talking points by providing readers with the daily coverage and insightful investigations essential to an informed populace. As an independent reporter, however, Gilpin has the freedom to regularly travel to underserved locations and suss out untold stories, something that a beat reporter at a city newspaper may not have the luxury of doing. Her freelancer status also gives her the ability to look for gaps in reporting that daily publications may not be able to consistently tackle, like the environmental struggles facing the South." • This useful article is full of interesting examples of independent journalism. I can't help but think, however, that there is value to being involved in a newsroom, of being involved in a collective enterprise, even if the enterprise takes the form of a firm.
The 420
"Orono's school board wants marijuana shops banned from downtown" [Bangor Daily News]. "In a 3-2 vote Tuesday night, the school board recommended banning retail shops from downtown and urged the Town Council to consider the impact on the town's 800 public-school students as it develops rules regulating marijuana businesses." • Well, it's not like the town needs the tax revenue, after all. Meanwhile, there's a large package store catering to university party culture downtown, and every so often pedestrians must step gingerly around pools of vomit outside the bars or the convenience store. Meanwhile, Mainers still have no idea when they will be able to buy recreational marijuana. Exactly like Ranked Choice Voting. The voters express their preferences through a referendum, and the political establishment does everything it can to sabotage it.
Class Warfare
Lambert here: Most of the post-shutdown coverage has focused on horse-race level analysis: Did Trump lose and did Pelosi win? My answer is neither: Workers in the airline industry (air traffic controllers and flight attendants) won. Their collective action happened at the national level, and showed that they can use their position in our complex and fragile supply chain for political purposes. That's a far bigger story than the teachers strikes, themselves a big story. (Just spitballing here, exercising my over-active imagination, but people in the Teamsters and the International Longshoremen's Association — probably not at the national level, sadly — must be giving some thought to leverage they could exert over Amazon.)
"The single most important pro-labor speech of the shutdown was not given by AOC" [Salon]. "Yet, the Jan. 20 impassioned speech given by Association of Flight Attendants CWA International President Sara Nelson deserves not to be lost in that blur because it grasped the potential power of organizing a national general strike in support of 800,000 Federal workers and their families… 'We need to follow Dr. King's lead and think big,' Nelson said. 'Think big like the hotel workers who took on the largest hotel chain in the world and won. Think big, like the teachers in Los Angeles who this very minute are taking on powerful hedge funds to save public education for our children…. Go back with the Fierce Urgency of NOW to talk with your Locals and International unions about all workers joining together — To end this shutdown with a general strike." … When Nelson appeared on MSNBC after that speech she wasn't asked about her radical, but essential call for a general strike." • Hmm. Perhaps if there's another government shutdown in three weeks?
"How air traffic controllers helped end the shutdown — and changed history" [WaPo]. "Air traffic controllers revectored the course of U.S. history once before. The illegal strike of the Professional Air Traffic Controllers Organization (PATCO) in 1981 led President Ronald Reagan to fire and replace more than 11,000 controllers, inaugurating an era of diminished worker bargaining power. In time, we might come to see the controllers' actions on Friday as a historical bookend, signaling — finally — the end of that era. It also shows that labor still has some power, at least when public opinion is on its side."
"Nancy Pelosi Ended the Shutdown, Not the Air Traffic Controllers" [Kevin Drum, Mother Jones]. "Do we really want the folks who run our air travel system to have this kind of power? I'm not so sure that would be a great thing." • Wowsers. I wonder what Mother Jones would think about that?
* * *
Who knew?
Unofficially, it seems that America has a ruling class — or at least a limited number of ways to enter the halls of power https://t.co/x7pGQdQvrT

— NYT Opinion (@nytopinion) January 28, 2019
"World's Billionaires: Taxing Us Our Fair Share Would Be 'Disastrous'" [Vanity Fair]. "This year, attendees at the 'Money Oscars' are particularly concerned about slowing economic growth, spiking sovereign debt, central banks' limited ability to fight recessions "or worse," and uncertainty over geopolitical events such as Brexit, and the U.S.'s trade war with China. Also scaring the bejesus out of them? The prospect of Representative Alexandria Ocasio-Cortez forcing people in what's known as the 'fuck-ton of money tax bracket' to 'contribute more.'" • I like "Money Oscars." Plenty of deliciously horrid details…
"Southern communities revitalize their connection to electric co-ops" [Southerly]. "It took Cleotra Tanner more than 60 years to learn he was a partial owner of Twin County Electric Power Association in rural Mississippi. Tanner, a longtime local NAACP leader, said that he never heard about meetings, potential changes to energy sources, or board elections, and was not informed about how the relationship between electric cooperatives and members worked. He only knew the bills were exorbitantly high — and figured there was nothing he could do…. In 2016, One Voice started a free annual program that teaches a class of 20 to 25 members from around the state how to decipher bylaws and tax forms so they can understand how cooperatives spend money, and shows them ways to impact co-op decisions. Afterwards, some attendees host monthly meetings in their own communities to share successes and challenges. The next round of leadership training begins in spring 2019. There have been small successes since it began: one group used rebate money to revamp a playground in a community; another got funding for a college radio station."
"How to Suck at Business Without Really Trying" [Popula]. "At the contemporary office (or "co-working space"), you are your own taskmaster. You and your colleagues are not members of a collective, but a competitive market. I found this out slowly, after mistakenly assuming I was not under scrutiny. Yet no matter how hard I tried, how much earlier I came in, at least half the writing staff would be there before me. There was too much content to harvest for anyone to get away with sleeping in. Even more alarmingly, no matter how late I forced myself to stay, I was never the last one to leave." • Life on a content farm. This is very, very good.
News of the Wired
"Neanderthals could have been long-distance killers" [Science]. "Scientists know our archaic cousins stabbed prey at close range. But past experiments suggested Neanderthal-style spears—about 2 meters long and probably weighing a bit less than a kilogram—were too heavy to throw with the force and accuracy required for hunting. Those experiments relied on humans who were often first-time spear throwers, however. So in the new study, researchers recruited the next best thing to experienced Neanderthal spear hunters: trained javelin throwers… The athletes hit the target only 25% of the time when it was 10 meters away. But they achieved the same 25% accuracy at 15 meters, and even managed to hit [and would have penetrated] the target 17% of the time at 20 meters—double the range at which scientists thought a hand-thrown spear could be useful for hunting." • Samples matter!
"A New Test Predicts When You'll Die (Give or Take a Few Years)" [Medium]. "In a paper published this week in Aging, [Steve Horvath, a biostatistician at the University of California, Los Angeles] and his colleague Ake T. Lu formally announced a project they've been teasing for a couple months now: a "time to death" clock called DNAm GrimAge that they claim can predict, better than any other tool, when a given person might die. It was announced in tandem with AgeAccelGrim, which provides a countdown to the year you'll develop cancer or coronary heart disease. Horvath said he can estimate the number of cigarettes someone has smoked in their lifetime and predict when they'll go through menopause…. The research has already captured the attention of the life insurance industry… [T]he hope is that if and when legitimate anti-aging drugs are developed, GrimAge could be used to test their effectiveness. In a world with functional anti-aging drugs, 'doctors could test [your GrimAge number] and say, 'You know what, you're aging too quickly. Take this,' Horvath said." • If you could afford a doctor, and if you could afford the drugs…
* * *
Readers, feel free to contact me at lambert [UNDERSCORE] strether [DOT] corrente [AT] yahoo [DOT] com, with (a) links, and even better (b) sources I should curate regularly, (c) how to send me a check if you are allergic to PayPal, and (d) to find out how to send me images of plants. Vegetables are fine! Fungi are deemed to be honorary plants! If you want your handle to appear as a credit, please place it at the start of your mail in parentheses: (thus). Otherwise, I will anonymize by using your initials. See the previous Water Cooler (with plant) here. Today's plant (via):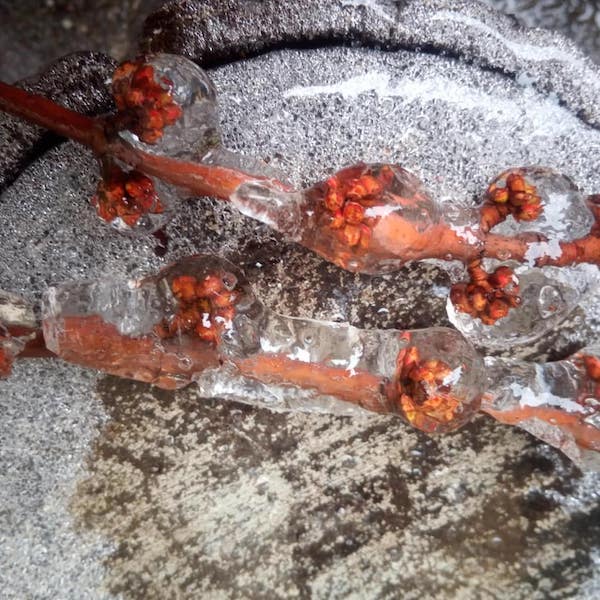 From an ice storm in Bucharest!
* * *
Readers: Water Cooler is a standalone entity not covered by the annual NC fundraiser. So do feel free to make a contribution today or any day. Here is why: Regular positive feedback both makes me feel good and lets me know I'm on the right track with coverage. When I get no donations for five or ten days I get worried. More tangibly, a constant trickle of small donations helps me with expenses, and I factor that trickle in when setting fundraising goals. So if you see something you especially appreciate, do feel free to click below! (The hat is temporarily defunct, so I slapped in some old code.)
Or Subscribe to make a monthly payment!