By Lambert Strether of Corrente.
Politics
"But what is government itself, but the greatest of all reflections on human nature?" –James Madison, Federalist 51
2020
Harris (1):

Jesus. The laughter is chilling. Strangely enough using the symbols of law enforcement on her letterhead isn't all that different from the for-profit college strategies she critiques. https://t.co/mXEE6Cvduk

— The Dr. Tressie McMillan Cottom (@tressiemcphd) January 29, 2019

Try watching the video with the sound off. (Tressie McMillan Cottom isn't some rando, either.)

Harris (2):

Harris' beliefs in retributive justice are deeply held. Here's a video of Harris from 2013 at the Chicago Ideas Week mocking criminal justice reformers as unrealistic and ideological. pic.twitter.com/DWk6bliLmw

— Walker Bragman (@WalkerBragman) January 29, 2019

Harris (3):

>@sunrisemvmt founder @VarshPrakash: "We'll continue to push (Harris) to make sure that the Green New Deal, for her, is more than just a buzzword…" after Harris backs GND during town hall in Iowa: https://t.co/PTDD4v51pv

— Greg Krieg (@GregJKrieg) January 29, 2019

Harris (4):

RT _waleedshahid: A great answer from Kamala Harris on whether her #MedicareForAll plan would eliminate for-profit, private insurance companies:

"Let's eliminate all that. Let's move on." pic.twitter.com/HmCEMDBl94

— INF❤️ (@INFOO0O) January 29, 2019

I'm glad that the Overton Window has shifted on #MedicareForAll from Clinton's famous 2016 statement "never, ever." That said, Harris does not support California's single payer bill, SB562. And while Harris's recent conversion, and support for S1804, is good, she's also positioned to be a revolving here: The real action here is in the House, with whatever bill that Jayapal introduces, and whatever happens at the House hearings. Harris can move left on this one issue without putting any skin in the game, especially if Democrat insiders are determined to rerun the same plays they ran in 2009 (see "Health Care" below).

Sanders:

NEW: Recently discovered footage from 1988 reveals a shirtless Bernie Sanders with his wife, Jane, on their honeymoon in the USSR, drunkenly signing "This Land Is Your Land" with a group of presumed Soviets.

H/T: @mgranville1pic.twitter.com/bpUsYRdZ7R

— TOᑭ ᖇOᑭE TᖇAViS (@TopRopeTravis) January 28, 2019

From the Director of Veterans Outreach for @RunBeto2020. (Several ancient Sanders videos appeared more or less at the same time today; it's almost as if somebody discovered or released a cache of them through Twitter cut-outs. Not that I'm foily.)

"'Trump effect:' California Latino voters showed up in force in 2018. Will they do it again?" [Sacramento Bee]. "Data obtained by McClatchy show that the proportion of Latinos voting in the seven California congressional districts that Democrats targeted last year rose to levels normally seen in presidential elections…. Historically, Latino turnout in midterm elections is much lower than in presidential election years. Latino voters comprised 21 percent of total votes in the 2018 election, up from 15 percent in the 2014 midterm election, according to figures by Political Data Inc. and the UC Davis Center for Regional Change."

"Latest polling data point to major re-election challenges for Trump in Wisconsin" [Journal-Sentinel]. "The intensity of public opinion matters a lot in politics and it is not on Trump's side: 30 percent of Wisconsin voters "strongly" approve of him and 46 percent "strongly" disapprove. These people (three-quarters of the electorate) are pretty locked in, to Trump's disadvantage. The other quarter of the electorate is soft in its opinion: 14 percent of voters "somewhat" approve, 7 percent "somewhat" disapprove and 4 percent don't know. If you do the math, you see that as things stand now, Trump has to win an overwhelming share of these "soft" voters (whether they are pro-Trump or anti-Trump) to have a chance at carrying Wisconsin."

"Want to know which Democrats can actually beat Trump? We don't have to guess" [WaPo]. "We'll start with observed electability — basically the theory that if a candidate did well in major down-ballot elections compared to an appropriate baseline, they're doing something right and might perform strongly in a general election. We'll start by looking at the 2018 elections because, by an odd coincidence, most of the top tier of the Democratic field ran in a Senate race last year…. The only candidate who objectively performs poorly is Sen. Elizabeth Warren (Mass.), who somehow managed to underperform Clinton despite 2018 being a much better year for Democrats than 2016. Massachusetts is a politically complicated state, electing a parade of Republican governors and Democratic senators, but it's hard to look at this performance (or some of the other indicators) and spin it as a great sign."

"Biden and Beto Boosted GOP Candidates in 2018. That's Disqualifying." [New York Magazine]. "By boosting [(relatively) moderate Republican Will] Hurd, and spurning [Gina Ortiz Jones, an Iraq War veteran with a long and distinguished record of public service], O'Rourke did not put 'country before party'; he put himself before both…. [Joe] Biden declined to endorse Democratic candidate Matt Longjohn in his race to oust [Michigan Representative Fred Upton] from Congress. Instead, 'uncle Joe' vouched not only for Upton's bipartisan credentials, but painted him as a champion of the sick and infirm — despite the fact that the Michigan Republican played a lead role in trying to pass legislation that would have thrown 20 million Americans off of health insurance…. Ultimately, what makes Biden and O'Rourke's conduct disqualifying is not the effect it may (or may not) have had in 2018, but rather, what it says about how they will govern in 2021. If Democrats want to treat climate change as an existential threat — and health care and the franchise as inalienable rights — then they will need to treat the Republican Party as an enemy." • As Obama did not in 2009 (and, to be fair to Hillary Clinton, she might well have, at that time).
2019
"Some Dems float idea of primary challenge for Ocasio-Cortez" [The Hill]. "'What I have recommended to the New York delegation is that you find her a primary opponent and make her a one-term congressperson,' the Democratic lawmaker, who requested anonymity, told The Hill. 'You've got numerous council people and state legislators who've been waiting 20 years for that seat. I'm sure they can find numerous people who want that seat in that district.'" • They really hate her, don't they? "Waiting twenty years…." But wait! What about party unity?

"Ocasio-Cortez Slams Tech Giants Over Climate Denial at Conference" [Bloomberg]. "Representative Alexandria Ocasio-Cortez criticized Alphabet Inc.'s Google, Facebook Inc. and Microsoft Corp. for sponsoring a conference in Washington that included a session denying the science behind climate change. The New York Democrat and self-described Democratic socialist wrote to the chief executive officers of the companies Friday and said she was 'deeply disappointed' in their sponsorship of LibertyCon conference. 'The example you have set promoting sustainability and evidence-based science is compromised by your implicit support of the session organized at LibertyCon,' she said in the letter, which was joined by Democratic Representative Chellie Pingree of Maine." • Good for Pingree, too, who hasn't done a lot. Perhaps AOC is making her less shy?
Realignment and Legitimacy
"Virginia students learn in trailers while state offers Amazon huge tax breaks" [Guardian]. "In Fairfax county, the third richest county in America, there are over 800 trailers serving as temporary classrooms because the school district cannot afford to build new classrooms…. Just a few miles away from the moldy trailers of McLean high school is the proposed site of on Amazon's new headquarters in Crystal City, Virginia, right across the Potomac River from the Lincoln Memorial. The influx of new residents to northern Virginia attracted by Amazon is only likely to expand the trailer parks sitting outside of many northern Virginia schools…. While Virginia's Democratic governor Ralph Northam is proposing to increase education funding by $269m, he has proposed to spend nearly three times as much, $750m, to lure Amazon to northern Virginia." • Wow, a Democrat.

* * *

Corruption Eruption in the Windy City (all from DJG):

"Viagra, sex acts, use of a luxury farm: Feds detail investigation of Ald. Solis" [Chicago Sun-Times]. "Retiring Ald. Danny Solis (25th) received sex acts, Viagra, free weekend use of an Indiana farm once owned by Oprah Winfrey and a steady stream of campaign contributions in exchange for shepherding official City Council actions, according to allegations in a federal court affidavit obtained by the Chicago Sun-Times…. Although no charges have been filed publicly against Solis, the 2016 affidavit lays out in detail a federal corruption case against the veteran alderman, who was one of the closest City Council allies of Mayor Rahm Emanuel and Emanuel's predecessor, Richard M. Daley." • Rahm? Oprah??

"FBI secretly recorded Mike Madigan at his law office pitching firm's services" [Chicago Sun-Times]. "The FBI secretly recorded Illinois House Speaker Michael Madigan trying to get business for his private law firm from a developer brought to him by Ald. Danny Solis, who was weighing the developer's request to build a hotel in Chinatown, according to a federal court affidavit obtained by the Chicago Sun-Times. The affidavit makes clear for the first time that the federal investigation that has snared powerful Chicago Ald. Edward M. Burke extends beyond City Hall and into the Illinois statehouse, examining politicians' longstanding practice of merging personal and political business." • Well, the personal is the political, after all…

"Ald. Edward Burke dumped as tax lawyer by developers of Lincoln Yards, 'The 78′" [Chicago Sun-Times]. "For 10 years, Sterling Bay, one of Chicago's biggest developers, used Ald. Edward M. Burke's law firm Klafter & Burke to seek property tax cuts. But not anymore. The firm behind the massive Lincoln Yards development proposed for the North Side has cut ties with Burke now that the alderman faces a corruption charge that threatens to send him to prison and end the reign of Chicago's longest-tenured and most powerful City Council member…. Burke's four-person law firm specializes in handling property tax appeals. It does that largely by seeking reductions in the property assessments that heavily determine the amount of those taxes. Its clients have long included companies that do business with or need a variety of approvals from City Hall." • One big happy family in Chicago, apparently! (The many clients include the Trump Organization, interestingly.)

Lambert here: And how petty all the corruption is, too. Four-, five-, and six-figure stuff.
Stats Watch
GDP, Q4 2018: Delayed by the government shutdown [Econoday].
ADP Employment Report, January 2019: Delayed by the government shutdown [Econoday].
Pending Home Sales Index, December 2018: [Econoday].
Tech: "Google will conquer the world one charitable donation at a time" [The Outline]. "[T]his year alone, Google spent over $21 million on lobbying, and yesterday, at the World Economic Forum in Davos, the company announced a $3.1 million dollar donation to the Wikimedia Foundation, the non-profit behind Wikipedia. These don't sound like huge amounts of money for a corporation as massive as Google, but it's business decisions like these – a donation here, a law passed there — that have allowed tech companies to slowly lay the foundation of our entire internet experience, and they deserve the same scrutiny as data collection policies and privacy scandals."
Tech: "We analyzed 16,625 papers to figure out where AI is headed next" [MIT Technology Review]. "As well as the different techniques in machine learning, there are three different types: supervised, unsupervised, and reinforcement learning. Supervised learning, which involves feeding a machine labeled data, is the most commonly used and also has the most practical applications by far. In the last few years, however, reinforcement learning, which mimics the process of training animals through punishments and rewards, has seen a rapid uptick of mentions in paper abstracts." • Very interesting!
Tech: "A New Golden Age for Computer Architecture" [Communications of the ACM]. This is a very approachable article, and well worth a cup of coffee if you want to better understand the machines that so dominate our lives. This caught my eye: "In the 1970s, processor architects focused significant attention on enhancing computer security with concepts ranging from protection rings to capabilities. It was well understood by these architects that most bugs would be in software, but they believed architectural support could help. These features were largely unused by operating systems that were deliberately focused on supposedly benign environments (such as personal computers), and the features involved significant overhead then, so were eliminated. In the software community, many thought formal verification and techniques like microkernels would provide effective mechanisms for building highly secure software. Unfortunately, the scale of our collective software systems and the drive for performance meant such techniques could not keep up with processor performance. The result is large software systems continue to have many security flaws, with the effect amplified due to the vast and increasing amount of personal information online and the use of cloud-based computing, which shares physical hardware among potential adversaries." • And wait 'til we get to the Internet of things.
Transportation: "Tesla Supercharger Gets Vandalized: Images" [Inside EVs]. The deck: "This is why charging stations needs to be monitored."
Concentration: "The Power of Platforms" [Public Seminar]. "Currently, there are two prominent lines of debate about the political implications of platforms and their algorithmic models: the black-box and the post-truth debates, explained below. Both discussions highlight important problems, but by focusing on the need for greater transparency and the dissolution of the public sphere respectively, they also distract from more urgent political concerns. Instead, I suggest we focus on the forms of power platforms and their algorithms exercise. Following Michel Foucault, they may be understood to employ a specific form of biopower, and should therefore be understood as biopolitical companies. What this means is that these companies have the means and the intention to govern populations. The biopolitical quality of these companies puts them at odds with democratic states that were historically thought to be the primary loci of biopower. Whereas the rise of platforms has consistently been greeted with enthusiasm for their democratizing potential, it may now be time to start to be concerned about the power platforms wield and what their power means for democratic states." • Whatever "biopower" is; do we have any Foucault fans who can explain this concept better than this article does? Intriguing, though!
The Biosphere
"This Is Why You Can't Tickle Yourself" [Vice] (original). "The research looked at people's brains using fMRI when others were touching them on the arm, or when they were touching themselves on the arm. They found that when we touch ourselves, the brain dulls the experience. 'We found that many areas reduced their activity during self-touch,' Böhme tells me. Being touched by others activated more areas in the brain, like ones involved in the processing of tactile sensations, and also areas related to social cognition and reward, leading to a more intense sensation than with self-touch." • Hmm.
"Into the dark" [MacLeans]. Terrific recap of the Thai Cave Boys rescue. This caught my eye: "[Chris] likes cave diving because most men can't do it and he can do it because he doesn't panic. 'If you panic, it's curtains,' he'll say. '.' Chris knows he can do that, too."
Health Care
"How to build a Medicare-for-all plan, explained by somebody who's thought about it for 20 years" [Jacob Hacker, Vox]. Here's what Hacker's backing, "Medicare for America" (and with brand confusion like that, you'd better count the spoons after the proponents leave your house). A summary:
In very brief, here's what this plan would do:

The uninsured, people currently purchasing insurance in the Obamacare marketplaces, and Medicaid beneficiaries would automatically be enrolled in an improved Medicare program
Employers could continue to offer private insurance, so long as it meets certain federal standards. Companies could also elect to send their workers to the public program and pay a contribution toward their employees' premiums. Likewise, workers could voluntarily leave their job's insurance for the new public plan.
Participants would be required to pay premiums, on a sliding scale based on their income; people with lower incomes would pay no premium at all. Out-of-pocket costs would also be based on income and capped at $3,500 for an individual or $5,000 for a family.
Doctors would be paid Medicare rates, with an additional increase provided for primary care doctors and mental health services.
So, Medicare for America [gag] would not be free at the point of care, the system of complex eligibility requirements would remain, and the private insurance companies would still exist, as a financial and political force. Hard pass.
Those of us who remember 2009 will remember Jacob Hacker as the dude who introduced the so-called "public option" (see NC here), which sucked all the oxygen away from single payer, as it was designed to do, and which vanished after its work was done. (Although Obama cut a deal nobody now remembers with Big Pharma, with the "public option" what he gave up, he didn't bother to tell public option advocates, who continued to drag the public option horse long after it was dead. For the sordid history, see Kip Sullivan here and here. If you want to understand the tactics that liberal Democrats will employ on #MedicareForAll, these two posts are essential reading. None of it will be new, including player like Hacker.)
MMT
Quite an endorsement:
Now that #MMT is practically everywhere, the comment of #Keynes (1943) on Functional Finance approach seems pretty interesting:

"[Lerner's] argument is impeccable, but heaven help anyone who tries put it across to the plain man at this #stage of the #evolution of our #ideas."

— Jussi Ahokas (@ahokasjaj) January 19, 2019
Guillotine Watch
Silicon Valley dysfunction:
Just… wow:
Been playing with fasting for some time. I do a 22 hour fast daily (dinner only), and recently did a 3 day water fast. Biggest thing I notice is how much time slows down. The day feels so much longer when not broken up by breakfast/lunch/dinner. Any one else have this experience?

— jack (@jack) January 26, 2019
Dude, 800 million people have that experience….
"The Harder, Better, Faster, Stronger Language of Dieting" [The Atlantic]. "Silicon Valley, not content with external devices, has pivoted to the self as its next great frontier. And in order for its vision of your body to take hold, it needs you to speak its language. Dieting is no longer a necessary problem of vanity, as it has been historically termed, but a problem of knowledge and efficiency—a rhetorical shift with broad implications for how people think of themselves. Where bodies might have previously been idealized as personal temples, they're now just another device to be managed, and one whose use people are expected to master. We're optimizing our performances instead of watching our figure, biohacking our personal ecosystem instead of eating salads… What's unclear is what would become of people who lack the desire to self-optimize according to Silicon Valley standards."
"Why Do Rich People Love Endurance Sports?" [Outside]. "Participating in endurance sports requires two main things: lots of time and money. Time because training, traveling, racing, recovery, and the inevitable hours one spends tinkering with gear accumulate—training just one hour per day, for example, adds up to more than two full weeks over the course of a year. And money because, well, our sports are not cheap: According to the New York Times, the total cost of running a marathon—arguably the least gear-intensive and costly of all endurance sports—can easily be north of $1,600…. 'By flooding the consciousness with gnawing unpleasantness, pain provides a temporary relief from the burdens of self-awareness,' write the researchers. 'When leaving marks and wounds, pain helps consumers create the story of a fulfilled life. In a context of decreased physicality, [obstacle course races] play a major role in selling pain to the saturated selves of knowledge workers, who use pain as a way to simultaneously escape reflexivity and craft their life narrative.' The pursuit of pain has become so common among well-to-do endurance athletes that scientific articles have been written about what researchers are calling 'white-collar rhabdomyolysis,' referring to a condition in which extreme exercise causes kidney damage." • So, they're not running to; they're running away. But maybe if they want go get in touch with their physicality, and "demonstrate an ability to discipline their bodies," they could just become Amazon warehouse workers?
Class Warfare
"Liberal Critics of Liberalism" [The American Conservative]. "George Scialabba continues to work in a political-literary vein almost forgotten in our partisan times. Along with Todd Gitlin, Thomas Frank perhaps, Jedediah Purdy (who introduces this volume), and a few others, Scialabba is a liberal without being progressive, in solidarity with workers against the capitalists rather than 'woke' activists aligned with corporate interests, and respectful of tradition while also criticizing the past's faults… This new progressivism is sincere, but largely performative. It is too often in service to an individualistic view of the self and lacks the solidarity Scialabba sees as one of the strongest points of the Left. Resistance is a workers' collective, not a world in which choice—mediated by corporations and advertising—is king. Identity politics are no help here either. Indeed, to Scialabba, they are part of the problem because they are too easily coopted by capital: 'Identity politics are an essential component of neoliberalism, the extension of market relations across borders and into all spheres of life. …When rewards are assigned efficiently in proportion to merit, then not only is total output maximized, but the winners feel no qualms about the plight of the losers.' Corporate power sees no distinction between funding diversity efforts and pursuing profit, becoming 'woke' through advertising."
"Google Urged the U.S. to Limit Protection For Activist Workers" [Bloomberg]. At the NLRB: "Google, whose employees have captured international attention in recent months through high-profile protests of workplace policies, has been quietly urging the U.S. government to narrow legal protection for workers organizing online…. [L]ast year has seen an unprecedented wave of concentrated and forceful advocacy from employees, often at direct odds with the positions of management."
News of the Wired
You stay here, and I'll bring the etchings down. Thread:
Here's two of Gustave Doré's 1874 engravings for Paradise Lost: the Angels look over Hell, and the fallen Angels explore Hell. pic.twitter.com/eAkrS0zQDI

— Pulp Librarian (@PulpLibrarian) January 27, 2019
* * *
Readers, feel free to contact me at lambert [UNDERSCORE] strether [DOT] corrente [AT] yahoo [DOT] com, with (a) links, and even better (b) sources I should curate regularly, (c) how to send me a check if you are allergic to PayPal, and (d) to find out how to send me images of plants. Vegetables are fine! Fungi are deemed to be honorary plants! If you want your handle to appear as a credit, please place it at the start of your mail in parentheses: (thus). Otherwise, I will anonymize by using your initials. See the previous Water Cooler (with plant) here. Today's plant (TH):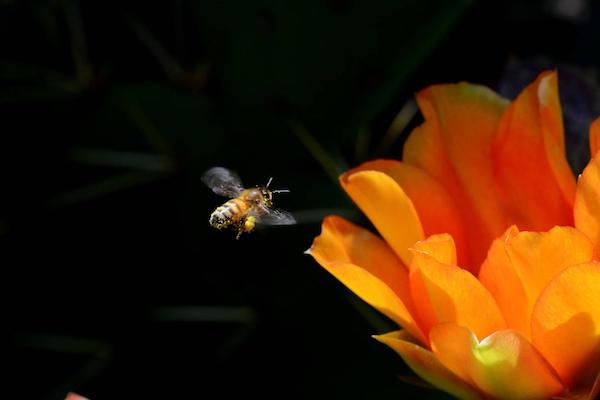 TH writes: "A happy pollen collector gathering groceries at the Environmental Nature Center in Newport Beach, California."
* * *
Readers: Water Cooler is a standalone entity not covered by the annual NC fundraiser. So do feel free to make a contribution today or any day. Here is why: Regular positive feedback both makes me feel good and lets me know I'm on the right track with coverage. When I get no donations for five or ten days I get worried. More tangibly, a constant trickle of small donations helps me with expenses, and I factor that trickle in when setting fundraising goals. So if you see something you especially appreciate, do feel free to click below! (The hat is temporarily defunct, so I slapped in some old code.)
Or Subscribe to make a monthly payment!