By Lambert Strether of Corrente.
Trade
"US and China must step off 'path to disaster', warns Jeffrey Sachs after storm of criticism over Huawei defence" [South China Morning Post]. "The Columbia University professor faced a firestorm of criticism on social media after he accused the US of hypocrisy for its targeting of Huawei senior executive Sabrina Meng Wanzhou, who was arrested by the Canadian authorities last month at the behest of the US…. He wrote that, by contrast, no major executives from American financial institutions had been arrested even though their companies had been fined for violating their country's own sanctions on Iran or other nations…. Sachs warned that conflicts like the continuing trade war and the targeting of Chinese IT firms 'recall an early era of great power confrontation that eventually led to utter disaster.'"
"Apple Isn't the Only Casualty of China's Slowdown" [Bloomberg]. Apple "joins a growing list of companies struggling as a trade war with the U.S. and an equity selloff weigh on the world's second-largest economy." • FedEx, Starbucks, Tiffany's, Daimler, Zegna. Mr. Counter-suggestible, speculating: All but FedEx luxury goods makers, including Apple at the $1000 for a family-blogging phone price point. At least from this article, you have to wonder who's really being hit, there and here.
"Tim Cook's letter to Apple investors is corporate America's latest warning about US-China trade war" [CNBC]. "'It's clear that the economy began to slow there in the second half and I believe the trade tensions between the United States and China put additional pressure on their economy,' Cook said Wednesday." • Mr. Counter-suggestible, speculating once more: I don't see why Apple sales are a proxy for the health of China's economy, any more than the stock market is a proxy for our economy. A broad-based decline in manufacturing is another thing, and will hit Xi where he lives. China statistics being notoriously unreliable, so unlike our own, this makes me wonder if anybody has sought any physical, material proxies, like air pollution in the Pearl River Delta for example, or traffic patterns. Also, Cook betting the store on China both for their supply chain and for sales, and then having both bets go sour at the same time, seems like some sort of punctuation mark to forty years of deindustrialization and neoliberal triumphalism.
"Faltering Global Factories Add to 2019 Central Bank Challenges" [Industry Week]. "The global manufacturing index from JPMorgan Chase & Co. and IHS Markit fell in December to the lowest level since September 2016 as measures of orders and hiring weakened, data showed on January 2. That followed other IHS Markit reports showing factory conditions slumped across Asia's most export-oriented economies, with China's signaling contraction for the first time since mid-2017 as Taiwan, Malaysia and South Korea also point to declines. Factory growth in the euro area fell to the lowest in almost three years."
Politics
"But what is government itself, but the greatest of all reflections on human nature?" –James Madison, Federalist 51
2020
"To beat Trump, Democrats must counter his lies with realistic solutions" [Terry McAulliffe, WaPo]. "[S]ome senators have started to discuss a 'federal jobs guarantee' — a promise that, in certain formulations, means that anyone who wants could have a government job paying $15 an hour with great benefits. Sound too good to be true? It is. Proponents of a jobs guarantee are smart people with good motives, but they surely recognize that it is not a realistic policy. Similarly, a promise of universal free college has an appealing ring, but it's not a progressive prioritization of the educational needs of struggling families." • "Realistic solutions." Now there's a hill to die on!

Good for Warren:

In renouncing "endless war" & backing a pullout from Syria & Afghanistan, Warren is shunning the pro-war playbook of previous Dem candidates. That also might explain why Maddow ended interview w/o much follow-up. Imagine Clinton, Obama, Kerry saying this: https://t.co/Nug6HcOfIA

— Aaron Maté (@aaronjmate) January 3, 2019

I also read that she didn't buy into "Rachel's" relentless warmongering, leaving her non-plussed.

"Sexism Claims From Bernie Sanders's 2016 Run: Paid Less, Treated Worse" [New York Times]. "In recent weeks, a Facebook group for campaign alumni has become a sounding board for complaints about harassment, lewd comments and gender discrimination. Some alumni have requested a meeting with the senator and his campaign leadership team to address the "overall toxic atmosphere of the 2016 campaign," according to a screenshot of a post viewed by The Times. Politico first reported on the request." • Presumably, the original focus of the memo from the Politico article — most campaigns are subject to this (Clinton; Harris) — will be preserved. It's unfortunate that after the Clinton 2016 campaign, it's almost impossible to take material like this at face value, as a good faith effort. (Sanders also needs somebody who knows what a knife-fight is, and how to win one, and he needs them immediately. Sanders: "… To any woman who she was not treated appropriately…." That is a non-apology apology in classic form ("If anyone was offended…"). It should never have left Sanders' office. It looks bad, because it is bad.)

"Bernie Sanders Isn't Just Another White Male Candidate. His Nomination Would Be Historic." [Forward]. "In a country where 'Jewish' is often taken to be a strictly religious label, Sanders is an ethnic Jew, a cultural Jew, and a left-wing Jew, all of which seem to be covered by the blanket term 'white.' But no American presidential nominee has ever been white the way Sanders is white. And while that distinction may not matter to some Jews, it will absolutely matter to the white supremacist and anti-semitic elements who have been emboldened over the past several years. For Sanders to win the Democratic nomination, let alone the presidency, wouldn't just be a historic achievement. It would be a powerful rebuke to the forces that brought Donald Trump to power." • Considerate of Sanders not to play the anti-Semitic card. Things are already ugly enough.
2019
Paygo:

"[@RepJayapal & @repmarkpocan] said they will not oppose the overall House rules package based on the pay-go provision because they're satisfied with promises from Democratic leaders that they would waive pay-go if it interfered with significant bills, including #MedicareforAll."

— B.Hive (@safepolitics) January 3, 2019

Green New Deal:

The mandate for @NancyPelosi's Climate Select Committee is out, and it's everything we feared.

❌No mandate to create a plan on the timeline mandated by top scientists
❌No language on economic & racial justice, or a just transition
✅Allows members to accept fossil fuel money pic.twitter.com/ODgeLU1zS5

— Sunrise Movement ? (@sunrisemvmt) January 2, 2019

"Pelosi supports holding hearings on 'Medicare for all'" [The Hill]. "[T]he Rules Committee and the Budget Committee will hold the hearings. That would leave out the main committees with jurisdiction over the issue: Energy and Commerce and Ways and Means. The chairmen of those committees have not given their backing to Medicare for all, while the chairmen of Rules and Budget have. Pelosi's support for hearings is a plus for the movement, but it's unclear whether she would support further steps such as holding a vote on Medicare for all legislation. Rep. Pramila Jayapal (D-Wash.) plans to introduce a new version of the Medicare-for-all legislation early in the new Congress." • We'll have to see what Jayapal does. S1804, in my view, is quite watered down enough. We'll also see who the witnesses in the hearings are. If Woolhandler and Himmelstein aren't on the list, the fix is in.
Realignment and Legitimacy
"New St. Louis County prosecutor fires some staff" [St Louis Post-Dispatch]. "St. Louis County's new prosecuting attorney [Wesley Bell] is shaking up his staff and instituting new policies just two days into the job, his spokeswoman confirmed Wednesday, and a veteran assistant prosecutor who presented evidence to the grand jury after the fatal police shooting of Michael Brown in Ferguson is reportedly among those let go…. He wasted no time implementing some of his reformist agenda. Bell's office said Wednesday that they will no longer prosecute marijuana possession cases, among other changes." • Wesley Bell, and in Philly, Larry Krasner. In a sane political environment, they'd be "rising stars."
Stats Watch
Institute For Supply Management Manufacturing Index, December 2018: "December's drop in regional reports correctly signaled significant slowing in ISM's manufacturing index" [Econoday]. "Slowing growth is evident through most of the report but is centered unfortunately in new orders… With factory data to grow scarce given the closure of the Commerce Department and Bureau of Economic Analysis, the ISM will gain further in importance, and today's results are clearly negative and point to marked year-end slowdown for what nevertheless was a leading sector of the 2018 economy." And: "ISM Manufacturing index Decreased Sharply to 54.1 in December" [Calculated Risk]. "The ISM manufacturing index indicated expansion in December… This was well below expectations of 58.0%, and suggests manufacturing expanded at a slower pace in December than in November." And but: "Based on these surveys and the district Federal Reserve Surveys, one would expect the Fed's Industrial Production index growth rate to be lower than last month. Overall, surveys do not have a high correlation to the movement of industrial production (manufacturing) since the Great Recession. Both surveys trended lower this month – and were in agreement with the regional Federal Reserve surveys" [Econintersect]. And: "US Factory Gauge Tumbles by Most Since 2008" [Industry Week]. "Gloomier data may give Fed policy makers, who have already said they intend to slow the pace of interest-rate hikes, more reason to pause. Ahead of the ISM report on Thursday, Dallas Fed President Robert Kaplan said the central bank should put rates on hold as it waits to see how uncertainties about global growth, weakness in interest-sensitive industries and tighter financial conditions play out."
ADP Employment Report, December 2018: "ADP estimates that private payroll growth in Friday's employment report will rise" much higher-than-expected Econoday]. And but: "This month the rate of ADPs private employment year-over-year growth is on the high side of the tight range seen over this year – and remains on an improving employment growth trend line. Last month's employment numbers were revised downward. ADP employment has not been a good predictor of BLS non-farm private job growth" [Econintersect]. And but: "This was well above the consensus forecast for 175,000 private sector jobs added in the ADP report" [Calculated Risk].
Jobless Claims, week of December 29, 2018: "After dipping back toward historic lows, jobless claims are revisiting November highs" [Econoday]. "Despite the increases, the unemployment rate for insured workers remains unchanged at a very low 1.2 percent and offers a reminder that demand for labor remains very strong. Two states had to be estimated in the week including California for a second straight week." And but: "This was above the consensus forecast. Probably most of the increase in claims is related to the government shutdown" [Calculated Risk].
Challenger Job-Cut Report, December 2018: "The rise in announcements, however, never led to much tangible increase in jobless claims which held, and continue to hold, near historic lows" [Econoday].
Construction Spending, November 2019: "Forecasters see only a modest bounce higher in November for construction spending which has been very soft" [Econoday].
MBA Mortgage Applications, week of December 28, 2018: "A decline in mortgage rates failed to entice home buyers and refinancing homeowners" [Econoday]. "Partly responsible for the large decline in applications during the reported period may be the government shutdown, amid concerns over delays in FHA applications processing."
Banks: "'They destroyed me.' Wells Fargo's mistake forced her to sell her home" [Los Angeles Times]. "Michaela Christian lost a long battle with Wells Fargo in 2013 to save her Las Vegas home, a defeat she says changed the course of her life. When the bank refused to modify her mortgage, Christian moved in with a friend and scrambled to rebuild her life. Five years later, Wells Fargo admits it made a mistake. Christian, 46, qualified for the kind of mortgage help that may have saved her home after all. It is a mistake the giant bank admits it made nearly 900 times over several years, pushing hundreds of distressed homeowners into foreclosure…. Wells Fargo's admission is part of a cascade of that increased scrutiny of the San Francisco bank with some Democrats in Congress calling for the ouster of its chief executive, Tim Sloan. Over the last two years, the bank paid more than $1 billion in fines after admitting it opened millions of bogus accounts customers didn't want and then found itself in more trouble after improperly repossessing thousands of cars." • The lapses aren't bugs. They're features. Everybody collects a commission or a bonus. Nobody goes to jail. There's no reputational damage because Wells Fargo has no reputation for anything but looting and fraud. So what's not to like?
Retail: "More Amazon Effects: Online Competition and Pricing Behaviors" [NBER]. From the abstract: "I show that online competition has raised both the frequency of price changes and the degree of uniform pricing across locations in the U.S. over the past 10 years. These changes make retail prices more sensitive to aggregate 'nationwide' shocks, increasing the pass-through of both gas prices and nominal exchange rate fluctuations."
Shipping: "Truckers reveal in a new survey who they hate shipping for the most" [Business Insider]. "When Zipline Logistics asked employees from 150 trucking companies around the country this fall what companies they refuse to work with, one type of retailer kept getting mentioned above the others: grocery stores… Truckers told Zipline in the survey that grocery retailers like Kroger, Walmart, C&S Wholesale Grocers, and Safeway takes hours (sometimes even days) to unload their trucks and might not pay drivers for how long they spend at their warehouses."
Tech: "On Average, You'd Have to Pay Someone $1,000 to Stop Using Facebook for a Year" [New York Magazine]. "What the researchers found was that, on average, participants would need more than $1,000 to deactivate Facebook for a full year. College students valued Facebook even more than the average participant, requiring over $2,000 to forgo the service. Participants enlisted via Amazon's Mechanical Turk were nearly as expensive, requiring over $1,900 to leave the service for a year." • 40 percent of adults can't cover a $400 emergency expense. That makes me wonder if what the study is really measuring is not Facebook's value, but how much "free money" the study participants need. Readers?
Tech: "Inside the booming business of background music" [Guardian]. "Behind the rise of streaming lurks the spectre of automation. One part of Spotify's appeal is its playlists, where it offers music for particular activities, as well as individualised recommendations. The latter relies on comparing your choices with those of millions of other users, combined with analyses of the raw properties of songs, such as key, mode and tempo. For many people I spoke to while reporting this piece, the algorithms used to provide these recommendations seemed to be a source of anxiety. At the bigger companies, in particular, staff were keen to stress the importance of the real-life curator. Richard Hampson at Imagesound emphasised the intuitive side to his job. 'It's always been about feel and human touch,' he argued. 'Human taste is really important, and the algorithm thing is removing that.'"
Tech: "'Apple's darkest day in the iPhone era': Here's what Wall Street is saying about Apple's bombshell profit warning" [Business Insider]. • A round-up of analyst opinion.
The Bezzle: "Nobody in China wants Apple's eye-wateringly priced iPhones, sighs CEO Tim Cook" [The Register]. ""While macroeconomic challenges in some markets were a key contributor to this trend, we believe there are other factors broadly impacting our iPhone performance, including consumers adapting to a world with fewer carrier subsidies, US dollar strength-related price increases, and ," Cook conceded." • Instead of buying new phones. Apple's battery scam really was a big deal, then. Apple has quite a history: Apple II, Mac, Macbook, iPod, iPad, iPhone… Up until this point, they've always had "one more thing" in the pipeline, albeit unknown to consumers. One might speculate that software for robot cars was their next breakthrough product, which would have been another bad bet. One is also reminded of C. Northcote Parkinson's dictum on architecture: "A perfection of planned layout is achieved only by institutions on the point of collapse." So Apple's new HQ building would be a parallel case to the Vatican. Or Versailles.
The Fed: "Key Fed Yield Gauge Points to Rate Cuts for First Time Since 2008" [Bloomberg]. "Some of the most accurate gauges of economic health are pricing in lower Fed rates for the first time in more than a decade. The little-known near-term forward spread, which reflects the difference between the forward rate implied by Treasury bills six quarters from now and the current three-month yield, fell into negative territory on Wednesday for the first time since March 2008… Federal Reserve economists said looking at forward rates relative to those on current Treasury bills has served traders well in the past…. When the near-term forward spread turns negative, it indicates bets on easier policy 'over the next several quarters, presumably because they expect monetary policymakers to respond to the threat or onset of a recession,' they wrote."
Health Care
Identitarian #MedicareForAll:
Single payer healthcare only if the queues in hospitals are organized like progressive stack.

— its simis bitch (@slimis27) December 30, 2018
Our Famously Free Press
"The Spiegel Scandal and the Seduction of Storytelling" [Jeff Jarvis, Medium]. "I hear journalists say their primary role is as storytellers. No. I hear them say their task is to fill a product — a newspaper or magazine or show. No. Our job is to inform the public conversation. And now that we can hear people talking and join in with them, I've updated my definition of journalism to this: to convene communities into civil, informed, and productive conversation. This means our first job is not to write but to listen to that conversation so we can find what it needs to function. Then we report. Then we write — or convene or teach or use other forms now available to us. First listener, not storyteller… These lessons are not easily taught, for the addiction to storytelling as art — vs. journalism as service — is fierce." • Hmm.
"Newsrooms take the comments sections back from platforms" [Nieman Lab]. "Overwhelmed news organizations started giving away public dialogue to Facebook and Twitter a half dozen years ago, hoping the social media giants would be better equipped to civilize online discussions. That didn't happen." • Oddly, the story doesn't the headline. It says that newsrooms should do this, but does not say that they are.
"A New Year's resolution for reporters: Be less technodeterminist" [Poynter Institute]. "It's really hard to prove that misinformation swings elections, causes violence or changes behaviors online. 'The question of impact is the disinformation research community's white whale,' Paris Martineau wrote for Wired last month. 'You can measure reach, you can measure engagement, but there's no simple data point to tell you how one coordinated influence campaign affected an event or someone's outlook on a particular issue.'" • Which is why your campaign has to hire a number of expensive consultants!
Neoliberal Epidemics
"The $35 billion race to cure a silent killer that affects 30 million Americans" [CNBC]. "NASH, a serious form of fatty liver disease called nonalcoholic steatohepatitis, is] an outgrowth of the obesity epidemic in the Western world and around the globe, it causes scarring and inflammation that can lead to liver cirrhosis, cardiac and lung complications, liver cancer and death. Yet few people know about it…. Across the United States, millions of people of all ages suffer from this silent killer that slowly morphs from nonalcoholic fatty liver disease, a condition that now affects 89 million in the U.S., according to the Center for Disease Analysis. The National Institutes of Health estimates as many as 30 million people, or 12 percent of U.S. adults, now have NASH." • So, our horrible food is a platform, not only profitable in itself, but enabling profitable spinoffs. A fine example of a self-licking ice cream cone.
Class Warfare
"Dear Lobsters: There Is A Better Way" [Current Affairs]. "On Reddit, you can find a forum for "ex-lobsters," former fans of Canadian psychology professor Jordan Peterson who have become disillusioned by him. Many of them still admire Peterson in certain ways, but have realized that he is not quite what they thought he was. The discussions are worth browsing, because they show how people can become entranced by the peddlers of bad ideas, and how they can change their minds and develop more sensible and healthy worldviews. I find them encouraging, because their testimonials reaffirm my conviction that if leftists can articulate a clear and compelling vision, one that gives people fulfillment and hope, we can create a more humane world."
News of the Wired
Missed this in all the Xmas excitement:
"I believe in justice. It will take a long time but it's gonna come." ~ Erica Garner-Snipes ~ a fierce activist who died a year ago today fighting against the police brutality that killed her daddy and, in the end, killed her with a broken-heart, too. @NYCMayor #PantaleoGottaGo pic.twitter.com/ljXX14IyTZ

— Peter Heltzel (@PeterHeltzel) December 31, 2018
* * *
Readers, feel free to contact me at lambert [UNDERSCORE] strether [DOT] corrente [AT] yahoo [DOT] com, with (a) links, and even better (b) sources I should curate regularly, (c) how to send me a check if you are allergic to PayPal, and (d) to find out how to send me images of plants. Vegetables are fine! Fungi are deemed to be honorary plants! If you want your handle to appear as a credit, please place it at the start of your mail in parentheses: (thus). Otherwise, I will anonymize by using your initials. See the previous Water Cooler (with plant)
here
. Today's plant (TH):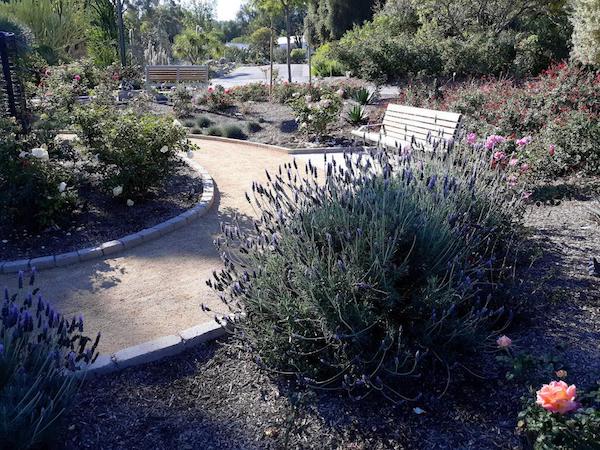 TH writes: "This is a cell phone shot because five minutes after my arrival at the South Coast Botanic Garden in Ranch Palos Verdes, my Nikon batter died. So the colors are a bit weak. They've just re-engineered this rose garden, to sort of a labyrinth arrangement. I particularly like the lavender plant in the foreground." What's the best camera? The one you have with you!
* * *
Readers
: Water Cooler is a standalone entity
not
covered by the annual NC fundraiser, now completed. So do feel free to make a contribution today or any day. Here is why:
Regular positive feedback both makes me feel good and lets me know I'm on the right track with coverage
. When I get no donations for five or ten days I get worried. More tangibly, a constant trickle of small donations helps me with expenses, and I factor that trickle in when setting fundraising goals. So if you see something you especially appreciate, do feel free to click below! (The hat is temporarily defunct, so I slapped in some old code.)
Or Subscribe to make a monthly payment!