By Lambert Strether of Corrente.
Trade
"Beijing tells cadres to prepare for the worst amid uncertainties of its high-stakes trade war with the US" [South China Morning Post]. "At the session's closing ceremony, which was attended by hundreds of top officials from across the country, Wang Huning, the party's ideology guru and its fifth most powerful member, called on the cadres to fight "a tough battle" in controlling risks, according to state news agency Xinhua… His call echoed Xi's address to Monday's opening session when he told the cadres to be vigilant for any risks that could jeopardise China's stability and reforms…. Xi specified "unpredictable international developments and a complicated and sensitive external environment", a phrase invoked by Chinese leaders to refer to rising threats from China's trade war with Washington."
Politics
"But what is government itself, but the greatest of all reflections on human nature?" –James Madison, Federalist 51
2020
Howard Schulz (1):

Billionaire #HowardShultz refuses to mingle with the unwashed masses during his book tour stop in #philadelphia He has declined to sign books, but instead the books come with a signed nameplate. Even billionaire Erik Prince did the customary signing Springsteen allowed selfies

— Laura Goldman (@laurasgoldman) January 29, 2019

Howard Schultz (2): "Howard Schultz Slams Sen. Kamala Harris' Health Care Proposal: 'That's Not American'" [HuffPo]. "'That's not correct, that's not American. What's next? What industry are we going to abolish next? The coffee industry?' asked Schultz on Tuesday during an appearance on 'CBS This Morning.'" • A-a-a-n-d the walkbaclk, kinda. Somebody get this man some handlers.

Harris (1):

I'm a little confused by this Harris/Medicare-for-All controversy. This is what Harris spox @adamslily emailed me Jan. 18 — as far as I can tell, it matches the position in this CNN piece. Am I missing something?

(Shared w/ permission)https://t.co/DWSTEyd2Vy pic.twitter.com/wQH3pNlzqf

— Jeff Stein (@JStein_WaPo) January 30, 2019

That was fast. A single news cycle from abolishing insurance companies to accepting whatever mush the liberal Democrats are cooking up in the lab. (Here's the CNN story.)

Harris (2):

Her and her supporters are seriously trying to use the "she was a black woman what did you expect? You're putting too much pressure on her" then legit pissed at Sen Sanders for supposedly not doing more. Make that shit make sense.

— AshleyStevens (@The_Acumen) January 28, 2019

So, take one for the team on policy because of identity. Didn't we try that with Obama?

Bloomberg: "Bloomberg tees off on potential 2020 rivals as he inches toward run" [Politico]. "Bloomberg, though, said he'll focus on putting ideas behind the so-called 'Green New Deal' for environmental preservation and climate change that Democrats say should be a major plank in the party's platform in 2020… 'I've already begun working on putting together the details of what I believe a Green New Deal should look like,' he said, declining to give specifics. 'And whether I run for president or not, I will work to ensure that fighting climate change — and spurring economic development in areas that have depended on fossil fuels — is a top priority for the Democratic nominee." • Beware of squillionaires with bright ideas. That said, I think Bloomberg is smarter than Schultz.

"Hillary Clinton is not running for president in 2020, former campaign chairman says" [Business Insider]. "'She says she's not running for president," [said John Podesta, her former campaign chairman] during a CNN interview on Tuesday afternoon. 'I take her at her word,' he added. 'She's not running for president.'" • Of course, that's not a Sherman statement. Would Clinton reluctantly accept the nomination after a brokered convention? More plausibly, would she attempt to be a broker?
2019
"Alexandria Ocasio-Cortez knows yesterday's radicalism can become tomorrow's common sense" [Guardian]. "In the 2000s 'framing' became an almost ubiquitous preoccupation for liberals, particularly in the wake of Don't Think of an Elephant! the bestselling book by linguist George Lakoff. Lakoff noted the political significance of certain metaphorical fames. Conservatives adopt the "strict father" metaphor in which politicians act to protect the public from a dangerous world. If liberals inadvertently use terminology associated with that metaphor they undercut their own message. Instead, the argument goes, they must reframe the debate with rhetoric that metaphorically legitimates their own values.* In practice, throughout the 2000s, the obsession with framing reinforced a longstanding reliance on spin doctors, focus groups and soundbites, with many progressives convinced that reaching the public depended, first and foremost, on perfectly crafted zingers…. AOC embodies a quite different strategy. Yes, she's articulate and charismatic, and she positively rules on social media. But the 'reframing' she performs relies on message more than the metaphor, resetting the terms of debate not through spin but by politics." • Politics. What a concept. NOTE * See, e.g., Why Mommy is a Democrat. Don't forget the brain bleach!
Realignment and Legitimacy
"Pelosi puts tight grip on talk of Trump impeachment" [The Hill]. "Yet in the weeks since taking the Speaker's gavel, Pelosi has tamped down the impeachment talk in her ranks, according to multiple lawmakers, arguing it is important to allow special counsel Robert Mueller to wrap up his investigation into whether the Trump campaign colluded with Russia to sway the 2016 election. The effort is paying dividends, winning over even the most liberal Trump critics in the caucus while dissuading new acolytes to the impeachment effort, which has struggled to find a foothold in the new Congress. 'I'm in Speaker Pelosi's camp. I think we have to see the report,' said Rep. Ro Khanna (D-Calif.), a leader of the Congressional Progressive Caucus." • It's not a given that anybody will see the report, or even a redacted report.

"The Vice President's Men" [Seymour Hersh, London Review of Books]. • I know we've linked to this already, but I only recently studied it, because out-takes from Hersh's as yet unpublished Moby Dick Cheney aren't my first priority. That said, this material caught my eye:

There was another view of [Vice President] Bush: the one held by the military men and civilian professionals who worked for him on national security issues. Unlike [President Reaga], he knew what was going on and how to get things done. For them, Reagan was 'a dimwit' who didn't get it, or even try to get it. A former senior official of the Office of Management and Budget described the president to me as 'lazy, just lazy'…. Bush was different: he got it. At his direction, a team of military operatives was set up that bypassed the national security establishment – including the CIA – and wasn't answerable to congressional oversight. It was led by Vice-Admiral Arthur Moreau, a brilliant navy officer who would be known to those on the inside as 'M'. Moreau's small, off-the-record team, primarily made up of navy officers, was tasked with foreign operations deemed necessary by the vice president. The group's link to Bush was indirect. There were two go-betweens, known for their closeness to the vice president and their ability to keep secrets. Congress, and the constitution, were at first no more of an obstacle to Bush and Moreau's covert operations than the press. [Moreau] oversaw a secret team – operating in part out of the office of Daniel Murphy, Bush's chief of staff – which quietly conducted at least 35 covert operations against drug trafficking, terrorism and, most important, perceived Soviet expansionism in more than twenty countries, including Peru, Honduras, Guatemala, Brazil, Argentina, Libya, Senegal, Chad, Algeria, Tunisia, the Congo, Kenya, Egypt, Yemen, Syria, Hungary, East Germany, Czechoslovakia, Bulgaria, Romania, Georgia and Vietnam.

My framing: The intelligence community and Vice President Bush in essence staged a soft coup, bypassing Reagan. Fast forward to 2016. Given that the intelligence community has the operational capability to stage soft coup, is there reason to think that factions within that community would not do so again? Or perhaps have already done so? Perhaps this time all on their own, without Bush to provide institutional cover? I don't mean to sound foily, but if you look at the institutional detail in in Hersh's story, it's pretty scary.

"'Karma': Inside the hack used by the UAE to break into iPhones of foes" [Reuters]. (The cellphone-friendly headline: "UAE USED CYBER SUPER-WEAPON TO SPY ON IPHONES OF FOES." • I don't doubt it, and it's a very good thing that Neera Tanden decided not to take UAE money just four days ago. Unless she converted them to anonymous donors, of course.

"Democrats tap Georgia's Stacey Abrams to deliver the response to Trump's State of the Union address" [WaPo]. "Abrams is the first black woman to win a major party nomination for governor. While she fell short in her bid against Republican Brian Kemp, she received more votes than any Democrat who has run statewide in Georgia, prompting some to suggest she should be in the presidential or vice-presidential mix." • And since Abrams went to work for Neera Tanden, all sorts of good things have been happening to her! For example–

"The Daily 202: Stacey Abrams isn't the future of the Democratic Party. She's the present." [WaPo]. "THE BIG IDEA: Two long years ago, Chuck Schumer and Nancy Pelosi tapped former Kentucky governor Steve Beshear to deliver their party's response to President Trump's first State of the Union address. …. The shift from Steve to Stacey, with Joe Kennedy III in between, is a nod by party chieftains to what they perceive as growing grass-roots hunger for fresh faces of color who are young and female." • In what sense is [x] identity1 [x] identity2 [x] identity2 a "BIG IDEA"? I wish Abrams had stayed back in Georgia and fought it out on election fraud and paper ballots. I can't imagine a better way to get a national platform — the SOTU response ain't it, Chuck — than that, and what a break way to break the liberal Democrat dam against expanding the base, too.
Stats Watch
GDP, Q4(a): "Though the government has reopened, Wednesday's release of the first estimate for fourth-quarter GDP has been delayed with a new release date not yet set" [Econoday].
ADP Employment Report, January 2019: "ADP estimates that private payroll growth in Friday's employment report for January will [be] higher-than-expected" [Econoday]. And: "well above the consensus forecast" [Calculated Risk]. And: "[O]n the high side of the tight range seen over this year – and remains on an improving employment growth trend line. Last month's employment numbers were revised downward" [Econintersect]. "ADP employment has not been a good predictor of BLS non-farm private job growth."
State Street Investor Confidence Index, January 2019: "Global institutional investors sharply accelerated their reduction of exposure to equities in January" [Econoday]. "State Street noted that the "warp speed" deterioration in confidence among professional managers continued through the third week in January even as stock prices partially recovered from Christmas-eve lows, and that while weaker Chinese data and rising recession risks in Europe are the focus, it is striking that confidence has deteriorated more in the U.S. than in other regions."
Pending Home Sales Index, December 2018: "Mortgage rates may have started to come down in December but the move didn't trigger a rush into the resale market" [Econoday]. And: "This was well below expectations for this index" [Econoday]. And: "The rolling averages remain in negative territory. The data is very noisy and must be averaged to make sense of the situation. The long term trends continue to be downward. Note that the downward trend of home sales began in mid 2015 – and… we see no upturn for home sales in 2019" [Econintersect].
MBA Mortgage Applications, week of January 25, 2019: "Purchase applications for home mortgages fell…continuing the prior week's cooling" [Econoday].
The Bezzle: "Facebook has been paying teens $20 a month for total access to their phone activity" [The Verge]. "[Facebook] has been paying people ages 13 to 25 as much as [as much as????] $20 month in exchange for installing an app called Facebook Research on iOS or Android, which monitors their phone and web activity and sends it back to Facebook. The Research app requires that users install a custom root certificate, which gives Facebook the ability to see users' private messages, emails, web searches, and browsing activity. It also asks users to take screenshots of their Amazon order history and send it back to Facebook." • Facebook just keeps getting uglier and uglier and uglier. I wish Zuckerberg were running for President. Then we could get at him.
The Bezzle: "Earn Eighty Cents an Hour by Delivering Groceries with Instacart!" [Working Washington]. "Instacart is now confirming what workers have been saying since the change in pay structure: that the company is actually using customers' tips to pay workers' wages. When a customer tips up-front, it doesn't mean extra money for the worker. Instacart just pays the worker less to make up for it." • Sound legit. I can't imagine why Uber hasn't tried this.
Tech: "Google Takes Its First Steps Toward Killing the URL" [Wired]. "'What we're really talking about is changing the way site identity is presented,' [Chrome usable security lead Emily Stark] told WIRED. "People should know easily what site they're on, and they shouldn't be confused into thinking they're on another site. It shouldn't take advanced knowledge of how the internet works to figure that out.'" •  Changing the way site identity is presented… What could go wrong?
Tech: "Apple's Sales Drop in China Means $5 Billion in Lost Revenue" [Bloomberg]. "Chief Executive Officer Tim Cook has seen China as a key part of Apple's sales and manufacturing strategy, with the company generating almost $52 billion in revenue from China and Hong Kong last fiscal year. But with China announcing its slowest economic growth since 2009, Apple said its sales fell 27 percent in the holiday quarter — representing almost $5 billion of lost revenue." • Yikes. $5 billion is real money, even for Apple.
Tech: "A Tiny Screw Shows Why iPhones Won't Be 'Assembled in U.S.A.'" [New York Times]. "But when Apple began making the $3,000 computer in Austin, Tex., it struggled to find enough screws, according to three people who worked on the project and spoke on the condition of anonymity because of confidentiality agreements. In China, Apple relied on factories that can produce vast quantities of custom screws on short notice. In Texas, where they say everything is bigger, it turned out the screw suppliers were not. Tests of new versions of the computer were hamstrung because a 20-employee machine shop that Apple's manufacturing contractor was relying on could produce at most 1,000 screws a day. The screw shortage was one of several problems that postponed sales of the computer for months, the people who worked on the project said. By the time the computer was ready for mass production, Apple had ordered screws from China. The challenges in Texas illustrate problems that Apple would face if it tried to move a significant amount of manufacturing out of China. Apple has found that no country — and certainly not the United States — can match China's combination of scale, skills, infrastructure and cost." • An interesting read that ties in with today's post on China. However, if these screws are the special screws that Apple uses on its laptops to prevent users from repairing their own machines because it takes a special screwdriver to open the case… Well. forty years of neoliberal deindustrialization and the ensuing hysteresis aren't the only problems, are they?
Tech: "Security Things to Consider When Your Apartment Goes 'Smart'" [tisiphone.net]. "If I were management companies' security consultant (and I'm not), I'd issue them some firm advice – connect these hubs to a private and professionally secured network (preferably wired). Ensure they're monitored for intrusions and administrative logins, and physically locked away from resident access. Finally, ensure the hub product and vendor network meet reasonable modern security standards. Unfortunately, there's currently a mad dash to get these technologies deployed to rental properties by multiple management firms and smart home vendors, and making those changes costs more and takes more time. What we really see happening across several vendors is a highly competitive push to connect these hubs to residents' personal routers, so that they they may have a connection to the internet and thusly to the vendor….. So now, we're in a position where a person with some basic hacking knowledge and YouTube can spend some time gaining access to resident networks, then return days, weeks, or months later, to exploit and tamper with the connected smart hub(s). As an added benefit to a criminal, it's pretty easy to walk by an apartment and guess based by signal strength which SSID it is broadcasting. This isn't really high tech stuff – or high barrier." • This is a terrific article, a must-read if you — or your rental management firm — is considering crapifying your life with the Internet of Things.
Honey for the Bears: "STR, TE downgrade US hotel forecast for 2019 and 2020" [Hotel News Notes]. "'Late in 2018, [revenue per available room (RevPAR)] growth weakened as strong demand was offset by lower-than-expected [Average Daily Rate (ADR)] growth,' said Amanda Hite, STR's president and CEO. 'Now demand is softening, and although supply growth is stabilized, we expect our first year without an increase in occupancy since 2009. Combine more pressure on occupancy levels with already subdued pricing confidence, concerns over labor costs, a cooling economic environment, and the negative sentiment brought on by the recent government shutdown, and you have a recipe for diminished RevPAR growth. Performance growth of any rate will still take the industry to another record-breaking level nationally, but plenty of individual markets and hotels are feeling the slowdown on their bottom line.'"
Honey for the Bears: "Recession Forecasts Are Blurred, But What You Should Do Is Clear" [Teresa Ghilarducci. Forbes]. "These conflicting opinions really mean nothing to ordinary people trying to plan their lives. With my economist hat on I say to investors that I don't know when a recession might hit, but that you want to be in the position that you really don't care when it happens.The smart money investors don't time the market. The reason I say the obvious is because it's really hard to do nothing. So do something, just don't time the market…. I don't want to be gloom and doom, but prepare for a recession by preparing not to react. Hunker down." • Of course, if everybody hunkers down…
The Biosphere
"How frigid polar vortex blasts are connected to global warming" [phys.org]. "Splits in the stratospheric polar vortex do happen naturally, but should we expect to see them more often thanks to climate change and rapid Arctic warming? It is possible that these cold intrusions could become a more regular winter story. This is a hot research topic and is by no means settled, but a handful of studies offer compelling evidence that the stratospheric polar vortex is changing, and that this trend can explain bouts of unusually cold winter weather. Undoubtedly this new polar vortex attack will unleash fresh claims that global warming is a hoax. But this ridiculous notion can be quickly dispelled with a look at predicted temperature departures around the globe for early this week. The lobe of cold air over North America is far outweighed by areas elsewhere in the United States and worldwide that are warmer than normal." • A useful tutorial.
"Flows in formation: The global-urban networks of climate change adaptation" [Urban Studies]. From the abstract: "This paper extends theories of relational geographies to explore the emerging conditions of urban adaptation in the context of climate change and globalised urban development. Focusing on the global links of Dutch water expertise, and tracing relationships within and between Rotterdam, New York, and Jakarta, it illustrates the formation of global-urban networks – the multiscalar, multilevel connections through which capital, knowledge, and influence flow. It probes the ways in which these networks emerge to mobilise ideas and influence across geographical scales and political boundaries, driven and defined by interrelated factors including economic relationships, historically defined situational relationships, and interface conditions including narratives of culture and environmental urgency. The paper introduces the concept of 'network formation' to see and understand such interconnected, relational processes." • "Network formation." Hmm.
"Urban Ecology and Animism in the Landscape of the Great Lakes" [Belt Magazine]. "When you drop the search image (that mental mode vigilantly watching for a deer's silhouette, or a specific shape of an eddy in the river), and look at the totality of the world around you, you find so much more going on, there's so much to participate in. It also gives you a license to bring childlike wonder back into your own life. And as you start to find more things, you realize how little we actually know or recognize in our day-to-day lives, in terms of the species and biological processes going on around us." • A little too much about Tarot cards for me, but I thought the idea of surrenduring "the search image"– you know, what we're training Google robot cars to have with Captchas? — was interesting. (Oddly for a resolute materialist, animism is the only form of spirituality that makes sense to me, so I found this article a little disappointing.)
"Air quality on cruise ship deck 'worse than world's most polluted cities', investigation finds" [Independent]. "The undercover investigation on Britain's biggest crew operator P&O Cruises aimed to find out how clean the air holidaymakers breathe when on a ship is. It focused on the levels of 'ultra-fine particles' found in the air and around the cruise ship and emitted from the fuel the ships' engines burn…. One cruise ship can emit as much particulate matter as a million cars in a day." • Yikes!
"Following Missouri's lead, other states take on cell-cultured meat" [New Food Economy]. "The future of meat is almost here, and lawmakers in cattle country aren't happy about it. Stateline, a project of the Pew Charitable Trusts, reports that a handful of states are following in the footsteps of a recent Missouri law that prohibits the makers of plant-based meat, like the Beyond Burger, and cell-cultured meat, which is years away from market but already making waves in Washington, D.C., from labeling their products as though they came from an animal carcass—that is, calling them 'meat.' Deciding how to label a new food product, particularly one that acts as a substitute or alternative for a well-established product, results in knock-down, drag-out wars in the food industry. Typically, the fight is about the federal definition of the food, known as a standard of identity." • As with butter and margarine…
Our Famously Free Press
"Fact-checkers adapt to heightened combat, facing politicians who are repeating lies and pushing back" [American Press Institute]. "At both national and local levels, the journalists who attempt to hold politicians accountable for telling the truth are finding that many officials persist in repeating debunked falsehoods. On top of that, some fact-checkers, mostly on the local level, say they have been on the receiving end of more combative responses from politicians whose claims are found to be false." • If we had what used to be a normal complement of functioning newsrooms, would "fact-checking" even be a thing?
Guillotine Watch
"A Housekeeper Was Stuck In A Billionaire's Townhouse Elevator For THREE Days" [Guest of a Guest]. "Over the weekend, Marites Fortaliza, a 53-year old housekeeper who works at the Upper East Side townhouse of billionaire investor Warren Stephens, got stuck during her shift while the owners were out of town Friday evening. When they returned Monday at around 10 am, they discovered she was trapped in the elevator between the second and third floors, and called 911. The $20 million landmarked property on East 65th Street has had two violations for failing to maintain the elevator… However, when building inspectors arrived at the home on Monday, they were refused entry…. Stephens, who is worth about $2.7 billion thanks to his privately held, Arkansas-based investment bank, Stephens Inc., is also a prominent conservative political donor (big surprise there)." • Here's hoping Fortaliza's settlement sets her and her familly up for life, and she never has to work for Stephens again. More: ""The employee involved has been a valued member of the Stephens extended family for 18 years,' read a statement from the family's investment banking firm, which famously provided early capital that helped Wal-Mart get off the ground. 'The Stephens family is relieved that she is doing well in the hospital'" [New York Post]. • "A value member of the family." BWA-HA-HA-HA-HA!!!
Maybe we can learn from China, too:
In 2011 there were 115 billionaires in China. Since then, 72 have died, with 15 murders, 17 suicides, 7 accidental deaths, and 19 from illness. Another 14 were executed. https://t.co/i15OP4G42v (via @bespokeinvest)

— Eddy Elfenbein (@EddyElfenbein) January 20, 2019
On the bright side, nobody actually seems to be eating them. (I should say that although I have a mordant sense of humor, I'm in favor of strategic non-violence. I think that when you optimize a movement or party's leadership for violence… you keep getting what you optimized for.)
Class Warfare
"Air Traffic Controllers Defeated Trump. That's Worker Power" [Portside]. "Controllers simply stayed home. No federal law prohibits federal employees from getting sick or calling in sick. And who's to say it was coordinated? Today, the internet can spread information about a voluntary walkout as quickly and efficiently as any centralized coordinator. The larger story is that public workers who lack any formal power to strike – but have the informal power not to work – are becoming a new force in American politics and labor relations. Look what teachers accomplished last year by walking out of their classrooms in the unlikeliest of places – West Virginia, Arizona, Oklahoma, Kentucky, Colorado and North Carolina. Most of these are Republican "right-to-work" states that bar strikes by public employees." • Important!
"Unemployment is low only because 'involuntary' part-time work is high" [Business Insider]. "'During early 2018, involuntary part-time work was running nearly a percentage point higher than its level the last time the unemployment rate was 4.1%, in August 2000,' according to Rob Valletta, a vice president in the Economic Research Department of the Federal Reserve Bank of San Francisco. 'This represents about 1.4 million additional individuals who are stuck in part-time jobs. These numbers imply that the level of [Involuntary Part Time (IPT)] work is about 40% higher than would normally be expected at this point in the economic expansion." • Thanks, Obama!
So, how's identity politics been workin' out for ya?
The ?? minimum wage is now almost half of what it was in 1968, adjusting for inflation. pic.twitter.com/p7XwYx4Gbe

— Austin Frerick (@AustinFrerick) January 30, 2019
"Gina Rinehart company revealed as $4.5m donor to climate sceptic thinktank" [Guardian]. "Australia's richest person, mining magnate Gina Rinehart, has been revealed as a key funder of the rightwing thinktank the Institute of Public Affairs – a consistent promoter of climate science scepticism…. According to Forbes, Rinehart was the seventh-richest woman in the world in 2017 and Australia's richest person, with current wealth estimated to be $17.6bn." • That's nice.
News of the Wired
When Moore's Law meets Parkinson's Law:
I am really fascinated by the fact that a computer with 1000x faster processor and 100x more memory than 20 years ago can still feel slower, because of ads, bloatware, lazy programming — it seems to capture the strengths and weaknesses of humanity in a nutshell

— Tim Wu (@superwuster) January 28, 2019
(I'd like to give a hat tip for the "Law" joke but can't find it!)
"'You're fine': The Ugg boot of apology responses" [The Week]. "Maybe soothing phrases come out of unsoothing times, or maybe it's just coincidence that I started noticing the phrase 'you're fine' being substituted for 'no problem,' or 'no worries,' or 'That's okay!' several months ago." • I've heard tihs. My (silent) thought: "Who the hell are you to tell me whether I'm fine or not?"
* * *
Readers, feel free to contact me at lambert [UNDERSCORE] strether [DOT] corrente [AT] yahoo [DOT] com, with (a) links, and even better (b) sources I should curate regularly, (c) how to send me a check if you are allergic to PayPal, and (d) to find out how to send me images of plants. Vegetables are fine! Fungi are deemed to be honorary plants! If you want your handle to appear as a credit, please place it at the start of your mail in parentheses: (thus). Otherwise, I will anonymize by using your initials. See the previous Water Cooler (with plant) here. Today's plant (CW):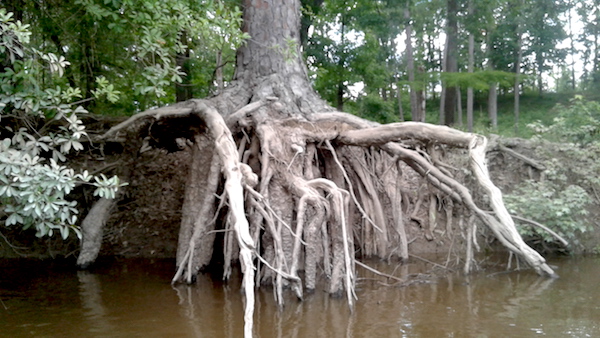 CW writes: "Village Creek has no dams or levees or flood control of any kind. This tree is in a bend and the bank has eroded and left it stranded. Picture was taken mid-May 2017. USGS has a gage a few miles away. On this day gage level was 6 ft, the NWS flood stage is 17 ft. The operational limit is 35 ft. Three months later Harvey rains brought levels that exceeded the limit, 35 ft. It might not still be vertical. My work transferred me after the hurricane and I haven't been able to get back. I really miss the river and the thicket." I have been trying to learn how to photograph trees. It's not so easy.
"
* * *
Readers: Water Cooler is a standalone entity not covered by the annual NC fundraiser. So do feel free to make a contribution today or any day. Here is why: Regular positive feedback both makes me feel good and lets me know I'm on the right track with coverage. When I get no donations for five or ten days I get worried. More tangibly, a constant trickle of small donations helps me with expenses, and I factor that trickle in when setting fundraising goals. So if you see something you especially appreciate, do feel free to click below! (The hat is temporarily defunct, so I slapped in some old code.)
Or Subscribe to make a monthly payment!