By Lambert Strether of Corrente.
Politics
"But what is government itself, but the greatest of all reflections on human nature?" –James Madison, Federalist 51
2020
Harris (1) January 30:

"Kamala Harris is open to multiple paths to 'Medicare-for-all'" [CNN]. "As the furor grew, a Harris adviser on Tuesday signaled that the candidate would also be open to the more moderate health reform plans, which would preserve the industry, being floated by other congressional Democrats…. 'Medicare-for-all is the plan that she believes will solve the problem and get all Americans covered. Period,' [Harris national press secretary Ian Sams] told CNN. "She has co-sponsored other pieces of legislation that she sees as a path to getting us there, but this is the plan she is running on.'" • We'll see what happens in the hearings, and Jayapal — who still has not released the text of her revision of what was HR676 — does.

Also (2) Harris January 30:

Access to health care shouldn't be a privilege, it should be a right. When my mother passed away, she had the benefit of having Medicare, but not everybody does. Too many people are dying because they can't afford medical care. That's inhumane and why I support Medicare for All.

— Kamala Harris (@KamalaHarris) January 30, 2019

"Access." So the advisor in the CNN story is wrong, then?

Harris (3):

Three Democratic superdelegates have already endorsed Kamala Harris for president: Nanette Barragán, Katie Hill, and Ted Lieu.

— Rob (@philosophrob) January 30, 2019

That was fast.

Harris (4):

I want you to picture a white Republican man saying these exact words, this actual mockery of progressive goals. It is not hard to imagine that. And then you think about why people who want to support KH support herpic.twitter.com/CxLh1UepQH

— Thomas! (@Thomasurlatoile) January 29, 2019





Like a vat-grown gene-splice of Barack Obama and Hillary Clinton….

"Democratic Left Playing a Long Game to Get 'Medicare for All'" [Bloomberg]. "[The] aim [of the idea's most fervent backers] for now is to shift the health care debate. By making single-payer health care — a model under which all Americans would get their insurance from a single government plan — the progressive position, advocates argue that gives Democrats representing conservative areas of the country political cover to support more modest proposals to expand the government's role in health insurance. 'Everybody understands we're not going to get Medicare for All enacted in January. But it's a marker about where we want to land, which is to say we want everybody to have health care,' Democratic Senator Brian Schatz of Hawaii said in an interview. 'This is about moving the so-called Overton window.'" • Trust me on this, #MedicareForAll backers aren't in the business of giving centrist Democrats "cover" for some pissant "modest proposal" (and I'm sure the Swift reference was unintentional, but….).

"Black Culture Won't Save Kamala Harris" [The Nation]. "In the past, the winks of wokeness worked well for national black candidates like Barack Obama. Through his command of popular African-American culture, Obama subtly appealed to black voters without having to directly address anti-racist public policy and alienate moderate white voters…. In spite of his cultural competency, Obama's tenure oversaw an economic recovery that left many black families behind, and a proliferation of highly visible police brutality. Today, after both a long honeymoon and hangover with a charismatic black candidate, the code-switching playbook may be played out…. Moreover, the press has fueled the steady stream of social-media posts centered around the notion that 'Kamala Harris is a cop." • I started seeing "Kamala Harris is a cop" and my little corner of the Twitterverse is organic…

Sanders (1):

SCOOP: @BernieSanders will today introduce a big new estate tax plan — the "For the 99.8% Act" — with a:

— 77% rate on wealth +$1 billion;
— 55% rate on $50M-$1B;
— 45% rate $3.5M to $10M

Under 2017 GOP tax law, you can pass down $11M untaxedhttps://t.co/ePEw53I3CM

— Jeff Stein (@JStein_WaPo) January 31, 2019

Courageous of Sanders to touch "the death tax," which has been a third rail for some time.

Sanders (2):

All this month —@AOC: Raise top rate on +$10M to 70%@ewarren: 3% annual wealth tax on billionaires@BernieSanders: 77% estate tax rate on billionaires

Something's shifting. Dem pollster tells me the public is much more supportive of taxing the ultra-rich than even 1 year ago

— Jeff Stein (@JStein_WaPo) January 31, 2019

Isn't Bezos getting off easy?

"Michael Bloomberg's Secret Plans to Take Down Trump" [The Atlantic]. "While no final decision has been made, his aides have been working on a fallback that only a man worth $40 billion can afford. Bloomberg is pouring hundreds of millions of dollars into a data-centric political operation designed to ensure one goal: crush Donald Trump….. Though a budget has not been set, this effort would almost certainly become the biggest and most powerful political organization in the country overnight…. The goal, as it's been put at points in private meetings: 'All the data.' A group of about 10 political and tech consultants meets every Thursday, usually in the converted Upper East Side mansion that is the headquarters of Bloomberg's foundation and private offices. Discussions are led by Bloomberg's top political aides, Kevin Sheekey and Howard Wolfson, as well as Brynne Craig, Hillary Clinton's 2016 deputy field director and, for the past two years, a senior adviser to Bloomberg's Everytown for Gun Safety group. Patti Harris, who was Bloomberg's No. 2 in City Hall and remains a trusted adviser, joins for some of the meetings." • Sounds formidable, unless it's a grift (besides Craig, Wolfson).
2019
Good question:

Why don't people ever tell billionaires who want to run for President that they need to "work their way up" or that "maybe they should start with city council first"? https://t.co/3d8Nenrvl5

— Alexandria Ocasio-Cortez (@AOC) January 30, 2019
Realignment and Legitimacy
Pelosis Democrats totally oppose Trump's Wall:

Here's broad outline of House Democrats' first offer for border security funding in the DHS bill. Does not include money for "costly physical barriers." pic.twitter.com/jVhBU18DBt

— Susan Davis (@DaviSusan) January 30, 2019

But a "smart, effective security posture"? (There's that word, smart.) "Cutting-edge technology along the border to improve situational awareness"? No problemo! Pelosi playing Lucy and the Football with the open border crowd, though mitigating with improvements to detention facilities…

"When Politicians Use Marginalized People as Human Shields" [Black Agenda Report]. "[I]f we are to be honest with ourselves, one party traffics in this most insidious paternalism more than the other. Where Republicans have honesty in advertisement when it comes to their institutional bigotry, Democrats have perfected identity politics in order to obscure their malicious actions. After working obsequiously on behalf of their corporate patrons, Democrats immediately trot out a diverse army of mannequins to blunt denunciations by pointing to their 'progressive' tokens as proof that they can't possibly be racists….. Are we to give a pass to black overseers who whipped and lashed their own because they shared the same skin color as the people they were brutally mistreating? Are we to excuse the actions of Marie Antoinette for her indifference towards the poor because she was a woman?" • Or Gina Haspel….

"Mayor Rahm's great TIF bamboozle" [Chicago Reader]. "For the last several weeks, the 13 or so mayoral candidates have been promising to defend Chicago's already overburdened taxpayers from future hikes to our ever-rising property taxes. And then on January 11, the Joint Review Board gave Mayor Rahm the green light to raise property taxes by as much as $1.6 billion over the next 23 years. Yet not one mayoral candidate showed up to the meeting to protect us. In their defense, the candidates—like most people in Chicago—probably don't know the board exists, much less when it meets…. [T]he Joint Review Board [is] a Potemkin-village facade intended to give you the illusion of oversight that doesn't really exist To understand the board's purpose, you must remember that TIF districts force Chicago Public Schools and the park district and the county and all the other taxing bodies to raise their property taxes to compensate for the money they're not getting from the TIF districts." • I think I see where this is going… Readers, do any of you have TIF districts?
Stats Watch
Personal Income and Outlays, December 2018: Delayed by the government shutdown [Econoday].
Jobless Claims, week of January 26, 2019: "Jobless claims jolted higher [to a] level that leaves the forecasters… scratching their heads" [Econoday]. "Furloughed Federal employees are some of the answer but not all of it…. Looking at the 4-week average shows much less volatility and strong labor market health." And but: "This was much higher than the consensus forecast – and is probably related to the government shutdown" [Calculated Risk].
New Home Sales, November 2018: "The outlook for fourth-quarter residential investment just improved as new home sales" [Econoday]. "Volatility in this report is common but November marks an important gain for new home sales which had been breaking down. Nevertheless, the trouble in the once high flying West is notable, not only in this report but other housing reports as well." But: "Because of weather and other factors, the rolling averages are the way to view this series. The rolling averages declined" [Econintersect]. And: "this report was for November (it was almost ready to release when the government shutdown began in December). The December report will probably be released soon, but no release date has been announced yet. Based on other data, I'd expect sales to be weak in December, but talking to builders, I expect a rebound in January" [Calculated Risk].
Chicago Purchasing Managers Index, January 2018: "Volatility isn't that unusual for the Chicago PMI whose sample reports abrupt slowing in January" [Econoday]. "An interesting twist is that the report attributes the fall in orders, in part, to sellers unable to get their price. This may be an indication that cost pressures are pushing up selling prices perhaps too far. Respondents in the sample continue to report steady but elevated costs for raw materials and metals." And but: "The Fed manufacturing surveys have been trending down – and Chicago ISM trends are now following suit" [Econintersect].
Employment Cost Index, Q4 2018: "Quarter-to-quarter cost pressure eased for employers in the fourth quarter but was still substantial " [Econoday]. "This report is mixed showing both deceleration, at least on the quarterly side, but outright acceleration for both benefits and wages on the annual side. To justify a rate hike, Powell said indications of building inflation would be key but today's report is mixed."
The Bezzle: "OxyContin Maker Explored Expansion Into "Attractive" Anti-Addiction Market" [ProPublica (MR)]. "Not content with billions of dollars in profits from the potent painkiller OxyContin, its maker explored expanding into an "attractive market" fueled by the drug's popularity — treatment of opioid addiction." • It's a classic self-licking ice cream cone!
The Bezzle: "Federal indictment details murky dealings amid Comcast's 2015 franchise agreement" [Technically Philly]. "On Wednesday, federal authorities announced a sweeping indictment against Philly Councilman Bobby Henon and union boss John Dougherty, charging the duo with over a hundred counts of fraud, embezzlement and bribery… Per the court document, Henon had his chief of staff advise a Comcast negotiator that hiring a electrical work contracting firm called MJK Electric — a Local 98 member owned by George Peltz, who has separately pled guilty on an number of charges including tax evasion — would help advance the negotiations between the media titan and local government."
Tech: "Something mysterious is blocking vehicle key fobs from working in a small Alberta town" [CBC]. "Key fobs that suddenly won't unlock vehicles. Cars that won't start. Alarms that go off for no reason and can't be quieted. Something mysterious is thwarting drivers outside a grocery store in the small Alberta town of Carstairs — and it's sparking all kinds of theories. The problems have been happening for weeks in the parking lot outside the Westview Co-op grocery store in Carstairs, a town of about 4,000 about 60 kilometres north of Calgary…. 'People start getting on there and saying, 'OK, I've been to the Co-op. Is anyone else having this problem?' And all of a sudden we have 160 people commenting, 'Yes, that happened to me last week,' or 'That happened to me today," [Laura Strate, longtime employee at the dollar store right across the street from the Co-op] said." • Probably vibrations from an alien escape pod that buried itself outside town.
Transportation: "Tesla Moves To Build the Model Y After a Gangbusters 2018" [Wired (GF)]. "'The demand for Model 3 is insanely high,' Musk said. 'The inhibitor is affordability. It's just that people literally don't have the money to buy the car.'"
The Biosphere
"Dangerous Cold Snaps Feel Even Worse Because They're Now So Rare" [Bloomberg]. "There are also far fewer cold snaps. Temperature data since 1970 suggest that sudden freezes used to be much more normal, and that the U.S. hasn't had a good old-fashioned cold streak in more than two decades. 'Nothing really since 1996 has been what I would call a really historic cold air outbreak,' said Ken Kunkel, a researcher at North Carolina State University and the National Oceanic and Atmospheric Administration. 'There were some real monsters in the late 1800s,' he added." • We had it tough….
Vortex:
I glanced out my window down into the street as the storm started up and saw this. It looks like a vinyl record album. Or a corporeal manifestation of the polar vortex. Whatever. It's beautiful. pic.twitter.com/vY7l3qhrGr

— Sheila O'Malley (@sheilakathleen) January 30, 2019
"A Green New Deal must not sabotage climate goals" [Bulletin of the Atomic Scientists]. "But the letter's stated primary goal is to meet the Paris climate targets, and we'll fail if we tie our hands behind our backs by ruling out zero-carbon technologies and market-based policy tools. Phasing out nuclear, hydroelectric, and biomass energy should only be considered after fossil fuels have been eliminated. Pricing carbon pollution certainly shouldn't be ruled out (and in fact should be pursued vigorously), and even carbon capture and sequestration should remain on the table. If we consider climate change an urgent existential threat that justifies the Paris climate targets, then at the very least phasing out fossil fuels and carbon pollution must be our top priority when crafting climate policy. Other concerns that undermine zero-carbon energy sources must be secondary, lest we sabotage our own climate-preserving efforts."
"Smoked Out" [London Review of Books]. "I first heard about the smoke problem from a publisher of religious and philosophical books who had lived in Ashland for 24 years, raising his three children in a blue, three-bedroom house near the business district. Now they were grown up and publishing was dying and he found he had trouble breathing in the summer months because there were an increasing number of fires in the surrounding hills. The forests here are dense and dry. The valley is shaped like a trough. When wildfires burned, the smoke lingered in the valley for weeks, and he had to stay indoors. It had happened almost every summer for the previous six years: it was the 'new normal', people in Ashland said, an effect of climate change…. There were four books in the box. …[T]hey simply take for granted that temperatures will rise and that the world as we know it will soon be fundamentally altered. The migration scholar writes about migration and the seed scientist about seeds and the ecosocialist about urban capitalism, but climate change – the biggest, most pervasive ongoing event in the world – is always present in the background. This is by necessity. Climate change is and will be everywhere. It doesn't stand apart from our daily existence, not any more." • Yep. No more bug splats.
"'This is shocking.' An undersea plague is obliterating a key ocean species" [Science]. "An 'underwater zombie apocalypse.' That's how wildlife veterinarian Joe Gaydos of the University of California (UC), Davis, describes 'sea star wasting disease,' a blight that has decimated more than 20 species of sea stars from Mexico to Alaska since 2013. Now, a new study by Gaydos and colleagues has more bad news: The disease has hit the sunflower star (Pycnopodia helianthoides)—a key predator within kelp forests—hardest of all. This once-common species has vanished from the majority of its range, sending shock waves through the ecosystems it once called home. The team also found a worrying association between warmer ocean temperatures and the severity of the outbreak, suggesting climate change could exacerbate future marine epidemics."
Our Famously Free Press
"Media layoffs bring heat on Facebook, Google" [The Hill]. "Google and Facebook combined rake in about 58 cents of every dollar spent on online advertising in 2018, according to an analysis by eMarketer. Amazon and Microsoft were tied for third place, with each getting about 4 percent of the market. Another study by the market research firm Pivotal found that in 2017 Facebook and Google accounted for 73 percent of the online ad market. Digital publishers have been experimenting with ways to bring in enough of what's left over to survive or to challenge the duopoly's hold on advertisers."
"Toward A Grand Unified Theory Of Social-Media Sociopathy" [Jesse Singal]. Quoting philosopher Brian Earp: "I have a hypothesis about what might contribute to *moral outrage* being such a big thing on social media. Imagine I'm sitting in a room of 30 people and I make a dramatic statement about how outraged I am about X. And, say, five people cheer in response (analogous to liking or retweeting). But suppose the other 25 people kind of stare at the table, or give me a weird look or roll their eyes, or in some other way (relatively) passively express that they think I'm kind of overdoing it or maybe not being as nuanced or charitable or whatever as I should be. In real life we get this kind of 'passive negative' feedback when we act morally outraged about certain things, at least sometimes. Now, a few people in the room might clear their throat and actively say, 'Hey, maybe it's more complicated than that,' and on Twitter there is a mechanism for that: replies. But it's pretty costly to leave a reply pushing back against someone's seemingly excessive or inadequately grounded moral outrage, and so most people probably just read the tweet and silently move on with their day. And there is no icon on Twitter that registers passive disapproval." • And if there were a thumbs-down icon, people would game it, so I don't know what the answer is. Maybe more interaction in RL?
"Why won't The New Yorker keep you logged in? Mystery: Solved (kind of)" [Nieman Labs]. "The New Yorker now receives about two-thirds of its revenue from subscribers and, like most news outlets, wants to grow digital subscriptions — so it is a huge priority that the subscriptions function correctly and that the experience is a good one…. The New Yorker is both saddled with/blessed by its relationship with Condé Nast's web infrastructure. During my call with [editor Michael Luo], I had the experience — similar to the simultaneously satisfying and alarming feeling of going to the doctor for a weird rash and hearing the doctor say 'Well that's weird' — of introducing him to a subscription page on The New Yorker's site that he said he had never seen before. 'I don't exactly know how this thing works,' he said. It was, specifically, the 'customer care' page of The New Yorker's site. It's separate from the 'View your profile' page and also must be logged into separately, with a 4-digit code. It's where you go if you want to change your mailing address or report a missing issue; it's also, as far as I can tell, run by some strange and possibly forgotten corner of Condé Nast rather than by The New Yorker itself. Every Condé Nast publication has a similar page, and — of course! — they're all completely separate from each other." • A fine example of Conway's Law!
The 420
"The trucker's dilemma: Should I transport equipment to marijuana facilities?" [Freight Waves]. "As legal marijuana penetrates the supply chain — from manufacture to distribution to delivery — carriers are starting to ask questions about the risks of delivering not just marijuana, but so called "ancillary" shipments that facilitate the industry. The concern has to do with pot's double classification: it's legal in many states but illegal at the federal level. And federal law trumps state law."
Class Warfare
"Davos crowd and Foxconn crew on the same page when it comes to robots vs humans" [Jake Has a Blog]. While Davos attendees and Foxconn both look to eliminate as many workers as possible, Wisconsin is left holding the bag: "Yet Wisconsinites and especially people in Racine County are building infrastructure for Foxconn that's supposed to handle thousand of jobs, and gambling that the added employment will lead to other economic growth in the area. That seems increasingly like a losing bet by the day."
"A.I. Could Worsen Health Disparities" [New York Times]. "[B]ecause A.I. is trained on real-world data, it risks incorporating, entrenching and perpetuating the economic and social biases that contribute to health disparities in the first place." • That's not a bug. It's a feature.
"Amazon boss tells City Council the company will oppose unionization bids in New York City" [New York Daily News (MR)]. "'Would you agree to neutrality if workers at Amazon wanted to unionize?' Council Speaker Corey Johnson asked during an at-times heated Council hearing on the finances of the Amazon deal. 'No, sir,' Amazon Vice President Brian Huseman said." • Should be interesting…
"A Bold New Theory Proposes That Humans Tamed Themselves" [The Atlantic]. "Richard Wrangham, who teaches biological anthropology at Harvard, was mentored by both Goodall and DeVore. … Central to his argument is the idea that cooperative killing of incurably violent individuals played a central role in our self-domestication. Much as the Russian scientists eliminated the fierce fox pups from the breeding pool, our ancestors killed men who were guilty of repeated acts of violence. Certainly all-male raiding parties have operated in some groups of humans, seeking out and killing victims in neighboring villages (which recalls the patrolling chimps that Wrangham reported on earlier in his career). The twist in his current theory is that such ambushes are turned inward, to protect the group from one of its own: They serve as a form of capital punishment. Wrangham cites a number of examples of anthropologists witnessing a group of men collaborating to kill a violent man in their midst." • This is one theme of Richard Morgan's science fiction novel, Thirteen. Of course, men remove themselves from the gene pool all by themselves, too; "virilicide," Morgan calls it.
News of the Wired
"The lost art of memorization" [The Week]. "In fact, literary memorization is not yet a relic. It still exists all around us; we just tend to classify it differently. 'Rap culture,' Robson corrected me as one example when I proposed that recitation was fading from everyday life. 'Whenever we say people speaking aloud or rhythmic language isn't a part of our world — of course it is.' She added, 'Any one of us, if you poke us, huge swaths of song lyrics will come out — we don't necessarily need to sing them.' • And memes rely on a collective body of memorized popular culture….
"Why isn't the internet more fun and weird?" [Jarred]. "MySpace showed the world that if you make powerful and complicated tools (like coding) accessible to anyone, people are smart enough to figure out how to use them…. We — the programmers, designers, product people — collectively decided that users don't deserve the right to code in everyday products. Users are too stupid. They'd break stuff. Coding is too complicated for ordinary people. Besides, we can just do the coding…so why does it matter?… The everyday consumer products are converging. They ran out of good ideas for helping people express themselves, so all that's left is to monopolize." • WordPress's Gutenberg editor is exactly the same. A lot of coders working hard to put layers between content creators and content.
* * *
Readers, feel free to contact me at lambert [UNDERSCORE] strether [DOT] corrente [AT] yahoo [DOT] com, with (a) links, and even better (b) sources I should curate regularly, (c) how to send me a check if you are allergic to PayPal, and (d) to find out how to send me images of plants. Vegetables are fine! Fungi are deemed to be honorary plants! If you want your handle to appear as a credit, please place it at the start of your mail in parentheses: (thus). Otherwise, I will anonymize by using your initials. See the previous Water Cooler (with plant) here. Today's plant (Diptherio):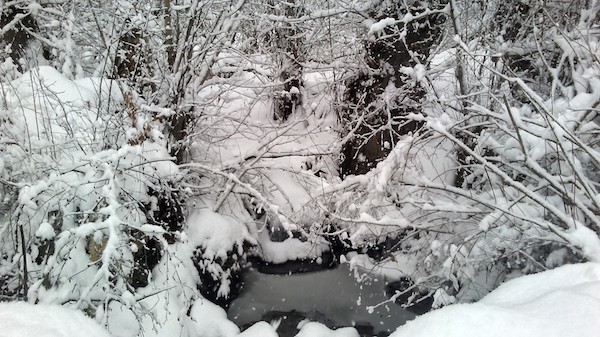 Diptherio writes: "It's a winter wonderland here in NW Montana. Like living inside a snow-globe." Stay warm out there!
* * *
Readers: Water Cooler is a standalone entity not covered by the annual NC fundraiser. So do feel free to make a contribution today or any day. Here is why: Regular positive feedback both makes me feel good and lets me know I'm on the right track with coverage. When I get no donations for five or ten days I get worried. More tangibly, a constant trickle of small donations helps me with expenses, and I factor that trickle in when setting fundraising goals. So if you see something you especially appreciate, do feel free to click below! (The hat is temporarily defunct, so I slapped in some old code.)
Or Subscribe to make a monthly payment!