Yves here. Gail Tverberg hasn't been posting her carefully argued pieces on energy, particularly "peak oil," and environmental issues as often as she once did, so I was glad to see this piece.
By Gail Tverberg, an actuary interested in finite world issues – oil depletion, natural gas depletion, water shortages, and climate change. Originally published at Our Finite World
A few years ago, especially in the 2005-2008 period, many people were concerned that the oil supply would run out. They were concerned about high oil prices and a possible need for rationing. The story was often called "Peak Oil." Peak Oil theorists have also branched out into providing calculations that might be used to determine which substitutes for fossil fuels seem to have the most promise. What is right about the Peak Oil story, and what is misleading or wrong? Let's look at a few of the pieces.
[1] What Is the Role of Energy in the Economy?
The real story is that the operation of the economy depends on the supply of  affordable energy. Without this energy supply, we could not make goods and services of any kind. The world's GDP would be zero. Everything we have, from the food on our dinner table, to the pixels on our computer, to the roads we drive on is only possible because the economy "dissipates" energy. Even our jobs depend on energy dissipation. Some of this energy is human energy. The vast majority of it is the energy of fossil fuels and of other supplements to human energy.
Peak oilers generally have gotten this story right, but they often miss the "affordable" part of the story. Economists have been in denial of this story. A big part of the problem is that it would be problematic to admit that the economy is tied to fossil fuels and to other energy sources whose supply seems to be limited. It would be impossible to talk about growth forever, if economic growth were directly tied to the consumption of limited energy resources.
[2] What Happens When Oil and Other Energy Supplies Become Increasingly Difficult to Extract?
Fossil fuel producers tend to extract the fuels that are easiest to extract first. Over time, even with technology changes, this tends to lead to higher extraction costs for the remaining fuels. Peak oilers have been quick to notice this relationship.
The question that then arises is, "Can these higher extraction costs be passed on to the consumer as higher prices?" Peak oil theorists, as well as many others, have tended to say, "Of course, the higher cost of oil extraction will lead to higher oil prices. Energy is essential to the economy." In fact, we did see very high oil prices in the 1974-1981 period, in the 2004-2008 period, and in the 2011-2013 period.
Unfortunately, it is not true that higher extraction costs always can be passed on to consumers as higher prices. Many energy costs are very well "buried" in finished goods, such as food, cars, air conditioners, and trucks. After a point, energy prices "top out" at what is affordable for citizens, considering current wage levels and interest rate levels. This level of the affordable energy price will vary over time, with lower interest rates and higher debt amounts generally allowing higher energy prices. Greater wage disparity will tend to reduce the affordable price level, because fewer workers can afford these finished goods.
The underlying problem is that, from the consumer's perspective, high oil prices look like inefficiency on the part of the oil company. Normally, being inefficient leads to costs that can't be passed along to the consumer. We should not be surprised if, at some point, it is no longer possible to pass these higher costs on as higher prices.
If higher extraction costs cannot be passed on to consumers, this is a terrible situation for energy producers. After not too many years, this situation tends to lead to peak energy output because producers and their governments tend to go bankrupt. This seems to be the situation we are reaching for oil, coal and natural gas. This is a much worse situation than the high price situation because the high price situation tends to lead to more supply; low prices tend to collapse the production system.
The underlying problem is that low prices, even if they are satisfactory to the consumer, tend to be too low for the companies producing energy products. Peak Oilers miss the fact that a two-way tug of war is taking place. Low prices look like a great outcome from the perspective of consumers, but they are a disaster from the perspective of producers.
[3] How Important Is Hubbert's Curve for Determining the Shape of Future Oil (or Coal or Natural Gas) Extraction?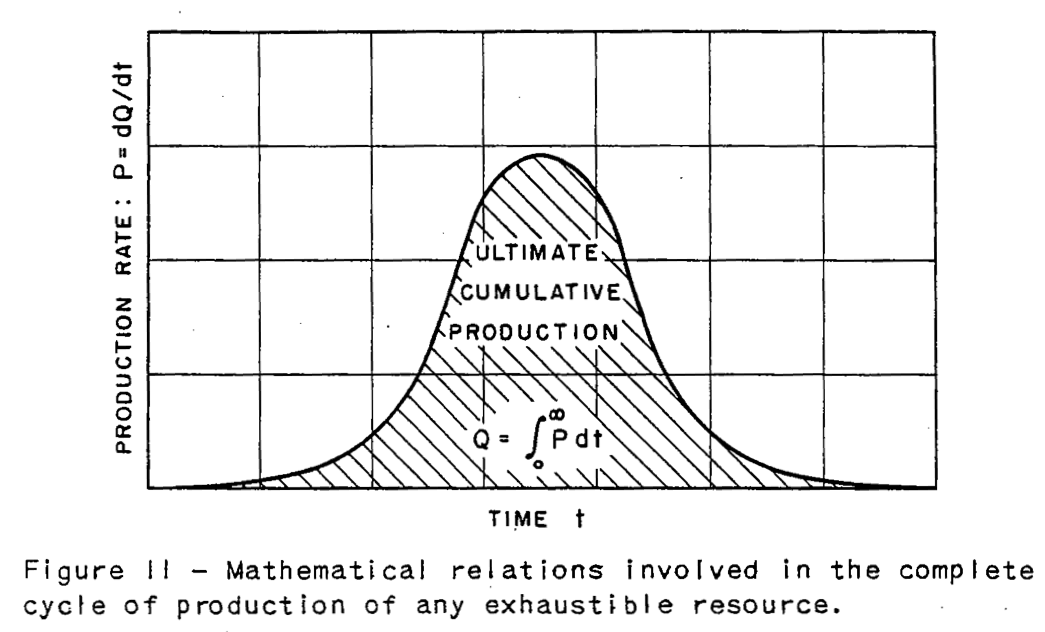 Most Peak Oilers seem to believe that if we see Hubbert shaped curves in individual fields, we should expect to see a similar shaped curve for total oil supply or for the supply of other fossil fuels. They think that production patterns to date plus outstanding reserves can give realistic views of the future extraction patterns. Frequently, Peak Oilers will assume that once production of oil, coal or natural gas starts to fall, we will still have about 50% of the beginning amount left. Thus, we can plan on a fairly long, slow decline in fossil fuel production.
However, many Peak Oilers will agree that if the energy used to extract energy is subtracted, the result will be more of a Seneca Cliff (Figure 2). Seneca is known for saying, "Increases are of sluggish growth, but the way to ruin is rapid."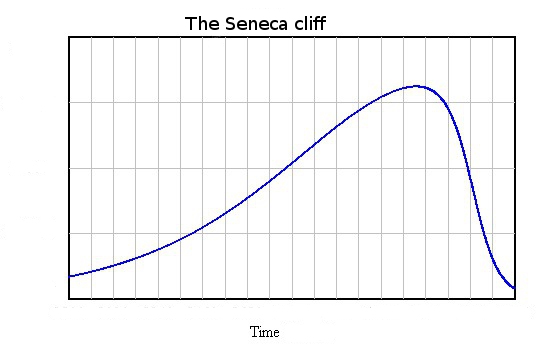 Peak Oilers also tend to limit the amount of resources that they consider extractible, to exclude those that are particularly high in cost.
Even with these adjustments, it seems to me that the situation is likely to be even worse than most Peak Oil analyses suggest because of the interconnected nature of the economy and the fact that world population continues to grow. The economy cannot get along with a sharp reduction in energy consumption per capita. Some governments may collapse; many debtors may default; some banks may be forced close. The situation may resemble the "societal collapse" situation experienced by many early economies.
One concern I have is that the Hubbert model, once it became the standard model for what energy supply might be available in the future, could easily be distorted. With enough assumptions about ever-rising energy prices and ever-improving technology, it became possible to claim that any fossil fuel resource in the ground could be extracted at some point in the future. Such outrageous assumptions can be used to claim that our biggest future problem will be climate change. After hearing enough climate change forecasts, people tend to forget about our immediate energy problems, since current problems are mostly hidden from consumers by low energy prices.
[4] Is Running Out of Oil Our Biggest Energy Problem?
The story told by Peak Oilers is based on the assumption that oil is our big problem and that we have plenty of other fuels. Oil is indeed our highest costs fuel and is very energy dense. Nevertheless, I think this is an incorrect assessment of our situation; the real issue is keeping the average cost of energy consumption low enough so that goods and services made from energy products will be affordable by consumers. Even factory workers need to be able to buy goods made by the economy.