By Lambert Strether of Corrente.
Politics
"But what is government itself, but the greatest of all reflections on human nature?" –James Madison, Federalist 51
2020
"Wall Street executives are hearing from Cory Booker, Kamala Harris and other Democrats as they gauge interest in possible 2020 presidential campaigns" [CNBC]. "Despite the left's outcry against Wall Street money, political financiers believe candidates are going to have to appeal to both the grassroots and big donors in order to compete with Trump's massive campaign warchest…. 'I think you have to have to do both or you're not going to have a campaign,' said a Democratic bundler who spoke on the condition of anonymity. 'If you don't take big money at all, that's going to be a problem. I would be very surprised I saw anybody say I'm only doing the low end. They are probably going to start with that.'" • The bundler — and the story! — somehow omit to mention Sanders did exactly that in 2016.
2019
"THE TRUTH ABOUT ALEXANDRIA OCASIO-CORTEZ: The inside story of how, in just one year, Sandy the bartender became a lawmaker who triggers both parties" [Business Insider]. • Not even a hit piece! Toward the end: "'She seems quite charming, she seems quite open and accessible and likable, and I think some people will be surprised at how much they like her,' the strategist said. 'What she does with that and how she uses it to advance her goals, that will show whether she is .'" • I think the Democrats have quite enough "savvy" people as it is. That's why they are where they are.

"'Cops have blood on their hands': Protests erupt outside wealthy Democrat donor Ed Buck's home after SECOND man dies there in 18 months as police are criticized for failing to investigate death of male prostitute properly" [Daily Mail]. "The retired donor was again interviewed by police yesterday after another black man, in his 50s, died in his presence although the cause is not yet known." • Quite a lot of detail. Buck "has donated "nearly $30,000″ to Democratic candidates like Hillary Clinton, Ted Lieu, Pete Aguilar and Raja Krishnamoorthi as well as the Getting Things Done PAC." Oh.
2016 Post-Mortem
"I Was Sexually Harassed On Bernie Sanders' Campaign. And No One Cared." [Forward]. "In the days after my encounter, I discovered it was impossible for a volunteer to find protocols for dealing with harassment of any kind, or the names, titles, and contact information for the personnel. I spent day and night calling and emailing dozens of campaign representatives to find out how to report it, but no one answered." • One error in the article: "Last week, Politico uncovered an internal Sanders campaign document alleging staffers had botched addressing sexism and harassment in 2016." Politico was given a letter to the Sanders campaign, not an "internal Sanders campaign document."
Realignment and Legitimacy
"DSA Two Years Later: Where Are We At? Where Are We Headed?" [New Politics]. "We have not had such a vibrant left in America for forty or fifty years, no socialist group this big in 70 years, and nothing exactly like this ever. Everyone on the left should celebrate this remarkable development. Which is not to say there are no problems, but many are good problems, almost all of them necessary ones, and only a few of them seriously troubling. The real issue is the direction: where is DSA going? And the biggest question regarding the group's future is its relationship to the Democratic Party, a party itself in flux. Will DSA, whose rebirth began in Sanders Democratic Party primary campaign, be able to attain escape velocity and become a truly independent socialist organization, or will the greater gravity of the Democratic Party—its size, money, influence, connections, power—succeed in keeping DSA within its orbit?" • A long read, but a must-read. If Politico were any good, they'd be publishing pieces like this.

"What the President Could Do If He Declares a State of Emergency" [The Atlantic]. " Unknown to most Americans, a parallel legal regime allows the president to sidestep many of the constraints that normally apply. The moment the president declares a 'national emergency'—a decision that is entirely within his discretion—more than 100 special provisions become available to him. While many of these tee up reasonable responses to genuine emergencies, some appear dangerously suited to a leader bent on amassing or retaining power. For instance, the president can, with the flick of his pen, activate laws allowing him to shut down many kinds of electronic communications inside the United States or freeze Americans' bank accounts. Other powers are available even without a declaration of emergency, including laws that allow the president to deploy troops inside the country to subdue domestic unrest. This edifice of extraordinary powers has historically rested on the assumption that the president will act in the country's best interest when using them. With a handful of noteworthy exceptions, this assumption has held up." • ""If men were angels, no government would be necessary. If angels were to govern men, neither external nor internal controls on government would be necessary." This edifice seems to be built on the notion that Presidents are, in fact, angels. I mean, I know Obama was an angel, but what if — hear me out, here — we got a President who lied us into a war?

"Progressive Ideas Matter to Voters. So Why Do Democrats Fixate on the Identity of the Messenger?" [Briahna Gray, The Intercept]. "The thing is, although much is made of the browning of America, the country is still 70 percent white, and electoral strategies that are wholly dismissive of that population set themselves at an unnecessary disadvantage….. [M]delanin doesn't guarantee Democratic support. Of the 4.3 million Obama voters who stayed home or voted for third parties in 2016, a third were black. So as important as it is to register voters, ensuring access to franchise is not enough. Americans need a reason to go to the polls — something that makes them feel like their vote matters. Something more than being anti-Trump. Something ideological."

"When ex-spies go rogue by becoming lawmakers" [WaPo]. "Ex." How do we know that? Spanberger: "Leaving the CIA was the biggest loss of my life. I mourned the agency. I miss it every day." Oh.
Stats Watch
"Economists Turn to Shutdown-Proof Reports as U.S. Data Delayed" [Bloomberg]. "The U.S. government shutdown has thrown some key economic measures into the dark, forcing analysts to focus on alternative data to gauge the effects of a trade war and the pace of growth in recent weeks…. As for the Fed, MFR's Shapiro said the lack of data means policy makers will spend more time on the ground speaking with their members. More broadly, the delays in key gauges of the economy are likely to make already-skittish markets more volatile. 'What happens in a vacuum is it gets filled with all sorts of stuff, and you have no idea of the quality,' he said. 'And there's already too much of that to begin with.'" • Rather like the Chinese government pushing underwear sales as a proxy because nobody trusts the official figures..
* * *
JOLTS, November 2018: "Strains in the labor market eased in November as the number of job openings fell" [Econoday]. "The rise in the unemployed is a major plus for the economy, suggesting that discouraged workers, seeing plenty of help-wanted signs, are back pounding the pavement. And though a decline in job openings in this report isn't really welcome, it does, along with the decline in quits, ease strains in the labor market, in turn pushing back wage-inflation risk and perhaps helping to slow the Federal Reserve's rate-hike plans." And: "Job openings remain at a high level, and quits are still increasing year-over-year. This was a solid report" [Calculated Risk].
NFIB Small Business Optimism Index, December 2018: "Optimism among small business owners drifted slightly lower as [sic?] expected in December' [Econoday]. "Overall, despite the extension of the cooling seen in November, many of the December survey responses remain at historically high levels of optimism, indicating continued solid strength in the small business sector." And: "December 2018 Small Business Optimism: Unchanged But Remains Historically High" [Econintersect]. "Unfilled jobs and the lack of qualified applicants continue to be a primary driver, with job openings setting a record high and job creation plans strengthening."
International Trade, November 2019: "Note this report will be delayed because of the government shutdown" [Econoday].
Redbook, January 5, 2019: "Redbook's same store sales begin the new year with exceptionally high year-on-year growth that is more than twice as strong as at the start of last year, pointing to robust strength in ex-auto ex-gas retail sales" [Econoday]. • Since we don't have government retail data…
The Law: An unnerving development:
1/ This legal development has bigger implications than most realize. If summons can be served via tweet, then it calls into question why states need complicated and expensive regimes requiring entrepreneurs to register corporations, LLCs, LPs. https://t.co/KDOYPKldDo

— Victor W. Hwang (@rainforestbook) January 6, 2019
One more reason to get yourself off all social media platforms.
The Bezzle: "The hype around driverless cars came crashing down in 2018" [Ars Technica]. "In the self-driving world, there's been a lot of discussion recently about the hype cycle, a model for new technologies that was developed by the Gartner consulting firm. In this model, new technologies reach a 'peak of inflated expectations' (think the Internet circa 1999) before falling into a 'trough of disillusionment.' It's only after these initial overreactions—first too optimistic, then too pessimistic—that public perceptions start to line up with reality." • Seems teleological.
The Bezzle: "What do startups do when their investors implode?" [Recode]. "[J]ust as startup drama can be a reputational risk for investors, investor drama can be a reputational risk for startups. That's true for startups with ties to the Saudi Arabian government, like those backed by SoftBank's Vision Fund. It's true for startups with ties to firms accused of bad behavior like Binary Capital." • 
Tech: "SoftBank to slash planned WeWork investment" [Financial Times]. "Japan's SoftBank has radically scaled back plans for fresh investment in WeWork, the lossmaking shared-office provider, following the recent tech stock rout and concerns among investors in its $100bn Vision Fund…. The scaling back of the planned $16bn investment, which would have been the largest ever in a tech start-up, underlines the rapid shift in investor enthusiasm for technology shares that is now spilling into even the best-known privately held groups." • I should probably file this under the Bezzle, but today is my day to be kind.
Tech: "Why the iPhone Is Finally Fading" [Slate]. "But if the iPhone isn't yet a thing of the past, it also no longer feels like a harbinger of the future. It has embedded itself deeply into so many people's lives, but it's no longer the source of magic and delight that it once was. Which raises the question: What's next?…. The voice AI revolution is not a certainty. Well-founded privacy fears could hinder its advance, or the technology could hit roadblocks on the path to conversational fluency. But it's better positioned than any other fledgling platform to take on the sort of central role in our lives that the smartphone has. A new Google Home Hub may never light up the FedEx courier's face the way a new iPhone did. But have you seen the face of someone who asks it a question for the first time, and hears its perfect reply?" • The face of stupid?
Tech: Apple iPad review from [Verge (DK)]. Start here:
You can't just plug a USB hard disk into the USB-C port and have the iPad read whatever files are on it. And it's all like that. Despite Tim Cook's blandishments, iOS is not a suitable operating system for professional use. "The iPad Pro is just an accessory to my laptop, not a replacement for it." Disclosure: I'n on my third, and I completely agree.
Tech: "WordPress Gutenberg will be the end of WordPress" [Dedoimedo]. I've tried Gutenberg, and it's horrible. Good for making memes, maybe. But I'm linking to this post for this quote, which ties in to the iOS problems above: "WordPress Gutenberg seems to fall into the touch category. It is a product that seems optimized for mobile, but it has no place on the desktop. And if you wonder whether this is a good idea, just remember Windows 8…. because it is a less optimized form of content creation. It is a one-dimensional medium whereas keyboard+mouse (and the separate screen) is a two-dimensional medium. Writing on a keyboard is faster than touch. Desktop screens allow for a large number of items to be displayed due to the use of a high-precision pointer, minimizing hierarchy depth, and increasing situational awareness and overall work efficiency. These are given. Fighting against them leads to a sub-optimal product." • Touch might be able to replace the laptop if Apple CEO Cook succeeds in his campaign of crapification. After all, just because a product makes its users less productive and stupider is no reason it can't succeed in the marketplace, especially if it's thin!
The Fed: "Powell Muddies Fed's Monetary Message to Calm Markets for Now" [Bloomberg]. "Federal Reserve Chairman Jerome Powell has managed to assuage fickle financial markets by muddying the central bank's monetary message. The question is how long that pacification strategy will work. Speaking to economists in Atlanta on Jan. 4, Powell raised the possibility of a pause in the Fed's interest-rate hiking campaign and an alteration in its balance sheet reduction plans in response to the downside risks that investors perceive to the economy. That formulation was a lot less clear than just over two weeks ago."
The Fed: "On the Economy: Could Trump Be Right about Rate Hikes?" [Roosevelt Institute]. "Critics of the president who argue that the economy is already at full employment risk replaying the 2016 election, where the Democrats were perceived—fairly or not—as defenders of the status quo, while Trump spoke to and for those left behind by the recovery. And they risk throwing away one of the best arguments for a progressive program in 2021 and beyond. The next Democratic president will enter office with an ambitious agenda. Whether the top priority is Medicare for All, a Green New Deal, universal childcare, or free higher education, realizing this agenda will require a substantial increase in government spending. Making the case for this will be much easier if there is broad agreement that the economy still suffers from a demand shortfall that public spending can fill."
Health Care
"Newsom Comes Out Swinging On Day One For Single-Payer, Immigrant Coverage" [Kaiser Health News]. "Within hours of assuming office Monday, Gov. Gavin Newsom issued a defiant challenge to the Trump administration with sweeping plans to expand health coverage to more Californians, pushing for a single-payer system and insurance for undocumented young adult immigrants. He also called for new state-funded subsidies to help people afford health insurance, coupled with a requirement that all Californians have health insurance. And he signed an executive order that directs state agencies to work together to negotiate prescription drug prices." • There seem to be a lot of moving parts here. Would any California readers care to comment?
"De Blasio says every resident in NYC will be guaranteed health care" [Pix11]. "De Blasio took to Twitter after his Tuesday morning appearance, writing 'Today I'm announcing a plan to guarantee health care for all New Yorkers. Through our own public option and a new program called NYC Care, we'll ensure the first stop for people isn't the emergency room.' Under de Blasio's program, 600,000 estimated uninsured residents will soon be insured. De Blasio also said the city would not raise taxes to pay for the program and will use the city's public health care system to fund it." • I'm glad more people will get care, but I don't like that the public option zombie is still shambling around
"250 more hospitals just joined in on a plan to make their own drugs and the effort could upend the generic pharma business" [Business Insider]. "Hospitals have a creative plan to tackle the high price and frequent shortages of generic drugs… To start, Civica will focus on making 14 drugs that are used in hospitals, typically injectable drugs. Those are expected to come in 2019. The company's priorities include making essential medicines that have been on the FDA drug shortage list, and taking on decades-old drugs that have artificially higher prices because they don't face any competition."
Gaia
"As Fires Ravaged California, Utilities Lobbied Lawmakers for Protection" [New York Times]. "Realizing that their potential fire liability is large enough to bankrupt them, the utility companies are spending tens of millions of dollars on lobbying and campaign contributions. Their goal: a California law that would allow them to pass on the cost of wildfires to their customers in the form of higher electricity rates…. 'The common thread seems to be negligence on the part of PG&E.' [State Senator Jerry Hill, a Democrat] said. 'I've come to the conclusion that the investor-owned utility model that they have and use is not providing the priority of safety as it should. Their priority is to shareholders and maximizing profit and not safety.'" • More on PG&E and California fires at NC here, here, and here.
Class Warfare
"Cooperative Enterprise as an Antimonopoly Strategy" [SSRN]. From the abstract: "Corporations threatened by cooperatives have used the antitrust laws to frustrate the growth of these alternative businesses. To insulate cooperatives from the antitrust threat, Congress has enacted exemptions to protect cooperative entities, notably a general immunity for farm cooperatives in the 1922 Capper-Volstead Act. As part of an agenda to tame corporate monopoly, all three branches of the federal government and the states should revisit these ideas and seek to protect and enable the cooperative model across the economy. While protections that farmers fought for a century ago may seem obsolete in an era of big-box retail and online platforms, matters of ownership design have at least as much relevance today and should be a part of the antimonopoly arsenal." • The online platforms of today are the railroads of the Nineteenth Century. Makes me wonder if the technical model of federation could be integrated with a business model of co-ops.
"On Being a Woman in America While Trying to Avoid Being Assaulted" [The Paris Review]. "I park close to the gym. I get catcalled; I pretend I didn't hear him. It's after nine at night, so I decide not to walk home alone from my subway stop, paying instead for a short Lyft ride. I make sure the license plate is correct before I get in. The bar bathroom's in the back, through a dark hallway; I have to piss, but I decide I'll hold it, I'll wait until I get home. I stand at a distance from the subway tracks: a friend who works in public transit once told me women are more likely to be pushed than men. It's dark, and I park beneath a light. A stranger on social media sends me a direct message: "hey beautiful." I ignore him. No, I block him. I walk through the parking lot with my keys out, bright points spiking between my fingers, in case I require a weapon." • Another must-read.
"How to Dodge a Market Dip That Threatens Your Retirement" [New York Times]. • Choose to be born on a different date, obviously.
News of the Wired
"UVA tells Latina sorority studying 25 hours a week is hazing, lawsuit says" [NBC]. "A predominantly Latina sorority [Sigma Lambda Upsilon] says it was wrongly punished for hazing by the University of Virginia after requiring its members to study 25 hours a week." UVa suspended the sorority, and the sorority sued. "The university claimed sovereign immunity in a November motion to dismiss, but the judge allowed the sorority to add university officials as defendants on Wednesday." • Oops. This isn't a good look for UVa. What should the members be doing instead of studying? Drinking?
"Don't think of yourself as a good person—think of yourself as 'good-ish'" [Quartz]. "[T]here are a few big downsides to believing in our own fundamental goodness. For one thing, a person who thinks of themselves as good is more likely to get defensive or shut down when confronted with evidence that they've fallen short of their moral aspirations. 'Psychologists call this a moment of self-threat—our is being challenged or dismissed," [Dolly Chugh, a professor at New York University's Stern School of Business] explains. 'Just as moments of physical threat trigger a hyperfocus on self-preservation, moments of psychological self-threat do the same.'"
* * *
Readers, feel free to contact me at lambert [UNDERSCORE] strether [DOT] corrente [AT] yahoo [DOT] com, with (a) links, and even better (b) sources I should curate regularly, (c) how to send me a check if you are allergic to PayPal, and (d) to find out how to send me images of plants. Vegetables are fine! Fungi are deemed to be honorary plants! If you want your handle to appear as a credit, please place it at the start of your mail in parentheses: (thus). Otherwise, I will anonymize by using your initials. See the previous Water Cooler (with plant) here. Today's plant (lee):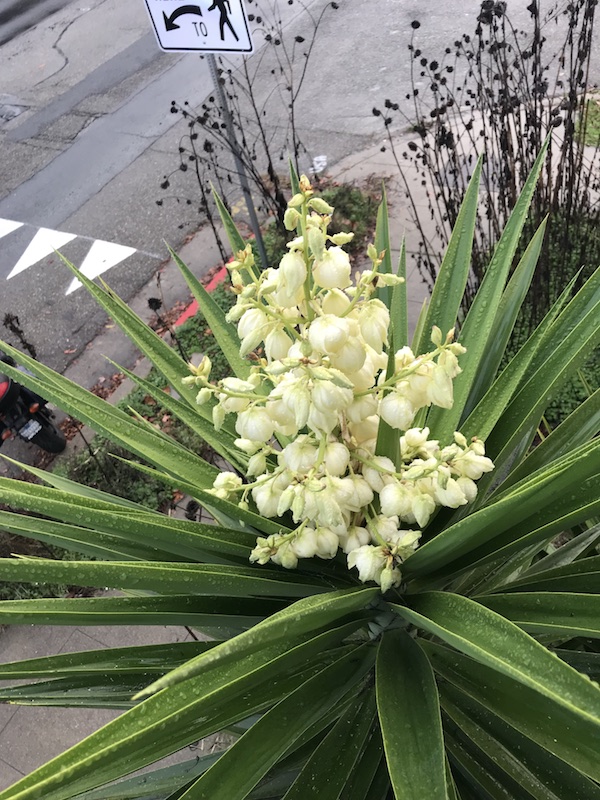 Lee writes: "Yucca in bloom at winter solstice. I don't know if this is normal or an example of global weirding. There are some plants here in the SF Bay Area that do bloom during our moderately cool winter months. I saw bumblebees on a flowering shrub a few days ago during breaks in the rain. To the right of the main subject you will see the standing dead remains of our sunflower patch. It makes be think of one of Bashō's last haiku:
Ill on a journey
My dreams wander round and round
over withered fields.
To which I will add one of my own on the occasion of a winter wedding:
In the season when
All that flourished withers
Laughter, lace, and wine.
Big Bashō fan here.
* * *
Readers
: Water Cooler is a standalone entity
not
covered by the annual NC fundraiser, now completed. So do feel free to make a contribution today or any day. Here is why:
Regular positive feedback both makes me feel good and lets me know I'm on the right track with coverage
. When I get no donations for five or ten days I get worried. More tangibly, a constant trickle of small donations helps me with expenses, and I factor that trickle in when setting fundraising goals. So if you see something you especially appreciate, do feel free to click below! (The hat is temporarily defunct, so I slapped in some old code.)
Or Subscribe to make a monthly payment!