Thanks to global warming, so far, this winter hasn't been too frigid, but it's still coat and gloves weather Get some relief from the winter chill with good conversation and, if you are so inclined, some grog too by coming out to join our meetup.
So if you will be in the New York metro area late next week, be sure visit our meetup next Friday.
For our Fort Lauderdale meetup, I expect it to be a small group, but hope readers can provide recommendations regarding a hotel and a venue. The meetup spot should not be too loud and have a good choice of drinks (and maybe noshes).
Details:
Friday January 18, 2018
5:00 PM to 8:00 PM
Slàinte Bar and Lounge
304 Bowery (between Bleecker and Houston)
New York, NY 10012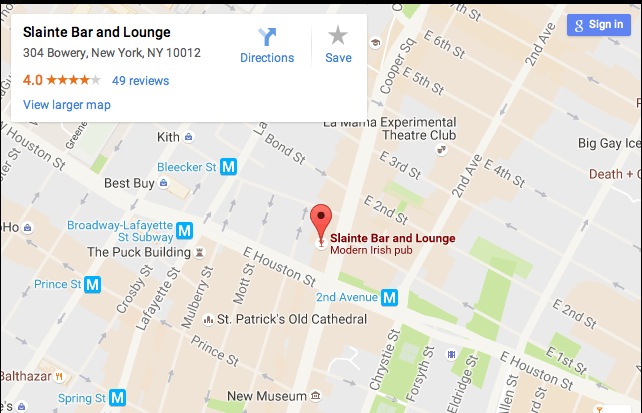 We have the back room and nearby tables, so tell the manager you are with the Naked Capitalism group. We also typically run much later than 8 PM, so don't hesitate to drop by!
As you can see, it's near stations for the B, D, F, and M, as well as the 6, so it's reasonably accessible.
Get your 2019 off to a good start! Readers enjoy the lively chats and getting to know each other, so I hope you can find the time to join us.