Dear patient readers,
I am having one of those "I hate technology" days, due to losing about two hours before factoring in the drain of getting stressed. My inbox stopped accepting new e-mails! I reboot, no change in behavior, then call my mail service (yes, I pay people since they also host my antique consulting website, which I keep around since it has an achieve of my pre-2007 articles).
Customer support guy takes about 45 minutes to discover that the not getting mail is due to their side not accepting the handshake from my mail program (Apple's mail.app) because they changed their settings so it longer accepts the version of SSL my version of mail.app is running. It had kicked in on the inbox and was set to go live pretty shortly on outbound mail.
Oh, and they said they sent a message to all customers 10 days ago. I searched and the last message from them was September 10. Customer support guy looks at my settings and says my account was not set up to get "system messages". Wellie, I didn't do that!
Now in theory, I could upgrade mail.app, but that would require upgrading my OS, and I have an old program to which I am very attached that will probably not survive the upgrade (my Mac guy is running the same version of the OS I am on most of his machines for precisely the same reason, so this isn't an unreasonable practice). Mac guy first recommended Google Business, from which I understandably recoiled, and then Mozilla's Thunderbird, which I looked at for five minutes and got depressed. All I want is a mail client! I don't want a calendar, or contacts, or chat, or search the web. Even though I don't have to use it, all this feature bloat clutters up the interface and reduces the screen real estate devoted to mail functions.
The other options are to change my mail program or get a new mail service. But all of those take time and I have no time and also have low tolerance for frustration. I hate learning new software in general and in particular if I am forced to abandon perfectly fine tools that served my needs well. Learning new software is stressful and a tax on my time. If I'm going to learn something, I'd rather it be a language or some period of history I don't know well, not what amounts to makework to get me back to where I had been. And before you tell me this isn't a big deal, remember that I am so chronically time stressed that ten minutes is a lot of time for me.
However, this proved to be one of the rare times when complaining got me somewhere. The tech support guy went to bat for me and got his boss to authorize making tweaks so my mail works again. He said he has no idea how long this would continue, so I still need to Do Something, but at least not with a gun to my head.
But I did have a nice development today. Reader JK send me a bottle of Helicidine, as well as some Ricola cough drops. And even though I am largely over my bug, I ams still hacking off and on (something that is normally totally alien to me), so this was very much appreciated.
Lambert here: The "old program" to which Yves is "very attached" is a Rolodex-like program that does not use fielded data. Each Rolodex "card" is a tiny document of free-form text. The user interface is, in essence, a search box that returns the results of a text search on those documents (you can select the full document or just its "title" line). Aside from speed and simplicity, the text-based approach is nice because it's extremely likely that any malware scanning Yves' for her address book will be looking for software with fields like "Name."
Since this Rolodex-like program is simple, effective, fast, secure, and should be cheap, it may not have survived in our current software environment, where software that is crapified with complexity, dysfunction, slowness, lack of security, and high costs has become the norm.
And yet there is hope. Such an application should be dead simple to write. Perhaps it exists, but not in the "Personal Organizer" space, where the fielded data paradigm is dominant. Can readers suggest anything? NOTE I can think of approaches involving the command line, or a local server like MAMP running MySQL, but for Yves's sake, it really needs to be a normal Mac app. And not EMACS, either.
Trevor the Duck: Niue mourns 'world's loneliest duck' BBC (David L)
U.S. Midwest braces for record-breaking cold blast Reuters
Warming Seas May Increase Frequency of Extreme Storms Jet Propulsion Laboratory (David L)
The Natural Materials That Could Replace Environmentally Harmful Plastics BBC
Preparing for the D-Day of technological change will be vital Financial Times (David L)
Microsoft Project Manager Says Mozilla Should Get Down From Its 'Philosophical Ivory Tower,' Cease Firefox Development ZDNet. Hope Mozilla told MSoft to pound sand.
A cure for cancer? Israeli scientists say they think they found one Jerusalem Post (David L)
Extreme weather and geopolitics major drivers of increasing 'food shocks' PhysOrg
Tripping Brains Reveal How the Drug Creates the Psychedelic Experience Inverse (David L)
China?
India
Rahul Gandhi Scoops Modi on Promise of Minimum Income Guarantee, BJP Hits Out The Wire (J-LS)
Brexit
From Politico's morning European newsletter:

COMMONS TAKEOVER. Today's Brexit debate in the House of Commons is scheduled to last six hours, with U.K. Prime Minister Theresa May closing out proceedings before MPs start voting at around 7 p.m. Brussels time. (Charlie Cooper has this guide to watching it like a pro.) And that's when we leave the realm of the foreseeable.

What's happening today: Votes on amendments to the government's Brexit deal may or may not give us a better sense of where to from here. Which amendments will be voted on? That's for Speaker John Bercow to decide and to communicate today. Which, if any, amendments will the government will back? That, we can help you with.

'ALTERNATIVE SOLUTION': Theresa May's government will whip its MPs to vote in favor of an amendment calling for the Irish backstop to be "replaced with alternative arrangements to avoid a hard border." No. 10 will support the amendment put forward by Chairman of the backbench Conservative 1922 committee Graham Brady, Tory Chairman Brandon Lewis said following a meeting between Theresa May and her MPs Monday afternoon. Charlie has more from London.

No hurry at all: What might this alternative be? "We don't need to hammer out those details before tomorrow. All we have to do is agree that we will find better, alternative arrangements to ensure there is no hard border [in Ireland]," Brady wrote in the Daily Mail Monday. Surely there's enough brain power in Brexit Britain to come up with that magical solution within 59 days?

Rock, meet hard place: The problem is that voting the backstop out of Theresa May's Withdrawal Agreement would put the kibosh on the entire deal with the EU. The real question, as it has been since June 2016, is this: Are MPs aware that their potential to scare the EU to death by walking away from the table is limited?

The second-most-interesting amendment, politically … is the one spearheaded by Brexit softies Labour MP Yvette Cooper and the Conservatives' Nick Boles. It could effectively put MPs in control of Brexit business and extend the Article 50 negotiation period beyond March 29 — if the government doesn't have a deal with the EU approved by February 26.

Regular readers know well that May's backstop gambit is either yet more cakeism after the EU has said, "Time for a diet!" or a nasty little trick to keep No. 10 in control as May runs the clock out. Yvette Cooper wants to tell the EU how long the UK extension will be. Good luck with that, even before getting to Clive, David and other readers underscoring that MPs cannot deal with the EU, only the Government can, and MPs cannot assume the role of the Government, they can only keep tossing them out till they get one they can abide.

Brexit: Theresa May in fresh crisis after anti-EU Tories reject 'plan B' to rescue her deal ahead of Commons vote Independent

Brexit: Tories unite to back compromise giving May extra time Guardian (vlade). A new unicorn! Spare me! No way will the EU accept this, Impossible to negotiate a FTA in this time, and the EU won't take the backstop out of play given that. More fundamentally, the EU has said it is not negotiating the Withdrawal Agreement any more, that the only way for the UK to get a different deal is to drop one of its red lines so that it can occupy a different position on "Barnier's ladder". This is not that.

EU BLAST FOR UK 'LOSERS' EU negotiator accuses UK of 'snatching defeat from the jaws of victory' in Brexit vote — and insists Brussels will not give in on Irish backstop The Sun. As we said…
Venezuela
Fears US could invade Venezuela as '5,000 troops to Colombia' note spotted on John Bolton's pad and he warns 'all options on table' The Sun (resilc)

Sanctions Are Wars Against Peoples Moon of Alabama

Pope fears 'bloodbath' in Venezuela Agence France-Presse (resilc)
Syraqistan
Report: Saudi Arabia Has Systematically Helped Saudi Felons To Flee The United States Jonathan Turley (Chuck L)

Opinion: Western intervention in Afghanistan is a failure DW
Big Brother is Watching You Watch
Japanese Government Will Hack Citizens' IoT Devices Bruce Schneier

Is Surveillance the Future of Service? Business of Fashion. J-LS: "Scary: note you needn't sign onto an app, or even have a smartphone, for retailers to monitor you in some of these ways when you enter their stores."

Google's Sidewalk Labs Plans to Package and Sell Location Data on Millions of Cellphones Intercept

Online Piracy Can Be Good For Business, Researchers Find Vice

Adversarial AI: Cybersecurity battles are coming ZDNet

Court's Biometrics Ruling Poses Billion Dollar Risk to Facebook, Google Fortune (David L)
Trump Transition
U.S. Government Seen as Most Corrupt in Seven Years Bloomberg. Quelle surprise! But "in seven years" isn't saying all that much…..

Acting AG: Mueller probe is 'close to being completed' The Hill
A solution to climate change that Democrats (and Republicans) can rally behind The Hill. UserFriendly: "Shoot me."
The Democrats Are Climate Deniers Jacobin (Anthonly L)
Watch this video. The utter joy Kamala Harris takes in using power against the powerless is something to behold. https://t.co/Dsf2iibhxi

— Matt Stoller (@matthewstoller) January 28, 2019
A lot of leftists talking about climate change need to spend a lot of time reflecting whether their "sacrifice" narratives are a product of hard-nosed facing up to "reality" or are an ideological commitment to moralizing austerity.

— Nathan Tankus (@NathanTankus) January 27, 2019
Mean as a Snake': When President Trump Met the Real Mitch McConnell Politico. UserFriendly:
Seriously it took an in person meet for this author to piece together that McConnell gives zero fucks about anything besides staying in power? If he thought forcing every US citizen to get gay married, and have an abortion would keep him in the majority leaders chair he'd officiate the weddings and perform the abortions himself.
PG&E Files for Bankruptcy Following California Wildfires Wall Street Journal. It appears the Journal broke this story. I don't see anything yet on Bloomberg or the LA Times site.
Auditing Is Too Important to Be Left to the Auditors! CLS Law and Blue Sky Blog (Adrien)
Just two hacker groups may have stolen $1 billion in cryptocurrency MIT Technology Review
Amtrak's New York-to-D.C. Fixes Leave Biggest Worries Unresolved Bloomberg (resilc)
Worrying signals from the US housing market Financial Times
Guillotine Watch
Davos 2019: No more heroes for the global elite Financial Times

Why elite philanthro-capitalists do more harm than good

This is incredible pic.twitter.com/FhbVSmd5Tp

— David Sirota (@davidsirota) January 29, 2019
Class Warfare
The Fleecing of Millennials New York Times. Resilc: "Blah blah blah cut medicare and social security. NEVER cut the empire and war machine."
Antidote du jour. William B: "Trailcam pic from my niece taken at the Little Wolf River near Iola, Wisconsin."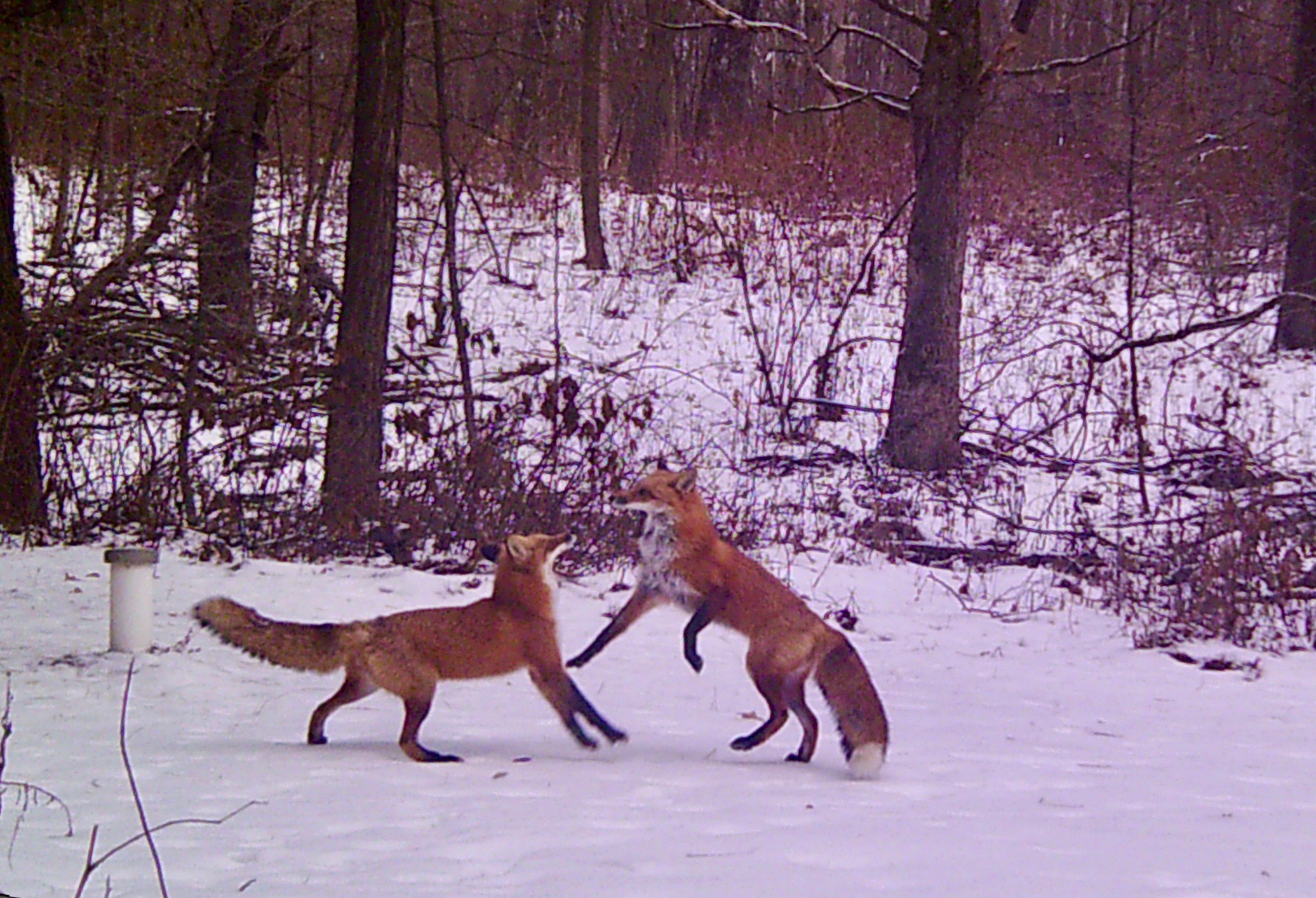 And a bonus video. I bet I posted this one before, but I love this bird. If I had a critter that was that enthusiastic about my singing, I'd perform for him every day.
See yesterday's Links and Antidote du Jour here.