How frigid polar vortex blasts are connected to global warming PhysOrg (David L)
As The Arctic Warms, US Navy Considering Summer Transit, Bering Sea Port Defense One. Resilc: "Can't wait to see the year-round heated golf course at the base. Nothing but the best for our heros of endless war."
A Grand Plan to Clean the Great Pacific Garbage Patch New Yorker (J-LS)
China?
Huawei's Meng appears in court as Canada mulls US extradition Reuters

China to rush through new foreign investment law Financial Times

China's 'Belt and Road' Plan in Pakistan Takes a Military Turn New York Times (resilc)
Insights on the Iran deal, BRICS and handling a crisis in Venezuela Pepe Escobar, Asia Times
Brexit. I should provide more links, but with March 29 so close, it's becoming more difficult to watch this exercise in self-harm closely. I have no idea how readers in the UK and Ireland are keeping their sanity.
Brexit: MPs back May's bid to change deal BBC

From Politico's morning European newsletter:

1) This is vindication: EU officials, diplomats and leaders alike didn't quite believe Theresa May when in December at an EU summit she most solemnly vowed that her Brexit deal was the only possible deal, and was final. And they were proven right. Indulge Playbook if you will, and allow us to quote ourselves: December's meeting "left some convinced that what the British PM really wants is not an even more solemn declaration of the EU's wish to have a trade agreement in place as soon as possible, but to get rid of the backstop altogether," Playbook wrote at the time.

2) May knows the EU's answer already. Spoiler alert: It's a 'No.' No way. No how. No renegotiation. "This is our position, as coordinated with EU27 capitals," Preben Aamann, spokesman for European Council President Donald Tusk, said immediately after the votes. "We welcome and share the U.K. parliament's ambition to avoid a no-deal scenario," Aamann added. "The backstop is part of the Withdrawal Agreement, and the Withdrawal Agreement is not open for renegotiation." Meaning, as per a senior Commission official: If Theresa May comes to Brussels "with the same position as before, she will get the same answer."

How MPs voted on the Brexit Amendments BrexitCentral

Labour MPs rebel to vote down Cooper's no-deal amendment Guardian

Humiliated Corbyn says he now WILL meet May to discuss Brexit in U-turn after MPs rejected Labour bid to keep Britain in the EU past March 29 Daily Mail

Brexit: Tory minister Richard Harrington issues two-week ultimatum to Theresa May Mirror. See our post today. Too late for threats like that unless you want to greatly increase the odds of a crash out.
Venezuela
U.S. Seeks To Cripple Venezuela's No.1 "Vehicle For Embezzlement'' OilPrice. Don't shoot the messenger.

John Bolton states regime change in Venezuela is about the country's oil. "It will make a big difference to the United States economically if we could have American oil companies invest in and produce the oil capabilities in Venezuela." pic.twitter.com/sIHWYk3grq

— Iraqi Christian HRC (@iraqschristians) January 29, 2019

Marco Rubio's strategy for winning influence over Trump on Venezuela. Slate. Resilc: "They all below to the same toad herd?"
Syraqistan
After Four Votes, Senate Passes Unconstitutional Anti-Boycott Bill Defending Rights & Dissent

U.S. sees contours of peace accord with Taliban to end war in Afghanistan Reuters (resilc)

Syria rewards Iran with raft of agreements Middle East Online (resilc)
Big Brother is Watching You Watch
Imperial Collapse Watch
Russia, China Will Exploit West's 'Isolationist Tendencies,' Says New Intel Strategy Defense One (resilc)

Searching for a Progressive Foreign Policy LobeLog. Resilc:

Breakin' up the USA USA empire ain't easy. just look at the 400th anniversary of the first slave in USA USA. How are we addressing those issues?? A couple hundred years of usa usa exceptionalism has poisoned the well in the uneducated "We only do good" minds of the population.

Afraid of talking on radio, Millennials Snapchat for fire Duffle Blog (Kevin W)
Trump Transition
Trump ally Stone pleads not guilty to Russia probe charges Reuters (EM)

Southwest Agreed to Pay FAA for Inspector's Time During Government Shutdown Wall Street Journal

Coal Country Is Dying. All Trump Has Are Lies. Washington Monthly (resilc)
Charming:
In other words, the CBO's models are awful and policy is completely shaped around them. Meanwhile the CBO has climate denial level assumptions about climate change built into it. https://t.co/C0vHOBtkry

— Nathan Tankus (@NathanTankus) January 29, 2019
McConnell to rebut Trump on Syria, Afghanistan drawdown The Hill (Bill B)
Meadows Tells Ocasio-Cortez Congress Isn't Just `Eating Bonbons' Bloomberg. Resilc: "Hellllllll no lil'lady. Itz about fillin' up your pants pockets with lots of cold hard cash tarheel-style."
Ocasio-Cortez fundraises off report some Dems want her primaried The Hill. UserFriendly: "I'm picturing Jamie Dimon and Lloyd Blankfein door knocking in the Bronx."
Bernie's Likely 2020 Bid Could Transform the Political Landscape Normon Solomon, Truthdig
Black Culture Won't Save Kamala Harris Nation (furzy)
Scoop w/ @DanielStrauss4. Tulsi's 2020 campaign manager and consulting firm will leave after this weekend's formal launch. The rollout has been a mini saga with several false starts and then Gabbard catching her own staff unaware when she announced on cnn. https://t.co/OYRwgPeENe

— Alex Thompson (@AlxThomp) January 29, 2019
Online Neo-Nazis Are Increasingly Embracing Terror Tactics Vice
Why Morgan Stanley Says Get Out Of Stocks Now Investopedia (David L)
Insys 'Closer' Lap-Danced to Boost Opioid Sales, Jury Told Bloomberg (Scott)
Guillotine Watch
Warren to Schultz: Ridiculous is billionaires who think they 'can buy the presidency' The Hill

Giving Kruggie credit when credit is due. Love the "green room" point:

Howard Schultz may go away once he realizes that nobody wants him. Or maybe not: with great wealth comes great ego, plus people who will feed it. But let's treat this as a teachable moment about what centrism means in America today 1/ https://t.co/C6va5ogfPv

— Paul Krugman (@paulkrugman) January 29, 2019

Howard Schultz heckled as 'egotistical asshole' who would aid Trump in 2020 Guardian (resilc)

Howard Schultz should think twice about running for president Seattle Times (resilc)

Howard Schultz Channels Richard Nixon With 2020 Slogan Rolling Stone

Elizabeth Warren's plan to tax the super-rich has been tried before. Here's what happened. NBC. I haven't weighed in but I'm not keen at all. We know how to tax income and capital gains. Increase marginal rates on the high end. We know how to do estate taxes. Raise estate tax rates. People want to transfer stuff to heirs, so hiding is hard then. By contrast, many assets of the rich (ownership in private businesses, yachts, real estate, art) are hard to value and values can therefore be gamed. This will encourage the rich to move even more money into foundations and put themselves and their kids on the payroll, and also run travel and other expenses (an office! professional staff!) through the foundation.
Class Warfare
Payroll taxes in the 1950s: 2% of national income

Payroll taxes in the 1980s: 7-8% of national income https://t.co/N7pIcc2ONb

— Gabriel Zucman (@gabriel_zucman) January 29, 2019
Antidote du jour. Furzy: "Lenny the Lizard does lunch at the Avenue Shopping Mall, Pattaya." I assume this means that Lenny is an official ambassador for the mall.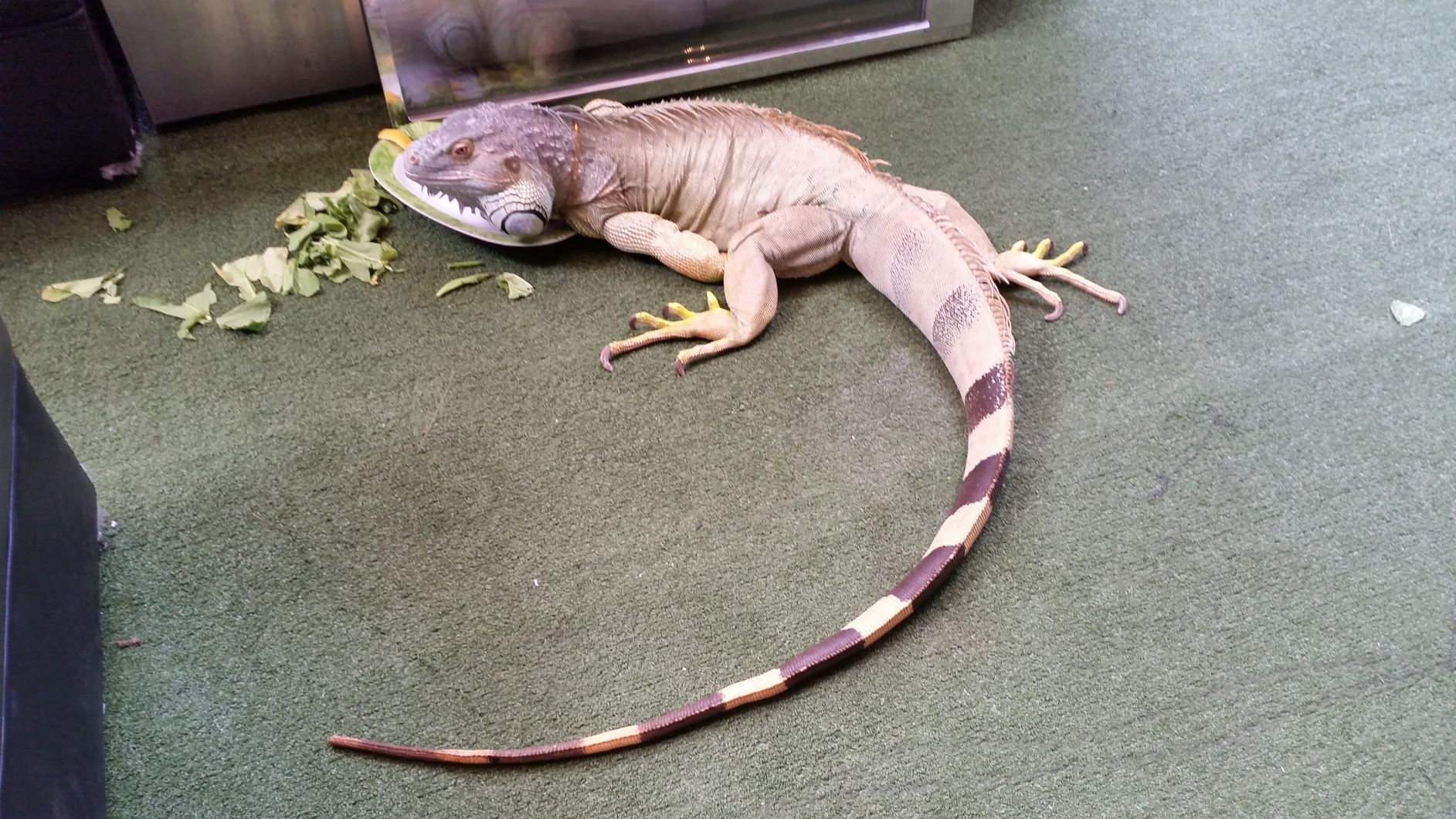 And a bonus video (guurst). See this story for background.
See yesterday's Links and Antidote du Jour here.